Ecommerce is one of the biggest growing industries in the UK and as the world moves more and more into the digital age, choosing the right ecommerce platform for your business can in many cases be the difference between success and failure.
And while choosing an ecommerce platform may seem daunting, there are lots of useful resources (such as this one!) that aim to make the selection process a little bit easier.
Now you may notice that my list is somewhat different to that on other review sites and that is because unlike many other people who review ecommerce websites, I have first hand experience of building and running an ecommerce website.
And every platform on this list has been personally tested and reviewed by myself from the perspective of someone looking to build a successful ecommerce business. Now below is a list of the platforms but I would recommend reading through the post and potentially some of the reviews so that you can start drawing up a list of options to consider.
EcommerceGold is reader supported, meaning that we may earn a commission (at no additional cost to you) from products or services purchased through links on our site. Learn More.
What to Consider When Choosing an Ecommerce Platform
As I said above, choosing an ecommerce platform can be daunting, so before I get into the list, here are some things you should consider before making a choice:
1. Hosted or Self-Hosted
Ecommerce platforms basically fall into 1 of 2 categories and they are Hosted or Self-hosted and there are some pretty big differences between the two:
This is just a brief summary but for most people new to ecommerce, I would recommend going for a hosted platform as the start up and day to day running is much easier and it is for this reason why no self-hosted options appear in this list.
2. Support
Support is an important thing to consider when choosing an ecommerce platform as you may run into issues when setting up or running your store and you want to know that there is someone you can contact who will be able to help.
With support, you also want to consider the contact times for the support teams, where they are based and how easy they are to contact.
3. Features
This one can be quite challenging when just getting started as you don't know exactly what features you are going to need (this becomes more evident as your business grows) but some things you want to consider:
Inventory Management – how easy is it to create and manage your inventory? can you sell different types of products (physical, digital etc)
Order Management – how easy is it to manage your orders
Marketing Tools – what can you manage directly from the dashboard? can you easily integrate with other marketing tools (Google or Facebook ads etc)
Payment Gateways – can you offer a variety of different payment options for your customers?
Shipping Methods – does the platform offers different shipping options and/or integrations with third-party shipping companies
This is just a basic list but you want to try and create a list of features you need in order to be able to find the platform that will best suit your business.
4. Theme Customisation and Design
You want your site to look good as it can help to sell your business to potential customers and you want your ecommerce platform to not only have a nice selection of themes but also good customisation, so that you can tailor your site to your business.
Customisation should also be easy to do and there should be options for design elements, such as:
Page Layout
Site Colours
Font Style and Size
Header and Footer Options
The more you are able to yourself and the easier it is, the less reliance you will have either on platform support or developers.
5. Price
I left price to the end for a reason as while it is important (we all have budgets to stick to!), you don't want it to be the driving force for why you choose one platform over another.
Instead, it is best to pick the platform that best works for you and your business, even if the cost is slightly higher as it will be better paying a few pounds extra a month and choosing the platform that you like using the most but but also offers all of the features and support you need.
Option 1: EKM
Who are EKM?
EKM is the UK's biggest ecommerce platform, formerly known as EKMPowershop. They specialise in the UK ecommerce market and have helped over 80,000 businesses start selling online since they were established in 2002.
Best For?
The EKM platform is best for B2C businesses that need a reliable platform on which to build an ecommerce platform but need some support along the way. EKM is one of the best rated on trustpilot and much of that comes from the support that they offer their users.
This includes EKM's Evolution Mode, which looks to improve your website by having a team of ecommerce specialists such as digital marketers and designers look at your site to see what improvements can be made and this is included with every package.
EKM Pricing
EKM Basic – £34.99/m (£50,000 Annual Turnover Limit)
EKM Standard – £69.99/m (£150,000 Annual Turnover Limit)
EKM Advanced – £209.99/m (£1 Million Annual Turnover Limit)
EKM Pro – £599.99/m (Annual Turnover in excess of £1 Million)
EKM Pros and Cons
Learn More About EKM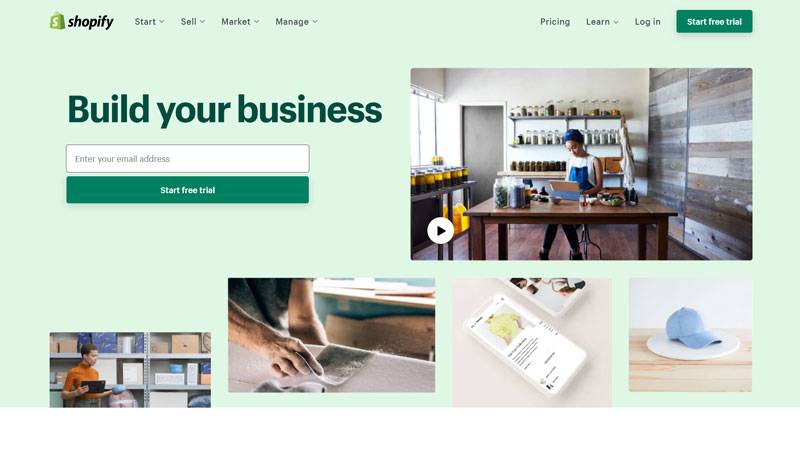 Who Are Shopify?
Shopify are the world's largest hosted ecommerce platform and since starting in a Canadian coffee shop in 2004, it has gone on to help over 1 million businesses start selling online around the world.
Best For?
Shopify is best for businesses that quickly and easily want to start selling online. The easy to use interface and simple layout is designed for both beginners and professionals alike and can be used for small start ups to multi national corporations.
Another great application of the Shopify platform is for traditional bricks and mortar businesses as Shopify offer their own point of sale system that can easily be linked with the online store, making inventory and sales management a more streamlined and efficient process.
Shopify Pricing
Shopify Basic – $24/m (2% Transaction Fee)
Shopify Standard – $69/m (1% Transaction Fee)
Shopify Advanced – $259/m (0.5% Transaction Fee)
Shopify Pros and Cons
Learn More About Shopify
Who Are ShopWired?
ShopWired, one of the newer UK based ecommerce platforms having being established in 2013. However, they have been very successful in that short period of time and now power over 8500 ecommerce stores. They also boast the likes of Wowcher and EDF Energy amongst their customers.
Best For?
ShopWired is a really good choice for any B2B company as they offer a range of features that are really useful such as trade accounts, bulk features and quotations.
It is also a very competent platform for B2C business and has been designed to be easy to use, the set up process is also very quick. So it doesn't matter whether you are new to ecommerce or an experienced online seller, you will be able to get a store up and running in no time.
ShopWired Pricing
ShopWired Pro – £29.95/m (£75k Turnover Limit)
ShopWired Advanced – £59.95/m (£200k Turnover Limit)
ShopWired Premium – £119.95/m (£500k Turnover Limit)
ShopWired Enterprise – From £149.95/m (£500k Turnover +)
ShopWired Pros and Cons
Learn More About ShopWired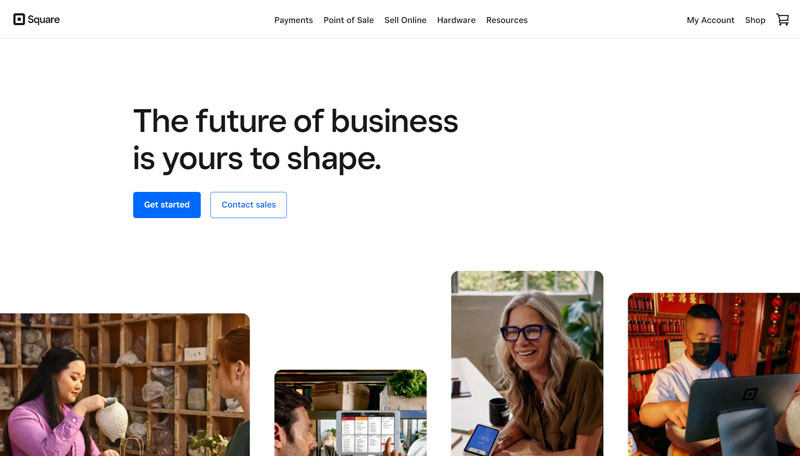 Who Are Square?
Square was one of the first pay as you go processors for face to face credit card payments when they launched back in 2009 but have grown considerably since their inception as they not only grew to be a complete point of sale system but also became an online payment gateway.
But it was their 2018 acquisition of Weebly that made Square a real force in the world of ecommerce as they could now offer their users a fully fledged website builder to either add an ecommerce store to their existing business or build a new ecommerce business from scratch.
Best For?
Square is a great option for small business who already use the Square card reader or POS to take face to face sales and want to start selling online.
It is also a great option for people wanting to start an ecommerce business and want a simple, easy to use platform, especially if there is a chance that they might need to take payments face to face in the future.
Square Pricing
Square Free Plan
Square Professional – £12/m (£9/m if billed annually)
Square Performance – £22/m (£19/m if billed annually)
Premium Plan – £60/m (£54/m if billed annually)
Square Pros and Cons
Learn More About Square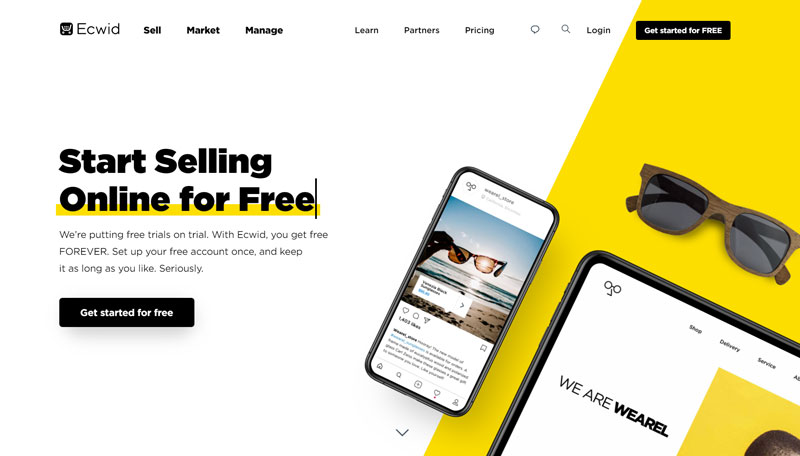 Who Are Ecwid?
Ecwid is one of the most versatile ecommerce tools on the market today and it is one of the few options that allows users to add a fully hosted, PCI secure shopping cart to a WordPress website. It also allows you to sell on additional channels such as Social Media platform like Facebook and Instagram, with all orders being managed in a single dashboard.
Best For?
The combination of WordPress and Ecwid is great for companies where content creation and SEO are at the heart of their marketing strategy as you have the great blogging and SEO abilities of WordPress and the fully secure checkout taken care of by Ecwid.
Ecwid is something you may want to consider if you have an existing WordPress site and want to add ecommerce functionality, without having to build a new website from scratch on another platform.
Ecwid Pricing
Ecwid Free Plan (Up to 10 Products)
Ecwid Venture – £15/m (Up to 100 Products)
Ecwid Business – £35/m (Up to 2,500 products)
Ecwid Unlimited – £99/m (Unlimited Products)
Ecwid Pros and Cons
Learn More About Ecwid
Conclusion
So there they are, what I think are best ecommerce platforms for UK businesses and the options on this cover ecommerce websites of all sizes, from small boutique to national/multi national ecommerce retailers.
I personally have used more than one platform on this list to build an ecommerce platform and the ones that I haven't used are ones that I have tested and reviewed and would happily recommend them to others or use them myself for a future ecommerce project.
If you are considering a couple of the options on this list, I would highly recommend trying them out first and seeing if you like them and if they would be suitable for your business.