When you are starting an ecommerce business on a shoestring budget, free options seem very appealing but what are the best ones out there?
Well, that is what we are going to look at in this post but unlike other posts, we won't be including things like WooCommerce or Opencart as ONLY the software is free, you still need to buy hosting and a domain name in order to be able to use them and all the platforms in this list include:
Hosting
Ecommerce Website Builder
Domain Name (platform linked so .platform.com for example)
Disclosure: Our site is reader supported, meaning we may earn a commission from purchases made through our links, to learn more, please see our Affiliate Disclosure.
Option 1: Big Cartel
Who are Big Cartel?
Big Cartel is one of the longest established fully hosted ecommerce platforms, having being around since their inception in 2005 but unlike many ecommerce platforms, Big Cartel had a specific target market in mind and that is creatives such as Artists and Makers.
One of the main aims of Big Cartel was to help creatives start selling online and the platform has been designed to be easy to use for people with no background or experience in building ecommerce websites.
Big Cartel Free Plan Includes
Sell up to 5 products
No Transaction Fees
No Turnover Limit
PayPal & Stripe Payment Gateways
1 Image Per Product
Big Cartel Pros and Cons
Learn More About Big Cartel
Option 2: Square Online Store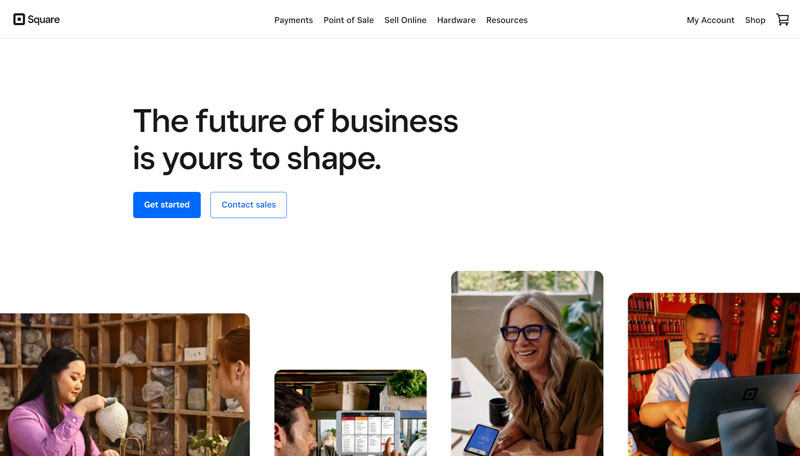 Who Are Square?
Square was originally a pay as you go card reader for small businesses, allowing them to take credit card payments without the need for long expensive contracts but since these beginnings in 2009, they have moved into the world of online payments and are one of the biggest names in the industry.
But their venture into being an ecommerce platform came with the 2018 acquisition of Weebly and that combined a website builder with the payment gateway to provide an all in one solution for small businesses.
Unlike the other platforms mentioned on this list, Square is the only one that can easily combine selling online and selling in person into one easy solution (you will need to by a card reader if you want to sell in person).
Square Free Plan Includes
Sell Unlimited Products
Sell Different Types of Products (physical, digital, membership etc)
500mb Storage & Bandwidth
Link to Square POS
Sell on Social Media
Square Pros and Cons
Learn More About Square
Option 3: Ecwid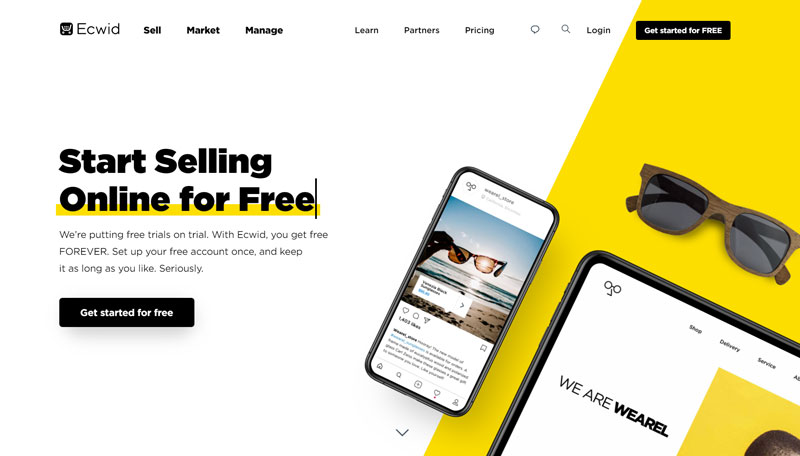 Who Are Ecwid?
Ecwid was originally designed to be a fully hosted shopping cart that worked with other platforms such as WordPress and Wix but they now offers users the option to built a standalone ecommerce website using Ecwid's own Instant Website Builder.
There was also a focus by Ecwid to make the platform easy to use for both new and experienced users and one of the main compliments Ecwid receives is its ease of use.
Ecwid Free Plan Includes
Sell Up To 10 Products
Unlimited Bandwidth
No Transaction Fees
Large Selection of Payment Gateways
Ecwid Pros and Cons
Learn More About Ecwid
Conclusion
This isn't the world's biggest list as there are not many platforms that offer completely free plans!
And while each plan is limited, you need to understand why, these free plans are in place of free trials, like those offered by most ecommerce platforms and you can actually take sales from paying customers but understandably, these platforms have limited things like the amount of products you can sell and/or the features you get access too.
And this is completely understandable as they want you to at some point move to a paid plan as they are businesses and need paying customers in order to survive, so please understand what you are getting with these free plans and don't expect everything for nothing.
Hi, I'm Paul, the Owner and Founder of EcommerceGold.
I ran my own Ecommerce Business for over 7 years and now help others start their own online retail empires!