Krystal are the UK's largest independent web host, with nearly 200,000 websites entrusted on their servers. But how good are they?
Now this is going to be a review just looking at the facts and figures as we have used Krystal as our hosting provider for EcommerceGold and other sites, including blogs and ecommerce websites for many years.
EcommerceGold is reader supported and we may earn a commission from products or services purchased through links on our site at no additional cost to you, to learn more please see our affiliate disclosure.
Krystal Pricing
Krystal are not the cheapest when it comes to web hosting but they never aimed to be, instead their focus, as set out by CEO Simon Blackler when he founded the business in 2002 was to provide its customers with an "honest, reliable and personal" web hosting platform and this meant focusing on the quality of the platform first and foremost.
There are a couple of things that I really do like about the Krystal pricing structure and that is:
You Can Pay Monthly – this is quite unusual amongst web hosting platforms as most require you to pay annually. There is an option to pay annually and you do get a discount that works out at the equivalent of two months free.
Not Hefty Renewal Fees – unlike many other web hosting services, Krystal don't lure you in with a special offer price for the first year and then load you in the second. The prices you see clearly advertised on their site are the prices you pay. Occasionally, they do a special offer, where you only pay £1 for your first month but they are still very clear about what you will pay after.
Krystal offers a wide selection of options when it comes to hosting and the range of plans means that everything from brand new websites to large sites getting thousands of views or more are covered.
Standard Hosting Plans
Amethyst
Ruby
Emerald
Krystal also offers three larger plans which are the:
Sapphire plan at £37/m
Diamond plan at £67/m
Tanzanite Plan at £97/m
All of these plans include more NVMe storage, more server resources and 24/7 emergency phone support, which is required for larger websites that have a lot of traffic.
Talking of server resources, the higher the plan, the more you get in terms of resources and you can see these resources below:
What is Resource Boost? For a 48 period every month, you can increase the amount of resources you have available, so if you know that you are going to be experiencing a large volume of traffic, you can turn this on, to help your site cope better.
This resource boost doesn't have to be used all in one go, it can be split across the month and can either be turned on and off manually or scheduled in advance.
That isn't all when it comes to what is included, you also get the following with every package:
Unlimited Sub-Domains
Unlimited Email Accounts
Regular Off-Site Backups
CDN (Content Delivery Network)
None of the standard hosting plans include a CDN but Krystal do offer this as an additional service that can be purchased for an additional £5/m for 50gb and this will be fine for most websites. If you need more, then you can buy 500gb for £35/m.

Managed WordPress Hosting
The second type of hosting that Krystal offers is managed WordPress hosting, which uses their Onyx platform and has been designed to provide users with a fast and reliable hosting environment for WordPress websites.
Personal
Business 1
Business 2
For larger websites, there are additional plans available, which include:
Business 3 – £100/m – 1 million visits, 30GB Storage, 300GB CDN
Business 4 – £200/m – 2.5 million visits, 40GB Storage, 600GB CDN
Business 5 – £600/m – 10 million visits, 50GB Storage, 2,000GB CDN
With all the business plans, you can manage up to 5 websites a month but each additional WordPress site will cost an additional £5/m but you can also create up to two staging or test sites for each live site on your package.
If you would like to include email accounts with the managed hosting, this can be added for £4.99/m per domain.
If you are an agency and manage multiple client websites, Krystal also offer a range of plans designed specifically for this purpose, that include the benefits that their managed WordPress hosting has to offer.
Krystal also offers a 30-day free trial of their managed hosting along with free site migration and UK-based support, which is not just for hosting-related questions but also general WordPress questions should you run into any issues or just need advice.
Customer Reviews
To give you a complete picture of what other customers and users think of Krystal, I went to three of the best sources of customer reviews, Trustpilot, Facebook and Google. You can see the ratings below:
4.9 out of 5
4.4 out of 5

4.8 out of 5
I think it is pretty fair to say that Krystal is pretty highly thought of by its customers, obviously there are a few negative reviews out there but I don't think that there is a big company out there that can maintain a 100% positive review score.
Krystal Hosting Pros
What I am going to look at in the next section of this review are the aspects of using the Krystal hosting platform that have been a positive for me.
24/7 UK-Based Support
Not everyone is tech savvy, so you want to know that there is someone you can contact when you are having problems with your site, performance or just a general enquiry and Krystal have always been very good in this regard.
From helping me migrate my site over to them when it first signed up to various enquiries that I have had since, I have nearly always had helpful replies, whether via the online chat, phone or by email. The responses have always been quick and helpful.
In the two years that I have been with them, there has only been one instance where the response I had was below average and not particularly helpful.
Free Migrations
Moving from one hosting provider to another can be a bit daunting and the thought of moving your website can fill you with dread. But Krystal makes the move from another provider to theirs extremely simple by migrating websites for free on their Web Hosting, Business Hosting and Managed WordPress packages.
This is also done with very minimal disruption to your website and my experience of migrating my site to them was painless. Free migrations are only available to new customers.
Performance
The reason why I moved to Krystal, was that the performance I was getting with my previous host wasn't great and lots of the reviews said that moving to Krystal had improved their site's load speed.
And I had exactly the same experience, I saw a 50% reduction in my site's load time when I moved to Krystal and made any other changes to my site. The combination of Litespeed servers and SSD really does help the performance of your site.
On a side note if you are using WordPress, I would definitely recommend installing the Litespeed Cache plugin as it works perfectly with the servers and you should see improvements to your site's load times.
Testing The Performance
As I do a lot of testing when it comes to EcommerceGold, I thought I would put Krystal to the test for this review. Now I am not going to be using either of my main sites for this as they are both optimised and it wouldn't be a fair test.
Instead I installed three popular pieces of software (WordPress, Opencart and PrestaShop), with demo content and ran them through Pingdom's Speed Test Tool (London) and you can see the results below:
0.38 Seconds
0.37 Seconds
0.62 Seconds
Now this is just on their cloud hosting and to me, those are some very impressive times! I also done one with WordPress + WooCommerce and that came out at 0.95 Seconds.
Now these figures are only quick tests to see how quick these platforms loaded in their basic forms. This will differ with your own site as there are lots of factors that impact on how well or poorly a live website performs.
Reliable Hosting
Krystal guarantee a 99.99% uptime and in the two years that I have been with them, there was only one time in March 2020, that I had any issues with my sites not loading and I was told that this was down to them having some issues with the server that my site was on (this was also the time I had the below average support).
Other than this one incident, I haven't experienced any major issues, there has been the odd time when my site has been down for 5 minutes and this usually happens in the middle of the night and doesn't have any negative impact on my sites.
Free SSL Certificate
On all Krystal accounts, you can install a free SSL certificate with LetsEncrypt and this is really easy to do within your site's Cpanel. Not only are they free to use but they also auto-renew as well, which means that you don't have to think about it once you have installed it.
You can also install your own paid SSL certificate if you want to and once again, this can easily be done via Cpanel.
Green Hosting
Datacentres consume a lot of energy and as responsible business and website owners, we all want our sites to have as little negative impact on the environment as is possible.
Krystal share this sentiment as well and have gone the extra mile, not only were they the first UK-based host to run completely off renewable energy but they also donate to Trees for life, which plants trees to help reduce the amount of carbon dioxide in the world.
This is a huge plus for me as I personally like to work with companies that share similar beliefs to myself.
Krystal HostingCons
As with everything in this world, nothing is perfect and Krystal is no different, so this is what I don't like:
No CDN Included
On the normal hosting plans, you don't get a CDN included with your monthly price, which for websites with a primarily UK-based audience or customer base isn't a major thing as you will still get good performance from your site.
But if you have got an international audience, then you will want to consider using a CDN as it will have a positive impact on your site's performance. Now, this isn't to say that they don't offer one, because they do and it only costs £5 a month for 50 GB worth of storage, which is really quite good. Maybe I just want too much?
With the Managed WordPress packages, only the personal package doesn't include a CDN, all the other packages do.
Conclusion
Krystal Hosting
Summary
Is Krystal the UK's Best Web Host?

It is quite hard to argue against them!

From personal experience, they have provided us with a solid, reliable and well-performing hosting environment on which to build a variety of different websites.

The support I've received over the years has been brilliant and I have no hesitation about contacting them if I have an issue.

Yes, they are not the cheapest but having been there and tried that, I would much prefer to go for quality over price and I would and do recommend them to anyone who is looking for a web host.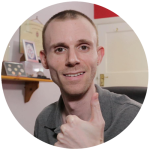 Hi, I'm Paul, the Owner and Founder of EcommerceGold.
I ran my own Ecommerce Business for over 7 years and now help others start their own online retail empires!