One of the most important parts of setting up a Shopify store is adding your product inventory and as your product pages are your money pages, so you want to make sure that you set them up properly so that you can get more sales!
In this guide, we are going to cover every aspect of setting up your product pages, including some useful tips along the way to help you get them set up properly, so let's get started…
1. Product Title
The first part of setting up your product page is to add a product title and this is a very important part of your page as the title uses the page's H1 tag, meaning that it is the most important heading on the page.
When creating a product title, you want it to be unique to that page and ideally:
Include the Primary Keyword for the product
Be between 55-60 characters long
Read organically
Generally, product titles are quite descriptive and will include very product-related information such as brand, model, gender, color etc.
2. Product Description
The second section is the product description and as this is the single largest content section on a Shopify product page, you want to create a good one as it can not only help you get sales but there are also SEO benefits (if that is part of your marketing strategy).
With the product description box being a text editor, it does give you plenty of formatting options to create a unique and engaging product description, these include:
Text type – this includes all the different headings (h1, h2, h3 etc), paragraph and block quote. Avoid using the h1 tag as you only want 1 of those on a page, instead, use the h2 tags
Text Style – this includes bold, italic, underlined and color, great for mixing things up and making the description more engaging
Alignment – choose whether your text aligns to the left, center or right
Inserts – these are additional elements that you can insert into your description, they are hyperlink (link to another page), insert image, embed video and insert table
Other Options – includes bullet and numbered lists, indents and an option to clear all formatting
Edit as HTML – if you want to create/edit the description using HTML, then you can do so by clicking on the icon
When you are creating your product description, you want to make use of these formatting options as it can make it much easier to read for your customers, with some general advice being:
Keep paragraphs short and punchy
List all important information in bullet points
Sell the benefits of the product
Avoid using manufacturer descriptions
This helps you to create original, well-written product descriptions that in many cases lead to better sales.
3. Add Media (Images & Video)
Section number 3 is adding media to your product and Shopify offers you the ability to add multiple media types and you can also choose whether you want to upload them directly to Shopify or add them from another URL, if you want to upload your media, then it must comply with the following:
Images
File type either JPG, PNG or GIF
Max size 4472 x 4472px or 20 megapixels, less than 20mb in file size
Video
Length up to 10 minutes long
Max file size 1gb
Resolution up for 4k (4096 x 2160px)
File type either .mp4 or .mov
3D Images
File size up to 500mb
File type GLB or USDZ
For your product images, you want to upload the correct image size and this may depend upon the theme you are using but the theme's documentation should state what the optimal image size is, uploading a web-optimized image is also helpful.
This is because the smaller the file size, the quicker the page should load, which is very beneficial to user experience.
For the videos, you can add links directly from YouTube or Vimeo but we found that videos displayed better when uploaded directly to Shopify but be aware that it can take time for videos to upload and be processed.
4. Pricing
Next up is setting the price for your product and this is quite straightforward as you can set:
The Sale Price, this is what the product will be selling for on the front end of your store
Compare at Price, this is if you are discounting the product and you enter the original price in the compare at price box and on sale price in the price box
Tax, a checkbox to say whether or not you pay charge tax on the product or not
Cost per Item, this is how much you paid for the item but this isn't displayed to your customers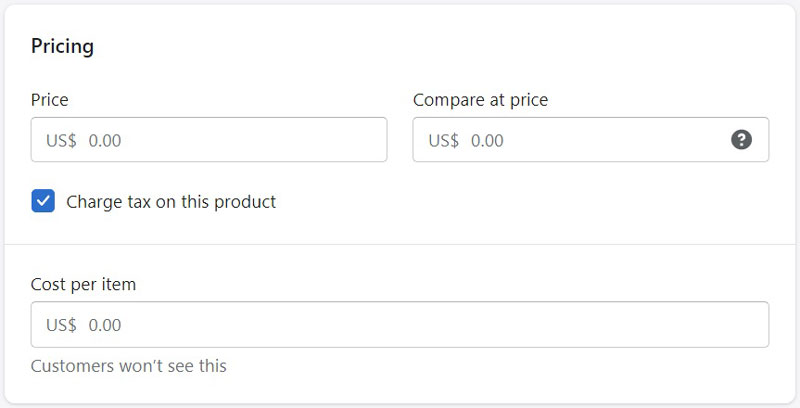 5. Inventory Management
If you are selling physical products, then you need to set up your stock information, otherwise it will list on the front end of your store that you have an unlimited amount.
There is also other inventory-related information that you can add, including:
SKU Code
Barcodes such as ISBN for books and UPC, GTIN or EAN for products
Both of these make up part of your page's product schema, so if your products have these then it is best practice to enter them here.
Then you can choose whether to track quantity or not, which should be checked for physical products and an option to continue selling when out of stock, which can be useful for backorders.
The final step is to set your stock levels and you set these by location, the default one is based on the address you entered for your store (this isn't displayed on the front end of your store) but if you want to add additional locations such as a warehouse for example, this can be done by going to Settings → Location → Add Location.
To add a quantity amount you can choose to type it in by clicking in the quantity box or using the up/down arrows but it is much quicker to type it.
6. Set up the Shipping Options
The next section is the shipping settings and if you are selling virtual products, then you simply uncheck the 'This is a physical product' box and can move on.
If you are selling a physical product, then you need to leave this box checked and if you are using a weight-based shipping method, then you need to enter the weight of the product here (including the weight of the packaging), you can choose to enter the weight in:
lbs (pounds)
oz (ounces)
kg (kilogram)
g (grams)
If you are selling internationally, then you also need to complete the bottom two sections, which are the Country/Region of origin, which in most cases is the country where it was manufactured.
Next is to find the Harmonized System (HS) Code, which is used to describe what category the product falls into and to find the right code, either start typing a word that describes the product or if you know the code, start typing it and a menu will appear showing all the options that match what you started typing.
7. How to Set up Variations
If you are selling products that have different variations such as size or color, then you want to click the check box under the Options section. This then allows you to add up to three main options such as size, color and material.
You can then add the individual options in the boxes below the main option, like in the image below where we have added Small and Big.
Once you have added your Options, a box will appear below, where you can enter the price, quantity and SKU code for all of your variations.
If you want to add more specific information to each variant, then click the edit button and a pop-up will appear that allows you to:
Set price and cost per item
Inventory info such as SKU, Barcode
The quantity at each location
HS Code for international selling
Once you have entered the information you want in the pop-up, click done and it will add that to the chosen variation.
8. SEO Settings
At the bottom of the page is the section to set up all of the on-page SEO settings, including:
Page Title – if you want the title of the page to appear different from the product title in search results, then entered your desired page title here (aim for 50-60 characters to avoid parts being cut off)
Description – this is the meta description that sits below the title in search results, aim to keep this between 155-160 characters for best effect, if this is not filled in then it will pull it from your product description
URL and Handle – this gives you some control over the page URL and will be based on the product title by default but if you want to edit the URL, this is where it is done
If SEO is a serious part of your Shopify stores marketing strategy, then you do want to spend some time editing this section.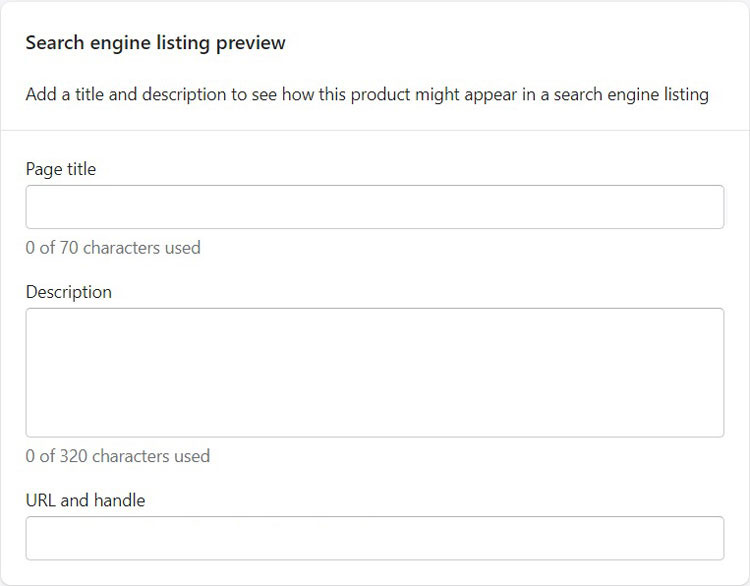 9. Set the Product Status
Next up, we move to the right-hand sidebar to set up the final few settings for the page.
The first of these is to set the product status and you can select:
From the dropdown menu, a common reason why products don't appear on the storefront is that they haven't been set to active.
The second set of options is to choose which sales channels the product is available in and the options here depend on which channels you have active on your store.
10. Product Organization
The second set of settings in the sidebar are all about organizing your product and there are 4 main options:
Type of Product – click on the box to choose from one of the standard options or create your own
Vendor – enter the vendor or brand of the product
Collections – choose which collection/s you would like the product to be a part of (need to create collections before they appear here)
Tags – these are tags that you would like to assign to the product
Depending on how any automated collections have been created, the vendor and tags will need to be entered.
12. Product Template
The final option is for the product page template but you would only change this if you have created a custom template in the Shopify customizer.
As standard, it is set to the default product template but if you want to change it to the one you have created, click on the dropdown menu and select the custom template you want to use.
Conclusion
As you can see, there are a few steps to set up a Shopify product but it is straightforward to do and the add new product page is very easy to use.
Just make sure that you go through section by section and include all the information you want but don't worry if you miss anything, you can always come back in and edit the page.
But once you have set up the product page in the way that you are happy with, you can then save the page and if it has been set to active, it will appear on your storefront, if it has been set to draft, then it will be saved as a draft product that you can access from the product overview page.
Hi, I'm Paul, the Owner and Founder of EcommerceGold.
I ran my own Ecommerce Business for over 7 years and now help others start their own online retail empires!