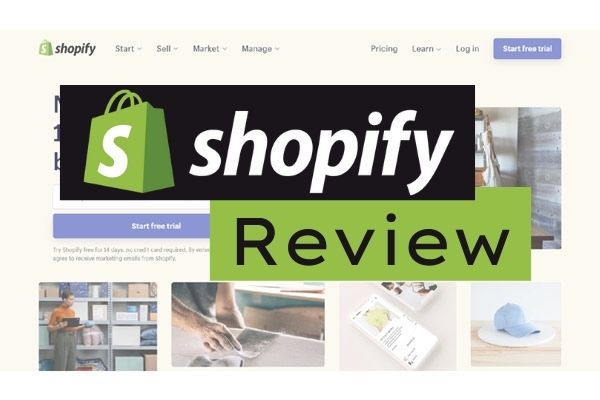 When it comes to fully hosted ecommerce platforms, there is no doubt that Shopify is the biggest name in the industry and powers over 1 million ecommerce websites.
With packages to suit start ups to multi national ecommerce websites and integrations to create dropshipping and print on demand businesses, it appears to offer the full package. But is Shopify the best ecommerce platform out there?
EcommerceGold is reader supported, meaning that we may earn a commission (at no additional cost to you) from products or services purchased through links on our site. Learn More.
Shopify Pricing
Shopify offer a range of ecommerce packages to suit businesses of all sizes, from a basic package for those just starting out all the way up to Shopify plus which is their enterprise grade setup. Below I have covered the three main packages they offer:

Basic
Unlimited Products
No Turnover Limit
Unlimited Data Storage
2% Transaction Fee
Free SSL Certificate
9 Free Themes
24/7 Support
2 Staff Accounts

Standard
Unlimited Products
No Turnover Limit
Unlimited Data Storage
1% Transaction Fee
Free SSL Certificate
9 Free Themes
24/7 Support
5 Staff Accounts
Gift Cards
Professional Reports

Advanced
Unlimited Products
No Turnover Limit
Unlimited Data Storage
0.5% Transaction Fee
Free SSL Certificate
9 Free Themes
24/7 Support
15 Staff Accounts
Gift Cards
Advanced Report Builder
Shopify plans are very competitive on price and the basic plan is more than enough to get you up and running. You also get a free blog and unlimited bandwidth with every plan, which is great if you want to do more than just sell on your website.
Free Trial
It is always better to try a platform before you commit any money to it and Shopify have you covered on that one. They offer a 14 day free trial and you don't need to give any information other than your name and email address. If you want to start a free trial with Shopify, then just click the button below.
Customer Reviews
Before I get full on into my review, I thought I would take a look at what some of Shopiy's existing customers thought of the platform. For this I look on Trustpilot, Facebook and Google.
1.5 out of 5
No Reviews

No Reviews
After reading through the Trustpilot reviews, it seems many of the reviews are of merchants using the Shopify platform rather than reviews of the platform itself, which is a shame.
Shopify Features
As one of the world's leading ecommerce platform, it is not surprise that Shopify comes loaded with features and all the ones listed below are available on the basic Shopify package. And as you move on to the bigger packages, you do also get a range of additional features.
Ecommerce Tools
Dropshipping Integration
Flexible Shipping Rates
Multi-Language
Product Reviews
Digital Products
Gift Vouchers
Shopify Management App
Marketing & SEO
Google Adwords Credit
Sell on Facebook
Discount Codes
Abandoned Cart Recovery
Auto Generated Sitemap
Social Share
Blog
Custom Meta Data
SEO Friendly URL's
Reporting & Analytics
Product Reports
Traffic Sources
Google Analytics
Day, Week and Monthly Reports
Payment Gateways
Shopify Payments
PayPal Express Checkout
Amazon Pay
Klarna
Worldpay
Sagepay
Shopify App Store
This is where the Shopify App Store comes into play and with over 3000 apps to choose from, it offers far more than any other hosted ecommerce platform.
The variety of apps is also impressive as they range from marketing to sales to product sourcing to managing your finances. I am sure that pretty much any functionality you could want is in there somewhere!
One thing that really did stand out to me, is the amount of dropshipping apps on there, so if you are planning on starting a dropshipping business, then Shopify should be near the top of your list as I saw apps for most of the major dropshipping networks.
Unfortunately, not all of these apps are free to use as most are made by third-party developers and you need to pay to use them. These costs can be a monthly payment plan or a single payment, depending on the app.
Shopify Theme Selection & Customisation
Shopify has a selection of over 70 themes available in their Theme Store but only 9 of these are free to use and the others range from $140 – $180.
You can also use themes from outside of the Shopify ecosystem and a search of Shopify on themeforest returns over 1,200 results. So there really is a great selection of themes available for the platform.
One of the things that helped separate Shopify from its competition in the early days was how easy it was to customise their themes so that you could have a really good looking website, without having to hire a web designer.
And their theme customiser is still one of the best on the market. It gives you not only a lot of options but also a lot of control over the look and feel of your website, even the basic free themes can be made to look very good and professional with a little bit of work.
All of your theme customisation is done using the left sidebar and you can add and remove sections as you please so that you can give your store the look and feel that you want. You do get access to a library of stock images available through Shopify, which is a really nice feature and allows you to pad out your site with some high quality images when you are just getting started.
Unfortunately, the theme customizer is pretty much limited to the homepage, there are some limited options for the product and collections pages but any other pages have to be done using a text editor that has basic layout options.
Another nice feature of the Shopify customiser is that you get to view to website on desktop, tablet and mobile and it is always worth going through these to make sure your site looks great on them all.
Shopify Payment Gateways
If you are selling online then you need a way to get paid and Shopify most definitely have got you covered on that front! Every major payment gateway such as PayPal, Worldpay, SagePay, Amazon Pay and Klarna are supported, plus many many others.
Now you may notice that Stripe is missing from the list? This isn't an omission, it is just that Stripe is available in the form of Shopify payments, which is available to every seller. With Shopify Payments, you get fraud analysis on every transaction and the rates are different for the three packages mentioned above.
Shopify Basic – 2.9% + 30¢ transaction fee
Standard Shopify – 2.6% + 30¢ transaction fee
Advanced Shopify – 2.4% + 20¢ transaction fee
These are really competitive rates, especially as you don't have a monthly recurring charge for using the gateway like you do with some credit card processors.
Do Shopify charge transaction fees?
Yes and this has always been one of my gripes with Shopify! You are paying them a monthly fee to use their platform, then they take a cut of your sales as well, I am not a fan of this. Transaction fees apply to all of their standard packages except for the enterprise level Shopify Plus. Your fees do reduce as you move up through the packages and they are:
2% on the Basic Shopify package
1% on the Shopify package
0.5% on the Advanced Shopify package
Now I do need to tell you that these charges only apply when you use a payment processor other than Shopify Payments. This can make the likes of PayPal quite expensive to use, especially when you are only doing low volumes of sales.
Shopify Support
Shopify offer a 24/7 support system via their help centre and while they don't actively display their contact details, it doesn't take too much digging to find out how to contact them. Simply type a word or question in to the query bar, scroll down and click the get help button and it will show you all the ways you can contact Shopify.
Outside of contacting their support teams, Shopify also has a very good selection of documentation and videos to help you and you will probably find your answer in there.
There is also the Shopify community forum, which is great place to ask questions and get really well informed replies as there are people in there who are very knowledgeable about the platform.
Web Hosting & Performance
To have a really good ecommerce platform, the web hosting that powers the online stores needs to be up to scratch. So how do Shopify stack up. Searching the Shopify site throws up some impressive information:
Unlimited Bandwidth
PCI Level 1 Compliant Servers
Global Content Delivery Network (CDN)
99.98% Uptime
And most important Blazing Fast Servers
This all sounds great but I don't take companies on their word! So I took it three of their customer examples websites and ran them through Pingdom's speed tool using their Washington D.C and San Francisco servers along with Google's Page Speed Insights. I ran each site through the speed tool once a day, for three days to get enough data to get some nice results.
Washington D.C: 1.07 Seconds
San Francisco: 0.98 Seconds

Mobile: 38/100
Desktop: 80/100
Shopify are one of the top performing ecommerce platforms that I have tested. Yes, there is room for improvement on their mobile scores but even though 38/100 isn't high, it is still one of the better ones out there.
Not only did the sites load quickly but they were also consistent, which is always a plus point.
How Easy is Shopify to Use?
Now it is time for the second part of my review, where I look at how easy I think Shopify is to use.
Ease of use plays a big part when it comes to choosing an ecommerce platform, the reason for this is that you want it to be as easy as possible to run and manage your website.
When I am reviewing how easy a platform is to use, I look at 4 main areas and they are:
Getting Started
Customising your theme
Managing Your Inventory
Managing Orders
Getting Started
Getting started with Shopify is really easy, all you need to do is enter your email address, create a password and a name for your ecommerce website and you will begin your free trial with Shopify.
Before you go in to your dashboard, Shopify will ask you a couple of questions so that they know what stage your business is currently at and on the following page, they will ask you to enter your business information such as your name and address.
Once you have done this you get taken through to the Shopify dashboard, and it looks just like the image below.
As you can see, they do give you a start up guide to follow so that you can get your site up and running. But it is a bit on the light side as there are no prompts to set up your payments gateways, delivery methods and website pages.
It isn't all bad news though, as Shopify have created their own academy to help you started and this is a series of videos that takes you through all the steps you need to do, to get your store ready to go live. The 27 introductory videos are very well presented and include some useful tips and tricks to help get you started with Shopify.
It is definitely worth going through the course and checking out some of the other courses available as there is some really good information on there.
Navigating the Dashboard
The Shopify dashboard is really well laid out. The sections in the sidebar navigation menu are clearly labelled and it doesn't take long to learn where everything is.
Managing Your Inventory
Adding New Products
Adding a new product is really simple. They haven't gone overboard with options on the single page layout and this makes the workflow of adding new products to your online store really easy.
Along with the basic such as adding the product title, description, images and price, you can set how you wish to manage your inventory, select whether it is a physical or digital products and also create variations for you product.
At the very bottom of the page, you can also edit your meta data such as title, description and URL.
Organising Your Inventory
Organising your inventory in Shopify, isn't as straightforward as it possibly could be. Unlike the category system that most ecommerce platforms use, Shopify have developed their own collection system and it takes a little getting used to.
This is because there are a couple of different ways you can set up your collections, the first and simplest way is to do this manually and this works very similar to a normal category as you create a category and then manually add your products to it.
The second is automated and this works on rules that you create using tags. This can be a little confusing to start with and it is definitely worth reading the documentation on this to fully figure out how this works and if it will work for your website.
One thing that isn't immediately evident is how you create a sub collection as there is no option to do this on the create collection page. Instead, this has to be done in the navigation section of your online store and you set up your sub-collection using your website menus.
Managing Your Inventory
To help you manage your inventory quickly and effectively, Shopify include and inventory page under the products section and this allows you to update your stock quantity, without having to go into each product and edit it individually.
If you want to make changes to the pricing, SKU code or any other field from the product, then you can select the products you want to edit from the product overview screen and then click the edit product button, which allows you to make updates in bulk.
Managing Orders
There is definitely room for improvement when it comes to Shopify's order management system as you can only do so much from the order overview page.
You can change order fulfilment status, capture payments and export order information in bulk but there is no option to print off your order invoices. This has to be done on an order by order basis within Shopify and this could soon get tedious, especially of you are managing a large number of orders.
If you store does process a large number of orders, then third-party order management software may be needed.
Conclusion
Shopify Review

Pricing
Features
Theme Selection & Customisation
Support
Hosting & Performance
Ease of Use
Summary
Is Shopify the Best Ecommerce Platform?

I wouldn't say the best but Shopify is without question a very good ecommerce platform and is a great option for building an ecommerce website.

It has a very good selection of features, is easy to use and has a lot of resources to help get you started but there are a couple of things that are drawbacks for the platform, such as the transaction fees, as they can make Shopify more expensive than their competition.

The Good:

• Easy to use admin area
• Nice theme selection
• Great theme customiser
• Free SSL certificate
• Stock Image Library
• The App Store

The Not so Good:

• Transaction fees
• Collections system could be easier to use
• No option to print off orders in bulk

So there it is, my full review of Shopify. A good ecommerce platform that is loaded with features and very easy to use but does have a couple of flaws. Definitely give it a try for yourself to see if it is the right choice for you!