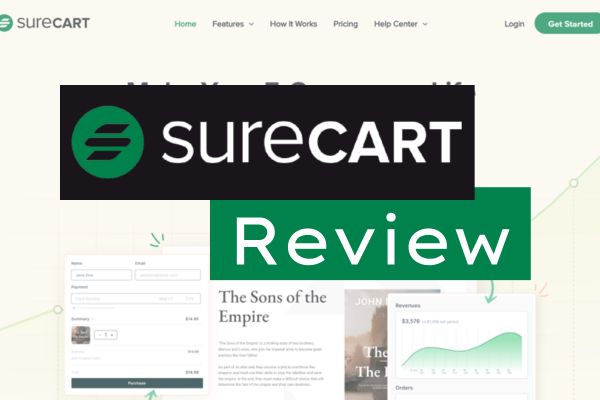 What is SureCart?
SureCart is a new take on ecommerce for WordPress sites by embracing new technology to provide a more secure and in many cases user-friendly alternative to some of the traditional ecommerce plugins that have dominated the market for so long.
But is it any good and is it a viable alternative to WooCommerce? That is what we are going to be looking at in our in-depth review.
Theme Selection & Customisation
Free Plan Available
EcommerceGold is reader supported and we may earn a commission from products or services purchased through links on our site at no additional cost to you, to learn more please see our affiliate disclosure.
SureCart Review: Quick Summary
Is SureCart any good? SureCart is a very good ecommerce plugin, especially for digital products but lacks a couple of features on the free plan that makes it good for physical products, such as:
No inventory management
Lack of bulk editors for inventory and orders
But it is most definitely a viable alternative to WooCommerce and definitely worth considering as an option for adding ecommerce to a WordPress website.
How Does SureCart Work?
Before we get into the review, we wanted to talk about how SureCart works as it is different from the likes of WooCommerce and Easy Digital Downloads because SureCart is a headless ecommerce solution for WordPress.
With SureCart, there are two elements:
The Ecommerce Platform – this is where you sign up to SureCart and where all the ecommerce elements such as the checkout are hosted
The WordPress Plugin – this connects their platform to your WordPress site, so that you can use the checkout etc
And while it appears to you as the user and the customer on the frontend of your site that everything is all part of your WordPress site, they are actually two separate platforms that work seamlessly together and this provides some advantages:
It's more secure – because the checkout pages are all hosted on SureCarts secure servers, it means that no customer information is stored on your WordPress site
Less bloat – unlike traditional plugins that add lots of code to your site, SureCart doesn't and won't impact your site's performance
And this is why SureCart is different from many of the other WordPress ecommerce offerings.
SureCart Pricing
SureCart offers 4 options when it comes to its pricing, 1 free plan and 3 paid.
The free plan, which most people will get started with includes:
Listing up to 100 products
500MB file storage for digital downloads
Email support
It also comes with a range of features, which is covered more in the next section. The three paid plans are:
Startup
Business
Pro
All SureCart plans are paid for annually but work out very competitively priced when you look at how much they cost per month vs many of the other WordPress ecommerce plugins.
SureCart Features
Every SureCart plan comes with a good selection of features, with larger plans offering improved versions of certain features or ones that aren't available on smaller plans and below is a summary of the features that are included with SureCart:
Ecommerce Tools
SureCart comes with a good selection of ecommerce tools to help you start selling through your WordPress site, including:
Sell Physical, Digital & Service Products – it allows you to sell a variety of different product types and includes storage for your digital downloads
Sell Subscriptions – build recurring revenue (can be used for SaaS products) by selling subscriptions and on the larger plans, customers can upgrade, downgrade and pause their subscription
Offer Installment Plans – offer flexible payments if your customer can't afford to pay everything upfront
Auto-calculated Tax & VAT – SureCart automatically calculates tax, even for international payments and handles EU VAT as well
Easy Refunds + Customer Survey – easily refund your customers and auto send them a survey to find out why they want a refund and what you can do better in future
Marketing & SEO
One of the most important aspects of ecommerce is marketing, so what tools does SureCart offer to help you start generating sales?
Product Bundles – increase sales by promoting products bundles, which can also include discounts to encourage people to buy
Discounts Codes & Coupons – easily create discount codes and coupons, which you can promote to customers
Auto Payment Recovery (for subscriptions) – don't lose out on payments, automatically send payment reminders to customers
Abandoned Cart Emails – automatically send emails to encourage customers to complete the checkout, you can also include discounts
Built-in Affiliate Program (Coming Soon) – you will soon be able to create and manage your own affiliate program through SureCart
In terms of SEO, due to how SureCart works, you can use all of the WordPress SEO features including the blog to help you start ranking in search engines (an SEO plugin might also be helpful)
Payment Gateways
SureCart comes with a small but very nice selection of payment gateways, including:
PayPal
Stripe
Apple Pay & Google Pay (for mobile payments)
Mollie
They also have more integrations with additional payment gateways planned but one very nice thing about SureCart is that the don't charge any additional transaction fees.
Integrations
SureCart currently offers a number of integrations, both with other WordPress Plugins and third-party software, this includes:
WordPress Plugins
SureMembers
MemberPress
LearnDash
The great thing about the SureCart plugin is that all these features are built into the plugin and having just one plugin can make running an ecommerce store using WordPress a lot less stressful!
One thing that we do really like about SureCart is that they not only list the features that they are planning to add in the future but also give you an indication of when they are going to be available for you to use.
SureCart Theme Selection & Customization
With SureCart being a headless ecommerce setup, it works with any WordPress theme as you add the buttons and forms to pages using blocks.
This gives you the freedom to choose whichever theme you want but just make sure that everything displays properly before going live.
When it comes to customization, SureCart does offer a lot of control over the layout of its pages and gives you lots of options for the different pages, including:
Product Pages
Shop Page
Checkout
Customer Dashboard
Surecart also includes a number of blocks that can be added to other pages on your site, which is ideal for building landing pages or adding ecommerce elements to blog posts.
SureCart Support
All SureCart plans include email support but the more expensive plans give you priority support, which should result in your support ticket being answered quicker.
But even on the free plan, they aim to respond to email support tickets within 24 hours, so you shouldn't be waiting around too long for an answer.
SureCart does also have a Facebook community group, which is a great place to ask questions and get answers from other members of the community and they have a knowledgebase, which is a useful source of information.
How Easy is SureCart to Use?
Ease of use is a hugely important thing to consider when choosing an ecommerce platform as you want something that not only offers all of the features you need but is also something that is easy to use as this will help in the day-to-day running of your ecommerce store and for ease of use, we will be looking at:
Getting Started
Setting up Storefront
Inventory Management
Managing Orders
Getting Started
In order to get started with SureCart, you will first need to have your WordPress site all set up and ready to go.
Once this is done, simply head to the WordPress plugin library and install the SureCart plugin and you will begin the sign-up process, which consists of 4 stages:
Choose your plan
Enter your store details (skippable)
Connect your payment gateway (skippable)
Get your API Token (make sure you copy this)
You will then be taken back to your WordPress dashboard and asked to enter your API token in order to connect your WordPress site with the SureCart platform.
Once this has been done, you will be taken to the SureCart plugin dashboard, which includes a 3-step guide to help you get SureCart setup on your store, which includes:
Create products
Add buy and cart buttons
Customize forms
The button for How to Add Buttons goes to the SureCart YouTube channel and you have to find the video for yourself, rather than being taken to the tutorial video.
The dashboard also includes the reporting for your store and shows you:
Your revenue
Number of orders
Average order value
Your recent orders
These reports can also be compared to the last period (which is set by you from a dropdown menu), so that you can see how well your store is performing.
When you install the Surecart plugin, it will add three pages to your site, these are:
Shop – this is a homepage for your store
Checkout – this is the checkout page for your store
Dashboard – this is the customer dashboard
And to make these easily accessible for your customers, you can easily add these to your navigation menus.
Inventory Management
When we are looking at inventory management, we look at 3 main elements:
Creating a new product
Organizing your inventory
Managing your inventory
Creating a New Product
Creating a new product in SureCart is very simple as the Add New Product page is very well laid out and easy to use, with the page including the following sections:
Details – this includes the name and the description for the product
Images – add your product image
Pricing – set the pricing, this is also where you can set up subscriptions
Integrations – this is where you set up any integrations such as courses etc that are linked to this product
Downloads – if this is a downloadable file, then you add the file in this section
SEO – gives you the option to add a meta title and description
Publishing – set whether the product is available for purchase, published, the template you want to use and the slug for the product
Shipping – choose whether the product is physical or digital
Tax – toggle whether you want to charge tax on the product or not
Advanced – you can use this section to limit the number of purchases for this product
The dropdown menu in the top right also includes options for the instant checkout.
And a BIG change that has happened with Surecart is that it now creates a product page, similar to what you would get with WooCommerce and this makes it a much more usable ecommerce plugin.
Organizing Your Products
Currently, Surecart doesn't have the ability to create categories, which is something that we would like to see added as it helps with organization, not only for you as the store owner but also for the customer.
Inventory Management
With the free plan, there aren't any inventory management options and this includes being able to set inventory levels and while this isn't a problem for digital products, it doesn't work well for physical products.
There are also no bulk options for managing your products, meaning everything has to be done on a product-by-product basis.
Managing Orders
SureCarts order management system is quite basic and doesn't currently offer any bulk features, meaning that all orders need to be managed on an order-by-order basis.
For physical products, there is an option to print/download an invoice, which makes processing orders a lot easier and when fulfilling an order, you can add a tracking number and tracking URL, which the customer can use to track their order.
If there was an option to update order statuses and print invoices in bulk, it would make the order management process a lot more efficient for physical products.
Conclusion
SureCart Review
Theme Selection & Customization
Is SureCart Any Good?
We really like SureCart and the way they are heading and with a few additions, such as inventory management, product categories and some bulk editors, it would be arguably the best ecommerce plugin for WordPress.
Currently, we would say it is a great option for digital products and adding a payment option to landing pages and if you could set inventory levels on the free plan, it would work really well for a store looking to sell a small number of physical products as well.
SureCart is definitely on its way to being a very good alternative to WooCommerce for physical products and is already there for digital ones and we are very excited for the future of SureCart.
SureCart Pros:
SureCart Cons:
Surecart Alternatives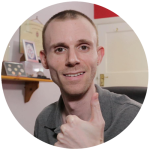 Hi, I'm Paul, the Owner and Founder of EcommerceGold.
I ran my own Ecommerce Business for over 7 years and now help others start their own online retail empires!