What is Wix?
Wix is one of the biggest and most well established hosted website builders in the world.
But there lies a potential issue, they are primarily a website builder and not a dedicated ecommerce platform! To sell via the Wix platform, you do need to add the Wix Stores app which adds ecommerce functionality to your site.
And it is this ecommerce functionality, that is going to be the main focus of this review, to see if Wix is a good option for building an Ecommerce Website?

Theme Selection & Customization
Start a Free Wixsite, No Credit Card Required
Wix Ecommerce Full Review
Disclosure: Our site is reader supported, meaning we may earn a commission from purchases made through our links, to learn more, please see our Affiliate Disclosure.
Wix Pricing

Basic
Unlimited Products
Unlimited Bandwidth
No Turnover Limit
No Transaction Fee
20GB Storage
Free SSL Certificate
24/7 Support

Unlimited
Unlimited Products
Unlimited Bandwidth
No Turnover Limit
No Transaction Fee
35GB Storage
Free SSL Certificate
24/7 Support
Sell on Marketplaces

VIP
Unlimited Products
Unlimited Bandwidth
No Turnover Limit
No Transaction Fee
50GB Storage
Free SSL Certificate
VIP Support
Sell on Marketplaces
Custom Reports
UK Pricing
Business Basic – £16/m (£13/m if paid annually)
Business Unlimited – £19/m (£16/m if paid annually)
Business VIP – £25/m (£22/m if paid annually)
In terms of straight-up pricing, Wix is very reasonable and their two smallest ecommerce plans are cheaper than the entry-level plans for the likes of Shopify and Bigcommerce. It is a little strange having two plans so close together in terms of pricing and it does make me wonder why they don't combine into one business plan?
The larger VIP plan is also very reasonably priced at $59/m and this does include a few more features and allowances that you get with the two smaller plans but on all plans, a couple of notable things are that:
There are no transaction fees
No turnover limits
Unlimited number of products that you can sell
These are very generous and not many other platforms offer the same combination of no's!
For larger ecommerce businesses, Wix now offers an enterprise package, which is custom-built for you and your business and the price of the plan is based on your requirements.
Free Trial
Wix is a little bit strange when it comes to testing the platform out as they offer a completely free plan and you can install the Wix Stores app but you can't take orders.
If you want to fully test out the ecommerce functions, then you need to upgrade to one of the paid plans, which includes a 14-day money-back guarantee.
Customer Reviews
Before we get into the review, let's take a look at what some of their existing customers thought of the platform. For this, we looked on Trustpilot, G2 and Capterra.
4.4 out of 5

4.2 out of 5

4.4 out of 5
Wix Features
Wix Ecommerce Tools
One area where Wix has improved over the last few years is the features that they offer as part of the Wix Stores app and below is a summary of these features:
Sell Physical & Digital Products
Multi-channel Inventory Management – manage all your sales channel's inventory from one dashboard
Subscriptions – allows you to set up a recurring payment for subscription-based products
Product Variations – sell different variations of a product from one product page
Integrated Members Area – lets customers manage their account and access to an exclusive forum if you offer it
Sell in Multiple currencies – sell internationally by displaying your store in local currencies (only available on Unlimited & VIP plans)
Wix Marketing Tools
Wix comes with a pretty impressive selection of marketing tools that allows you to do a lot to attract customers directly from your Wix dashboard.
Multi-channel selling – add sales channels to your site including Facebook & Instagram, Ebay can also be added on the Unlimited & VIP plans
Email marketing campaigns – create automated email campaigns to promote your products to your existing customers
Facebook & Instagram ads – create ads to promote your store via social media with Wix AI
Create branded social media posts – share store branded posts to your social media accounts
Create discounts – encourage sales by creating promotional discounts for your store
Abandoned cart recovery – automatically email customers who have abandoned their cart
Loyalty Program – encourage repeat customers by creating a loyalty program for your customers, only available on the VIP plan
Wix SEO Tools
Many of the marketing tools listed above are targeted towards social media, but what if you want to generate organic traffic from search engines, well Wix offers the following tools:
Blog
SEO tools to create custom:

Page Title
Meta Description
URL

Auto-generated sitemap
301 re-directs for old pages
Google search console integration
Wix Payment Gateways
So Wix offers a good selection of payment gateways including:
But there is a distinct push by Wix for you to use their payment gateway, Wix Payments and PayPal as these options are displayed in the Accept Payments setting section and other options such as Stripe or Square are kind of hidden on a page that requires two clicks to get to.
Do Wix charge transaction fees?
No, Wix does not charge any transaction fees, no matter what plan you are on.
Wix Shipping Options
Wix offers a variety of different shipping options to help you get your products to your customers, including:
Customizable Shipping Rates per Region, such as:

Free delivery
Flat rate
Sub-total based rates
Weight based rates
Product based rates

Local Delivery Options
Local Pick-up
You can also mix and match these options, which can be useful for businesses such as small local shops.
Wix Reporting & Analytics
Being able to analyze your store can be very helpful in making decisions for your business and this one area where Wix definitely isn't short of options.
Reports:
Sales
Traffic
Abandoned carts
Blog
Marketing
There are multiple options for all of these sections and you can also choose whether you want the info displayed, either in a table or a chart. While having good information is helpful, having too much can be detrimental and Wix's reporting does kind of fall into the latter as sometimes, less is more.
Analytics:
You can also access a selection of analytics to see a live snapshot of how your store is doing.
Wix App Market
Even though Wix offers a good selection of features as standard, they do have its own App Market, which is home to over 300 apps that can add a variety of different features and also integrations to your Wix store.
Unfortunately, not all of these apps are free to use and while many offer a free trial or free plan, if you want access to all of the features, then you are going to have to pay for them.
Theme Selection & Customization
Wix has a very large library of themes that are available, with over 100 available for online stores but you need to choose the theme you want to use when you are setting up your store with Wix as they don't offer the ability to switch themes.
Instead, if you want to change the theme, you need to create a new site and then transfer your plan to that site, which is far from optimal!
One of the things that Wix says in their adverts is how easy it is to build a beautiful custom website and when it comes to editing your theme, the Wix Editor certainly gives you a lot of control over the look at feel of your site as you can:
Add, remove and rearrange sections
Make changes to the layout by dragging and dropping elements
Customize different page types
Change the colors and font
There are also additional options for customizing your mobile site as well, which is a nice touch but there is almost too much you can do as it allows you to make such minor changes, such as dragging an element slightly to the right or left that will have no impact on user experience.
Sometimes, you can have too much control!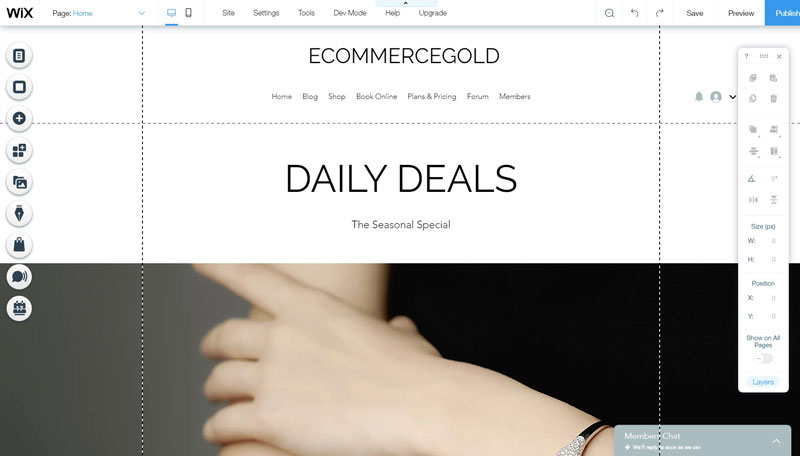 Wix Support
Wix offers 24/7 support to all of its English-speaking customers and varying support times for other popular languages around the world.
Like most other platforms, they offer a selection of different support options including email tickets, live chat and over the phone (via call back) and Wix recently added the live chat option to the admin dashboard, making it much easier to contact the support teams.
Hosting & Performance
It is always interesting to know about the hosting environment on which your ecommerce store is going to be running and usually, companies are very forthcoming with their information but that doesn't seem the be the case with Wix, in fact, all the information we found was:
Unlimited bandwidth
Free SSL certificate
99.8% Uptime
CDN
PCI Compliant Servers
But to find the uptime, CDN and PCI Compliance, we had to put specific searches into Google to find out as the help page on the Wix servers is pretty much useless.
Even though they didn't want to tell us about their hosting, didn't stop us from testing the platform out using the following method:
We took 5 customer example sites and ran them through Uptrends Speed Tool, which allowed us to test the load time and Google PageSpeed scores for both mobile and desktop devices and we ran each site through the tool once a day for three days to get a good spread of data and the results were:
Mobile Load Time: 3.98 Seconds
Desktop Load Time: 4.10 Seconds

Mobile Score: 20/100
Desktop Score: 54/100
Those really aren't a good set of results (even though load time has improved since 2020!), there does seem to be some issues with the Wix hosting environment and deeper testing into Wix does seem to indicate that the Wix Stores app is somewhat of a contributing factor to this.
Even though the load times are very slow, it is the Google scores that are very concerning, especially as load time is a ranking factor, this could not only impact your rankings but slow load times also impact user experience, which could result in people clicking off your site.
To see how Wix performed against its rivals in terms of speed and performance, check out our Fastest Ecommerce Platforms post.
Wix Video Review
How Easy is Wix to Use?
All of Wix's adverts state that it is an easy platform to use and that anyone can create a professional-looking website in no time, so let's see if they are telling the truth!
When we test an ecommerce platform out for ease of use, we look at 3 main areas:
Getting Started
Inventory Management
Managing Orders
Getting Started
Getting started with Wix is really easy, all you need is your email address and a password.
You will then be asked a series of questions such as:
What type of website are you starting
The name of your site
You will then be asked if you want to buy a domain
What the goal of your site is (ecommerce, portfolio etc)
Which apps you would like to add
Once you have answered all of these questions, you will be taken to the admin dashboard and on your first sign-in, you will be greeted by a rather comprehensive setup guide, which is tailored to the type of store that you want to create.
To set up the front end of your site, you will need to go through the ADI (Artificial Design Intelligence) tool and this will ask you some more questions, including:
Entering your business info (name, address etc)
Choose a logo template
Pick a theme (colors, fonts etc)
Choose a template
Which pages you would like to add
Based on your answers to these questions, the ADI will build out a site for you, which only takes around 5 minutes to complete and once your storefront has been created, you can then use the editor to customize it how you want.
So overall, the signup process for Wix is pretty straightforward and the admin dashboard itself is pretty easy to use (although the design and layout seems to change every few months!) and the main sidebar navigation menu is well laid out and the headings are clearly labeled.
But it can get a bit crowded if you install a lot of the Wix apps as many add their own headings, which results in you having to scroll up and down the sidebar navigation to find different sections.
One issue we did find with both the admin dashboard and the editor is that they can take a while to load at times, especially when you open up the editor and this can make it frustrating to use, especially as things like installing/removing apps and some other processes are done through in the editor.
Adding and Managing Products
Before getting to the add new product page, Wix will ask you whether you want to add a digital or physical product.
Wix has opted for a very simple layout for their add new product page. It includes all the sections that you need such as title, description, images and shipping. You can also add variations and additional sections if you need to add more than just the basic information.
On the add product page, you can also promote your product by creating coupons, promo videos, sending it in an email campaign, sharing the product on social media and editing the SEO settings.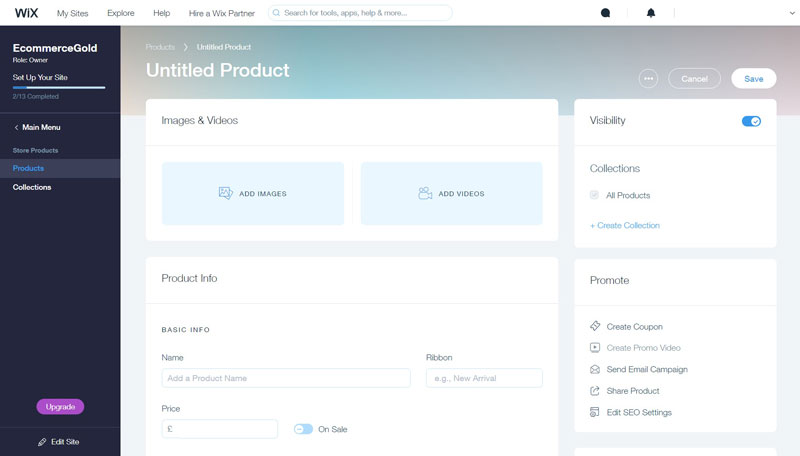 Organizing your stock is also pretty easy, rather than categories, you create collections but they work very much in the same way. It is easy to add products to your collections, you can do it from the edit collection page or you can do it directly in the edit product page.
The only downside is that you can't have sub-collections, which is something that does make organizing your stock easier.
Wix has recently added an inventory manager and it is a welcome addition to the Wix platform but it is limited to just updating stock levels, any other updates such as pricing need to be done on a product-by-product basis.
Managing Orders
Managing your orders in Wix is a very simple process as they have included some bulk tools, which allow you to:
Filter orders by fulfillment status
Change fulfillment status
Export order information
Print orders
You can also manage orders individually and overall, Wix's order management system just works.
Conclusion
Wix Ecommerce

Theme Selection & Customization
Is Wix a Good Ecommerce Platform?
For small businesses, Wix is an option worth considering as they offer:
A good selection of features
Reasonably priced plans
An easy to use platform
But in our opinion, Wix does fall short of the best ecommerce platforms for some important reasons:
Performance (frontend), Wix is consistently one of the worst sites in our annual performance testing
Performance (backend), the load screen is a common site when moving between the sections in the admin dashboard
SEO, Wix is not great for SEO due to performance but limited tools and no optimization for images
Changing Theme, you should be able to quickly and easily change your theme but this isn't the case with Wix
If Wix addressed some of these issues, then it would become a better option for building an online store.
Wix Alternatives
Hi, I'm Paul, the Owner and Founder of EcommerceGold.
I ran my own Ecommerce Business for over 7 years and now help others start their own online retail empires!