Wix are one of the biggest platforms for building websites due to their heavy marketing presence on the likes of YouTube (I'm sure you have seen the ads!) and social media.
But for this review, I am purely looking at their ecommerce from the Wix Stores App, to see if it is a good option for building an Ecommerce Website?

Pricing
Features
Theme Selection & Customisation
Support
Hosting & Performance
Ease of Use
14 Day Free Trial, No Credit Card Required
Wix Ecommerce Full Review
Disclosure – this post contains affiliate links, which means that if you sign up to services via a link in this post, I do receive a commission, which helps keep the site running and at no cost to you. BUT in no way does this influence my review of the platform, if I don't like something then I will say so!
Wix Pricing
The pricing on the Wix website doesn't include that much information as to what you get for your money. One thing they do promote is that they don't put their ads on your site, I should think not on a paid plan as well!

Basic
Unlimited Bandwidth
No Turnover Limit
20GB Storage
Free SSL Certificate
Google Analytics
6 Images per Product

Unlimited
Unlimited Bandwidth
No Turnover Limit
35GB Storage
Free SSL Certificate
Google Analytics
9 Images per Product
Social Media Logos

VIP
Unlimited Bandwidth
No Turnover Limit
50GB Storage
Free SSL Certificate
Google Analytics
12 Images per Product
Social Media Logos
Priority Response
VIP Support
UK Pricing
Business Basic – £13/m
Business Unlimited – £16/m
Business VIP – £22/m
To be able to use the Wix Stores App on your Wix website, you will need to use one of the Business & Ecommerce plans, which start from $28 a month. This puts it directly against the likes of Shopify and Bigcommerce whose basic plans are also around the $30 a month mark.
You do get quite a bit for your money with no turnover limits or transaction fees applicable to any plan and there is also a generous storage allowance with all plans.
While not overly clear on the Wix website, you can pay for your plan on a monthly or yearly basis.
Free Trial
As with nearly all of the hosted ecommerce platforms, Wix offer you a free 14 day trial so that you can try the platform out. You can also keep a free wix website after the trial ends but it won't have any of the ecommerce features.
Start a Free Wix Website
No Credit Card Needed
Customer Reviews
Before I get full on into my review, I thought I would take a look at what some of their existing customers thought of the platform. For this I look on Trustpilot, Facebook and Google.
1.5 out of 5
No Reviews

No Reviews
Wix Features
The Wix website doesn't give that much information about the features that is offers but signing up for their trial shows you far more of what they have to offer. They use a mix of core features and apps that you can install to add functionality to your website, some of these include:
Live Chat
Blog
Bookings
Events Calender
Forum
Wix music to sell and promote your music
Memberships/Subscriptions
Discount Coupons
They also have integrations in the form of apps with many third-party platforms including Printful, Printify, Quickbooks and Google Ads.
Wix is definitely a feature rich platform and there are lots of options available to you when it comes to building an ecommerce store. All of the apps are free to use on premium plans although you may have to take out a paid plan with some third-party services.
Theme Selection & Customisation
Wix has a very large library of themes that are available on the platform but only 86 of these are listed under the online store heading and there is no word as to whether or not any of the other themes will work with the Wix Stores app.
There are also a handful of developers who have made some very nice premium themes but the pricing does vary, depending on the developer.
One of the things that Wix say in their adverts is how easy it is to build a beautiful custom website and honestly, their system isn't bad. When it comes to customising the look of your site, you have two options.
The first is the ADI, which I mentioned above. This is the mode that I would recommend using as I did find it the easiest out of the two to use. In ADI mode, the sections of your pages can be edited individually and it allows you to change the content as well as the layout of the section. This can be done by simply clicking on the settings and design buttons when you click on a section.
You can also add and remove sections from a page. When you want to add a new section, it will display all of the layout options for that section. Re-arranging the order in which your sections appear on the page is easily done by clicking the up or down arrows when you hover your cursor over a section.
In addition to this, you can also change the colours on your site, the font type and animations. The font type selection wasn't great for me as they have pre-set match ups of header and body fonts but you can't select individual fonts, which isn't great if you have specific ones you want to use on your site.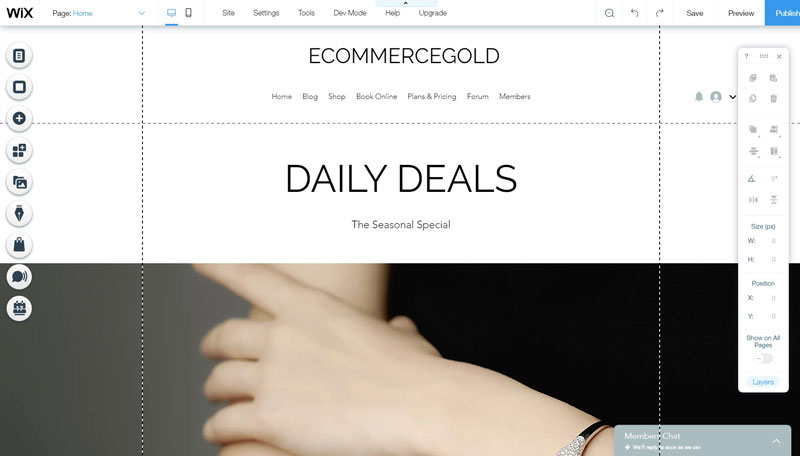 The second option is the advanced editor, this is a drag and drop editor that allows you to make a variety of changes to your site. From minor ones like the alignment of text, to adding different sections to your site. While the advanced editor is very in-depth, you really need to dedicate some time to really learning how to use it properly.
Payment Gateways
From what I had read on the Wix website, I expected there to be quite a few different payment options but was quite disappointed when I saw that there was basically only 3 options available for the UK.
They were Wix payments, PayPal and cash payments, which you could use for bank transfers. There was no mention of Stripe, Klarna or any other of the major payment gateways.
Do Wix charge transaction fees?
No, Wix do not charge any transactions fees, no matter what plan you are on.
Wix Support
For any plan outside of the VIP plan, you are stuck with the basic Wix support and it is pretty basic!
The Wix support centre is just a list of documentation on a variety of different topics. And while the documentation isn't bad, sometimes you just need to talk to someone. Unfortunately, this isn't something that you can do easily.
Just finding out how to submit a support ticket or request a callback takes a bit of detective work. The information on how to contact the support team is buried right at the bottom of the help centre and you then have to answer a number of questions before the very little contact us option appears.
You can then request a callback or submit a ticket. I really don't like it when companies try to hide their contact info!
Hosting & Performance
I found no information on the Wix website regarding their servers or hosting environment. In fact much of the Wix website doesn't really give you much information about anything!
After much digging, I came up with that the have 99.9% uptime and include an SSL certificate with every package. But that doesn't stop me from testing out their customer example sites! As with every platform I review, I took three of their sites and ran them through Pingdom's speed tool using their Washington D.C and San Francisco servers and also through Google's Page Speed Insights once a day for three days and you can see the results below.
Washington D.C: 6.52 Seconds
San Francisco: 6.72 Seconds

Mobile: 12/100
Desktop: 28/100
I am not sure what is going on with the Wix hosting set up but the performance of all the Wix websites was considerably worse than their competition and they came bottom of every test.
There also seems to be some optimisation issues with Wix Stores App as it does seem to slow sights down, as I also tested a few standard Wix websites and while the performance still wasn't great, it was better than the ones running the Stores app.
Wix Video Review
How Easy is Wix to Use?
All of Wix adverts state that it is an easy platform to use and that anyone can create a professional looking website in no time, so lets see if they are telling the truth!
When I test a platform for ease of use, I look at 4 main areas:
Getting Started
Navigating the Dashboard
Adding and Managing Products
Managing Orders
Getting Started
Getting started with Wix is really easy, all you need is your email address and a password. On the next page, you can decide whether you want to do all the work yourself or let the Wix ADI (Artificial Design Intelligence) do it for you.
I opted to see what the ADI was all about and it is actually a pretty good system and asks you a few questions. Once you answer these, then it will build a basic site for you, which you can then go on a tweak for yourself.
On your first login to your website, you will be taken to the design are but to manage your contect such as products and blog posts, you need to go to your website dashboard. Once you get here, you will be greeted with a pretty comprehensive set up guide. The amount of individual guides you will see does depend on the apps you selected when going through the ADI set up.
Navigating the Dashboard
Navigating around Wix isn't the easiest thing to do, mainly because it is split into two separate sections:
Design – which can be either the ADI or Advanced Editor
Dashboard – where you manage your content such as products, bookings or blog
While many platforms do something similar, what makes Wix a bit strange to use is that they operate in different tabs within your browser. So if you are in the edit area and click on the dashboard, it will open up in a new tab. This feels a little bit disjointed to me.
The individual design area and dashboard are both pretty simple to navigate but they have completely different layouts, which means you have two different things you need to get used to navigating. You can see the different layouts in the pictures above and below this section.
One thing I did notice was that some things seem to take a long time to load in Wix, especially when you make changes to the design.
Adding and Managing Products
Before getting to the add new product page, Wix will ask you whether you want to add a digital or physical product.
Wix have opted for a very simple layout for their add new product page. It includes all the sections that you need such as title, description, images and shipping. You can also add variations and additional sections if you need to add more than just the basic information.
On the add product page, you can also promote your product by creating coupons, promo videos, send it in an email campaign, share the product on social media and edit the SEO settings.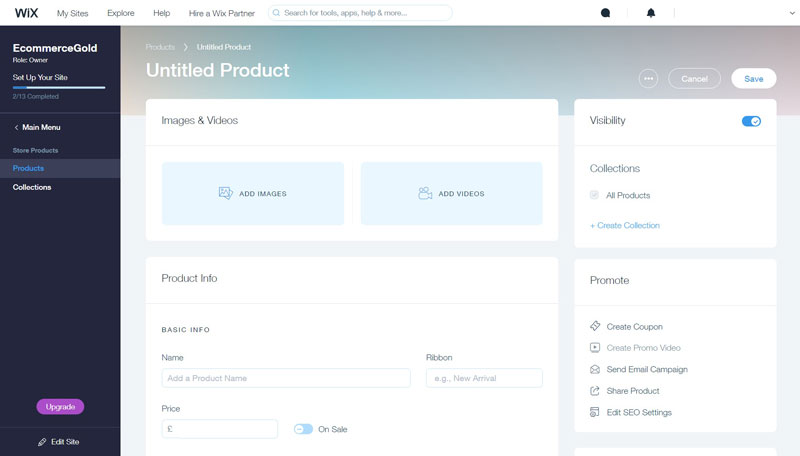 Organising your stock is also pretty easy, rather than categories, you create collections but they work very much in the same way. It is easy to add products to your collections, you can do it from the edit collection page or you can do it directly in the edit product page.
The only downside that I saw was the you can't have sub-collections, which is something that I would have liked to have seen as it does make organising your stock easier.
Managing your inventory though isn't that great as they have to be done on a product by product basis. You can't edit prices or quantities in the products overview page. This could get quite tedious if you have a large inventory to manage.
Managing Orders
Unfortunately, I was unable to test the order management system out because this can only be done when you upgrade to one of their premium plans.
Conclusion
Wix Review

Pricing
Features
Theme Selection & Customisation
Support
Hosting & Performance
Ease of Use
Summary
Is Wix a Good Ecommerce Platform?

Not really, while it does come with some pretty decent ecommerce features and the ADI is one of the best theme customisation tools I have used, there are too many major negatives for me to class it as good!

The Good:

ADI set up
ADI theme customisation
Dashboard set up guides
Wix App Market
Add/edit product page

The Not so Good:

Hidden support contact details
Performance
Limited payment gateway options
Slow loading times within the dashboard
Lack of sub-categories

The very poor performance is just too much of a downside to overlook due to the impact it has not only on your customers user experience but will also impact your search rankings.
Start a Free Wix Website
No Credit Card Needed
Wix Alternatives