The WooCommerce plugin for the WordPress platform is one of the world's most popular options for building an online store, with millions of active installations and user base ranging from small start ups to multi national businesses.
As a base it can be used to build a variety of different ecommerce stores, from simple b2c stores to multi-vendor marketplaces. But is it a good option for building an Ecommerce Website? Well that is what I am going to answer in this review.
Pricing
Features
Theme Selection & Customisation
Support
Performance
Ease of Use
WordPress website required
Disclosure – this post contains affiliate links, which means that if you sign up to services via a link in this post, I do receive a commission, which helps keep the site running and at no cost to you. BUT in no way does this influence my review of the platform, if I don't like something then I will say so!
WooCommerce Pricing
WordPress + WooCommerce is a self hosted solution and both are free to install. However, you do need to buy some web hosting to install them on and this can range in price, depending on what your requirements are.
If you are just starting out, then you will probably be ok using a pretty basic hosting package that should costs around £5 a month. Most good hosts, also have bigger packages for when your online business starts to grow which cost up to £20 a month.
But if you are an established online business that has tens or hundreds of thousands of visitors a month, then you are going to need specialised enterprise ecommerce hosting which depending on your requirements will cost anywhere from £20/30 a month up to a couple of hundred pound a month. This type of hosting should also be PCI Compliant.
WooCommerce Features
The basic WooCommerce plugin is pretty light when it comes to features as it is a basic shopping cart. You can take orders, list products, create categories and create discount codes, but that is about it.
The beauty of WooCommerce and the WordPress ecosystem in general is that amount of plugins available that allow you to add all different types of functionality and the possibilities are pretty much endless. You could easily build a:
Normal ecommerce store for physical or digital products
Booking website
Subscription site
B2B website
Many of the plugins are free and available directly from the WordPress plugin directory, however the free versions usually don't have all the features you want. To get these, you will need to buy the full version of the plugin from the developer and prices vary depending on the plugin.
Some plugins don't offer free versions, which means that you can't try them before you buy.
One of the main features of using WooCommerce is that you have got a built in WordPress blog that you can use and it is arguably one of the best pieces of blogging software in the world.
WooCommerce Theme Selection & Customisation
This is definitely one of the WooCommerce trump cards as no other platform really comes close to them amount of themes available, especially free themes!
There is over 1000 themes in the WordPress theme library that have WooCommerce integration and I wouldn't be surprised of there are others in there that just haven't mentioned it.
If you want a premium theme then the selection is incredible, you can use marketplaces such as themeforest.net or go directly to developers and buy from them. Many of the free themes also have premium or pro versions that include a lot more features.
I definitely don't think you will be caught short when looking for a theme to use.
When it comes to customising your theme, the amount of customisation options you have does come down to the theme itself. The WordPress customiser is a great tool to use and it is easy to use.
If you install a theme and the amount of options to change your site is quite limited, you either need to just accept the way the theme looks or start changing things at the HTML and/or CSS level. For me though, if I can't change what I need to, then I will look at another theme.
There are some design elements that are not completely theme related such as your menu's, sidebar and footer widgets. This does make changing themes a little bit easier as you don't have to completely start from scratch.
WooCommerce Payment Gateways
Pretty much every single payment gateway you can think of is supported by WooCommerce and most are integrated by installing a plugin for that particular gateway. Many of these are official plugins made either by WooCommerce or the payment gateway but for some, you will need to install one made by a third-party developer.
The only issue is that only a few of these plugins are free but fortunately the likes of PayPal Express Checkout, Stripe and Klarna are all free. It is only the gateways for more 'traditional' payment gateways like Worldpay and Sagepay that cost money and they start from $79.
WooCommerce Support
Considering the WooCommerce plugin is free to use, you do get some support from the developer. While you don't get phone support or live chat, you can submit a support ticket, that they will reply to.
You can also use the support forum to ask a question and many of the support team are active in there and will often answer your question. There are also many knowledgeable forum members who will be happy to help.
WooCommerce Performance
I can't do in-depth performance analysis like I have done in many of my other ecommerce reviews, simply because there are too many variables, such as quality of hosting, theme choice and website optimisation.
So what I did do was install WordPress and WooCommerce on a sub-domain and ran it through Pingdom's speed tool and I was really surprised by the 0.95 second load time. This is really good as without optimisation, WordPress isn't known for being the fastest platform.
Obviously, once you start adding products, new themes and plugins, this will effect load times. But I know from experience that a well optimised WooCommerce site can easily load in less than second.

WooCommerce Review Video
How Easy is WooCommerce to Use?
As WooCommerce is a self hosted ecommerce platform, the learning curve is a bit steeper than fully hosted platforms. But don't be put off as it still doesn't take long to get up to speed with the platform. When I look at how easy a platform is to use, I look at the following 4 points:
Getting Started
Navigating the Dashboard
Adding and Managing Products
Managing Orders
Getting Started
Installing WooCommerce is straight forward, simply go to the WordPress plugin directory, search for WooCommerce, click install then activate once it has installed.
You can then go through the WooCommerce set up wizard, which will configure all of your stores basic settings.
Before you get to this point though, you will need to install WordPress itself and that is a little more challenging. Now some web hosts will automatically install WordPress for you, which makes your life nice and easy.
If you need to do it yourself, then you will have to log into your cpanel and then find the software installer. Search for WordPress and then follow the instructions on how to install it properly, once it is installed, you can then install the WooCommerce plugin.
Navigating the Dashboard
In many ways, the WordPress admin dashboard has been the blueprint for many other ecommerce platforms as it is well laid out and easy to use.
All the main sections are located in a sidebar on the left of dashboard, most of these will be related to the main WordPress CMS but once you install the WooCommerce plugin, you will see two additional sections appear.
One is for managing your WooCommerce settings and your orders, the second is for create and managing your products, categories and product attributes. If you are using your site just for ecommerce, then you will spend most of your time in these two sections.
Some plugins will add sections to your sidebar so that you can access the plugin straightway, where as others will go into subsections of other headings. This can make life a bit difficult to try and find some plugin settings.
Adding and Managing Products
This is something that WooCommerce does really well. Adding a new product is really easy but before you starting typing in your product description, you want to check that it is in the right one. This is because WooCommerce has a short and full product description.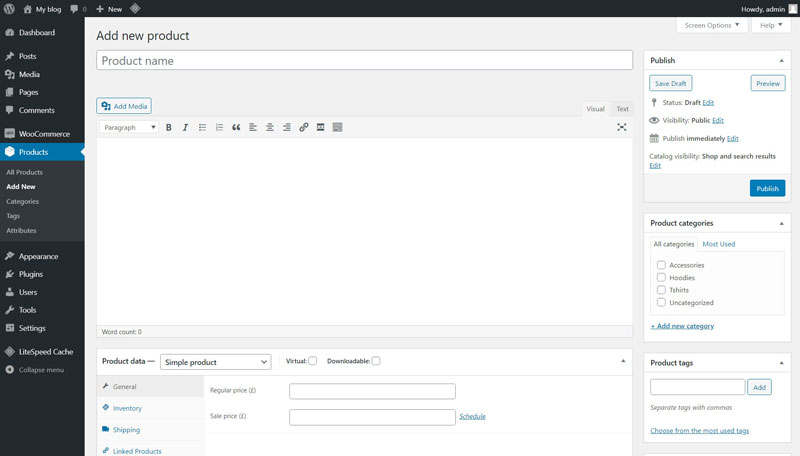 The short description goes next to the product image on the product page, where as the full description goes below the product. This is an important thing to know as putting them the wrong way round can make your product page look a bit of a mess.
WooCommerce has also made it easy to organise your products into categories and sub-categories, you can also add descriptions and images to the categories if you want to display a selection of your product categories on your site.
If you need to edit your product inventory, you need to use the quick edit option in the view products page and this will bring up a small selection of options that you can amend including the stock quantity.
Managing Orders
This is something that really isn't very good out of the box and doesn't really let you do all that much.
To remedy this you can install the WooCommerce PDF Invoices & Packing Slips plugin, which is free to use and this allows you to print off packing slips and invoices, they can also be attached to order confirmation emails.
It also makes sure that the order numbers are sequential as WooCommerce in its standard form generates random order number, for me this is a must have plugin.
Without the above mentioned plugin, you can update order statuses either individually or in bulk, if you do install the PDF plugin, then you can also print of invoices or packing slips in bulk or individually.
Why WooCommerce hasn't bought the PDF plugin from the developer and integrated it with the core WooCommerce plugin is beyond me as it just adds the finishing touches it!
Conclusion
WooCommerce Review
Pricing
Features
Theme Selection & Customisation
Support
Performance
Ease of Use
Summary
I am a big fan of WooCommerce and WordPress in general. While it is not perfect out of the box, with a couple of additional plugins, it soon becomes a very capable ecommerce platform. One of the main attractions of WooCommerce is the amount of possibilities in what type of ecommerce business you can build.

But while it isn't too difficult to learn the basics and build an online shop using this platform, to really optimise your site does take a bit more technical knowledge, as you will need to understand what you are doing and changing in order to make your site perform as it should.

The Good:

• Free to install and use
• Lots of options when it comes to the amount of businesses you can create
• Massive number of themes to choose from
• Same goes for the plugins
• It is your website, you can move it to another web host if you are not happy
• Easy to use admin dashboard

The Not so Good:

• Does need a couple of plugins to really work properly
• No real technical support if things go wrong
• Can be expensive if you need to use paid plugins

So there you have it, my full review of the WordPress + WooCommerce ecommerce platform. I really like the combination but if you are not technically minded or have no real intention of learning how to do any of that, then a fully hosted ecommerce would be a better option.
WooCommerce Alternatives