In this post I am going to be looking at the create.net platform and seeing if it is any good for an ecommerce website.
I was introduced to the create.net platform via a Facebook group I am part of and a few people recommended it, so I had to check it out for myself. Create.net is based here in the UK and offers a platform to create business and ecommerce websites for small UK businesses, but is it any good?
EcommerceGold is reader supported, meaning that we may earn a commission (at no additional cost to you) from products or services purchased through links on our site. Learn More.
Create.net Pricing
I try and keep my reviews as up to date as possible but in 2020, Create.net has updated their pricing and plans three times, so if the information is incorrect, I do apologise!
Create.net offer three main plans, with the Personal plan being designed just for building websites, and the two larger plans including ecommerce features.
Personal
Up to 10 Pages
Unlimited Bandwidth
3gb Storage
Free SSL Certificate
UK Based Email Support
Professional
Up to 50 Pages
Unlimited Bandwidth
10gb Storage
Free SSL Certificate
UK Based Chat Support
Up to 250 Products
£2K Monthly Revenue Limit
Business
Unlimited Pages
Unlimited Bandwidth
20gb Storage
Free SSL Certificate
UK Based Priority Support
Unlimited Products
£10k Monthly Revenue Limit
Advanced Ecommerce Features
So as of the time of updating this review (November 2020) Create.net have removed the ecommerce features on the entry level Personal package and this is now just for building business websites.
The two plans that include ecommerce features are the Professional and Business packages, both plans come with monthly revenue limits of £2k and £10k respectively, if you need more turnover limit, then you will to go on to their tailored plan, which starts from £79.99/m.
If you are interested in seeing how the Create.net pricing compares to other UK platforms, check out my How Much Does a UK Ecommerce Website Cost post.
Free Trial
To let you properly try out the platform, the create.net team give you a full 14 day free trial. On the free trial, you cannot take or process any orders but you can do pretty much everything else. If you want to start your free trial with Create.net, just click the button below.
Create.net Free 14 Day Trial
No Credit Card Needed
Customer Reviews
Before I get into my review, I thought I'd see what their customers think of the platform. I have searched Trustpilot, FaceBook and Google to find how they are rated:
4.9 out of 5
No Reviews

No Reviews
Create.net Features
Now as EcommerceGold is mainly focused on ecommerce (surprisingly!), I am going to be focusing on the package that offers the best in terms of ecommerce related features, which is the Business package. If you are interested in any of the other packages, all of their features can be found on the create.net website.
Ecommerce Tools
Personalisation Options – allows your customers to add a personal touch to your products
Ebay Listing Tool – automatically list you products on your Ebay store
Related Products – show your visitors other related products you have for sale
Customers Also Bought – show your visitors what products other people have bought along with the one they are buying
Product Ratings – display ratings and review that previous customers have left on your products
Bulk Product Management – allows you to manage your inventory in bulk and saves you time
Import Ebay and Amazon Orders – manage all of your orders from the Create dashboard
Marketing and SEO
Blog – add more content to your site in the form of blog posts, great for SEO and generating organic traffic
Social Share Widgets – let your visitors and customers share their favourite products to their social media accounts
Discount Codes – create discount codes for special offers and promotions
Events calendar – show any events you are holding or places you may be exhibiting or attending
Custom Meta Data – create custom meta information such as title, description and keywords
Sitemaps – auto generated sitemaps that are submitted to all the major search engines
Abandoned Cart Tools – send out auto emails to customers who have abandoned their cart to encourage them to complete the sale
Google Shopping – automatically upload your products to Google shopping
Reporting and Analytics
Google Analytics Integration – show your analytics information directly in your Create dashboard
Sale Turnover Reports
Gross Profit Report
Sales by Payment Gateways Report
Abandoned Cart Report
Sales by Source
Top Selling Products
Payment Gateways
The selection of payment gateways isn't huge but it does include all the main players:
Create Payments (Credit and Debit Cards)
PayPal
Stripe
Sagepay
Worldpay
Barclaycard EPDQ
Nochex
The only gateway that would be a good addition is Klarna.
Do Create.net charge transaction fees?
Nope, they don't charge any additional fees for using their platform. The only transaction fee you pay is your payment gateway fees.
Create.net Theme Selection & Customisation
There is a really nice selection of 35 free, mobile responsive themes to choose from. The selection is very varied and the majority of industries and niches should be able to find something to suit them.
If you want to have a custom built theme, you can contact Create directly and they will quote you on how much it will cost. Alternatively, they do have what they call the Web Designer's Kit. This allows developers or people who have knowledge of HTML and CSS to create their own template.
I really like how you can customise your theme, it is one of the easiest systems to use and for me it is well balanced. It is simple enough for people to use who are new to building websites, but also offers enough options and flexibility for someone who is experienced in web design.
In the main design area, you can choose which theme you want to use, edit your header and footer layout, theme colours and theme fonts. It is really easy to do all this and you see the results of your changes instantly.
When it comes to changing the layouts of your pages, you can do it directly in the design area but for me, it is better to use content section. To create or edit a page layout, they use a block system and the selection of blocks is really good and many have different variations. You also have a lot of controls when it comes to how your images and text are displayed.
If you want to customise the layout of your shop, category or product page, then you do need to go into the general configuration settings of your shop section, you do have to use one of the pre-existing designs for this. This seems a little hidden to me, I would have preferred it to be more obvious as to where to find these options.
I would have liked to be able to add sidebars to my site. For me this is something that an ecommerce store should really have as it allows your visitors to narrow down their search.
Create Support
Create have definitely put supporting their customers as a priority and every customer gets their own account manager, who can be contacted directly from the dashboard.
You also get your own dedicated account manager, this is a really good feature as having the same point of contact every time you need to speak to them makes life much easier.
On top of this, they also have really good documentation and many also include videos that help explain things, sometimes this is better than reading through a document.
Create Web Hosting and Performance
I couldn't find much information on the Create server or hosting environment, this is a little disappointing. Even though the majority of people won't really look at this part, people who are looking to move to a new platform or have a history in ecommerce would like to know some of this.
That still doesn't stop me from testing their sites platforms performance though! To do this, I have used my tried and test method of taking three of their customer example sites and running them through the Pingdom speed tool (London server) and Google's Page Speed Insights, once a day for three days, so that I get some good data. So how did they perform?
Pingdom: 0.82 Seconds
Google Mobile: 64/100
Google Desktop: 92/100
Create.net are really impressive when it comes to their performance, the 0.82 second load time is one of the fastest that I have tested and the Google scores are very impressive.
To see how Create.net performed against it's rivals in terms of speed and performance, check out my Fastest Ecommerce Platforms post.
How Easy is Create.net to Use?
Create.net is a aimed at people and businesses that have little to no experience when it comes to building a website. So how easy is it to use?
When I test a platform for ease of use, I look at 5 main areas:
Getting Started
Navigating the Dashboard
Adding and Managing Products
Managing Orders
Getting Started
Signing up to the create.net platform is really easy to do, simply enter your email address and you will then be taken to a page where you are asked for some basic information such as your name and shop name. You will also need to create a username and password.
On the first login to your dashboard, you will be greeted with a pop-up that has a video embedded in it. I would definitely recommend watching this video as it gives you a really good introduction to the platform, I like this touch.
Clicking off the pop-up brings you to the set up guide and every step includes a video showing you how to do it. I think this is a great addition as it takes away a lot of the guesswork.
Navigating the Dashboard
The dashboard is very simple in terms of sections and this does make it easy to get around and you will know where most things are pretty quickly. I definitely think going to with the simplistic works well on this platform.
They have opted for a top navigation bar and this works really well with their system as your options for customising pages etc appear as a sidebar.
Adding and Managing Products
Adding a new product on the create.net platform is a little different to many ecommerce platforms I have used. The main difference is that you add your product images at the end of the process to add a new product and there is no section within the menu to add an image any earlier.
Other than this little quirk, adding a new product is really simple, the tabbed layout isn't over complicated and you aren't confronted with too many options. It is pretty much the same story when it comes to creating a new category as well and makes organising your inventory easy to do.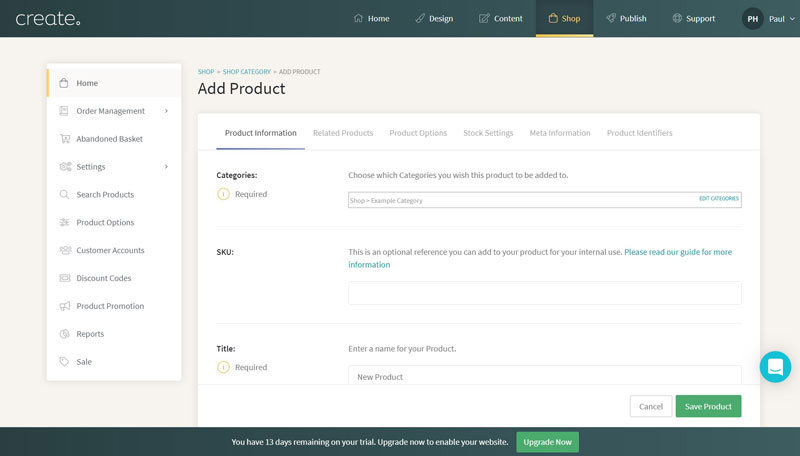 In order to manage your inventory effectively, you need to switch from the standard to advanced view in the shop section as this is the only way you can view all your products on the same page. Aesthetically it isn't the best looking but it works and that is all that matters.
In the advanced view, you can easily update stock quantity and pricing by clicking the small plus icon next to the product name. If you only have a small inventory, then the standard view works but the advanced view is better.
Managing Orders
I couldn't do everything I wanted to when it came to testing out the order management and some things are blocked until your site is live, which is a little bit frustrating!
Fortunately, they do have some good documentation on this so I could read through the stuff I couldn't test. Managing your orders is pretty easy and offer you a few different options. You can print picking list, dispatch notes (invoices) and labels in bulk or individually.
You can also update order statuses in bulk and you can export all of your order information in CSV format, which is always a useful feature.
Conclusion
Create.net Review
Theme Selection & Customisation
Summary
Is Create.net the best UK Alternative to Wix?

Yes, I have to say that I was really impressed with the Create platform and is a great option for a small ecommerce website or boutique business, which is who Wix's target market is, as it offers a good selection of ecommerce features as well as being very easy to use.

The platform also allows you to show off and promote your business by adding content in the form of pages and a blog. It fills a need in the industry and it is better than the likes of Squarespace who are aiming for a similar kind of audience.

The Good:

• Easy to use
• Intro videos
• Nice selection of ecommerce features
• Easy to customise the design
• Dedicated account manager

The Not so Good:

• No sidebars in the design
• Category and product page layout could be easier to find

I did really like using the platform and it is a really good option for small, boutique businesses.
Create.net Free 14 Day Trial
No Credit Card Needed
Create.net Alternatives