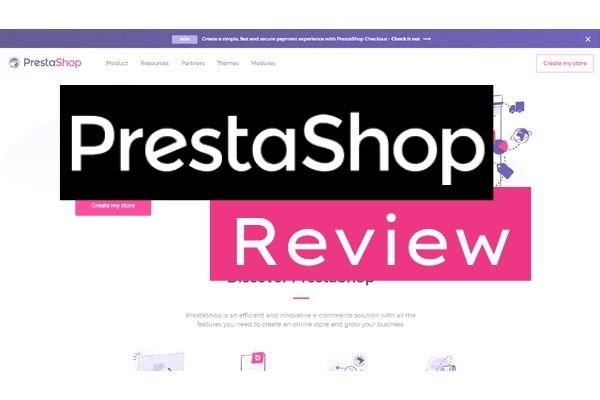 What is PrestaShop?
PrestaShop is a self-hosted ecommerce platforms based out of Paris, France. As of writing this review, it currently powers over 300,000 ecommerce websites worldwide and is a popular choice in the USA and mainland Europe.
But is PrestaShop any good and is it a good alternative to the likes of Shopify and WooCommerce? Well that is what we will look to answer in this review.
Theme Selection & Customisation
Web Hosting Required
Disclosure: Our site is reader supported, meaning we may earn a commission from purchases made through our links, to learn more, please see our Affiliate Disclosure.
PrestaShop Pricing
As PrestaShop is self hosted, the core platform is free to install and use but you will need to purchase some hosting in order to be able to use PrestaShop for a live website.
There are some charges that you can incur within the PrestaShop ecosystem in the form of paid modules and themes. If you are on a tight budget, then there is a good selection of free modules around but you may need to do a bit of searching to find specific things.
PrestaShop Features
For some reason, PrestaShop don't make it easy to find information about the features that are included with their platform but listed below is a summary of the features included with PrestaShop:
Ecommerce Features
Sell Physical and Digital products
Create Product Bundles (called packs of products)
Sell Customizable Products where customers can upload files
Add Variations to Product listings
Set Minimal Order Quantity for chosen products
Custom Message for Out of Stock products
Inventory Tracking
Create Suppliers and Manufacturers and link them to product listings
Option for One Page Checkout
Marketing & SEO
Create Special Offers using Coupons which can offer:

Free Shipping
Discounts of either percentage or fixed amount
Include a free gift

Up sell with Cross-selling and Promotional Content
Suggest Products for Customers
Let Customer Add Gift Wrapping
Abandoned Cart Emails
Allow Customers to Sign Up for Back in Stock notifications
Create SEO Friendly URL's on Products and Pages
Set Custom Meta Data
Connect Store to Social Media Accounts
PrestaShop Payment Gateways
As standard, PrestaShop includes two default payment modules, which are Payment by Check or Bank Transfer but they do have a selection of additional modules that can be installed for free, including:
PrestaShop Checkout (powered by PayPal)
PayPal
Stripe
AmazonPay
Klarna
SumUp
Square
They also have a selection of paid modules that include different providers and ways of paying.
PrestaShop Shipping Options
As standard, you can set up your own shipping options and rates, such as:
Free Shipping
Shipping Costs according to value or weight of order
Choose region in which Shipping option applies
Set maximum dimensions and weight for the Shipping method
There are also free modules which integrate with Shipping Providers such as:
PrestaShop Modules
As you will have seen if you read the features above, PrestaShop use modules for adding customisation to their platform and these are all available from the Addon Marketplace, in which there are currently over 4000 modules that you can choose from.
The module selection covers all different kinds of functionality from payment gateways to marketing and SEO to creating specialist sites such as marketplaces and booking websites, plus much more.
There is a small caveat to these modules and that is that most of them are paid, the choice of free modules is only just over 100 and the paid modules range from just over $50 to around $1,000 for the first year, renewal prices are usually a lot cheaper.
Prestashop Theme Selection & Customisation
The Prestashop marketplace has a selection of over 3000 themes that you can choose from the only downside is that none of these are free and prices start from around $100 but if you are looking for free themes, there are plenty out there from third party developers and you can find them with a quick online search.
Theme customisation is somewhat limited on the basic theme but many of the paid options do come with built in customizers, which makes customization considerably easier!
Sticking with the default customizer, you can change the logo for your stores header, emails and the favicon very easily, it is also very easy to switch between installed themes.
The page configuration tool is pretty easy to use and allows you to configure the layout of your home, category and product page.
Within each page, there are sections where you can configure the settings within this section and also potentially add additional modules but there is no option to re-arrange to quickly hide/delete these sections and when you go into the configuration options, you are taken to a new page and for some of these, there is no direct way back to the customizer.
Overall, theme customization as standard is quite frustrating and somewhat disjointed to use and it is very sorely missing a live customizer.
They do also have advanced settings, which allows you to download your theme so that you can make changes to the code but knowledge of HTML and CSS is essential for this.
PrestaShop Support
Due to being self-hosted, the support available directly from PrestaShop is very limited.
They do have a contact form, which is better than some but if you need help sorting an issue, you may need to pay for this as PrestaShop doesn't include support (unless you opt for one of their expensive hosted package and this is limited email support). You may in some cases be better one of PrestaShop agency partners.
PrestaShop does however offer really good documentation and their community support forum can be a great place to ask questions.
How Easy is PrestaShop to Use?
Getting Started
When you first log into your dashboard, you are greeted with a set up guide. Which is great to find, especially on a piece of free software. They have even named their penguin in the logo Preston which is a nice touch.
The set up guide is the most in-depth that I have come across, it takes you through lots of small steps and points out where things are located on the page, especially the add new product page. Other sections in the set up guide are how customise your store, add payment gateways and set up delivery methods.
Once you have completed the basic set up guide, a pop-up appears with links to more guides, training and their forum.
The PrestaShop dashboard is well laid out as they have opted for a sidebar navigation menu and all of the main headings are clearly labelled. If any headings have sub-sections then a menu with these options will expand below the main section title and as as with the main navigation bar, all of these are also well labelled.
The main dashboard homepage contains lots of quick analytics such as:
Sales
Orders
Visits
Conversion Rate
You can also quickly access your most recent orders and while there is lots of good information on the page, being able to customise what you see in the dashboard would be helpful as it does feel a little bit cluttered.
Inventory Management
You are introduced to how to add a new product in the start up guide and it really does do a good job of showing you easy it is to add a new product.
The add new product pages sections are split across a number of tabs and this helps keep the amount of options in each tab to a minimum and it is easy to work through all of the sections and tabs in order to be able to create a new product.
If you are creating a product with variations, you will need to set these up separately in the Attributes and Features section of the Catalog, this can't be done directly in the new product page, so you may need to set these up before creating a new product.
To organise your products, PrestaShop have opted for the tried and tested category system and this makes it really easy to organise them into main and sub-categories. You can also create brands and suppliers, which is great if you stock branded goods.
Managing your inventory is very limited on PrestaShop as there aren't any real bulk editors, there is a stock section within the catalog, which allows you to quickly update stock levels but in the main product overview page, tools are very limited and you will need to go and edit the product listing to make any changes.
Managing Orders
PrestaShop"s order management system isn't the best and it suffers from the same problem that runs throughout the platform and that is that you have to navigate to different pages to get anything done.
In the main order overview page, the only bulk editing tool that is available is to update order statuses, to print invoices or delivery slips, you either need to go into each individual order or click on the invoices section in the sidebar.
You can then select a date range of the selected orders, with the invoices, you can also sort them by order status. It then downloads the PDF files to your computer, rather than generating directly in the browser so that they could be printed off.
It is little things like this that make it a bit long winded, I also would have liked to have been able to select which invoices/packing slips by order number. One other thing you can do in PrestaShop, is generate credit slips for your returns.
Conclusion
Prestashop
Theme Selection & Customisation
Is PrestaShop Any Good?
PrestaShop is ok, it will most definitely get the job done for building an ecommerce site but it doesn't excel in any area and falls short when compared to the best ecommerce platforms in the industry, which offer better all round packages.
The workflow is somewhat frustrating as you can find yourself having to move from one page to another to get things done, some combination of tools/features would be a big improvement.
What compounds this is that PrestaShop is not a particularly cheap or cost effective option as modules and themes are expensive and could potentially cost more than a hosted solution for the year, without the benefit of ecommerce grade hosting and support.
PrestaShop Pros:
PrestaShop Cons:
PrestaShop Alternatives
Hi, I'm Paul, the Owner and Founder of EcommerceGold.
I ran my own Ecommerce Business for over 7 years and now help others start their own online retail empires!