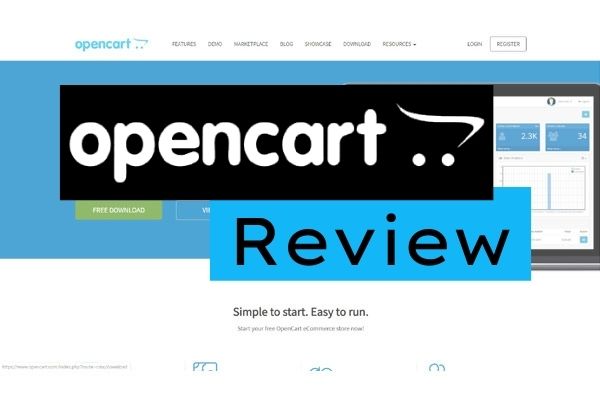 Opencart is one of the world's most popular pieces of open-source ecommerce software and according to them it powers over 300,000 ecommerce websites and is a popular alternative to the likes of WooCommerce and Magento.
It claims to be lightweight and easy to use for building an online store but is it any good for building an Ecommerce Website? Well that is what we are going to look at in this review.
Theme Selection & Customization
Web Hosting Required
Disclosure: Our site is reader supported, meaning we may earn a commission from purchases made through our links, to learn more, please see our Affiliate Disclosure.
Opencart Pricing
As a piece of open-source software, Opencart is completely free to use for all users but it isn't free to run. This is because you are going to need some good quality web hosting, which should offer the following:
Good levels of resources such as storage and bandwidth allocations
Good performance suitable for an ecommerce store
A free SSL certificate
Opencart Features
Considering the Opencart is a free, open-source piece of ecommerce software it does come with a very good list of features, including:
Ecommerce Tools
Gift Vouchers
Coupons
Sell Physical or Digital Products
Custom Filters for Product Categories
Reward Points
Recurring Payments
Marketing & SEO
Multi-Currency
Multi-Lingual
Product Reviews & Ratings
Email Marketing
Custom SEO inc Meta Titles and Descriptions
Reporting
Transaction
Sales
Returns
Orders
Payment Gateways
PayPal
Klarna
Sagepay
Worldpay
Square
This is a really impressive set of features for a free piece of software. You can also expand that more with the Opencart extension marketplace. This is where extensions that have been made by third-party developers are offered and there is a mix of paid and free ones to choose from.
You can also upload extensions that have been bought or acquired outside of Opencart. This means there is a very wide scope of possibilities when it comes to the platform.
Payment Gateways
Opencart comes integrated with 30 different payment gateways as standard. Not all of these are suitable for UK business but you get PayPal, Klarna, Nochex, Worldpay and SagePay to name a few.
You also get different modes with many of these gateways, for example with PayPal, you can have PayPal Standard, Express Checkout or Pro. So before you activate any of the payment gateway extensions, make sure you are using the right one.
There is one big name missing from the list of included gateways and that is Stripe, you can only use Stripe on an Opencart site if you use a paid extension. Kind of surprised by this one!
Opencart Theme Selection & Customization
The official Opencart marketplace is pretty light when it comes to themes as there are only 17 available and none of them are free.
You need to venture outside of the Opencart ecosystem to find the really good themes and there are some great ones out there. There is a selection of free themes that have been made by third-party developers but most of the Opencart themes that are available are paid options.
These can be bought directly from the developers or from theme marketplaces such as themeforest.
Customising your Opencart theme isn't the easiest thing to do, unless the theme developer has created their own customiser as the standard Opencart options are pretty much non-existent.
To do any theme customisation with the standard Opencart editor requires knowledge of .twig coding script, which is something that most people building an ecommerce website will have little to no knowledge of. There is a layout editor within the standard Opencart tools but this isn't the easiest tool to use.
Fortunately, many of the developers of third-party themes have created their own customisers, which makes life a lot easier but in general, Opencart is severely lacking in this area.
Opencart Support
As with most open source software, the support available to you is quite limited. The best source of support for Opencart is their support forum, generally posting a question in there will generate the right answer but just be aware that most the replies will be developers trying to sell you something!
Alternatively, you can search the forum to see if anyone else has already asked that question. Doing the same on search engines such as Google can also help you find answers.
The Opencart documentation is pretty good and you can find the answer to most things in there but you may have to do a bit of searching.
Opencart Performance
When it comes to testing the performance of Opencart, it is quite a challenge due to being open source software as factors such as the quality of the hosting play a huge factor. But to give you some idea as to the performance of Opencart, we ran our test site, which is populated with demo content through Pingdom's speed tool and also Google's page speed insight.
London Server: 0.37 Seconds
Washington D.C. Server: 1.18 Seconds

Mobile Score: 86/100
Desktop Score: 97/100
As you can see, Opencart performed very well and this very much ties in with the fact that the core Opencart software is very lightweight and that is why it can easily be run in a shared hosting environment when you are just getting started.
Opencart Review Video
How Easy is Opencart to Use?
So Opencart is a pretty feature rich ecommerce platform but how easy is it to use and put those features to good use?
Getting Started
Installing Opencart on your hosting is easy to do but if you don't want to do that yourself, then you can always ask your web host nicely if they could do it for you.
You don't get any kind of set-up guide in the Opencart dashboard but if you go to their documentation section, they do have a getting started section, which will take you through all of the important stuff.
Navigating the Dashboard
The Opencart dashboard does have a nice layout. They have opted for a sidebar menu, with all the main sections clearly labeled.
Within the main sections, you have a selection of sub and sub-sub categories, depending upon the section. This makes navigating pretty easy to do, the only thing we did run into was that in order to access things such as payment gateways and delivery methods, we first needed to install the relevant extensions.
This makes it a little confusing to start with as you can spend time going through different sections, trying to find where these things are, only to find out that they are not there until you install them.
Adding and Managing Products
While Opencart may not be that great on the design front, they definitely are very good when it comes to the ecommerce aspects of the platform.
Adding products is really easy, they use a tabbed structure which you can work your way through and add as much as you feel necessary, you can also control SEO such as meta descriptions and keywords in the add product section.
You can create multiple recurring profiles for subscription products, which means you can give your customers options when they are choosing the product. Great for adding variety and this will help with conversion rates.
Adding categories and sub-categories to organize your products is just as easy as adding a new product. You can also create manufacturer profiles so that people can search using the manufacturer rather than just browsing through products.
When managing your inventory, you do have to update quantity on a product-by-product basis, which could be a bit frustrating, especially if you have a large number of updates to do.
Managing Orders
Managing orders is pretty easy in Opencart, you can print packing slips or invoices directly from the order dashboard. However, there is no option in the basic Opencart to be able to export your orders via CSV, which isn't great if you use third-party order management, shipping or accounting software.
You also have to update order statuses individually which would be time consuming if your store receives multiple orders. This is something that you really should be able to do in bulk.
Conclusion
Opencart
Theme Selection & Customisation
Is Opencart a Good Ecommerce Platform?
Not really as Opencart isn't the most user friendly platform and in many cases the workflow is not the most optimal and when combined with the poor theme customisation, it puts Opencart at quite significant disadvantage when compared to some of the best ecommerce platforms out there.
This is quite a shame as Opencart does come with some really good features but we have had feedback from Opencart users about problems with updates and also outdated and unsupported extensions, which could cause reliability and potentially security issues for your store.
Opencart Pros:
Opencart Cons:
Opencart Alternatives
Hi, I'm Paul, the Owner and Founder of EcommerceGold.
I ran my own Ecommerce Business for over 7 years and now help others start their own online retail empires!