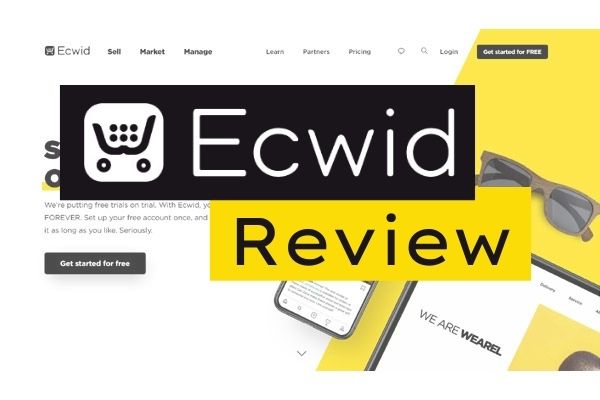 What is Ecwid?
Ecwid is a fully hosted ecommerce platform that can be used to build a standalone ecommerce store or it can be integrated with other popular website builders such as WordPress, Wix and Squarespace.
The Ecwid platform can also allows users to add their products and sell via social media platforms such as Facebook and Instagram. Orders from marketplaces such as Amazon and Ebay can also be managed from the Ecwid dashboard.
This all sounds great, buy is Ecwid any good?
Theme Selection & Customisation
14 Day Free Trial, No Credit Card Required
Can you trust us? At EcommerceGold we aim to provide you with clear information to help you start and build an ecommerce business and while we may be compensated for services purchased through links on our site, all opinions are our own and no partners have any input on our content. Learn More.
Ecwid Pricing
Ecwid offers a selection of 4 plans and unlike many of their competition, this includes a free plan and this is one of the main selling points of the Ecwid platform.
As to be expected, the free plan is limited in terms of features and allowances but it does include:
Sell Up To 10 Products
Unlimited Bandwidth
Add Store to Any Website
Mobile Responsive Checkout
Social Media Advertising
The three other packages that Ecwid offer are all paid options and you can see a summary of these plans in the table below:
Venture
($12.50*)
Up To 100 Products
Unlimited Bandwidth
No Turnover Limit
No Transaction Fees
5 Sales Channels
Live Chat & Email Support
Store Management App

Business
($29.17*)
Up To 2500 Products
Unlimited Bandwidth
No Turnover Limit
No Transaction Fees
7 Sales Channels
+ Phone Support
Store Management App
Abandoned Cart Emails
Automated Email Marketing

Unlimited
($82.50*)
Unlimited Products
Unlimited Bandwidth
No Turnover Limit
No Transaction Fees
8 Sales Channels
+ Priority Support
Store Management App
Abandoned Cart Emails
Automated Email Marketing
Branded Ecommerce App

*Monthly price if plan purchased annually
The plan prices shown above are if they are paid monthly but they do offer a discount which is equivalent to two months free if the plans are paid for annually.
Unlike many other platforms, Ecwid's plans aren't limited by annual turnover limits and they don't charge any additional transaction fees.
The main difference between the plans are the amount of products you can list and the amount of features that are included, with the top unlimited plan including all the features that Ecwid have to offer along with 12 hours of free customisation work, if the plan is bought annually.
If you are interested in seeing how Ecwid's pricing compares to other ecommerce platforms, then check out my How Much Does an Ecommerce Website Cost post.
Customer Reviews
Before I get full on into my review, I thought I would take a look at what some of their existing customers thought of the platform. For this I look on Trustpilot, Facebook and Google.
4.2 out of 5
No Reviews

No Reviews
Ecwid Features
Ecwid offer a good selection of features and they are available whether you are using a site built with them or are using it when integrated with another platform. As the free plan is quite limited on features, I will just be looking at the paid plans for this review.
Ecwid Ecommerce Features
Sell Physical, Digital or Service Products – offer many different product types with a generous 25gb limit on downloadable products
Automated Tax Calculations – automatically set tax rates dependant on your location
Inventory Tracking – available for all products and Inventory Manager Plus* offer tracking for all variations and types
Product Filters*
Product Variations*
Recurring Subscriptions* – set up recurring payments for subscription products
*Only available on the Business & Unlimited Plans
Ecwid Marketing Tools
Ecwid comes with a really good selection of marketing tools to not only help you bring customers to your website but also encourage more sales for visitors that are on your site, including:
Sell via Multiple Sites – Ecwid instant builder, WordPress, Wix, Squarespace etc
Facebook Shop
Instagram Store
Set Up Google and Facebook Ad Campaigns
On site marketing tools:
Facebook Messenger Live Chat – add a live chat option to your ecommerce store with Facebook Messenger
Discount Coupons – create discount codes for customers and marketing campaigns
Gift Cards – allow customer to buy gift cards that can be redeemed in your online store
Abandoned Cart Emails* – automatically send emails for customers who have abandoned their shopping cart
Multilingual Catalogue* – display your product listings in multiple languages, ideal if you are selling internationally
*Only available on the Business & Unlimited Plans
The Abandoned Cart Recovery can also include discount codes to help encourage return visitors along with prompts to set up Re-targeting campaigns for both Facebook and Google.
Ecwid SEO Tools
SEO is one of the areas where Ecwid really isn't very strong as the tools on offer aren't particularly great and they are lacking one very important SEO tool.
One all of the paid plans, you get access to 'Advanced SEO Tools' which includes the options with the product creation pages to set a Custom Page Title and Meta Description but there is no option to create a custom URL.
Talking of URL's, all of product and category URL's are taken from the name of the product/category but one quirk with the Ecwid platform is that they add random numbers to the end of these URL's as can be seen in the image below:
This cannot be edited and even though the rest of the URL is clean and search engine/user friendly, this random number does detract from this. This also happens when Ecwid is integrated with other platforms such as WordPress and Wix.
One thing that is lacking from the Ecwid platform is any kind of content creation tools as there is no blog functionality within the platform and you are limited to only creating a handful of pages on your site. This is where the integration with content focused platform such as WordPress and Wix really does become very important.
Ecwid Payment Gateways
One of the definite strong areas of the Ecwid platform is the amount of payment gateway integrations that they offers, with over 40 global options available, including:
PayPal
Stripe
Klarna (via Stripe)
Worldpay
Square
Apple Pay (via Stripe)
Authorize.net
2Checkout
Ecwid also offers One Tap Checkout for Apple users (via Stripe), which streamlines the checkout process.
Ecwid also offer a range of offline payment methods such as Cash on Delivery, Bank Transfer and Invoices. These all have to processed manually and order statuses updated as required within the Ecwid platform.
Do Ecwid charge transaction fees?
No, you will not be charged any transaction fees using Ecwid, even the free package.
Ecwid Shipping Options
Ecwid offers a range of different shipping options to suit a variety of different businesses, these options include:
Local Delivery – set delivery rates for specific zones and also limit times to delivery hours
Self Pick-up – allow customers to pick up their order from your premises including In-store, curbside and Drive through pickups
They also offer a range of traditional shipping options and include options for major shipping companies around the world, including:
Royal Mail (UK)
Canada Post
Australia Post
There are also many option for national shipping carriers, there is is also the option to add additional carriers, which are all set up by the user.
With some carriers, there is the option to have shipping rates automatically calculated or you can set manual rates such as free delivery, conditional free delivery, flat rate or create custom shipping rates based on weight or sub-total.
Ecwid Reporting and Analytics
As standard, Ecwid is pretty poor when it comes to analytics and reporting as it only offers a short sales summary in the main dashboard but for anything for more detailed, it does require the installation of an app.
Ecwid do recommend two free ones from Kliken and MonkeyData, both of which offer a more detailed overview of your sites performance, including:
Number of Visitors
Revenue
Conversion Rate
Orders
You can also set up Google Analytics within your store, which will provide you with a good set of data for visitors etc.
Ecwid App Store
While Ecwid does have some good features as standard, it is lacking behind some of its competition but it does have an app market that you can take advantage of to help plug some of these feature gaps.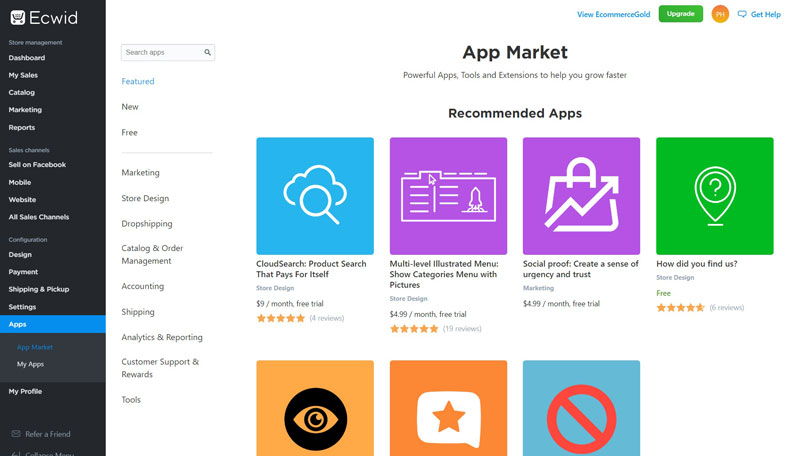 There are over 130 apps that you can choose from but unfortunately, they are not all free to use and if you are not careful, you could end up spending a lot of money every month.
Ecwid Integrations
This is most definitely Ecwid's main feature and also what makes it such an interesting proposition. Ecwid can be integrated into pretty much any website, no matter what platform you are using.
This is mainly done by embedding a buy button into a chosen page on your site and it will bring across all the information that you created within the Ecwid dashboard. This gives it great flexibility and you know that the checkout process is all taken care of using Ecwid's secure hosting environment.
Ecwid and WordPress
Without doubt, the largest website platform in the world is WordPress and the team at Ecwid recognised this. They made sure that their platform integrates perfectly into WordPress, allowing you to have a fast, securely hosted checkout within a WordPress site.
The integration comes in the form of a WordPress plugin and allows you to manage your Ecwid store directly in the WordPress dashboard, making it a very viable option for adding ecommerce functionality to your WordPress blog or website. To learn more about this check out my Ecwid WordPress Tutorial.
Ecwid and Wix
The second popular integration that Ecwid offers is with Wix and comes in the form of an app that is available from the Wix App Marketplace.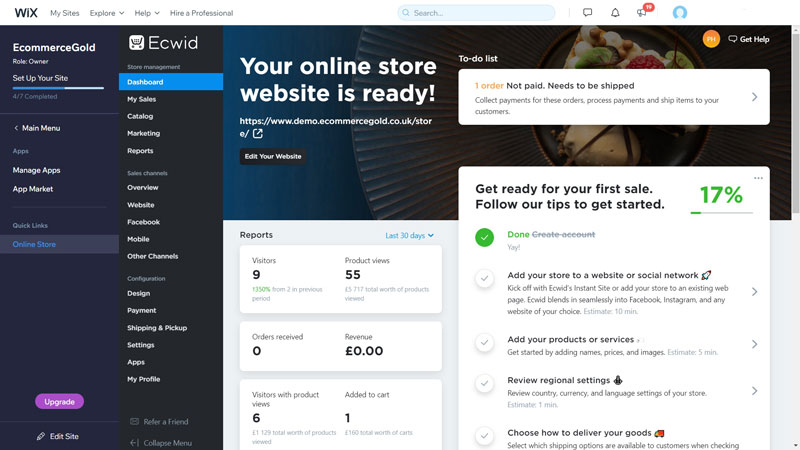 Integration is seamless and brings the complete Ecwid dashboard into the Wix dashboard, making it possible to manage your complete website by only logging into one dashboard and offers a great alternative to native Wix Stores app.
Ecwid Theme Selection & Customization
In 2021, Ecwid overhauled their theme selection and customization options with the introduction of the New-Gen Instant Site.
With the New-Gen Instant site comes a selection of 10 different templates that you can use for your store, you can choose to preview the template before, to see what they look like before activating it on your live site.
The biggest change has been to the customization as Ecwid has introduced a new live editor that offers users much more control over the look and feel of their site.
You can now build the homepage of your site using blocks and you can choose to add, remove or rearrange these blocks so that they fit your business and brand. There are also options for for the header and footer along with some font options.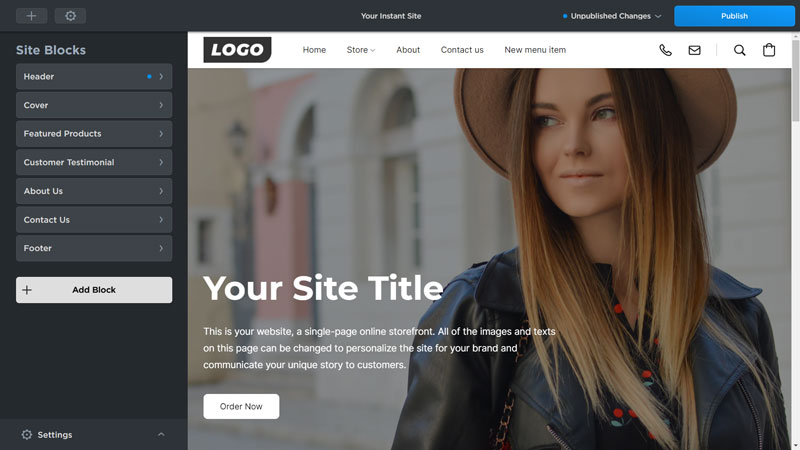 There are also design and layout elements for your product and category pages that allow for more customization of your website. This new set up is much better than the old system and makes Ecwid a more viable option for building stand alone ecommerce websites.
Ecwid Support
The level of support available from the Ecwid team is dependant on which package you are on.
Support on the free package is limited to email support
The Venture package includes live chat support, which is available within the admin dashboard
The Business and Unlimited packages both phone support, which is available 2pm – 10pm pacific time
The Unlimited packages includes priority support
Outside of direct support from Ecwid, there is also a help centre that is full of detailed guides on how to use the platform, there is also a systems monitor so that you can check at any time to make sure that it is up an running.
Ecwid Web Hosting
Unfortunately, I can't do my usual performance testing with the Ecwid platform as their example sites are mixture of their own ecommerce web builder and where Ecwid has been integrated with other platforms such as WordPress, Wix and Squarespace.
This makes testing nearly impossible to do as it is very difficult to know which example site uses which platform. But they do list some information about there servers and hosting environment, which is nice.
Hosted on Amazon Web Services
PCI Level 1 PCI DSS
Cloudfront CDN
Secure Checkout
Unlimited Bandwidth
On a side note, it would have been nice if Ecwid had split their example sites in to which platform they were using, rather than by niche. Not just so I could test them but so as a potential customer, you could easily see how well Ecwid integrates with these other platforms.
How Easy is Ecwid to Use?
Features are one thing, being easy to use is another! That is why, when I test a platform, I also see how easy it is to use and I look at 4 main areas:
Getting Started
Inventory Management
Order Management
Getting Started
The Ecwid dashboard and platform in general, is one of the easiest to use as nothing is over complicated within the admin dashboard.
One of the main components of this is the main navigation menu as not only are the headings clearly labelled, but they are broken down in to three main categories:
Store Management
Sales Channels
Configuration
This makes it extremely easy to move between different sections of the dashboard and the simplicity has also been applied to all of the pages and sections within Ecwid. Not only is this aesthetically pleasing but the layout of the pages makes the workflow very easy.
New users also get a short set up guide to help them get up and running with the platform and the first prompt within the guide is the add your store to a website or social network, which shows that integrations with third party platforms is the priority of the Ecwid system.
The rest of the set up guide does take you through the important elements of starting an ecommerce website, such as how to add a new product, configure regional settings, set up shipping and finally adding a way to take payments. If you want to learn more about setting up Ecwid, then check out my full Ecwid Tutorial.
If you are using the free Ecwid plan, then you will see that some areas, options and features are not available as they are only available on paid plans.
Inventory Management
The process of adding a new product on Ecwid is really well laid out and makes the process easy to do. They have opted for a tabbed layout with clearly labelled sections for you to work through and everything is there that you need.
The only thing I don't like about adding a new product is that you cannot change or edit the URL, yes Ecwid does a good job of product SEO friendly ones but all products will have a random number sequence at the end and while it is not a major thing, it is just something I would prefer to have control over.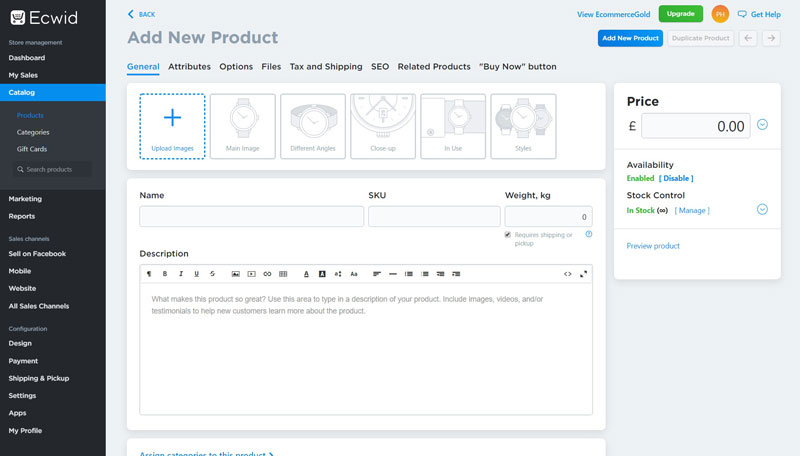 It is also set up for digital goods as well as physical, with there being a tab where you can upload your files. One thing I do like about the add product page is that there is a button to preview the listing in the form of a pop up, so you know what your page will look like before you make your product live.
Organising your products is also really simple to do, Ecwid have gone for the tried and tested category method and you can create sub-categories which enables you to create a good hierarchy for your products.
Managing your inventory has recently gotten a whole lot better on Ecwid as they have added a bulk editor for their products and it allows you to quickly update the:
Product Title
SKU Code
Availability
Price
Stock
There are also some other options that can be edited and you can use the filter tool to select which things you want to bulk edit and this is a very welcome addition to the Ecwid platform!
Order Management
The Ecwid order management system is one of the easiest to use from all of the testing and reviews that I have done. Pretty much everything can be done from the order overview page.
With a couple of clicks, you can print off orders, update order statuses and update payment statuses. You can also export your orders in CSV format or directly to a chosen Google sheet for analysis. Whether you have a small or large number of orders, the Ecwid order management system will do the job.
Conclusion
Ecwid
Theme Selection & Customisation
Is Ecwid Any Good?
The simple and is, yes, Ecwid is a good ecommerce option, especially if you are looking to add a fully hosted checkout to a WordPress or Wix site, as the integrations are excellent and in most cases offers a better ecommerce option that some native plugins or apps.
As an option for standalone ecommerce stores, the New-Gen Instant Site has made it a more viable option and it would work well for simple stores but the website builder isn't as good as some other ecommerce platforms on the market.
But one of the things that does make Ecwid a great option is how easy it is to use, the whole dashboard is well laid out and easy to navigate and every section is easy to use, which is very good if you are brand new to ecommerce.
So I would definitely recommend trying Ecwid out, especially as you can take out a completely free package, which lets you test the platform out in a live environment.
If you would like to learn more about how to use Ecwid, then take a look at our Full Ecwid Tutorial.
Ecwid Alternatives
Hi, I'm Paul, the Owner and Founder of EcommerceGold.
I ran my own Ecommerce Business for over 7 years and now help others start their own online retail empires!