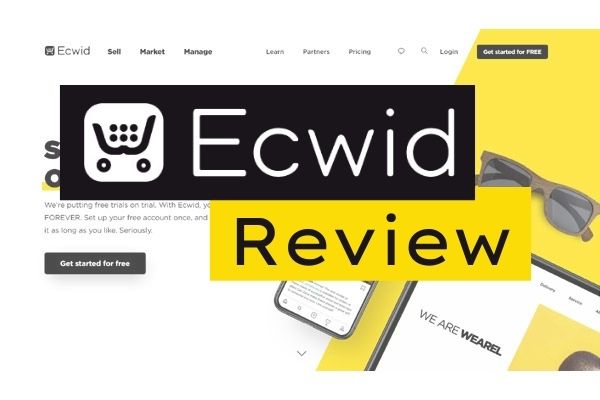 Ecwid is one of the most unique ecommerce platforms in the world. It allows user to build a website where you can sell products and process orders.
Or the Ecwid shopping cart can be integrated into a variety of different platforms, including WordPress, Wix and Squarespace.
You can also sell via your Facebook and Instagram accounts. So as you can see, this is a very diverse ecommerce platform, but is it any good?
Pricing
Features
Theme Selection & Customisation
Support
Hosting & Performance
Ease of Use
14 Day Free Trial, No Credit Card Required
EcommerceGold is reader supported, meaning that we may earn a commission (at no additional cost to you) from products or services purchased through links on our site. Learn More.
Ecwid Pricing
Ecwid is very reasonably priced, with lowest paid plan costing quite a bit less than most ecommerce base plans.
Venture
Up To 100 Products
Unlimited Bandwidth
No Turnover Limit
No Transaction Fees
5 Sales Channels
Live Chat & Email Support
Store Management App

Business
Up To 2500 Products
Unlimited Bandwidth
No Turnover Limit
No Transaction Fees
7 Sales Channels
+ Phone Support
Store Management App
Abandoned Cart Emails
Automated Email Marketing

Unlimited
Unlimited Products
Unlimited Bandwidth
No Turnover Limit
No Transaction Fees
8 Sales Channels
+ Priority Support
Store Management App
Abandoned Cart Emails
Automated Email Marketing
Branded Ecommerce App

Free Package
I'm guessing you have probably noticed that all of the above are paid packages? That is because I wanted to cover the free package separately. With the free package, you get:
Sell Up To 10 Products
Unlimited Bandwidth
Add Store to Any Website
Mobile Responsive Checkout
Social Media Advertising
To get you started, the free package is great and allows you to test the platform out for yourself before committing to one of their paid plans. The beauty of the free package is that it is free for life and this is perfect for many businesses.
Customer Reviews
Before I get full on into my review, I thought I would take a look at what some of their existing customers thought of the platform. For this I look on Trustpilot, Facebook and Google.
4.1 out of 5
No Reviews

No Reviews
Ecwid Features
Ecwid offer a good selection of features and they are available whether you are using a site built with them or are using it when integrated with another platform. As the free plan is quite limited on features, I will just be looking at the paid plans for this review.
Conversion Tools
One Tap Checkout – increase the speed of your checkout process for those paying with Apple Pay
Facebook Messenger Live Chat – have live chat directly on your website using Facebook Messenger
Schedule Order Pickup – if you have a physical store, customers can arrange to collect from you directly
Discount Coupons – create discount codes for customers and marketing campaigns
Gift Cards – allow customer to buy gift cards that can be redeemed in your online store
Marketing and SEO
Social Selling – sell via your Facebook and Instagram accounts
Multi Site – sell simultaneously on multiple websites
Facebook Pixel
Custom Meta Data – set custom meta information such as product title, meta description and keywords
Reporting and Analytics
To get any kind of reports or analytics within the Ecwid dashboard, you will need to install an app and the two most popular free ones are Kliken and MonkeyData, both offer a good overview of your sites performance, including:
Number of Visitors
Revenue
Conversion Rate
Orders
Ecwid Payment Gateways
One of the definite strong areas of the Ecwid platform is the amount of payment gateway integrations.
PayPal
Stripe
Worldpay
Square
Apple Pay (via Stripe)
Authorize.net
2Checkout
Now while the selection is very good, there are a couple of names missing with the main two being Klarna and Sagepay.
Do Ecwid charge transaction fees?
No, you will not be charged any transaction fees using Ecwid, even the free package.
Ecwid Website Integration
This is most definitely Ecwid's main feature and also what makes it such an interesting proposition. Ecwid can be integrated into pretty much any website, no matter what platform you are using.
This is mainly done by embedding a buy button into a chosen page on your site and it will bring across all the information that you created within the Ecwid dashboard. This gives it great flexibility and you know that the checkout process is all taken care of using Ecwid's secure hosting environment.
Ecwid and WordPress
Without doubt, the largest website platform in the world is WordPress and the team at Ecwid recognised this. They made sure that their platform integrates perfectly into WordPress, allowing you to have a fast, securely hosted checkout within a WordPress site.
It integrates in the form of a plugin and allows you to manage your Ecwid store directly in the WordPress dashboard, making it a very viable option for adding ecommerce functionality to your WordPress blog or website. To learn more about this check out my Ecwid WordPress Tutorial.
Ecwid App Store
While Ecwid does have some good features as standard, it is lacking behind some of its competition but it does have an app market that you can take advantage of to help plug some of these feature gaps.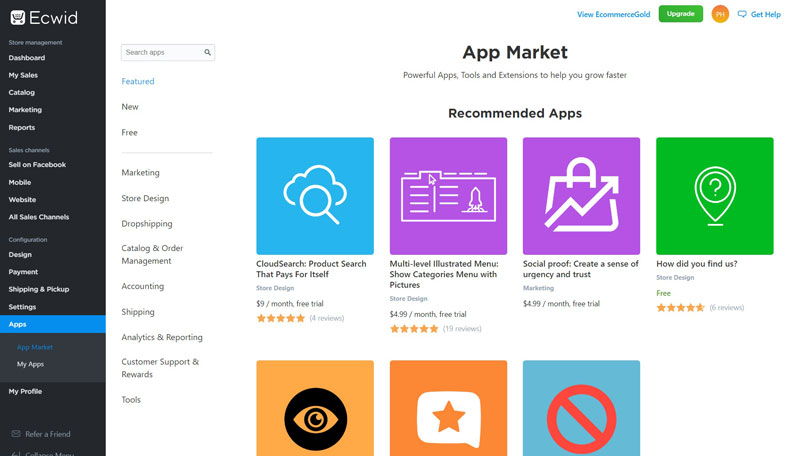 There are over 130 apps that you can choose from but unfortunately, they are not all free to use and if you are not careful, you could end up spending a lot of money every month.
Ecwid Theme Selection
If you are planning to use Ecwid as a stand alone store, then they have a selection of 79 free themes for you to choose from. All of them are mobile responsive and offer a small range of customisation options, which I will cover more below.
As I mentioned above, there is a good selection of themes, the only thing is that the majority of these themes just have different header layouts and fonts. Most of the other design elements stay pretty much the same.
The theme customisation page is nice and easy to use and it doesn't take much to add your own content to your front page and there are layout options for your product and category pages.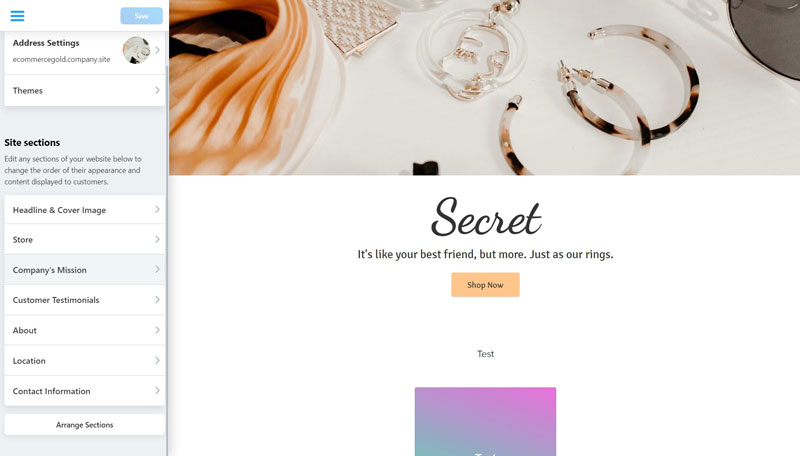 While you can remove some sections from your homepage if you don't want them, there isn't a selection of other elements that you can add. So it does make it a bit difficult to really create a custom looking website, which is a little bit disappointing.
Whichever theme you choose, you can alter the fonts, colours of font and button aesthetics to help the store fit your business a little bit better.
Overall the theme customisation is really good, it would just be nice if there were a few more elements you could use to customise your pages.
Ecwid Support
Most of the Ecwid support options are via live chat and email, which is great for businesses outside of the US. They do offer phone support via a call back service with the Business and Unlimited packages but this is only available between 2pm and 10pm pacific time, which is 9pm to 5am UK time.
There is also a help centre that is full of detailed guides on how to use the platform, there is also a systems monitor so that you can check at any time to make sure that it is up an running.
Ecwid Web Hosting and Performance
Unfortunately, I can't do my usual performance testing with the Ecwid platform as their example sites are mixture of their own ecommerce web builder and where Ecwid has been integrated with other platforms such as WordPress, Wix and Squarespace.
This makes testing nearly impossible to do as it is very difficult to know which example site uses which platform. But they do list some information about there servers and hosting environment, which is nice.
Hosted on Amazon Web Services
PCI Level 1 PCI DSS
Cloudfront CDN
Secure Checkout
Unlimited Bandwidth
On a side note, it would have been nice if Ecwid had split their example sites in to which platform they were using, rather than by niche. Not just so I could test them but so as a potential customer, you could easily see how well Ecwid integrates with these other platforms.
Ecwid Review Video
How Easy is Ecwid to Use?
Features are one thing, being easy to use is another! That is why, when I test a platform, I also see how easy it is to use and I look at 4 main areas:
Getting Started
Navigating the Dashboard
Adding and Managing Products
Managing Orders
Getting Started
The sign up process for Ecwid is really simple, all you need is your name, email address and to create a password. You then confirm your email address via a link in an email and you are ready to go.
When you first sign in to your dashboard, you are greeted by a well designed and laid out set up guide, which takes you through all the important steps to get your Ecwid store ready to go.
You can tell from the first prompt on the dashboard that the main focus of the Ecwid platform is to enable you to sell on many different places, rather than just building out your own site.
Navigating the Dashboard
It doesn't take much time at all to get used to the Ecwid dashboard, the sidebar navigation has well labelled headings and sub-headings meaning that it is easy to navigate to any part of the dashboard.
If you are on the free plan, you will see quite a few sections when it comes to settings and features that are greyed out with a green call to action saying that you can access these if you upgrade your plan. While this is a bit distracting, it does show you what you can do if you do decide to upgrade.
Adding and Managing Products
The process of adding a new product on Ecwid is really well laid out and makes the process easy to do. They have opted for a tabbed layout with clearly labelled sections for you to work through and everything is there that you need.
The only thing I don't like about adding a new product is that you cannot change or edit the URL, yes Ecwid does a good job of product SEO friendly ones but all products will have a random number sequence at the end and while it is not a major thing, it is just something I would prefer to have control over.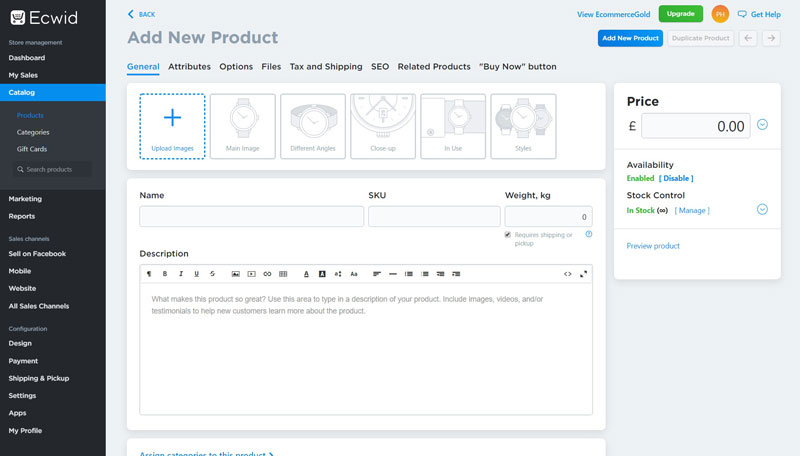 It is also set up for digital goods as well as physical, with there being a tab where you can upload your files. One thing I do like about the add product page is that there is a button to preview the listing in the form of a pop up, so you know what your page will look like before you make your product live.
Organising your products is also really simple to do, Ecwid have gone for the tried and tested category method and you can create sub-categories which enables you to create a good hierarchy for your products.
Managing your inventory isn't too bad, but unfortunately, without the use of a paid plugin, this has to be done on a product by product basis. To manage your inventory, simply click the edit button on the products page and will take you back into the same page you used to create the product.
If you do have a large inventory, then the £5.99 a month (inc vat) app might make your life a bit easier as it allows you to manage your inventory without having to go into each individual product.
Managing Orders
The Ecwid order management system is one of the easiest to use from all of the testing and reviews that I have done. Pretty much everything can be done from the order overview page.
With a couple of clicks, you can print off orders, update order statuses and update payment statuses. You can also export your orders in CSV format or directly to a chosen Google sheet for analysis. Whether you have a small or large number of orders, the Ecwid order management system will do the job.
Conclusion
Ecwid Review
Pricing
Features
Theme Selection & Customisation
Support
Hosting & Performance
Ease of Use
Summary
Is Ecwid the best free Ecommerce Platform?

It is very hard to argue against Ecwid, you get a fully hosted ecommerce website that you can use for life, for free!

The features on the free package are quite limited, as you would expect but once you upgrade to one of the paid package, it gets so much better. But as a stand alone ecommerce platform, it wouldn't be my first option. Yes, it has some good features and works well but I think there are better options for building an ecommerce website from scratch.

But as way of enabling an existing website to add ecommerce features, I think it is a really good option. The integration with WordPress is fantastic and makes it a very good alternative to WooCommerce. This also extends to its use with Wix and Squarespace, amongst many other platforms.

Learn how to use Ecwid with my Full Ecwid Tutorial.
Ecwid Alternatives