Ecwid and Wix are two popular options for small businesses looking to sell online but which platform is the best choice?
Well, that is what we are going to be looking at in our in-depth comparison between these two platforms and seeing which one is best for building an ecommerce website.
Ecwid vs Wix: What is the Difference?
Ecwid is a fully hosted ecommerce platform that can be used to build an ecommerce website or add ecommerce functionality to popular website builders such as WordPress and Wix. Wix is a fully hosted website builder that allows users to add ecommerce to their stores by installing the Wix Stores app and upgrading to one of their Ecommerce plans.
Ecwid vs Wix Stores Content
Disclosure: Our site is reader supported, meaning we may earn a commission from purchases made through our links, to learn more, please see our Affiliate Disclosure.
Pricing

Ecwid
Ecwid's pricing is much more varied than Wix's as it offers the cheapest and also most expensive fixed-price plan but Ecwid does also offer a completely free plan, which users can use to sell up to 10 products, something that Wix doesn't allow on its free offering.
But what is the difference between Ecwid's plans?
There are two main differences, the number of products you can sell and the features that you get access to, in terms of the number of products you can sell:
Free Plan: Up to 10 products
Venture Plan: Up to 100 products
Business Plan: Up to 2,500 products
Unlimited Plan: Unlimited products
In the features section below, we go into more detail about the features that are available with the Ecwid plans.
Wix
There isn't a huge difference in the monthly cost of Wix's plans, with only $32 separating all plans and the $5 difference between the two smaller ones makes you wonder why they don't just combine these into one?
It should also be noted that the prices listed above and on the Wix site are if you pay for your package annually, if you pay monthly then they are slightly more expensive.
But what is the difference between the Wix plans?
The main difference is the amount of storage space you get, with Wix offering:
20GB on the Wix Basic plan
35GB on the Wix Unlimited plan
50GB on the Wix VIP plan
You do also get access to more features on the larger plans.
Wix also offers an Enterprise plan, which is for larger ecommerce businesses and this is a custom-built plan, specifically for your business and the pricing for this is based on your requirements.
Free Trial
Ecwid doesn't offer a free trial, instead, they offer a free plan, that while limited in terms of features and number of products, does give you a good idea as to what the platform is like to use.
Wix also offers a free plan and while you can install the Wix Stores app on the free plan you can't take orders, to do this you need to upgrade to one of the paid ecommerce plans.
Features
Ecwid
As mentioned above, the amount of features that you get with Ecwid is dependent on the plan that you are on and below is a summary of the features available on Ecwid, with any features only available on the Business or Unlimited plans marked with an *.
Ecommerce Tools
One Tap Checkout (with Apple Pay)
Schedule Order Pickup
Sell Digital Products
Gift Cards
Product Filters*
Product Variations*
Recurring Subscriptions*
Marketing & SEO
Sell on Facebook
Sell on Instagram
Discount Coupons
Abandoned Cart Emails*
Custom Meta Data
SEO Friendly URLs
Reporting
Number of Visitors
Revenue
Conversion Rate
Orders
Payment Gateways
PayPal
Stripe
Worldpay
Square
Apple Pay (via Stripe)
Authorize.net
2Checkout
If you want to see a more detailed breakdown of the features available on Ecwid, then check out our full Ecwid Review.
Ecwid App Market
While Ecwid does come with a good selection of features, there are still some gaps that need to be filled and that is where the App Market comes into play. All of the apps within the market are made by third-party developers, which means that many of them do require you to pay for them.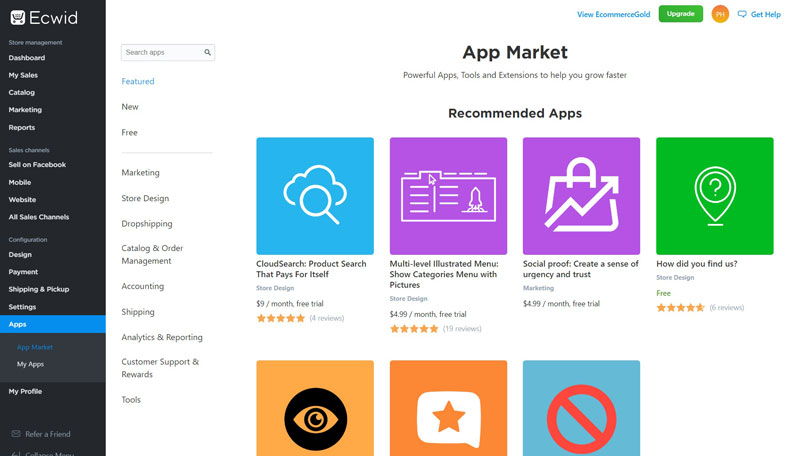 Wix
Finding out the exact list of features you get with Wix stores is a bit of a challenge as many of the features advertised are general features of the Wix platform and not specific just to ecommerce. But we have done our best to list the features below:
Ecommerce Tools
Sell Physical & Digital Products
Discount Coupons
Create Promo Video
Marketing & SEO
SEO Friendly URLs
Custom Meta Data
Send via Email Campaign
Share Product to Social Media
Sell via Facebook and Instagram
Reporting
Orders
Conversion Rate
Revenue
Purchase Funnel
Top Email Campaign
Payment Gateways
PayPal
Wix Payments
Square
Stripe
With Wix, you go get a lot of really good features to help you build an ecommerce store but this is somewhat let down by the lack of payment gateways and onsite ecommerce tools.
Wix App Market
The core Wix platform comes with a lot of good features but you can add more by making use of the Wix App Market which contains over 300 apps, some of which are made in-house by Wix and others by third-party developers.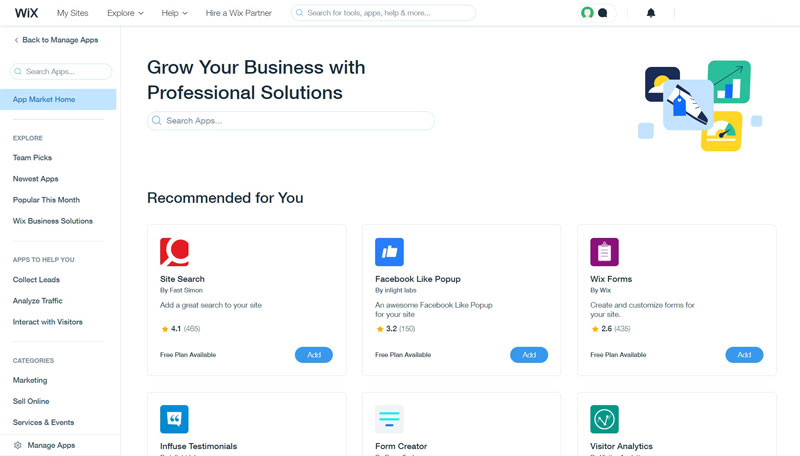 They also cover a variety of categories including marketing, ecommerce features and detailed analytics. Unfortunately, not all of these apps are free, some are tied to certain plans. Others offer free plans or trials but to get access to all the features that the apps offer, you will need to pay for them.
Theme Selection & Customization
Ecwid
Ecwid has upped its game when it comes to its website builder over the last couple of years and the introduction of the New-Gen Site builder in 2021 introduced a new selection of over 30, free-to-use templates.
Once you have chosen your template, you can customize it using Ecwid's live customizer and there are options for your site's header and footer along with a block builder for your homepage and there is a good selection of blocks to choose from.
The customizer also allows you to add, remove and rearrange blocks, which gives you a good level of control over the design but unfortunately, this is currently limited to just the homepage as the website builder doesn't include custom pages or blog posts.
There are also design and layout elements for your product and category pages that allow for more customization of your website. This new setup is much better than the old system and makes Ecwid a more viable option for building stand-alone ecommerce websites.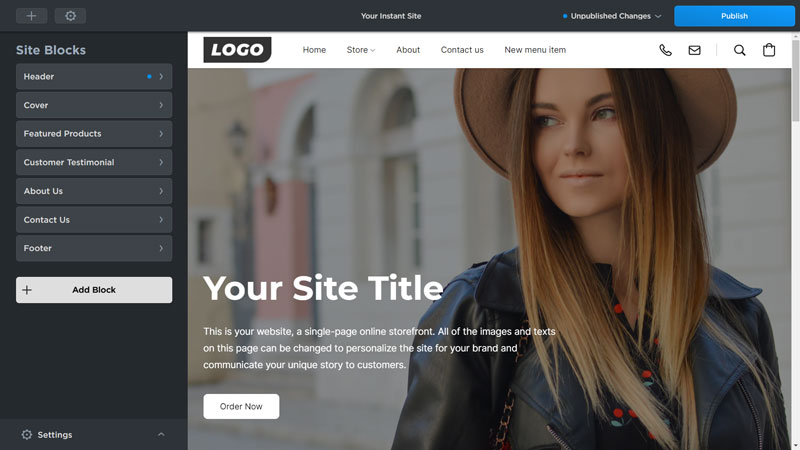 Wix
Wix has one of the largest selections of free themes, with over 100 available for online stores but you need to choose the theme you want to use when you are setting up your store with Wix as they don't offer the ability to switch themes.
Instead, if you want to change the theme, you need to create a new site and then transfer your plan to that site, which is far from optimal!
When it comes to customization, Wix has a complete site editor, which allows you to customize all different page types on your site and the editor gives you complete control over the layout of your site by allowing you to:
Add, remove and rearrange sections
Make changes to the layout by dragging and dropping elements
Customize different page types
Change the colors and font
There are also additional options for customizing your mobile site as well, which is a nice touch but there is almost too much you can do as it allows you to make such minor changes, such as dragging an element slightly to the right or left that will have no impact on user experience.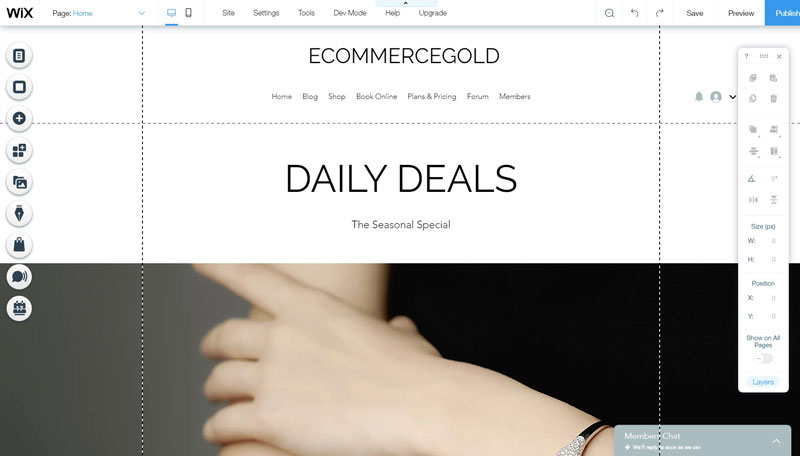 Support
Running an ecommerce website can be challenging at times and you require some help, so what support do you get from these platforms?
Ecwid
The level of support you get does depend on the plan you are on as:
The Venture plan is limited to Email and Live Chat
The Business plan also includes phone support
The Unlimited plan gives users priority support
The live chat support is available 24 hours a day, Monday – Friday but the phone support is only available 2 pm – 10 pm pacific time.
Ecwid has included a live chat icon in the admin dashboard, making it very easy to contact them.
Wix
Wix offers 24/7 support to all of their English-speaking customers (times vary for other languages) and it is available via different mediums such as live chat, email and via a callback system.
Wix has made it much easier to contact their support teams by adding a live chat/help icon directly into the admin dashboard.
Hosting & Performance
Both platforms take a very different approach when it comes to advertising how good their hosting is.
Ecwid is very upfront and it is very easy to find information about its hosting environment, which includes the following:
Hosted on Amazon Web Services
PCI Level 1 PCI DSS
Cloudfront CDN
Secure Checkout
Unlimited Bandwidth
Whereas Wix, on the other hand, doesn't give much information away and we had to do some digging, including multiple Google searches to find out that Wix hosting includes:
Unlimited bandwidth
Free SSL certificate
99.8% Uptime
CDN
PCI Compliant Servers
Having to hunt for this information isn't great and they should provide all this information on a single page!
Unfortunately, we weren't able to compare the two platforms in terms of performance as Ecwid doesn't showcase any customer example sites which use the New-Gen Instant builder but we could test Wix and they weren't great:
Mobile Load Time: 3.98 seconds
Mobile PageSpeed Score: 20/100
Desktop Load Time: 4.10 seconds
Desktop PageSpeed Score: 54/100
This puts Wix towards the bottom of annual performance testing.
Ease of Use
Facts and figures are one thing but what are these platforms like to use and how do they compare to each other? Well, that is what we going to be looking at in this section.
Getting Started
Ecwid
Getting started with Ecwid is very simple as all you need to get started is an email address and to create a password and that will allow you to sign up to the free plan (upgrading can easily be done in the My Profile section of the dashboard).
Once you have gone through the signup process, you will be taken through to the admin dashboard and you will be greeted by a short setup guide, which includes all of the basic steps to get your Ecwid store set up and it is worth working through this checklist.
The Ecwid dashboard is very easy to use and navigate around as they have kept it nice and simple (like much of the platform), with well-labeled headings in the sidebar navigation menu and an overall very easy-to-use interface.
Wix
It is also very easy to get started with Wix as all you need is an email address and to create a password but Wix does ask more questions during the signup process due to Wix being a website builder and not solely an ecommerce platform.
This allows them to tailor the dashboard to your business needs and install the required apps (just remember, you need to be on a paid plan to accept orders via the Wix Stores app) and once you have answered all of the questions, you will be taken through to the admin dashboard.
As with Ecwid, this also includes a setup guide but it is more comprehensive and includes many more prompts to get things set up and configured correctly.
But there is a second setup process that you need to do for your storefront as what you have done to this point only sets up the dashboard, not your website.
The design and layout of the Wix admin dashboard seems to change every few months with different sections being added or removed but overall it is pretty easy to use as the sidebar navigation menu is well labeled and it is easy to move from one section to another.
Just be careful when installing apps though as the sidebar navigation can get very full with different headings, which means it isn't as easy to navigate around and we found that the dashboard can be quite slow when moving from page to page.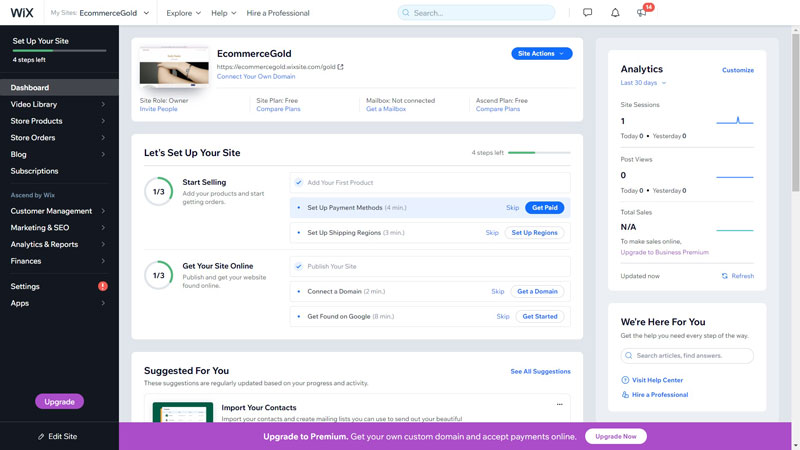 Inventory Management
Being able to manage your stock efficiently and effectively is a hugely important part of running an online store and there are three main areas to this, which are:
Adding products
Organizing your Products
Managing your inventory
Ecwid
Ecwid's new product page is very easy to use as they have kept it simple and easy to use, the tabbed layout has a logical flow to it and the tabs aren't overloaded with options, meaning that creating or editing a product is very easy to do.
One negative is that you cannot edit the URL and while the auto-generated URLs are pretty good, for all the products, they do include a random number sequence at the end, which isn't the best from an SEO perspective.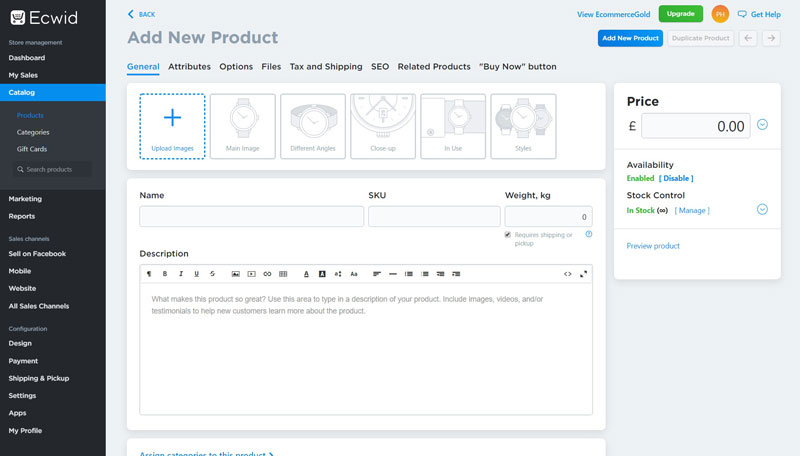 To help you organize your products, Ecwid has gone for the tried and tested category model, which allows you to create both parent and sub-categories.
A relatively recent addition to Ecwid is a bulk product editor, that has made managing your inventory considerably easier as you can easily edit:
Product Title
SKU Code
Availability
Price
Stock
You can also filter out the things that you want to edit, so if you just wanted it for price, then you can set it up for this. This gives it a lot of flexibility and makes Ecwid much easier to use.
Wix
Adding a new product to Wix is very simple, just go to the product overview page and click the + New Product button. You will then be asked if it is a Digital or Physical product and the layouts between the two pages are slightly different.
For both types of products, Wix has gone for a single-page layout and it is well laid out and simple to use. There is one option that Wix stores have that Ecwid doesn't and that is that you can add a section for customers to personalize their products with their own text.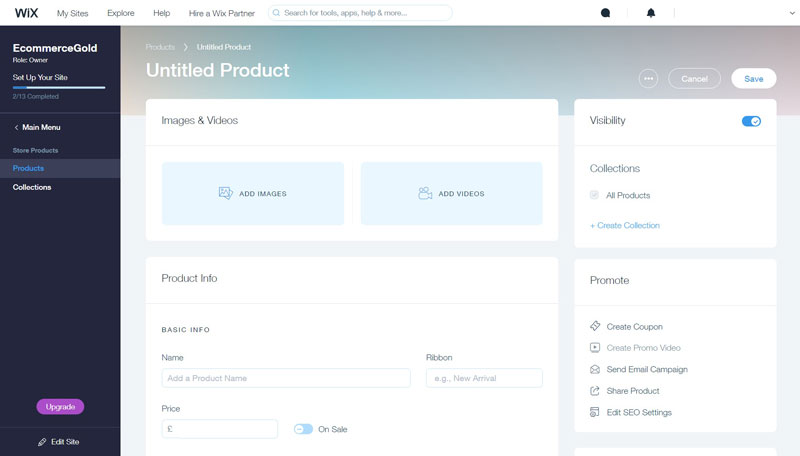 Organizing your products with Wix Stores is a bit limiting. They call their categories, collections but they work in pretty much the same way. The downside is that you can only create parent collections, this means that it is not possible to create a category hierarchy within Wix.
For some businesses, this may not be an issue but if you have a large inventory that needs to be effectively organized, then you will struggle to do this with Wix stores.
Wix is much more limited when it comes to inventory management as you can only update your inventory quantity in bulk, if you want to edit any other aspects of your product listing, then you are going to have to go in and edit the product individually.
Managing Orders
Ecwid – The order management system on Ecwid is one of the best ones we have used as it allows you to do pretty much everything directly from the order overview page. You can update order statuses, print invoices, update payment status and export your order via CSV or to a Google Sheet. This makes the complete process of managing your order very easy and efficient to do.
Wix – Offers a good order management system, which includes tools to bulk update fulfillment statuses, export orders and also print order information. Orders can also be filtered by order status, which makes order management easier and overall it is an easy to use system.
Summary
Ecwid Summary
Ecwid Pros

• Good Support
• Easy to use
• Good integration
• Order Management

Ecwid Cons

• Limited features on entry packages
• Website builder is very basic
Wix Summary
Wix Pros

• Attractive pricing
• Easy to navigate
• Decent selection of features
• Full site customizer

Wix Cons

• Poor Performance
• Changing themes is difficult
• No sub-collections
Conclusion
So, this is a rather strange conclusion but bear with us…
Ecwid is a very good ecommerce tool, which makes it a great option for anyone looking to add ecommerce to their existing website (especially WordPress sites) but due to the website builder being very basic, it isn't the ideal solution for anyone looking to build an ecommerce website from scratch.
Wix is a better all-round solution as it offers a complete website builder and a good range of ecommerce features in one package and would be our choice of the two if we were looking to build an ecommerce store from scratch.
Hopefully, that has helped give you an idea as to which platform is going to be the best option for your online store.
Try Ecwid for Free!
No Credit Card Needed!
Try Wix Stores for Yourself!
Start a free Wix Website!
Other Comparisons
Hi, I'm Paul, the Owner and Founder of EcommerceGold.
I ran my own Ecommerce Business for over 7 years and now help others start their own online retail empires!