Shopify and Wix are two of the most popular options for building ecommerce websites, with both claiming to be feature-rich and easy to use but are these claims true and which one is better for building an ecommerce website?
That is what we will be looking at in this in-depth comparison of these two website builders.
Shopify vs Wix: What is the Difference?
Shopify is a fully hosted platform designed specifically for building ecommerce websites and is suitable for businesses of all sizes. Wix is primarily a website builder that allows users to sell products on their site using the Wix Stores app and is aimed at smaller ecommerce websites.
Disclosure: Our site is reader supported, meaning we may earn a commission from purchases made through our links, to learn more, please see our Affiliate Disclosure.
Pricing


As you can quite clearly see in the table above, Wix's subscription fees are considerably cheaper than Shopify's but the monthly cost isn't the only factor that you need to consider.
Shopify
Shopify also charges a transaction fee on all payments received using third-party payment gateways, such as PayPal and Amazon Pay and it does depend on the plan you are on as to the fee you pay:
Shopify Basic: 2%
Shopify Standard: 1%
Shopify Advanced: 0.5%
These fees don't apply when using Shopify's in-house payment gateway, Shopify Payments but this does make finding out which plan to go on a little more challenging but you can use tools like our free Shopify fee calculator to help you figure this out.
Wix
Wix is a little bit sneaky when it comes to displaying their prices as the ones shown on their site and in the table above are if you pay annually for your plan, if you want to pay monthly, then you will pay a higher price.
But they also offer larger discounts for plans that are bought for 2 or 3 years upfront.
When it comes to additional charges, Wix doesn't have any as they don't have:
Additional transaction fees
Annual turnover limits
Limits on the number of products you can sell
This means that Wix does work out a lot cheaper than Shopify.
Free Trial
Shopify offers a 14 Day Free trial, which only requires an email address and to create a password.
Wix operates a bit differently as you sign up to a free account, which allows you to install and test the Wix Stores app but you can't take orders through it. They do offer a 14 money-back guarantee on their ecommerce plans.
Features
As two of the biggest website builders in the world, you would expect them to both come with a good range of features, but what do you get exactly?
Shopify
As Shopify was designed primarily as an ecommerce platform, it is not surprising that the majority of its features are aimed at ecommerce. Even with the basic package, you get a large range of features built into the platform as standard and as you move on to the larger packages, you do get more features.
Ecommerce Tools
Dropshipping Integration
Flexible Shipping Rates
Multi-Language
Product Reviews
Digital Products
Gift Vouchers
Shopify Management App
Marketing & SEO
Google Adwords Credit
Sell on Facebook
Discount Codes
Abandoned Cart Recovery
Auto-Generated Sitemap
Social Share
Blog
Custom Meta Data
SEO Friendly URLs
Reporting
Product Reports
Traffic Sources
Google Analytics
Day, Week and Monthly Reports
Payment Gateways
Shopify Payments
PayPal Express Checkout
Amazon Pay
Klarna
Worldpay
Sagepay
Shopify App Store
If the standard features of the Shopify platform aren't enough for you, then you do have access to the Shopify App Store, which has over 3,000 apps that have been made by the Shopify team or third-party developers that add a variety of different functionality to your store.
Unfortunately, not all of these apps are free to use, many come with a free trial or plan but to get access to all the features, you will need to use a paid plan and if you are not careful, this can make Shopify quite expensive.
Wix
As Wix was originally a website builder and the ability to sell on the platform comes in the form of the Wix Stores app, this adds a checkout and product pages to your Wix website. Combined, Wix and the Wix Stores app offer the following features:
Ecommerce Tools
Sell Physical & Digital Products
Discount Coupons
Create Promo Video
Live Chat
Marketing & SEO
SEO Friendly URLs
Custom Meta Data
Send via Email Campaign
Share Product to Social Media
Sell via Facebook and Instagram
Blog
Reporting
Orders
Conversion Rate
Revenue
Purchase Funnel
Top Email Campaign
Payment Gateways
PayPal
Wix Payments
Stripe
Square
SumUp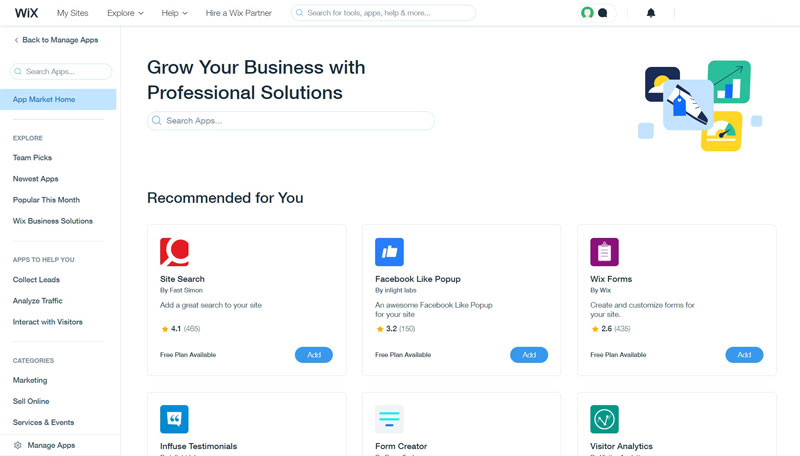 With all Wix packages, you also get access to the Wix App Market, which has a variety of apps that are made not only by the Wix team but also by third-party developers. While not as big of a selection as you get with Shopify, there is still a good range to choose from.
While the majority of these apps will have some form of free plan, to get all of the features of the third-party developed apps, you will have to upgrade to a paid plan on top of your existing Wix package.
One of the things that really does let the Wix platform down is the poor selection of payment gateways on offer and there are no additional ones available in the App Market.
Theme Selection & Customization
Shopify
In November 2021, Shopify implemented its OS 2.0 system for themes and theme customization, which is designed to give users more control over the look and feel of their site.
With this update, came a selection of new themes including 9 free options and over 80 paid, which range from $200 – $350.
The big change came to the customizer and while it was no slouch before, it was basically limited to the homepage but the new system has been expanded to pretty much all types of pages that you can create through Shopify.
When it comes to customization, there are lots that you can do, including:
Adding, removing and re-organizing sections
Make changes to the header and footer
Customize the font styles, sizes and colors
Change colors across the theme including buttons
Create custom templates for pages
Live preview, so you can see changes before sending them to your live site
Overall, the new customizer is a very good improvement over the old one and is one of the best customizers on the market.
Wix
Wix offers a much larger selection of themes, with over 100 available for online stores but it isn't easy to switch between themes as you need to create a new site and then transfer your subscription over to that site and not all things will transfer over, so not an ideal solution.
When it comes to customization, Wix offers a full-site editor and this offers a lot of control over your site as you can:
Add, remove and rearrange sections
Drag and drop elements
Customize different page types
Change colors and fonts
This gives users a lot of control over the look and feel of their site but it could be argued that it gives too much control as you can make minor adjustments, such as dragging an element slightly to the right that makes no difference to user experience but you can waste a lot of time doing.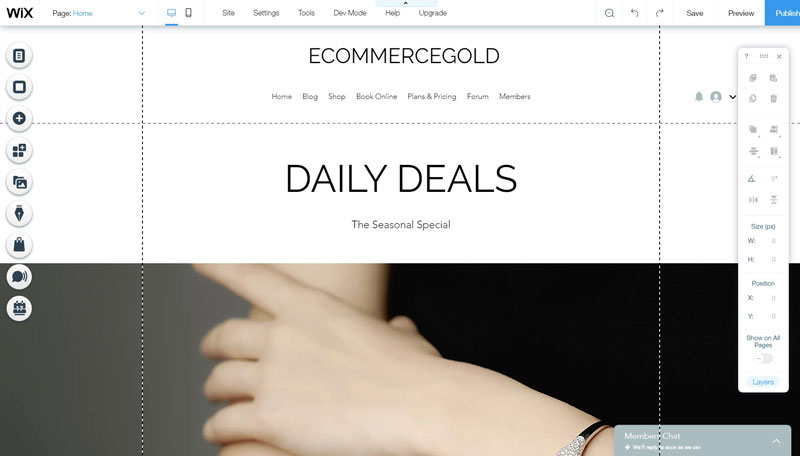 Support
One of the reasons why people choose a hosted platform such as Shopify or Wix is that they get help and support to run their website. But how good are Shopify and Wix when it comes to support?
Shopify
Shopify offers all of their users 24/7 access to their support team but it is not completely straightforward to contact them as you have to navigate through the help center in order to find these options.
Once you do get through to this page, there are a variety of options such as phone, email and live chat. There is also a community support forum that is a great source of information and is frequented by members of the Shopify support team and also some very knowledgeable users.
Wix
Wix offers all English-speaking users 24/7 support (support times vary for other languages) via live chat and a callback service. One recent change to Wix is the addition of the live chat icon to the admin dashboard, making it much easier to contact the support teams.
Hosting & Performance
Shopify and Wix take very different approaches when it comes to advertising their hosting information. Shopify is very upfront and provides the following information:
Unlimited Bandwidth
Unlimited Storage
PCI Compliant Servers
Free SSL Certificate
99.98% Uptime
Blazing Fast Servers
Wix, on the other hand, is quite secretive when it comes to their hosting setup and after some digging, the only things that we could find are, that they include a free SSL certificate, have 99.9% uptime and 50GB storage.
This doesn't stop us from putting both platforms to the test! And to do this, we took five of their customer example sites and ran them through Uptrends speed tool, which not only tests load time but also their PageSpeed Insight scores.
Testing was done using Uptrends New York server on both Mobile and Desktop devices and was run once a day for three days and you can see the results below:

Mobile:
Desktop:

Mobile:
Desktop:
It is a pretty clear win for Shopify on this one as they beat Wix in all four tests!
When it comes to performance, there is still room for improvement from Shopify and load times of sub 2 seconds would be nice to see but across the board, the performance is solid and also consistent across the tests.
There are definitely some issues with the Wix hosting environment and not only is the performance poor across all categories but they were also very inconsistent.
Ease of Use
Facts and figures are great but being easy to use is also of huge importance as you want your ecommerce platform to make life easier, which is why we are going to be looking at the three following sections:
Getting started
Inventory Management
Order Management
Getting Started
Shopify
Shopify has a really simple sign-up process, all you need is your email address, create a password and a name for your online store. Once you have entered this, Shopify will ask you what stage your business is at and also what industry you are in, so that it knows the best information to give to you when you get started.
Once you have completed the signup process, you will be taken to the Shopify dashboard and be greeted by a short setup guide. This setup guide is a bit lacking in comparison to other platforms but the team at Shopify has created a series of videos in their academy that shows you more in-depth how to get your site set up.
It is worth watching this video series as there is some good information in there, along with some handy tips.
The Shopify dashboard itself is very well designed and has an almost minimalistic feel to it but every section of your site is easy to access from the sidebar navigation menu. And it doesn't take long to learn where everything is within the dashboard as all of the headings are clearly labeled.
Wix
The process of getting started with Wix is pretty simple as you only need an email address and to create a password in order to get started but you will be asked a series of questions, such as:
What you are creating the for
Name of the site
Purpose of the site (ecommerce, portfolio etc)
What apps you would like installed
But just be aware that you will need to upgrade to one of their paid plans that includes ecommerce if you want to accept orders on your site.
Once you have completed the sign-up process, you will be taken through to the admin dashboard (which Wix seems to redesign slightly every few months) and will be greeted by quite a comprehensive setup guide.
Which includes steps such as setting up your online store and getting started with marketing your site. The number of steps in the setup guide will depend on which apps you chose to be installed when you went through the setup process.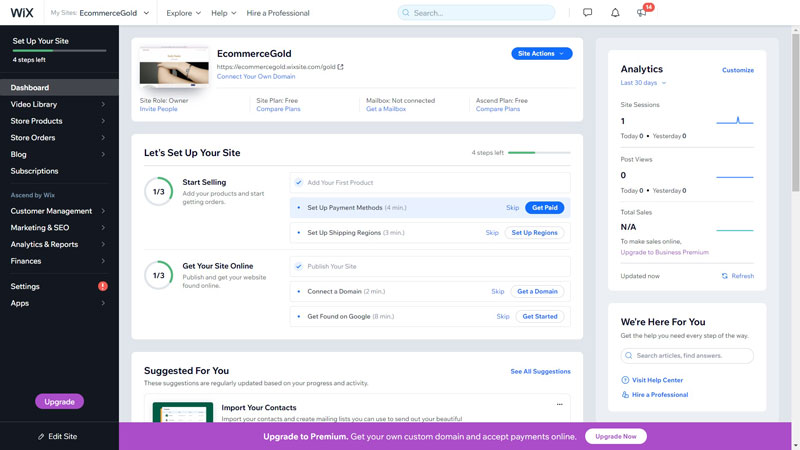 To get the frontend of your site setup (the bit your visitors will see), you will need to go through ADI (Artificial Design Intelligence) setup tool, which asks you to choose a website style for fonts and colors, which template you would like to use and which pages you want to create.
The tool will then spend a few minutes building your website, which can then be customized using the Wix Editor.
The dashboard itself isn't too bad to use but it is not the most responsive in terms of load time, especially when opening the editor and you may spend a few seconds waiting for pages to load.
Navigating around the dashboard is pretty simple as the main sidebar navigation menu has well-labeled headings but if you install a large number of Wix apps, you might find lots of options added to the navigation menu, which can mean scrolling to find the heading you want.
But there are some aspects to using Wix that are frustrating, such as installing/removing apps as this is all done through the editor and can result in some backwards and forwards between the dashboard and editor.
Adding and Managing Stock
Being able to manage your stock efficiently and effectively is a hugely important part of running an online store and there are three main areas to this, which are:
Adding products
Organizing your Products
Managing your inventory
Shopify
Shopify has gone for a single page layout for their add new product page and as with the Shopify dashboard, it has quite a minimalistic feel but all of the important sections are there and this makes it very easy to add a new product.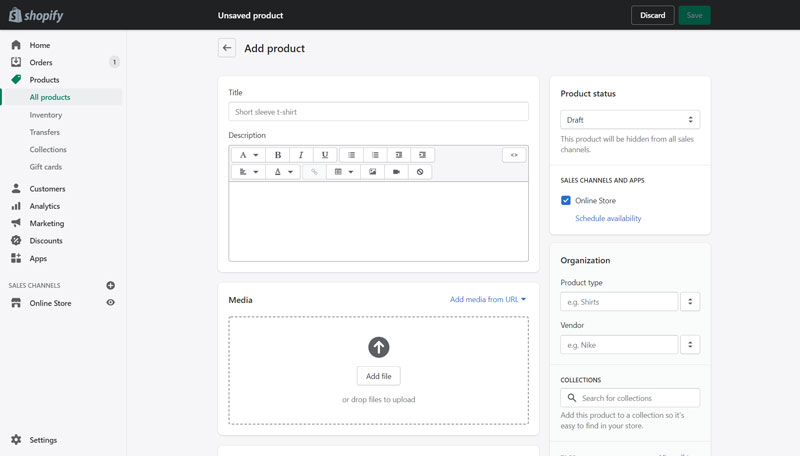 One of the things that is a little different with Shopify, is organizing your products as they have developed their own collection system. In the manual mode, this works in a very similar way to a traditional category system but the automatic mode uses rules based on product tags and to get this working effectively, it is worth reading through the Shopify documentation.
Managing your inventory is very simple as Shopify has two very good bulk editors, the first in the main product overview page allows you to change multiple different elements of the product by using filters to choose what you want to change.
If you just want to quickly update your inventory quantity, then you can use the Inventory section of the dashboard but this offers a similar filter system to the other bulk editor, which allows you to update multiple things at the same time.
Wix
The add new product page in Wix is very similar to Shopify, in terms of being a very simple, single-page layout. What is slightly different, is that you pick whether you want to add a digital or physical product before you are taken to the add new product page.
One thing that is good with the Wix Add Product page is that there are options to promote your product directly from the page, this allows you to start marketing your new products instantly.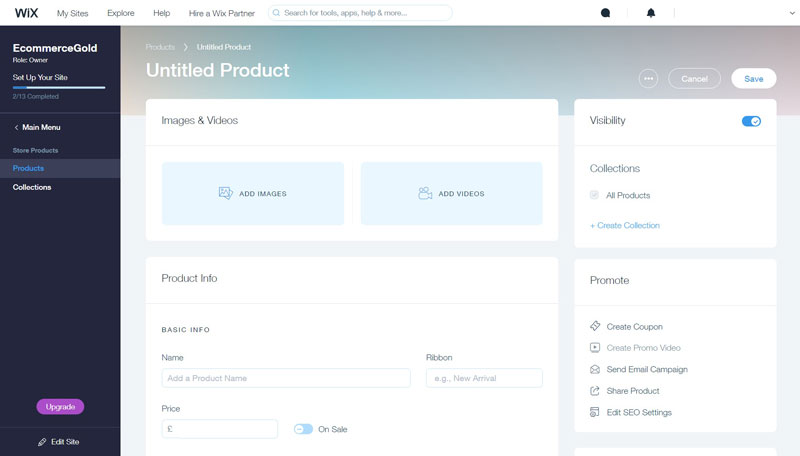 In another similarity to Shopify, Wix also uses collections but they work the same as a traditional category system. Adding a new category is very simple but one of the negatives is that you cannot create sub-collections, this can make organizing a large variety of products quite challenging.
The Wix platform is very limited when it comes to managing inventory as the only bulk editor they have is for inventory quantity, any other edits to the product need to be done by going back in and editing products individually.
Managing Orders
Shopify is somewhat limited in its order management but you can:
Print basic packing slips
Export via CSV
Update or statuses
All in bulk but if you want to print invoices, you will need to install an additional app and although Shopify has a free one, the paid ones by third-party developers offer a lot more functionality.
Wix has a very good order management system as standard, as it allows you to:
Update fulfillment status
Export orders
Print order information
You can also filter orders by fulfillment status, which can make order management a lot easier.
Summary
Shopify Summary
Theme Selection & Customization
Shopify Pros

• Theme Customization
• 24/7 Support
• Easy to use Admin Area
• The App Store
• Good Performance

Shopify Cons

• Transaction Fees
• Automatic Collection system is a bit complicated
• No option to bulk print invoices
Wix Summary
Theme Selection & Customization
Wix Pros

• ADI set up
• ADI theme customization
• Dashboard set-up guides
• Wix App Market
• Add/edit product page

Wix Cons

• Poor Performance
• Slow loading times within the dashboard
• Lack of sub-categories
• Not easy to change theme
Conclusion
Shopify vs Wix – Which one is the Best Ecommerce Platform?
Overall, Shopify does come out as a pretty clear winner as it offers a good selection of features, a nice and easy-to-use admin dashboard, a good selection of themes, a very good theme customizer and solid performance for their hosting making it a very good ecommerce platform.
Now Shopify isn't perfect as the transaction fees aren't ideal and you may need to install (and potentially pay for) apps for features that are included with other platforms but Shopify performs well in all areas and it is one of the reasons why it is so popular.
Wix isn't bad as a website builder but the dashboard isn't the easiest to use for ecommerce as it feels quite cluttered, the features are ok for smaller stores but may be limiting for larger ones and Wix has questionable performance from its hosting.
The one redeeming feature of Wix is website design as they offer two good customizers and a good selection of themes.
But you don't have to take our word for it! You can try both of these out for yourself by clicking the buttons below and taking out a trial with Shopify or starting a free account with Wix.
Try Shopify for Yourself
14-Day Free Trial, No Credit Card Needed
Try Wix for Yourself
Start a Free Website, No Credit Card Needed!
Other Comparisons
Hi, I'm Paul, the Owner and Founder of EcommerceGold.
I ran my own Ecommerce Business for over 7 years and now help others start their own online retail empires!