When it comes to building an ecommerce website, two very popular options for small online stores are WooCommerce and Wix but which one is the better option? For this post, we are looking at the self-hosted wordpress.org version of WooCommerce.
WooCommerce vs Wix – What is the Difference?
WooCommerce is basically the official ecommerce plugin for the WordPress CMS (both are ran by the same company Automatic), the WooCommerce plugin can be used as a base for a variety of different ecommerce websites. Wix is primarily a hosted website builder that can be used to build an ecommerce website by installing the Wix Stores app.
WooCommerce vs Wix Content
Disclosure: Our site is reader supported, meaning we may earn a commission from purchases made through our links, to learn more, please see our Affiliate Disclosure.
Pricing
Making a direct comparison on pricing is very difficult as they operate in different ways.
WordPress & WooCommerce are open source, meaning that the software is free to use but you will need to arrange your own hosting and dependant on requirements, can range from a few dollars a month to thousands.
As Wix is fully hosted, you get the website builder, Wix stores app, hosting and support all included for a fixed price monthly package.
Free

Basic: $28/m
Unlimited: $33/m
VIP: $56/m
Now you may notice that the Wix prices above are different to the ones advertised on the Wix website, this is because the prices above are what you pay if the packages are paid for on a month by month basis and the ones promoted on the Wix site are if you pay for the packages annually.
But with WooCommerce, your eyes aren't deceiving you, it is free to use and unlike many WordPress plugins, there isn't a premium option for this plugin and anything you want to add to WooCommerce comes in the form of additional plugins.
Free Trial
With WooCommerce, there is no free trial and if you want to test it out for yourself, you need to buy some cheap hosting and then install WordPress and WooCommerce to see whether or not you like it.
Wix offers a 14 day trial on their business and ecommerce packages but they also allow you to have a free plan for life but this is limited on features and although you can test the Wix Stores app, it won't be usable on the front end of your site.
Features
One of the main selling points of any ecommerce platform is the features that they offer for their users, so what do these two platforms offer?
WooCommerce
Standard features isn't a particular strong point of WooCommerce as it is designed to add basic ecommerce functionality to a WordPress website, features can then be added as required by installing additional features, but as standard is does offer:
Ecommerce Tools
Sell Physical & Digital Products
Discount Coupons
Marketing & SEO
Blog (WordPress)
SEO Friendly URL's
Reporting
Sales by Date
Sales by Product
Sales by Category
Registered vs Guest Customers
Payment Gateways
PayPal
Stripe
Klarna
Amazon Pay
WordPress Plugin Library
As mentioned above, additional plugins are an essential part of the WooCommerce system and there are thousands to choose from, a search of the free WordPress plugin library returns over 7,000 results and there are many other free plugins outside of the main library and this selection grows even further when you factor in premium plugins.
One of the things that does make WooCommerce a unique proposition, is that you can use it as a base for a variety of different ecommerce businesses, including:
B2C Ecommerce
B2B Ecommerce
Subscription sites
Membership sites
Multi-vendor marketplaces
Catalogue site
This is something that isn't available with other ecommerce platforms and the flexibility is a features within itself.
Wix
Due to Wix being primarily a website builder, many of the features of the platform aren't specifically designed for ecommerce but once the Wix Stores app is installed, the combination offers the following features:
Ecommerce Tools
Sell Physical & Digital Products
Discount Coupons
Create Promo Video
Live Chat
Marketing & SEO
SEO Friendly URL's
Custom Meta Data
Send via Email Campaign
Share Product to Social Media
Sell via Facebook and Instagram
Blog
Reporting
Orders
Conversion Rate
Revenue
Purchase Funnel
Top Email Campaign
Payment Gateways
Wix Payments
PayPal
Stripe
Square
Braintree
App Marketplace
Wix also offers an app marketplace but only a small selection of these will work with the Wix Stores app and this means that the amount of ecommerce functionality you can add is quite limited. However, many of the apps can add some useful general features to a Wix website.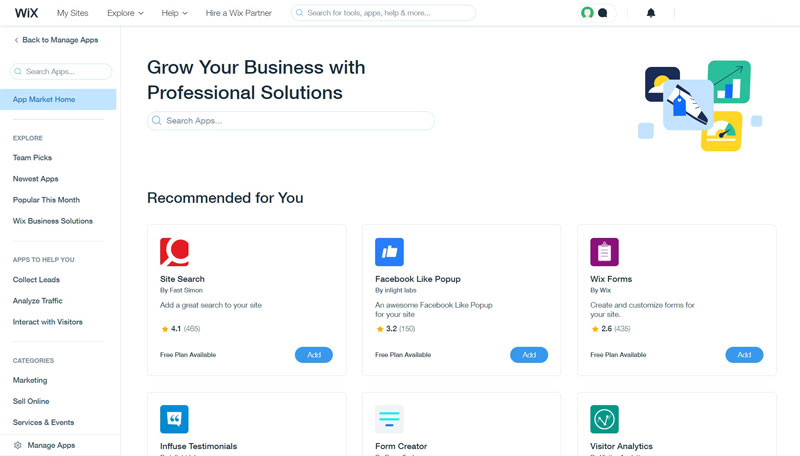 Within the App Marketplace, there are a selection of both free and paid apps. Many of the paid apps will offer free trials or a free package but if you want all of the features, then you are going to have to pay and this is usually a monthly recurring payment.
One of the things that really does let the Wix platform down is the poor selection of payment gateways on offer and there are no additional ones available in the App Market.
Theme Selection & Customization
WooCommerce
It is very difficult to beat WooCommerce when it comes to theme selection as there are over 1,000 free themes with WooCommerce integration available from the WordPress theme library and this is expanded even further outside of the WordPress ecosystem as on Themeforest alone there are over 8,500 premium themes.
One of the main issues with themes for WooCommerce is that you don't get the same amount of customization options with every theme and it does depend on the theme developer as to what you can do in terms of design but one of the good things about WordPress being open source is that you get access to the source code and people with knowledge of HTML and CSS can customise themes as much as they want.
The main changes that are made to a chosen theme are done through the WordPress customizer, which is what can be seen in the image above but as mentioned above, the amount of options does vary from theme to theme but generally things like:
Logo
Navigation menu locations
Homepage settings
Fonts
Colours
Are all changeable within the customizer and as it is a live editor, you can preview the changes before publishing them on your live site.
WordPress also includes a page builder called Gutenberg, which uses blocks and this allows you to create custom blog posts and pages for your site and WooCommerce comes with a standard set of blocks, so that you can sell directly from your blog posts if you want to.
Wix
Wix
Wix has a very large library of themes that are available, with over 100 available for online stores but you need to choose the theme you want to use when you are setting up your store with Wix as they don't offer the ability to switch themes.
Instead, if you want to change the theme, you need to create a new site and then transfer your plan to that site, which is far from optimal!
One of the things that Wix says in their adverts is how easy it is to build a beautiful custom website and when it comes to editing your theme, the Wix Editor certainly gives you a lot of control over the look at feel of your site as you can:
Add, remove and rearrange sections
Make changes to the layout by dragging and dropping elements
Customize different page types
Change the colors and font
There are also additional options for customizing your mobile site as well, which is a nice touch but there is almost too much you can do as it allows you to make such minor changes, such as dragging an element slightly to the right or left that will have no impact on user experience.
Sometimes, you can have too much control!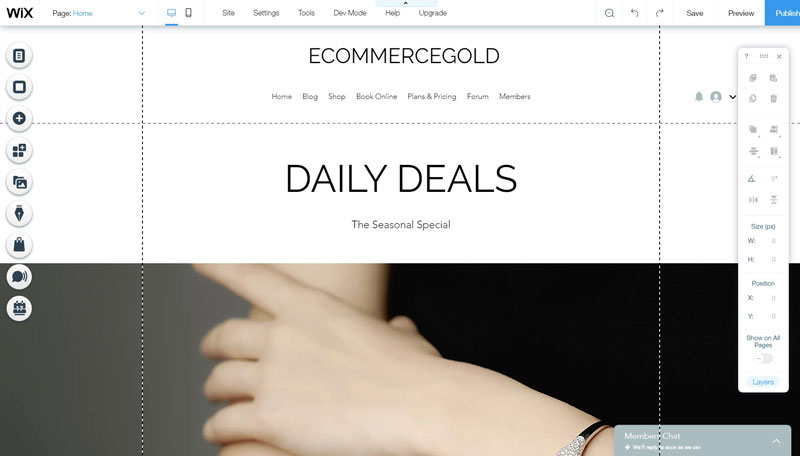 Support
For new users, support can be hugely important in helping you get up and running with your site but what do these two platforms offer?
WooCommerce
When it comes to support, WooCommerce isn't great due to it being open source!
Support for the main WooCommerce plugin is pretty much non-existent from the developers but they do have some useful documentation and the only way to get support is to purchase a premium plugin or theme but you then only get support for what you bought, not the site as a whole.
It is very much the same for plugins and themes purchased from third-party developers and hosting providers will generally only offer support around the hosting, not the site, although some hosts that offer managed hosting do include this as part of the monthly fee.
There is a community forum on WordPress, that can be a good place to ask questions (just don't expect an immediate response) and also find answers to questions.
But the one good thing about WooCommerce being so popular is the amount of information and guides out there to help you set up plugins or do things within the platform. A quick Google search will generally give you the answer to most of your problems.
Wix
One of the advantages of Wix being a fully hosted platform is that it includes 24/7 support via:
Live Chat
Email
Phone (via a Callback)
And Wix has added a live chat icon in the admin dashboard, which has made it much easier to contact the support team, you just need to navigate past the AI bot to speak to a human.
Hosting & Performance
Usually this section of a comparison would be looking at how the hosting environment of the platforms compare across a selection of performance tests but this is not possible due to the way they are hosted and below are the pros and cons of both:
Self Hosted
Pros:

• You choose which host you want to use
• More control when it comes to optimization and performance
• Can move website to a new host
• Can work out cheaper, depending on the type of hosting you choose

Cons:

• More onus on the site owner when it comes to performance, reliability and security
• If the site stops working due to a platform, plugin or theme issue, it is down to you to resolve it
• You are responsible for the maintenance and keeping the site updated

Hosted
Pros:

• Things like optimization, performance, updates and site security are handled by the platform
• You can contact support to get help when fixing issues on your site
• Leaves you to focus on the business aspect of your site

Cons:

• You are tied into the platform and can't just up and move your site to another host
• Less control over your site as you can only do what they allow you to do
• Can work out more expensive on a monthly basis
So as you can see, there are quite a few differences between the two types of website and it depends on you and your experience and ability as to whether you want to go the self hosted route, where you have more control but also more responsibility in managing the site or go for the hosted option that leaves you to focus on the business side of things but give up some control and freedom?
If you want to see how well Wix compares to other hosted ecommerce platforms in terms of performance, check out my Fastest Ecommerce Platforms post.
Ease of Use
An important aspect of choosing a platform to build your online store is how easy they are to use and to test this, we looked at three main areas:
Getting Started
Inventory Management
Order Management
Getting Started
WooCommerce
Due to WooCommerce being self-hosted the process of getting started with the platform is a little more complex than other platforms as you need to:
Buy hosting
Point your domain name to the web host
Install WordPress
Install and activate the WooCommerce plugin
Now there are some really nice web hosts out there who will help you with most of this process but it still can be a little daunting to anyone new to building an ecommerce website.
Once you have installed and activated the WooCommerce plugin, you will be taken through a very short set up guide, which all it does is configure your basic settings and once this is done, you are kind of left to figure it out for yourself, fortunately, there are lots of good WooCommerce Tutorials out there that take you through the complete process.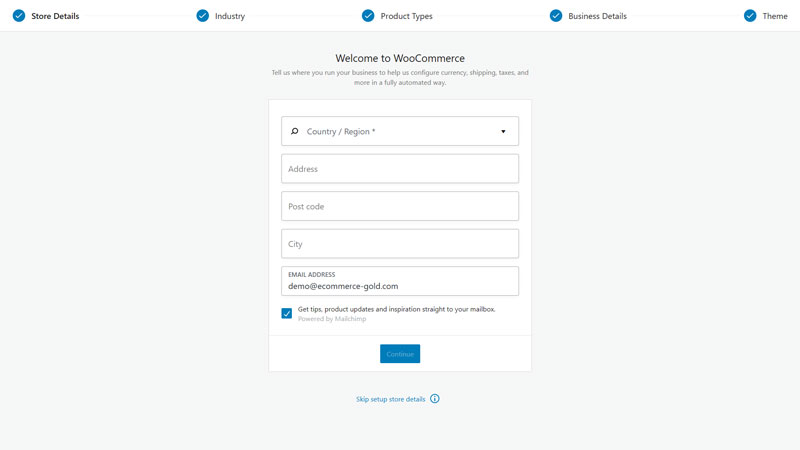 Using WooCommerce is very simple as it integrates seamlessly with the WordPress dashboard and once the plugin is installed, it will add 4 headings to the main sidebar navigation menu:
Main WooCommerce Heading
Products
Analytics
Marketing
These headings are also prominently featured towards the top of the navigation menu, which makes it very easy to access your WooCommerce store and it doesn't take long to work out where everything is and how to get to it but following a tutorial does make the process a bit easier.
Wix
Getting started with Wix is a very straightforward process as you only need an email address and to create a password in order to sign up to the free plan.
There are two parts to getting started with Wix, the first is setting up your account by answering the following questions during the signup process:
What type of website are you starting
The name of your site
You will then be asked if you want to buy a domain
What the goal of your site is (ecommerce, portfolio etc)
Which apps you would like to add
Once all of these have been answered, you will gain access to your admin dashboard and will be greeted by a short setup guide to help you learn the basics about the Wix platform and the number of options here does depend on how you answered the earlier questions.
The second part of the process is to set up the frontend of your site using the ADI (Artificial Design Intelligence) tool, which is once again a simple process as you just need to input the following information:
Entering your business info (name, address etc)
Choose a logo template
Pick a theme (colors, fonts etc)
Choose a template
Which pages you would like to add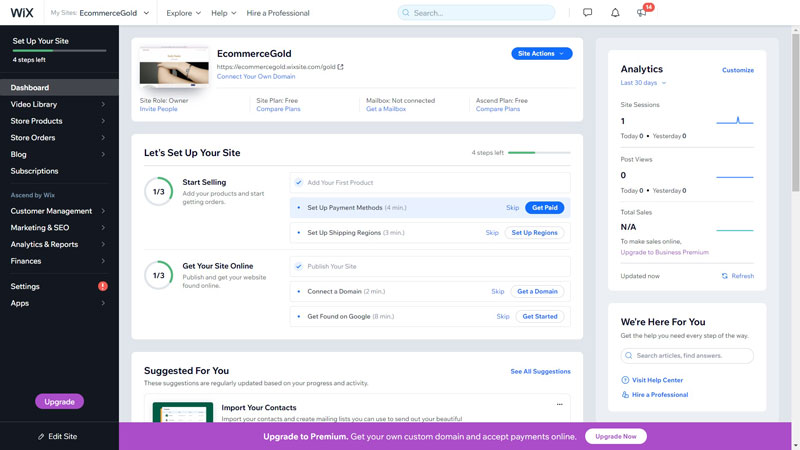 Once you have done all of this, the basic foundations of your Wix store are all set up and you are left to start building and managing it as you want.
The Wix admin dashboard is pretty easy to use, although the layout does seem to change every few months but it is still easy to navigate around due to the sidebar navigation menu.
With the navigation menu, it does depend on how many Wix apps you have installed as to the number of options that are displayed and if you have a lot of apps, it can get quite full, which makes navigation a little more challenging.
Inventory Management
Being able to manage your stock efficiently and effectively is a hugely important part of running an online store and there are three main areas to this, which are:
Adding products
Organizing your Products
Managing your inventory
WooCommerce
The add new product page in WooCommerce is very easy to use and is based on the classic post/page creator in WordPress. There are options to add full and short descriptions as well as a main featured image and additional images.
To add product information, there is a tabbed section below the main description that allows you to add pricing, inventory and delivery information along with any product attributes that you have created.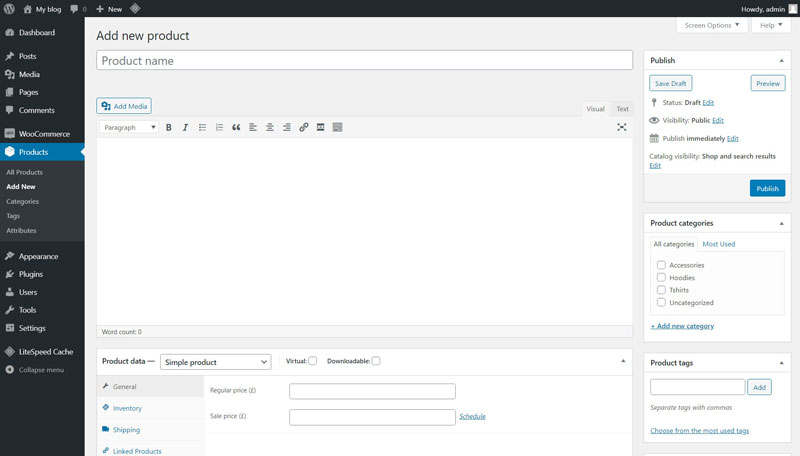 Organizing your products is also very easy and uses a category system that allows you to make both parent and sub-categories which makes create a very good hierarchy for your products. The add product page is very simple, all you need to do is name that category. If you want to, you can add a description and images to the categories.
You can manage a lot of your inventory directly from the product overview page using the quick edit option including price, quantity, category, SKU number, sale price and product title and URL. This makes updating your inventory very quick and simple to do.
Wix
Wix has opted for a single page layout for their add new product page but before going through to the page, you first need to select whether it is a digital or physical product as the two pages are slightly different but the single page is simple to use and well laid out.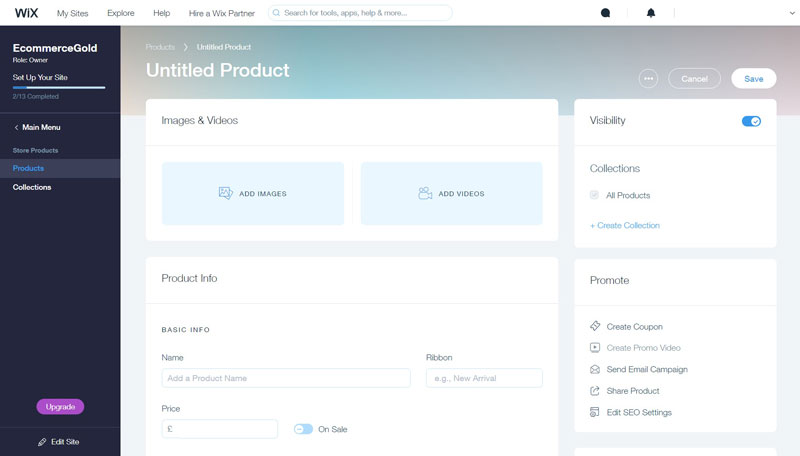 With Wix, organizing your products does feel quite limited as it only allows you to create parent categories. You can work around this with the navigation menu but it doesn't work in the same way that a proper parent/child category system does.
A relatively recent addition to the Wix platform is a bulk inventory management tool, which is a welcome change but it is just limited to updating stock quantity levels and any other changes such as pricing, needs to be done on a product-by-product basis.
Managing Orders
WooCommerce – as standard, order management is pretty poor with WooCommerce and an additional plugin is required, especially if you want to print off order invoices or packing slips for physical products.
However, WooCommerce does allow orders to be managed in bulk or individually and the process is very simple but if you want to export your orders in CSV format, then you will need to install an additional plugin.
Wix – the order management system is pretty good in Wix as you can bulk update fulfillment statuses, export orders and print order information. Orders can also be filtered by fulfillment status, which can make managing orders much easier.
Summary
WooCommerce
Theme Selection & Customization
WooCommerce Pros

• Free to install and use
• Large selection of themes and plugins
• More control over your site
• Easy-to-use dashboard

WooCommerce Cons

• Does need a couple of plugins to really work properly
• No technical support
• Can be expensive if you need to use paid plugins
Wix
Theme Selection & Customization
Wix Pros

• Good set of features
• Dashboard set-up guides
• Wix App Market
• Add/edit product page
• 24/7 support

Wix Cons

• Poor Performance
• Not easy to change themes
• Lack of sub-categories
• SEO isn't great
Conclusion
WooCommerce vs Wix: Which one is better?
Both options have their pros and cons and the conclusion we came to was:
Wix is the better option if you are brand new to building an online store as the learning curve is much shallower and the platform offers much more in terms of features out of the box.
However, if you are willing to spend time learning how to build a WordPress site, then WooCommerce can be a good option.
But we feel that there are much better ecommerce platforms out there that do everything better than both WooCommerce and Wix.
Try WooCommerce!
Get the Free Plugin
Try Wix for Yourself
No Credit Card Needed!
Other Comparisons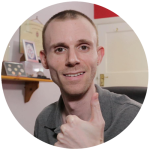 Hi, I'm Paul, the Owner and Founder of EcommerceGold.
I ran my own Ecommerce Business for over 7 years and now help others start their own online retail empires!