When it comes to ecommerce Shopify and WooCommerce two biggest names in the industry, with millions of users between them but which one is better for building an online store?
To answer this very important question, we have done an in-depth comparison looking at all the important aspects when it comes to choosing an ecommerce platform.
Shopify vs WooCommerce: What is the Difference?
Shopify is a fully hosted ecommerce platform, which means that the hosting, ecommerce software and 24/7 support are all included in the monthly package. WooCommerce is a plugin for the popular WordPress CMS that allows users to add ecommerce functionality to a self-hosted WordPress website.
Shopify vs WooCommerce Content
Disclosure: Our site is reader supported, meaning we may earn a commission from purchases made through our links, to learn more, please see our Affiliate Disclosure.
Pricing

One of the main differences between Shopify and WooCommerce is the pricing and this comes down to one being hosted and other self-hosted.
With Shopify, you pay a monthly subscription fee that includes hosting along with the website builder, which starts from $29/m but there is an additional fee, which is one of the downsides of Shopify and that is the transaction fee.
This is charged on all payments received outside of Shopify's own payment gateway, Shopify Payments (not including offline payments), so if you use PayPal for example, you will be charged this fee and it is dependent on the package you are on as to the fee you pay:
Shopify Basic: 2%
Shopify Standard: 1%
Shopify Advanced: 0.5%
This can make deciding which plan to choose a bit more complicated but using tools like our Shopify fee calculator can make this easier.
While WordPress and the WooCommerce plugin is completely free to use, you will have to pay for web hosting in order to have a WordPress site and this all depends on the hosting company and your requirements. You may also need to pay for plugins if there are specific features that you require.
Free Trial
Shopify offers a 14-day free trial of their platform to all users, with no credit card needed to get started.
As WordPress is open-source software, you need to buy some hosting and install WordPress and the WooCommerce plugin in order to try them out for yourself.
Features
As two of the biggest names in the industry, it is expected that they all offer a good range of features for their users.
Shopify
As Shopify is a fully hosted ecommerce platform, it comes with a lot of ecommerce related features straight out of the box and all of the following are available on the Shopify basic plan.
Ecommerce Tools
Dropshipping Integration
Flexible Shipping Rates
Multi-Language
Product Reviews
Digital Products
Gift Vouchers
Shopify Management App
Marketing & SEO
Google Adwords Credit
Sell on Facebook
Discount Codes
Abandoned Cart Recovery
Auto-Generated Sitemap
Social Share
Blog
Custom Meta Data
SEO Friendly URLs
Reporting
Product Reports
Traffic Sources
Google Analytics
Day, Week and Monthly Reports
Payment Gateways
Shopify Payments
PayPal Express Checkout
Amazon Pay
Klarna
Worldpay
Sagepay
Shopify App Store
Even though the features you get in the standard Shopify core platform are very good, they do have their own App Store which features over 3000 apps from both the Shopify team and also third-party developers.
The Shopify App Store opens your store up to a whole world of possibilities including dropshipping integration, Google, Ebay and Amazon integration, SEO and marketing tools and advanced reporting to name but a few. Obviously, with so many to choose from, it is nearly impossible for me to start listing them all in this post.
But not all of these apps are free to use as many of them are made and managed by third-party developers. Many offer free plans but you are limited to the number of features you can use in the particular app, to get all the features then you will need to use a paid plan.
So you do need to be selective when it comes to choosing your apps as you can soon end up with a very expensive store.
WooCommerce
The WordPress + WooCommerce combination is very basic in its standard form and gives you the basic tools you need in order to set up your website and online store. In its basic form, you get the following features:
Ecommerce Tools
Sell Physical & Digital Products
Discount Coupons
Marketing & SEO
Blog (WordPress)
SEO Friendly URLs
Reporting
Sales by Date
Sales by Product
Sales by Category
Registered vs Guest Customers
Payment Gateways
PayPal
Stripe (plugin)
Klarna (plugin)
Amazon Pay (plugin)
WordPress Plugin Library
This doesn't look great for WooCommerce BUT this is where the WordPress plugin comes in, searching WooCommerce returns a result of over 7,000 plugins that can be used and these offer all different kinds of functionality from Marketing & SEO to payment gateways and ecommerce tools.
There are also many many other things you can do including creating an online marketplace, booking websites and membership websites. Pretty much everything you could think of you can do with WooCommerce.
Outside of the free WordPress library, there are also thousands of paid plugins for WooCommerce that offer many more premium features. This also includes paid versions of the free plugins.
Theme Selection & Customization
Shopify
When it comes to theme selection and customization, Shopify has always been one of the market leaders and it is easy to see why.
In terms of theme selection, Shopify offers 9 free and over 80 paid themes (ranging from $200-$350) through their own theme marketplace but there are also plenty available outside of Shopify via marketplaces such as ThemeForest and direct from developers.
And while the theme selection is very good, it is the customization where Shopify really stands out as they offer a full, site-wide customizer, which allows users to:
Customize nearly all site pages (not including blog posts) and also create custom page templates
Add, remove and rearrange sections on pages
Customize the header and footer
Theme settings including colors and fonts
All of which can be done in the customizer, which allows you to preview any changes before publishing them to your live site.
WooCommerce
When it comes to theme selection, nothing comes close to WooCommerce, as there are:
Over 1000 to choose from in the WordPress free theme library
Over 8,500 premium themes available on ThemeForest starting from only a couple of dollars
This doesn't include the vast number of themes available directly from theme developers but when choosing a theme, it is important to check that the theme does offer full WooCommerce integration as not all WordPress themes work with the WooCommerce plugin.
Within the WordPress ecosystem, there are two ways in which you can customize the look and feel of your website, The first one is the main theme customizer, which looks very similar to the image below and offers a live preview, so you can see how the changes will look before publishing it to your live site.
The WordPress customizer shows you all the options that the theme offers and this does vary between themes, some will have lots of options and others will be quite limited but common settings within the customizer are branding such as your logo, set the font type and size and configure your header and navigation bar layout.
The second tool is the Gutenberg editor, which uses a block-based system to build pages, such as your homepage and about me. It can also be used for blog posts as well, The editor contains a lot of different block options as standard but there are third-party plugins that offer a great selection as well.
Support
Running an ecommerce website can be challenging at times and you require some help, so what support do you get from these platforms?
Shopify
As Shopify is a fully hosted platform, you do get some very good support options including over the phone, via live chat and email along with Twitter. This is offered to all users and is available 24/7.
Accessing their support is not completely straightforward as you need to go to the help center, type in a search query and then the button will appear that shows all of their contact options.
They also have a community forum that is frequented by their support staff and other users will also offer help and advice where they can.
WooCommerce
Due to being open source and free, the level of support for WooCommerce isn't anywhere near as Shopify. But as a registered customer of WooCommerce, you can contact their support team via support tickets and they will help as soon as they can. They also have very good documentation on the WooCommerce website.
There is also a support forum on WordPress where you can ask questions about the plugin and generally, you will get a helpful reply either from one of the WooCommerce team or someone else on the forum. The same extends to plugins as long as you ask in the right place.
The one good thing about WordPress & WooCommerce being so popular is the amount of information and guides out there to help you set up plugins or do things within the platform. A quick Google search will give you the answer to most of your problems.
Hosting
A major difference between Shopify and WooCommerce is the way they are hosted and this is something you do seriously need to think about when choosing between the two.
| | | |
| --- | --- | --- |
| | | |
| PCI Compliant | Yes | Depends on Host |
| SSL Certificate | Yes – Free | Depends on Host |
| Bandwidth | Unlimited | Depends on Host |
| Storage Space | Unlimited | Depends on Host |
| CDN | Yes | Depends on Host |
| Updates & Maintenance | Included with Plan | Your Responsibility |
| Uptime | 99.9% | Depends on Host |
As you can see, there is quite a lot of difference between the hosting of both the platforms and how good or bad your WooCommerce store runs comes down to the quality of the hosting provider that you choose.
Another thing to consider is the general maintenance of your site, with Shopify, you let their technicians sort this out for you, so you can focus on running your business and when updates are rolled out, it rarely has much of an impact on your store and in most cases, you won't even know they have been installed.
WooCommerce on the other hand can be a headache when it comes to general maintenance as it is your responsibility as the website owner to make sure that everything is updated and running properly. While most times this goes smoothly, there are times when conflicts happen which can cause your site to break or stop working properly and it is on you to figure out and fix what the problem is.
This can be somewhat alleviated by using managed WordPress hosting as they will generally help with the maintenance of your site but this costs more than regular shared hosting.
Ease of Use
Facts and figures are one thing but what are these platforms like to use and how do they compare to each other? Well, that is what we are going to be looking at in this section by comparing:
What they are like to get started with
The inventory management
The order management
Getting Started
Getting started with these two platforms is different due to the way that they both operate and this is explained in more detail below.
Shopify
Getting started with Shopify is really easy to do, as all you need is an email address and create a password.
Once you have done this, you will be taken to a page where you are asked what stage your business is at such as just getting started or turning over X amount a year along with some other questions. You will then be asked to enter your business information, which is your name, store name and address.
After you have done all this, you will be taken into your dashboard for the first time and be greeted by a short setup guide.
The setup guide does seem to change every few months with some options being added or removed but it isn't the most complete setup guide and often misses out a couple of important steps.
Shopify has also created a very useful set of videos in their academy, that are worth watching as they not only show you how to get started with Shopify but also include some tips and tricks to get you up and running.
Outside of the setup guide, the Shopify dashboard is a very nice place to be. It has a simple, uncluttered layout and the sidebar navigation menu is clearly labeled, making it very easy to not only find out where everything is within the dashboard but also to move from one section to another.
WooCommerce
Getting started with WordPress & WooCommerce is a little bit more challenging as it is not as simple as just signing up and off you go. This is because you need to buy some hosting, install WordPress and then install the WooCommerce plugin.
Once you have got everything installed, getting started with WooCommerce is pretty easy. There is a quick start-up wizard that takes you through most of the important steps you need to do in order to get WooCommerce set up but it is a little bit limited.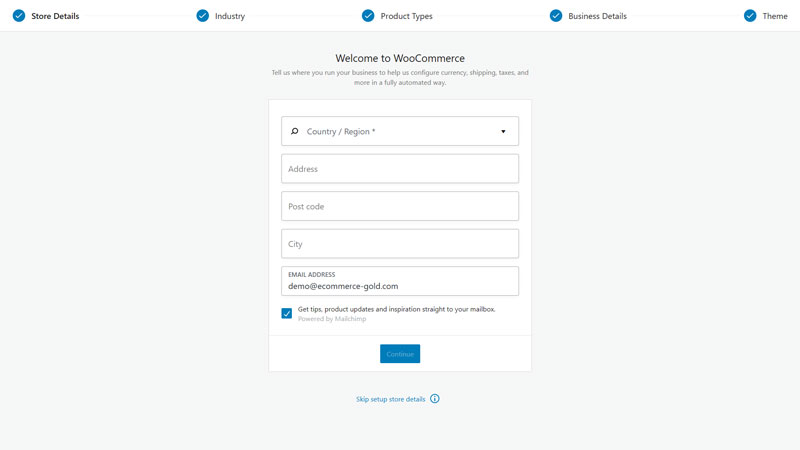 This is because it only allows you to set up PayPal standard as a payment gateway and the setup guide doesn't show you how to do these steps, as in where to go in your dashboard to make any changes. It also doesn't have a guide to help you set up your first product.
Once you get past the setup wizard, using the WordPress and WooCommerce dashboards is nice and easy and all of the Woo elements integrate nicely into the standard WordPress sidebar navigation menu.
The navigation sidebar can get a little crowded if you install a lot of plugins as many are accessed directly from the sidebar. Others will go into other sections such as settings or tools, so will need to learn where to go to access them once they are installed.
Inventory Management
Being able to manage your stock efficiently and effectively is a hugely important part of running an online store and there are three main areas to this, which are:
Adding products
Organizing your Products
Managing your inventory
Shopify
Adding a new product is really easy to do on the Shopify platform as they have gone for a simple, one-page layout, which has a nice flow from one section to the next. They haven't gone overboard with the options and you get the right amount of sections to really help sell your product.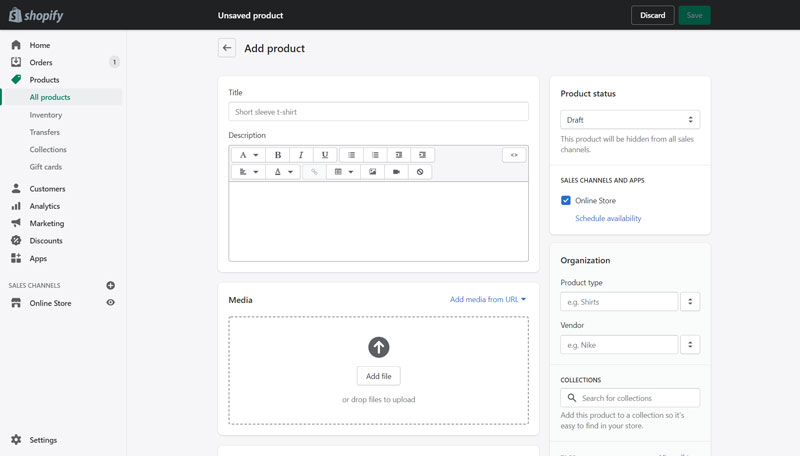 Shopify does things a little differently when it comes to organizing your inventory as they have developed their own collections system and there are a couple of different ways these can be set up:
Manual Collections – these work in a similar way to traditional categories as you create them and then manually add the products
Automated Collections – these are a little more complicated as they are based on rules that you create and any product that meets these rules are automatically added to the collection
The automated collections are a little more complicated to set up but can be very effective when done correctly.
Managing your inventory is very easy on Shopify as they include not one but two bulk editors, the first is available directly on the Products overview page and offers the ability to change many elements of the product page by using the filter system.
The second tool is available in the Inventory section and can be configured in a similar way to the main bulk editor but it is missing a couple of options and for most users, will be best to be configured for updating inventory and prices.
WooCommerce
The add new product page in WooCommerce is also very easy to use and is based on the classic post/page creator in WordPress. There are options to add full and short descriptions as well as a main featured image and additional images.
To add product information, there is a tabbed section below the main description that allows you to add pricing, inventory and delivery information along with any product attributes that you have created.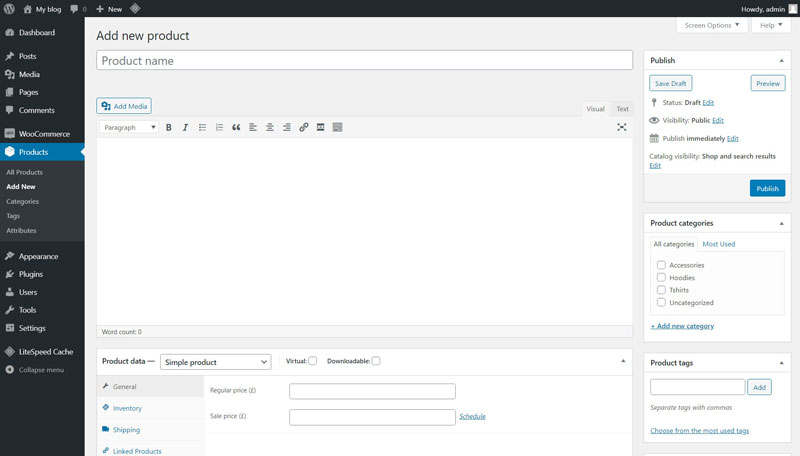 Organizing your products is also very easy and uses a category system that allows you to make both parent and sub-categories which makes create a very good hierarchy for your products. The add product page is very simple, all you need to do is name that category and if you want to, you can add a description and images to the categories.
You can manage a lot of your inventory directly from the product overview page using the quick edit option including price, quantity, category, SKU number, sale price and product title and URL. This makes updating your inventory very quick and simple to do.
Managing Orders
Shopify – order management is somewhat basic, especially if you want to print order information off directly from your dashboard as you are limited to just basic packing slips, fortunately, there are some good apps that add some really good printable options for Shopify.
Outside of order printing, Shopify has some good bulk tools including being able to update order statuses and export order information via CSV format.
WooCommerce – In the core WooCommerce plugin, the order management process is pretty poor as you can only update order statuses. If you want to add the ability to print off invoices or export your orders via CSV file, then you will need to install additional plugins to allow you to do this.
Summary
Shopify Summary
Theme Selection & Customization
Shopify Pros

• Theme Customization
• 24/7 Support
• Easy to use Admin Area
• The App Store
• Very Good Performance

Shopify Cons

• Transaction Fees
• Automatic Collection system is a bit complicated
Woo Summary
Theme Selection & Customization
Woo Pros

• Free to install and use
• Flexibility
• Theme Selection
• Plugin Selection
• Easy to use admin dashboard

Woo Cons

• Needs addition plugins for full functionality
• No real technical support
• Premium plugins can be expensive
Conclusion
Shopify vs WooCommerce – Which one is the Best Ecommerce Platform?
If you are new to the world of ecommerce or building websites, Shopify is the better option out of the two as it:
Is a Complete Ecommerce Package
Includes 24/7 Customer Support
Includes Ecommerce Quality Hosting that is Maintained and Updated for you
Is much easier to get started with
This alongside a good selection of themes, a very good theme customizer and a huge number of apps makes Shopify a very good ecommerce platform and one of the best ecommerce solutions on the market.
But Shopify isn't perfect (but no ecommerce platform is) and while may seem the more expensive option to start with, it can potentially save you time and stress over trying to set up a WooCommerce store.
Now, WordPress + WooCommerce isn't a bad option and can be a good base for building an ecommerce store, it does require some additional plugins to add some basic functionality. It is also more technically involved as you will need to find good quality hosting, install and configure security, performance and optimization plugins in order to make the WordPress system ready for ecommerce.
If you are or have experience with WordPress then this could be a good option but if you are completely new to building a website, Shopify is the easiest way to get started.
Try Shopify for Yourself
14 day Free Trial, No Credit Card Needed!
Check Out WooCommerce
Free, WordPress Ecommerce Plugin
Other Comparisons
Hi, I'm Paul, the Owner and Founder of EcommerceGold.
I ran my own Ecommerce Business for over 7 years and now help others start their own online retail empires!