Opencart and Shopify are two popular options that people consider for building an ecommerce website but which one is the best choice?
Opencart vs Shopify: What is the Difference?
Opencart is open-source ecommerce software and this means that you need to buy some web hosting and then install the Opencart software in order to be able to use it. Shopify is a fully hosted ecommerce platform, which means that the hosting, ecommerce software and 24/7 support are all included in the monthly package.
Opencart vs Shopify Content
Disclosure: Our site is reader supported, meaning we may earn a commission from purchases made through our links, to learn more, please see our Affiliate Disclosure.
Pricing

One of the big differences between Opencart and Shopify is the pricing due to one being self-hosted and the other hosted.
The Opencart software is completely free to use but you will need to purchase web hosting in order to be able to use the software and while shared hosting ($5-$10/m) will probably be ok for new websites, if your site grows, you will probably need to upgrade to ecommerce hosting, possibly with PCI compliance and this will cost from $30 a month.
Shopify's pricing is much more straightforward as they have 3 set plans, which are suitable for most businesses, which are laid out in the table above.
But there is an additional charge you may incur with Shopify and that is a transaction fee, which is charged on any payment received using third-party payment gateways such as PayPal and these are as follows:
Shopify Basic: 2%
Shopify Standard: 1%
Shopify Advanced: 0.5%
These fees don't apply if you are using Shopify's own payment gateway, Shopify Payments or taking offline payments and having an idea of how much you will be paying in Shopify fees can help you decide which package to choose, which is why we created a Fee Calculator for Shopify.
Free Trial
As Opencart is open-source software, you need to buy some hosting and install Opencart in order to try them out for yourself.
Shopify offers a 3-day free trial and the first 3 months cost $1/m.
Features
As two of the biggest names in the industry, it is expected that they all offer a good range of features for their users.
Opencart
Even though it is completely free to use, Opencart does come with some really good ecommerce features and these are all included with the core software.
Ecommerce Tools
Gift Vouchers
Coupons
Sell Physical or Digital Products
Custom Filters for Product Categories
Reward Points
Recurring Payments
Marketing & SEO
Multi-Currency
Multi-Lingual
Product Reviews & Ratings
Email Marketing
Custom SEO inc Meta Titles and Descriptions
Reporting
Transaction
Sales
Returns
Orders
Payment Gateways
PayPal
Klarna
Sagepay
Worldpay
Square
Opencart Extension Marketplace
Outside of the features that are included as standard with Opencart, they also have their own marketplace for their extensions. There are currently over 400 of these extensions to choose from and they offer a wide variety of features, including marketing, payments and shipping.
Now, while this is great, the downside is that not all of these extensions are free. That is because all of the extensions within the marketplace have been created by third-party developers and the most expensive one is $120.
Shopify
With Shopify being a fully hosted ecommerce platform, it is not surprising that it comes with a lot of ecommerce related features straight out of the box and all of the following are available on the Shopify basic plan.
Ecommerce Tools
Dropshipping Integration
Flexible Shipping Rates
Multi-Language
Product Reviews
Digital Products
Gift Vouchers
Shopify Management App
Marketing & SEO
Google Adwords Credit
Sell on Facebook
Discount Codes
Abandoned Cart Recovery
Auto-Generated Sitemap
Social Share
Blog
Custom Meta Data
SEO Friendly URLs
Reporting
Product Reports
Traffic Sources
Google Analytics
Day, Week and Monthly Reports
Payment Gateways
Shopify Payments
PayPal Express Checkout
Amazon Pay
Klarna
Worldpay
Sagepay
Shopify App Store
What really does help Shopify stand out when it comes to features is its App Store, which currently has over 3,000 apps that you can choose from including dropshipping integration, Google, Ebay and Amazon integration, SEO and marketing tools and advanced reporting to name but a few. Obviously, with so many to choose from, it is nearly impossible for me to start listing them all in this post.
But not all of these apps are free to use as many of them are made and managed by third-party developers. Many offer free plans but you are limited to the number of features you can use in the particular app, to get all the features then you will need to use a paid plan.
So you do need to be selective when it comes to choosing your apps as you can soon end up with a very expensive store.
Theme Selection & Customization
Opencart
Opencart comes with a default theme, which is free and there are an additional 18 to choose from in the marketplace but the biggest selection is found outside of the Opencart ecosystem. On ThemeForest alone, there are over 850 to choose from and there are many other developers out there who have also created themes. As these are made by third-party developers, most of these are paid for.
Theme customization in Opencart very much comes down to the theme that you are using. Popular themes like Journal, offer a decent selection of customization options with their own customizer.
But as standard, theme customization within Opencart is pretty poor and unless you know how to use the twig coding language, there is pretty much nothing you can do to change the look and feel of the standard theme.
What this means, is that to make your site look and feel the way you want it to, you are going to have to invest in a third-party theme and if you need specific customization, then you are probably going to have to pay a developer to do the work for you. Unless you know how to code obviously.
Shopify
At the end of 2021, Shopify rolled out a new update called OS 2.0 and with it came a new selection of themes and an updated theme customizer.
The new selection of themes includes 4 free and 65 paid options, which range from $150 – $350, these are only the themes available directly from Shopify but outside of their ecosystem is a much larger selection with over 1,000 available from ThemeForest alone.
The biggest change with the OS 2.0 update is to Shopify's theme customization as it allows users to add sections to all different types of pages throughout their site, rather than just the homepage which the old system allowed. Users can also create custom templates, which lets them create one-off pages along with controls for the site's header and footer.
This is all done within a live editor, so you can preview the changes before publishing them to your live site.
Support
Running an ecommerce website can be challenging at times and you require some help, so what support do you get from these platforms?
Opencart
Due to being open source and free, the level of support you get with Opencart isn't anywhere near as good as what you get from a fully hosted platform. With Opencart you can open a support ticket with them and they will answer you as and when they can.
Outside of this, they do have a community forum which can be a good place to ask a question but don't be surprised if your thread is mainly developers offering to solve your problem for a fee, rather than telling you how to do it.
There is also plenty of videos and blog posts out there that can offer some assistance and these can be found by doing a quick google search.
Shopify
As Shopify is a fully hosted platform, you do get some very good support options including over the phone, via live chat and email along with Twitter. This is offered to all users and is available 24/7.
Accessing their support is not completely straightforward as you need to go to the help center, type in a search query and then the button will appear that shows all of their contact options.
They also have a community forum that is frequented by their support staff and other users will also offer help and advice where they can.
Hosting
As was briefly mentioned in the pricing section, the way Opencart and Shopify are hosted are completely different and the table below lists some of these differences:
| | | |
| --- | --- | --- |
| | | |
| PCI Compliant | Depends on Host | Yes |
| SSL Certificate | Depends on Host | Yes – Free |
| Bandwidth | Depends on Host | Unlimited |
| Storage Space | Depends on Host | Unlimited |
| CDN | Depends on Host | Yes |
| Updates & Maintenance | Your Responsibility | Included with Plan |
| Uptime | Depends on Host | 99.9% |
The difference in the hosting setups also impacts how much responsibility you as the website owner has as with Opencart, you are responsible for installation, maintenance, updates and performance and if you are new to building an ecommerce website, this means it has a much steeper learning curve.
Shopify is much easier from a hosting perspective as Shopify takes care of all of the technical aspects of running your site, which leaves you to focus more on the business aspects.
Ease of Use
Facts and figures are one thing but what are these platforms like to use and how do they compare to each other? Well, that is what we are going to be looking at in this section.
Getting Started
Getting started with these two platforms is different due to the way that they both operate and we will explain this in more detail below.
Opencart
Getting started with Opencart is a bit more of an involved process, as it is not a case of simply signing up and you are good to go. Instead, you first need to buy yourself some hosting and then install the Opencart software.
Some hosts may do this for you but in most cases, you need to do this yourself. You will also need to get your domain name pointed towards your web hosting and also install an SSL certificate so that your site is running on the https protocol.
Once you have got your hosting set up and Opencart installed, you will be taken into your dashboard.
The image above is what you will be greeted by when you first log in and as you can see there is no tutorial or setup guide in place, this means that you either need to find a guide online or figure it out for yourself.
The dashboard itself is pretty well laid out but there are certain aspects that make it not overly easy to use, with the main ones being setting up your payment gateways and delivery methods as you need to go in and configure them as extensions, rather than them being under settings as they are with most other platforms.
It is just things like this, combined with the lack of any type of setup guide or tutorial that doesn't make the Opencart platform feel particularly welcoming to new users.
Shopify
Getting started with Shopify is really easy to do, as all you need is an email address and to create a password.
Once you have gone through the sign-up process, you will be taken into your dashboard for the first time and be greeted by a short setup guide, which includes nearly all of the steps required to help you set up your Shopify store, with the only thing missing being a prompt to set up a shipping method.
Shopify has also created a very useful set of videos in their academy, that are worth watching as they not only show you how to get started with Shopify but also include some tips and tricks to get you up and running.
Outside of the setup guide, the Shopify dashboard is a very nice place to be. It has a simple, uncluttered layout and the sidebar navigation menu is clearly labeled, making it very easy to not only find out where everything is within the dashboard but also to move from one section to another.
Adding and Managing Stock
Being able to manage your stock efficiently and effectively is a hugely important part of running an online store and there are three main areas to this, which are:
Adding products
Organizing your Products
Managing your inventory
Opencart
Adding a new product in Opencart isn't overly difficult but it is a more involved process than it is with Shopify, this is because of the layout that Opencart has opted for.
As you can see in the image below, they have gone for a tabbed layout and there are quite a few options and configurations you can set up within Opencart and it does take some time to work through it and make sure that you have set it up properly.
Organizing your products is a more straightforward affair as Opencart has opted for a traditional category structure and it allows you to easily create parent and child categories.
To manage your inventory in Opencart requires you to go back in and edit the products individually as there is no bulk product editor available in the core Opencart. There is a filter system that you can use to quickly find your products but you still have to go in and edit them one by one, not great if you have a large and constantly changing inventory.
Shopify
When it comes to creating a new product, Shopify has made the process very easy for its users. This is because they have gone for a single-page layout and haven't overcomplicated things by adding too many sections.
Instead, the page has a really nice flow to it and it really doesn't take long to go through and add a new product.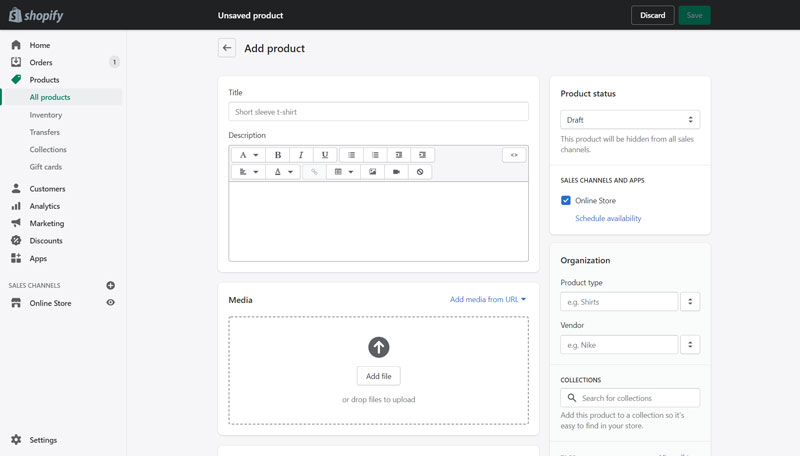 When it comes to organizing your inventory, Shopify does things a little bit differently to most platforms as they have created their own collections system, which requires some learning and practice to make it work effectively as there are two ways to set them up:
Manual Collections – manually add products
Automated Collections – products are added to collections based on rules that you create
It takes a little time to learn how to use Automated Collections properly but they can be very effective when done right. One limiting factor is the lack of sub-collections with Shopify.
When it comes to managing your inventory, Shopify has created a few different ways in which you can do this. The first is the Inventory page and this is great for quickly and easily updating the stock quantity of your listings.
But if you want to make more changes to your listings, you can use their bulk editors and these allow you to edit pretty much and field that appears on the product creation/edit page. And pretty much the only reason you would need to go back in and edit a product individually would be to update the description.
Managing Orders
Opencart – Order management is a little strange in Opencart as you can print off order invoices directly from the order overview page but order statuses need to be updated individually by going into the order and making the update, which makes the process very time-consuming. There is also no way to export order information as standard.
One nice feature of the Opencart order management is that there is a section where you can create and manage returns and this could be very useful for online stores that have a large number of orders as it saves you from having to go through and find the order, you can instead just find the open return and manage it there.
Shopify – In its standard form, the Shopify order management system isn't bad but does lack the ability to print order invoices as standard, an app is required in order the be able to do this. They do have some bulk tools such as being able to update order statuses and print basic packing slips.
You can also export all of your order information in CSV format.
Summary
Opencart Summary
Theme Selection & Customization
Opencart Pros

• Great list of features out of the box
• Selection of extensions
• Product management
• Good documentation

Opencart Cons

• Lack of theme customization
• Not bulk update for orders
• Not easy to set up Payments and Shipping
Shopify Summary
Theme Selection & Customization
Shopify Pros

• Theme Customization
• 24/7 Support
• Easy to use Admin Area
• The App Store
• Very Good Performance

Shopify Cons

• Transaction Fees
• Automatic Collection system is a bit complicated
Conclusion
Opencart vs Shopify – Which one is the Best Ecommerce Platform?
There is only one winner out of these two platforms and that is Shopify as it is easier to use, has a good selection of features, a good selection of themes and great theme customization, which overall makes it a better ecommerce platform than Opencart.
Every Shopify package also includes 24/7 support and better security as all stores run on PCI-compliant hosting.
When compared to Shopify, Opencart feels very difficult to use and is lacking a lot of tools that modern website owners expect from their platform and combined with the lack of support and reported problems with updates and extensions, it doesn't make Opencart a particularly attractive option.
Check Out Opencart
Free Open Source Ecommerce Software
Try Shopify for Yourself
3-day Free Trial, First 3 Months $1/m
Other Comparisons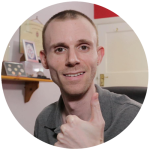 Hi, I'm Paul, the Owner and Founder of EcommerceGold.
I ran my own Ecommerce Business for over 7 years and now help others start their own online retail empires!