When it comes to building an ecommerce website, Ecwid and Shopify are two of the most popular options, but which one is better?
Ecwid vs Shopify: What is the Difference?
Ecwid is a fully hosted ecommerce platform, which can be used to build a standalone website or integrate with popular platforms such as WordPress and Wix, Ecwid also offer multi channel selling including Facebook, Instagram, Ebay and Amazon. Shopify is also a fully hosted ecommerce platform but focuses on building complete ecommerce websites from scratch, with can be customised by installing apps from the Shopify App Store.
EcommerceGold is reader supported, meaning that we may earn a commission (at no additional cost to you) from products or services purchased through links on our site. Learn More.
Pricing
Business
Up to 2500 Products
Unlimited Bandwidth
No Turnover Limit
No Transaction Fees
Unlimited Data Storage
Free SSL Certificate
Live Chat, Email & Phone Support

Basic
Unlimited Products
Unlimited Bandwidth
No Turnover Limit
2% Transaction Fee
Unlimited Data Storage
Free SSL Certificate
24/7 Supports
To make this comparison as fair as possible, I have looked at plans from both platforms that are comparable in terms of price and this is the business plan from Ecwid and the basic plan from Shopify.
As you can see, when it comes to what you get for the monthly fee, there isn't much difference between the two platforms. You are limited by the amount of products on the Ecwid plan, but 2500 is usually more than enough for most ecommerce websites.
You aren't limited by products with Shopify but you do get charged a transaction fee, if you use any payment gateway other than Shopify payments. Now this may seem like a small charge but it can soon mount up when you start getting a large number of orders.
Free Trial
Ecwid goes one better than a free trial and offers a free plan for life but this is limited in terms of the amount of products you can add and also the amount of features you get, which is understandable on a free plan. But it does give you a feel of what the platform is actually like to use.
Shopify on the other hand offers a 14 day free trial and this allows you time to see how the platform works and whether or not you like it.
Features
Ecwid
The business plan from Ecwid comes loaded with a really good selection of features, which are all focused on ecommerce and helping your website start generating sales, including:
Ecommerce Tools
One Tap Checkout (with Apple Pay)
Schedule Order Pickup
Sell Digital Products
Gift Cards
Secure Checkout
Product Filters & Variations
Store Management App
Marketing & SEO
Discount Coupons
Sell on Facebook
Sell on Instagram
Sell on Etsy, Amazon & Ebay
Abandoned Cart Emails
Custom Meta Data
SEO Friendly URL's
Reporting
Number of Visitors
Revenue
Conversion Rate
Orders
Payment Gateways
PayPal
Stripe
Worldpay
Square
Apple Pay (via Stripe)
Authorize.net
2Checkout
As you can see, there are lots of features available and there is a big focus on being able to sell your products via multiple platforms and using Ecwid as a central point to manage it all.
One of the main plus points of Ecwid, which I haven't mentioned above is that you can use Ecwid to add ecommerce functionality to existing websites. So if you have a WordPress or Wix website and want to add all the advantages that come with a fully hosted shopping cart, you can easily integrate Ecwid into your website and start selling.
Ecwid App Market
While Ecwid does come with a good selection of features, there are still some gaps that need to be filled and that is where the App Market comes into play. All of the apps within the market are made by third-party developers, which means that many of them do require you to pay for them.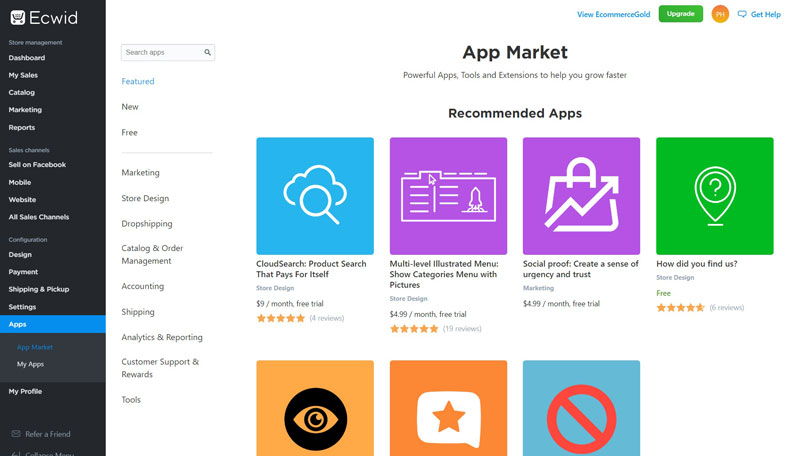 Shopify
As Shopify is a purpose built ecommerce platform, it is not surprising that it comes loaded with some really good ecommerce features. Even on the basic Shopify plan, some of the features that are included are:
Ecommerce Tools
Dropshipping Integration
Flexible Shipping Rates
Multi-Language
Product Reviews
Digital Products
Gift Vouchers
Shopify Management App
Marketing & SEO
Google Adwords Credit
Sell on Facebook
Discount Codes
Abandoned Cart Recovery
Auto Generated Sitemap
Social Share
Blog
Custom Meta Data
SEO Friendly URL's
Reporting
Product Reports
Traffic Sources
Google Analytics
Day, Week and Monthly Reports
Payment Gateways
Shopify Payments
PayPal Express Checkout
Amazon Pay
Klarna
Worldpay
Sagepay
Shopify App Store
If the standard features of the Shopify platform aren't enough for you, then you can always check out their App Store. There are over 3,000 apps to choose from, ranging from sales and marketing to finance and security.
Obviously, due to the large number of apps that are available, it is nearly impossible for me to start listing them. Now while this selection is great, not all of them are free to use. The majority have free packages or trial periods but to get full access to all the features, you will need to go on to a paid package.
Also not all of the apps are made by the Shopify team, many of them are made by third-party developers.
Theme Selection & Customisation
Ecwid
The theme selection on Ecwid is a little bit strange as their 'themes' are effectively just different headers and the rest of the site pretty much stays the same. Even though this is the case there is a still quite a few different styles that you can choose.
The theme customisation is quite limited when it comes to your homepage as you don't have much control over the sections that you can add, remove or edit.
But when you move away from the homepage, there are quite a few options. With your product pages, you can easily change the layout such as the description next to or below your product images. You can also choose what displays on your product pages such as title, price, SKU and social share buttons.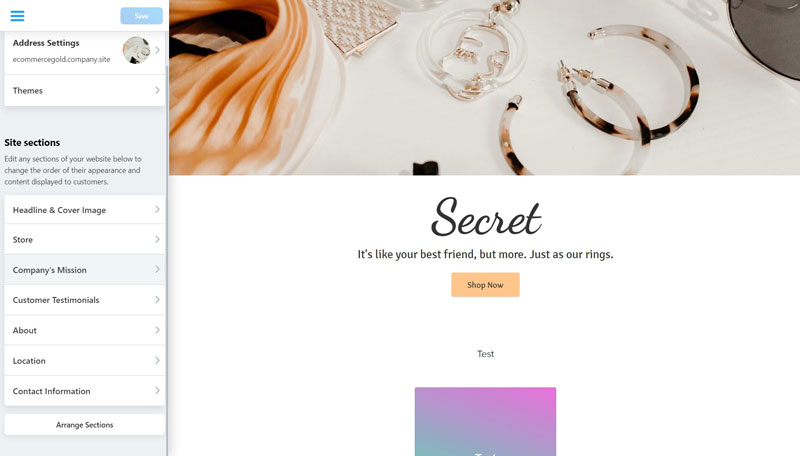 You can also edit the look of your category pages as well, whether it is your category overview page or how your products display within those categories. You can also quickly change the aspect ratio of your images.
The reason for the lack of customisation within Ecwid is because most of the applications of the Ecwid platform is into existing websites, where the design of the website as a whole is done by the platform that it is integrated in to.
Shopify
One of the features that really sets Shopify apart from much of its competition is their theme customiser as it is one of the best tools on the market, especially when it comes to your homepage.
You have nearly complete control when it comes to the look and feel of your homepage as you can add and remove sections as you wish. They also have a very good selection of sections including ecommerce ones such as featured collection or content ones such as an image with text and this provides you with a lot of options when it comes to how your site looks.
While there are some customisation options when it comes to your product and collections pages, there isn't as much as you get with Ecwid but the general layout of all of these pages is very good as standard.
With Shopify, you also get access to their stock image library and this can be a great resource of high quality images for you to use on your website, especially when you are just starting out.
Support
Running an ecommerce website can be challenging at times and you require some help, so what support do you get from these platforms?
Ecwid – with the business plan, you do get access to good levels of support from the Ecwid team and they can easily be contacted via live chat, email or over the phone. The only issue with the phone support is that it is only available between 2pm and 10pm pacific time, which makes it not ideal for people in time zones on the opposite side of the world.
Shopify – offer all of their users 24/7 support via live chat, over the phone or via email. You can also contact them via Twitter if you want to. While this is great, it isn't completely straightforward contacting them as you need to go in to the help centre, enter a search query and then at the bottom of the page you will see the button that takes you to their contact info page.
Outside of the main support, there is also a Shopify community forum that can be a great source of information as well as a place to ask non urgent questions. The forum is frequented by Shopify support staff and also very knowledgeable members of the community.
Hosting & Performance
Both platforms offer a very similar set up when it comes to their hosting environment as they both offer:
Unlimited Bandwidth
Unlimited Data Storage
PCI Compliant Servers
Global CDN's
99%+ Uptime
Now usually, what I would do at this point is take three of each platforms example sites, run them through Pingdoms Speed Test tool (Washington D.C & San Francisco servers) and Google's Page Speed Insights once a day for three days and then show you the results below.
BUT only one of the example sites in Ecwid's showcase is actually using their website builder, all of the other example sites are with Ecwid integrated with other platforms such as WordPress or Wix.
So to make the test as fair as possible, I took the one example site and my own demo site along and compared them to three Shopify customer example sites.
Washington D.C: 1.00 Seconds
San Francisco: 1.63 Seconds
Google Mobile: 25/100
Google Desktop: 42/100

Washington D.C: 1.07 Seconds
San Francisco: 0.98 Seconds
Google Mobile: 38/100
Google Desktop: 80/100
I know that this is not a completely fair test but it does give a good indication of the performance that both platforms offer.
Ecwid did really well in terms of load times but wasn't great on the Google tests so there is definitely some room for improvement but most Ecwid users integrate it with other platforms and from my testing with Wix and WordPress, it didn't cause any negative effects on the performance.
As an industry leader, it is unsurprising that Shopify performed well in all three tests. Yes, the mobile score could be better but it was still one of the top performers out of all the platforms that I have tested.
Ecwid vs Shopify Video
Ease of Use
Facts and figures are one thing but what are these platforms like to use and how do they compare to each other? Well that is what I am going to be looking at in this section.
Getting Started
Ecwid
Getting started with Ecwid is really easy and all you need your name, email address and to create a password. Once you have done all of this, Ecwid will create a free plan for you to get started with. If you want to upgrade to one of the paid plans, this can easily be done in My Profile section of your dashboard.
Once you have signed up to Ecwid, you can then log into your dashboard, which should look pretty similar to the image below. On your first sign in, you will be greeted by a pretty comprehensive start up guide that takes you through all of the important steps you need to do in order to get your website set up properly.
The Ecwid dashboard is well laid out and very easy to navigate, even though they have used slightly different terminology for order (my sales) and product (catalog) but this isn't an issue.
As well as having access to all of your order and product information, you can quickly and easily set up and access all of the channels that you can sell on via Ecwid. Being able to manage all of your sales channels in one place can be very useful.
Shopify
Getting started with Shopify is also very easy to do as all you need is an email address and to create a password. Once you have filled this out, you will be asked a few questions about the position that your company is in, such as being a start up or already established and this will help Shopify tailor the experience better for you.
You will then be asked to enter your business information such as your business name and address, once you have done this, you will be taken in to your Shopify dashboard. And on your first sign in, you will be greeted by a very short set up guide and while it isn't bad, there are a few important sections missing, such as setting up your payment gateways and delivery methods.
But Shopify have created a video guide to setting up a store with them and there should be a link or button to this in your dashboard (if not, it can be found in the compass area of the Shopify website). There are 27 videos in total and they are definitely worth watching before you start setting your site up as there is some really useful information in there.
Outside of the set up guide, the Shopify dashboard is a very nice place to be and has an almost minimalistic feel to it and this makes it very easy to navigate your way around the dashboard. All of the headings are clearly labelled in the sidebar navigation menu, as are all of the sub headings within these sections.
Adding and Managing Stock
Being able to manage your stock efficiently and effectively is a hugely important part of running an online store and for me there are three main areas to this and they are:
Adding products
Organising your Products
Managing your inventory
Ecwid
Adding a new product in Ecwid is a simple process and they have gone for a tabbed layout and this gives you lots of options for adding different types of products but it is not over complicated.
The only thing I don't like about the create a new product in Ecwid is that you cannot edit the URL and while the auto generated URL's a pretty good, for all the products, they do include a random number sequence at the end. My personal preference would be to remove these to make the URL's look as good as possible.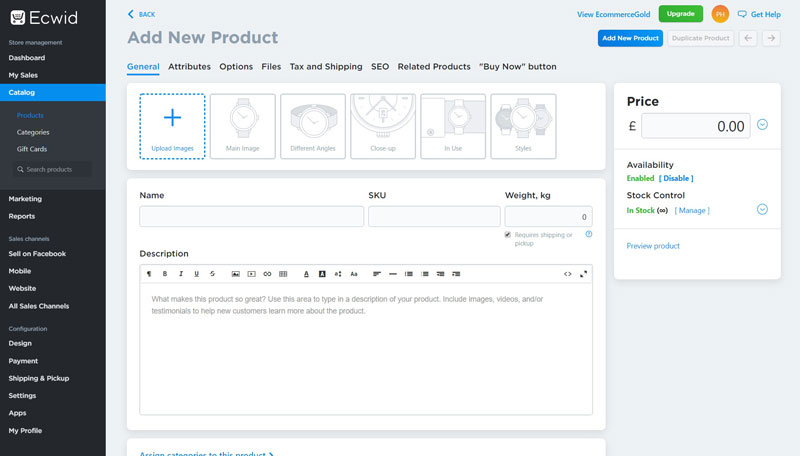 Organising your products is also very simple and Ecwid has gone for the tried and tested category model. It is also very easy to create parent and sub-categories as there are separate tabs in the category management page, which is very useful for organising a large inventory.
One thing that Ecwid does fall short on is managing your inventory as there is no options in Ecwid to manage makes and changes or updates in bulk, this all has to be done on a product by product basis. This could get quite tedious if you do have a large inventory to manage.
Shopify
Shopify have stuck to their minimalistic approach with their add new product page as it is a single page layout, that includes all the important sections you need but have kept it very simple to use.
Shopify haven't kept it quite so simple when it comes to organising your inventory as they have developed their own collections system. And while the manual method works very similar to that of a traditional category system, the automatic method is based off rules that you set up with product tags. To get the automatic method working effectively, it is worth reading through the Shopify documentation.
Managing your stock is pretty easy to do in Shopify as they have created an inventory page that allows you to quickly and easily update your stock levels. If you want to make changes to the pricing, SKU code or any other field from the product, then you can select the products you want to edit from the product overview screen and then click the edit product button, which allows you to make updates in bulk.
Managing Orders
Ecwid – The order management system on Ecwid is one of the best ones I have used as it allows you to do pretty much everything directly from the order overview page. You can update order statuses, print invoices, update payment status and export your order via CSV or to a Google Sheet. This makes the complete process of managing your order very easy and efficient to do.
Shopify – There is definitely improvements that could be made to the Shopify order management system as you cannot print your order invoices off in bulk, it has to be done on an order by order basis, which could get a bit tedious if you have a large number of orders. But you can update order statuses, collect payments and export your order information in bulk.
Summary
Shopify Summary
Pricing
Features
Theme Selection & Customisation
Support
Hosting & Performance
Ease of Use
Shopify Pros

• Theme Customisation
• 24/7 Support
• Easy to use Admin Area
• The App Store
• Good Performance

Shopify Cons

• Transaction Fees
• Automatic Collection system is a bit complicated
• No option to bulk print invoices
Ecwid Summary
Pricing
Features
Theme Selection & Customisation
Support
Hosting & Performance
Ease of Use
Ecwid Pros

• Multi Channel Selling
• Order Management
• Free Package
• Product Options
• Layout Display for Product and Category Pages

Ecwid Cons

• Limited Theme Custimosation
• No bulk update for Products
Conclusion
If you are looking to build a complete ecommerce website from scratch, then Shopify is the better option out of the two as it is a more complete website builder package and does lots of things very well.
Ecwid isn't as good as a standalone ecommerce website builder, its strengths really lie in integrating with other software, such as WordPress, whose features compensate for where the Ecwid website builder is lacking. Combine Ecwid with the likes of WordPress and it becomes a very capable set up.
Either way, both platforms are great options for ecommerce websites, their strengths just lie in different areas but it is worth giving both platforms a try for yourself as you may find that one is the better option for your business.
Try Ecwid for Yourself
Start a Free Store Today!
Try Shopify for Yourself
No Credit Card Needed!
Other Comparisons