Both of these platforms are incredibly popular as they both offer free packages to help small businesses start selling online, but which one is the better ecommerce platform?
Big Cartel vs Ecwid: What is the Difference?
Big Cartel is a hosted ecommerce platform designed for simplicity with creative businesses such as artists and fashion designers being the main target audience for the platform. Ecwid is a multi channel ecommerce platform that allows users to build an ecommerce website but also sell via Instagram and Facebook, it can also be integrated with platforms such as WordPress and Wix.
Big Cartel vs Ecwid Content
EcommerceGold is reader supported, meaning that we may earn a commission (at no additional cost to you) from products or services purchased through links on our site. Learn More.
Pricing

Platinum
Up to 50 Products
Unknown Bandwidth
No Turnover Limit
No Transaction Fees
Unknown Data Storage
Free SSL Certificate
Email Support
Venture
Up to 100 Products
Unlimited Bandwidth
No Turnover Limit
No Transaction Fees
Unlimited Data Storage
Free SSL Certificate
Live Chat & Email Support
Above are the two entry level paid packages for both platforms and both are ideal for start ups or businesses just starting to sell online. Both platforms also offer two larger packages but even the top Titanium package with Big Cartel is limited to 500 products and it is unclear what other features you gain by moving up.
Ecwid on the other hand is very clear with what you get and their Business package, which pretty much goes head to head the Titanium package does have a far larger product allocation at 2,500 and it also gives the user more features. If you want unlimited products and all of the features, then you will need to use Ecwid's top package.
Another thing that isn't clear with Big Cartel, as you can see in the table above is how much allowance you get in terms of server resources and this lack of transparency is unfortunately a recurring theme with Big Cartel.
Free Packages
As I mentioned at the start, both platforms are very generous and offer a completely free package but as is understandable, it doesn't offer all the features. The main limitation with both free packages is the amount of products you can list as Big Cartel allows 5 compared to Ecwid's 10.
Features
Big Cartel
Features is definitely an area that Big Cartel do not shout about! This isn't great in my opinion as you aren't exactly sure what you are going to be getting on your monthly package and after going through the site numerous times, all I could really find was the following:
Google Analytics
Real Time Stats
Inventory Tracking
Discount Codes
Shipment Tracking
Bulk Editing
While this may be ok for users who are just getting started and are unsure of what they require but if you know exactly the types of features you need, you will probably be left with more questions than answers from Big Cartel.
Big Cartel Apps
To add their existing features, Big Cartel do have a small number of apps that can be used to integrate the platform with third-party software or bring that functionality into a Big Cartel site. While this is really good, only a few of the apps are free to use, with most requiring a paid plan to get full access, which can make Big Cartel quite a bit more pricey.
Ecwid
There are no such issues when it comes to Ecwid and the features that they offer as they happily promote them all over their site and platform. Some of the main features of the Venture package includes:
Ecommerce Tools
One Tap Checkout (with Apple Pay)
Schedule Order Pickup
Sell Digital Products
Discount Coupons
Gift Cards
Secure Checkout
Marketing & SEO
Sell on Facebook
Sell on Instagram
Custom Meta Data
SEO Friendly URL's
Reporting
Number of Visitors
Revenue
Conversion Rate
Orders
Payment Gateways
PayPal
Stripe
Worldpay
Square
Apple Pay (via Stripe)
Authorize.net
2Checkout
These are a summary of the features included with the Venture package but you do get more tools such as abandoned cart recovery, product filters, product variations and a multi lingual storefront on the business and unlimited packages.
Ecwid App Market
While Ecwid does come with a good selection of features, there are still some gaps that need to be filled and that is where the App Market comes into play. All of the apps within the market are made by third-party developers, which means that many of them do require you to pay for them.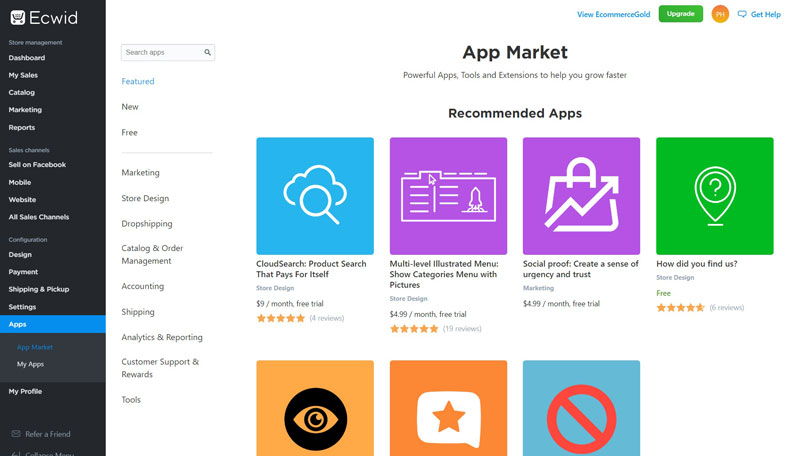 Theme Selection & Customisation
Big Cartel
While Big Cartel does have a relatively small selection of 18 themes, they are varied and well designed themes that very much fit the indie feel that the platform has. The best thing is that all of these are free to use on any platform, so even a free Big Cartel website can look very attractive.
There are a few different options when it comes to theme customisation but it is not the most intuitive set up as most changes to the layout are down from checkboxes and dropdown menus. It is easy to change the colours and font options that go on the front end of your site.
It is very limited when it comes to what you can do with your pages as there are no options to add or remove sections, this makes it quite difficult to make a site look and feel different to any others that are using the same template that you have chosen. This is very evident when taking a look at the example sites after checking out the theme selection.
The live preview is a nice tool but it is not that responsive and changes aren't instantly updated.
Ecwid
Ecwid have a larger theme selection with over 70 to choose from but unlike the Big Cartel selection, they aren't complete themes but basically different headers. However, there are lots of different styles that suit a wide range of different business types.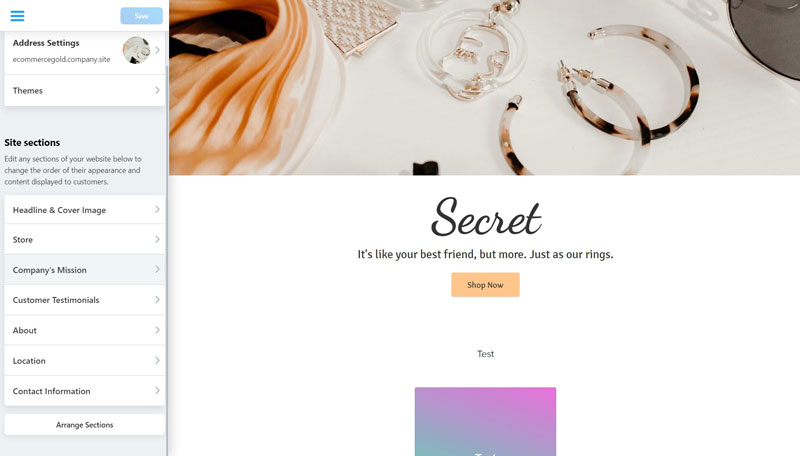 When it comes to customisation, you do have more control over the layout of your site as you can decide to hide any sections that you don't want on your homepage, there are also plenty of options for your product and category pages.
There are fewer options when it comes to branding options such as colours and font types as these are set by the theme that you choose but the interface is very easy to use and the live preview is quick and responsive.
Support
Running an ecommerce website can be challenging at times and you require some help, so what support do you get from these platforms?
Big Cartel – support options are quite limited with the Big Cartel platform as the only options are to contact them via email and that goes for all of the packages. There are no extra support options on the larger packages, which is a little surprising.
Ecwid – with Ecwid, you do get a good level of support from their team, for the basic Venture plan, this will be in the form of online chat. They also have very good documentation on their site to help you.
For users on the Business or Unlimited packages, you do get phone support but this is only available between 2pm and 10pm pacific time, which due to time differences makes this not great for users in other parts of the world. But it is still there if you need it.
Hosting & Performance
Both platforms take a very different approach when it comes to advertising their hosting.
Big Cartel give almost no information away on their website about their hosting, the only thing they say is that all packages include a free SSL certificate.
Ecwid on the flip side are very upfront and it is very easy to find what their hosting set up is like and you get the following:
Hosted on Amazon Web Services
PCI Level 1 PCI DSS
Cloudfront CDN
Secure Checkout
Unlimited Bandwidth
This didn't stop me from putting both to the test and for this I used my demo sites for both platforms and ran them through Pingdom's Speed Test Tool (Washington D.C & San Francisco Servers) and Google's Page Speed Insights, to see how well they performed:

Pingdom (D.C): 0.99 Seconds
Pingodm (SF): 1.29 Seconds
Google Mobile: 59/100
Google Desktop: 94/100
Pingdom (D.C): 1.00 Seconds
Pingdom (SF): 1.63 Seconds
Google Mobile: 25/100
Google Desktop: 42/100
Big Cartel have one of the best performing hosting set ups out there, even if they don't say much about it. Most impressive is their mobile performance and many of the live customer example sites also performed very well.
Ecwid sites always do well on load times but they don't do very well in the Google tests, even though in real world testing on devices, they load quickly and work well.
Ease of Use
Facts and figures are one thing but what are these platforms like to use and how do they compare to each other? Well that is what I am going to be looking at in this section.
Getting Started
Big Cartel
Getting started with the Big Cartel platform is really simple to do, all you need to do is go to the Big Cartel website and click the sign up icon in the top right hand corner, this takes you to the pricing page so that you can choose the package that you want.
Once selected, you are taken through to the sign up page and all you need is an email address, create a password, create a shop name and a shop URL and you are good to go. If you have selected a paid plan, then you will need to set up your billing information as well.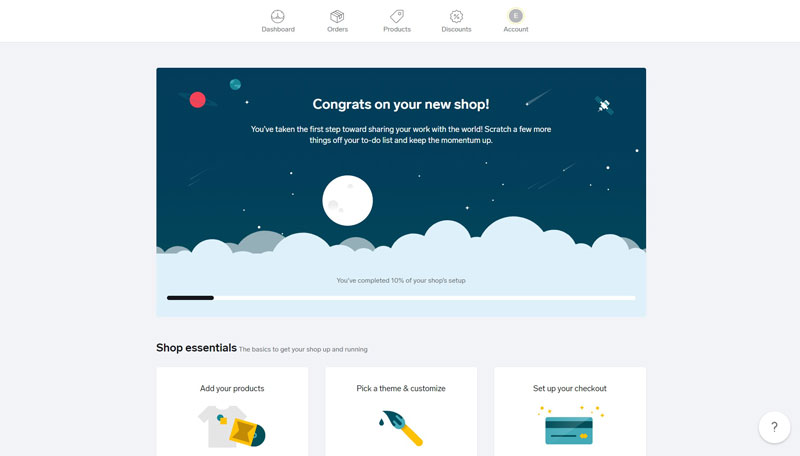 Once you have signed up, you are taken through to the Big Cartel dashboard and are greeted by a set up guide and unlike other platforms, you do need to work through the steps in this guide in order to access the dashboard section of the admin area.
Fortunately, the set up guide is pretty good and takes you through most of what you need to do to get your website up and running.
The Big Cartel admin dashboard is very simplistic as there is only 5 sections, so it doesn't take long to know where things are and even within the sections, there aren't many options. While this is good in one way, it does show how light on features the Big Cartel platform.
But some things do take a bit of digging to find and the most notable one was the ability to create pages on your website for say Terms and Conditions or Privacy Policy. This is done through the theme customisation section and there are very limited formatting options, which makes creating aesthetically pleasing about or promotional pages a bit of a challenge.
Ecwid
Getting started with Ecwid is also very simple but the difference is that you sign up to the free plan and then if you want to, you can upgrade to a paid plan at a later date. To sign up, all you need is your name, email address and create a password.
After this, you will be taken through a quick set up process with your stores name etc. Once you have done all this, you will be taken in to your admin dashboard and greeted by the Ecwid set up guide, which takes you through most of the steps you need to do in order to get your store up and running.
Unlike Big Cartel though, you have full access to the full dashboard from the start and can hide the set up guide if you want to.
As you can see in the image above, the Ecwid dashboard has many more options and that is down to the increased amount of features that you get and is much more in keeping with many of the other ecommerce platforms that are out there.
Navigating around the Ecwid dashboard is pretty easy but does take a bit longer to get fully accustomed with due to the aforementioned features. The only thing missing from the Ecwid dashboard is the ability to create custom pages, there 5 legal pages that are already there for you to fill out but can't create more outside of these, which is a shame as the editor for these pages is pretty good.
Adding and Managing Stock
Being able to manage your stock efficiently and effectively is a hugely important part of running an online store and for me there are three main areas to this and they are:
Adding products
Organising your Products
Managing your inventory
Big Cartel
Big Cartel has one of the simplest product creation pages out there, which makes it very easy to add a new product but you are limited to purely physical products. Which is surprising as it is aimed at creative types who may have digital versions of their creations.
Something that is missing from the product creation page is any kind of SEO settings and you can only change the URL of a product by creating it and then going back in and editing it. While having a light and easy to use product creation page is good, it does feel like there are some things missing.
Organising your products is a little strange as categories are created either within the product creation page or clicking the three dots on the inventory overview page and they are created by just giving them a title. There is no description or SEO tools associated with them.
It is also doesn't allow you to create sub-categories or choose how you display the categories on the front end of your site. Categories are simply added to the main navigation menu product drop down list, when a product is added to the category.
Bulk inventory management is only available on the paid plans but having it as an option is still good. On the free plan, all editing has to be done on a product by product basis.
Ecwid
The add new product section on Ecwid is very nicely laid out and easy to use. They have gone for a tabbed layout and it gives you lots of options when it comes to adding a new product. The layout has a really good work flow and the clear display means that you are less likely to miss adding important information to your product listing.
The only thing I don't like about the create a new product in Ecwid is that you cannot edit the URL and while the auto generated URL's a pretty good, for all the products, they do include a random number sequence at the end. My personal preference would be to remove these to make the URL's look as good as possible.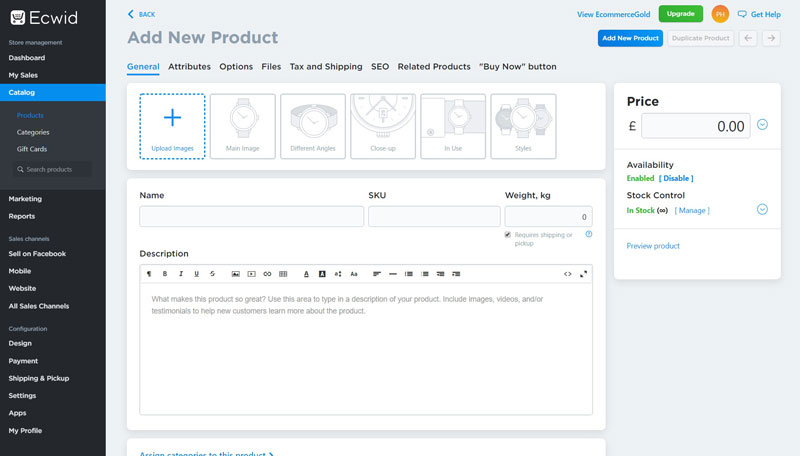 To help you organise your products, Ecwid have gone for the tried and tested category model, which allows you to create both parent and sub-categories.
Unfortunately there isn't any native functionality that lets you manage your inventory directly from the product overview menu, any updates to stock levels needs to be done on a product by product basis. This could be a bit tedious if you have a very large inventory that has to be actively managed.
Managing Orders
Big Cartel – Unfortunately, I cannot say how good or bad the Big Cartel order management is as there is no option to manually create orders.
Ecwid – The order management system on Ecwid is one of the best ones I have used as it allows you to do pretty much everything directly from the order overview page. You can update order statuses, print invoices, update payment status and export your order via CSV or to a Google Sheet. This makes the complete process of managing your order very easy and efficient to do.
Summary
Big Cartel Summary
Theme Selection & Customisation
Big Cartel Pros

• Hosting Performance
• Cheap Plans
• Easy to learn
• Attractive themes

Big Cartel Cons

• Limited features
• No real SEO tools
• Only email support
• Not really scalable
• General lack of information
Ecwid Summary
Theme Selection & Customisation
Ecwid Pros

• Good Support
• Easy to use
• Good integration
• Order Management

Ecwid Cons

• No bulk product management
• Need to go into app to manage your Store
Conclusion
Out of these two platforms, Ecwid is the better option in my opinion as it offers much more in terms of features and also potential scalability by being able to integrate it with other platforms such as WordPress, whose strengths compliment Ecwid's weaknesses or the ability to sell via multiple channels from one dashboard.
Big Cartel definitely has potential and the performance of the hosting is incredible but the platform almost feels like it is still in development due to the lack of features and general lack of information about pretty much anything!
So that is my conclusion of these two ecommerce platforms. If you want to try one or both of these out for yourself, then you can by clicking on the buttons below.
Try Big Cartel for Yourself!
No Credit Card Needed!
Try Ecwid for Free!
Start a free Website!
Other Comparisons