If you are starting an ecommerce store and especially if you are a designer or artist, then you will have come across both of these options, but is Big Cartel or Shopify the better option?
Big Cartel vs Shopify: What is the Difference?
Big Cartel is a hosted ecommerce platform designed for simplicity with creative businesses such as artists and fashion designers being the main target audience for the platform. Shopify is a fully hosted ecommerce platform with features to allow businesses of all sizes and types to build ecommerce websites that can also be integrated with physical stores.
Big Cartel vs Shopify Content
Disclosure: Our site is reader supported, meaning we may earn a commission from purchases made through our links, to learn more, please see our Affiliate Disclosure.
Pricing


As you can see, there is a big price difference between Big Cartel and Shopify when it comes to pricing and Big Cartel is significantly cheaper and also offers a free package!
And while Big Cartel is cheaper it does also have some limitations in terms of the number of products that you can list:
Gold: 10 Products, 1 Image per Product
Platinum: 50 Products, 5 Images per Product
Diamond: 500 Products, 5 Images per Product
Big Cartel doesn't charge and transaction fees or have annual turnover limits.
Shopify's offerings are more expensive on a monthly basis but all plans come with unlimited product listings and no restriction on the number of images you can list but Shopify does charge a transaction fee for any online payment received not using the Shopify Payments payment gateway and the fee depends on the package you are on:
Basic: 2%
Standard: 1%
Advanced: 0.5%
But Shopify doesn't have annual turnover limits, meaning you can choose which plan you want to be on but it is best to calculate the fees to find out which package is going to work best for your business.
Free Trial
With Big Cartel, you don't get a free trial, instead, you get a free package for life and this allows you to sell up to 5 products and doesn't have all of the platform's features but it is still a great way to test out the platform.
Shopify, on the other hand, offers a 14-day free trial and this allows you to test the platform out in full before committing to a paid package.
Features
Big Cartel
Features is definitely an area that Big Cartel do not shout about as unlike pretty much every other ecommerce platform, Big Cartel doesn't list all of the features that they offer but we did manage to find the following:
Google Analytics
Real-Time Stats
Inventory Tracking*
Discount Codes
Shipment Tracking
Bulk Editing*
*Not available on the free package
While this may be ok for users who are just getting started and are unsure of what they require but if you know exactly the types of features you need, you will probably be left with more questions than answers from Big Cartel.
One thing that is quite limited on Big Cartel is the number of payment gateway options, as they only offer the following:
PayPal
Stripe
Venmo (requires PayPal Business Account)
ApplePay (requires Stripe)
And while these will cover most payment methods, it still may prove to be restrictive for some businesses.
Also, somewhat surprisingly, Big Cartel doesn't offer the option of digital products or downloads as standard (which would be very useful for many creative types) and if you want to add this functionality, you will need to install an app that starts from $6/m.
Big Cartel Apps
To add their existing features, Big Cartel does have a small number of apps that can be used to integrate the platform with third-party software or bring that functionality into a Big Cartel site. While this is really good, only a few of the apps are free to use, with most requiring a paid plan to get full access, which can make Big Cartel quite a bit more pricey.
Shopify
Shopify takes a completely different approach and lists all of the features that they offer and many of them are available on all the packages they offer and below is a summary of the features that can be found on every package:
Ecommerce Tools
Dropshipping Integration
Flexible Shipping Rates
Multi-Language
Product Reviews
Digital Products
Gift Vouchers
Shopify Management App
Marketing & SEO
Google Adwords Credit
Sell on Facebook
Discount Codes
Abandoned Cart Recovery
Auto-Generated Sitemap
Social Share
Blog
Custom Meta Data
SEO Friendly URLs
Reporting
Product Reports
Traffic Sources
Google Analytics
Day, Week and Monthly Reports
Payment Gateways
Shopify Payments
PayPal Express Checkout
Amazon Pay
Klarna
Worldpay
Sagepay
As you can see, there are a lot of features that extend beyond basic ecommerce features and there is a heavy focus on marketing tools as these are going to really help your site start generating sales.
Shopify App Store
Even though Shopify does come loaded with features, it doesn't stop there as they have created an App Store that contains over 3,000 apps, which covers a wide variety of feature areas.
Unfortunately, not all of these apps are free to use as many have been created by third-party developers and while lots offer free trials or packages, if you want access to all of the features, then you are going to have to pay and if you are not careful, it can make Shopify become quite expensive.
Theme Selection & Customization
Big Cartel
While Big Cartel does have a relatively small selection of 18 themes, they are varied and well-designed themes that very much fit the indie feel that the platform has. The best thing is that all of these are free to use on any platform, so even a free Big Cartel website can look very attractive.
There are a few different options when it comes to theme customization but it is not the most intuitive setup as most changes to the layout are down from checkboxes and dropdown menus. It is easy to change the colors and font options that go on the front end of your site.
It is very limited when it comes to what you can do with your pages as there are no options to add or remove sections, this makes it quite difficult to make a site look and feel different to any others that are using the same template that you have chosen. This is very evident when taking a look at the example sites after checking out the theme selection.
The live preview is a nice tool but it is not that responsive and changes aren't instantly updated.
Shopify
In 2021, Shopify rolled out its OS 2.0 upgrade, which was focused on improving their themes but more importantly theme customization.
When it comes to theme selection, Shopify offers 6 free and 68 paid options for the new 2.0 and these range from $150 to $350 but outside of Shopify, there are even more options, with marketplaces such as Themeforest having over 1,200 themes to choose from.
But it is the theme customization that has seen the biggest change with the 2.0 upgrade and if offers users much more control over the look and feel of their website, including:
A large range of sections, which can be added to most pages on your site
The ability to add, remove and rearrange these sections
Settings for both the header and footer
General theme settings such as fonts, sizes and colors
The ability to create custom pages for your store
This offering is one of the most complete theme customization tools available from any ecommerce platform and combined with the number of themes available, puts Shopify at the top when it comes to design.
Support
Running an ecommerce website can be challenging at times and you require some help, so what support do you get from these platforms?
Big Cartel – support options are quite limited with the Big Cartel platform as the only options are to contact them via email and that goes for all of the packages. There are no extra support options on the larger packages, which is a little surprising.
Shopify – with Shopify there are no support restrictions as they offer all users 24/7 support along with multiple contact channels, including over the phone, via live chat or email ticket. Twitter is also an option.
Outside of the main support channels, there is also a community support forum that can provide a good source of support and information. This is because not only do members of the support team use it but also developers and other users, who may be able to provide alternative solutions.
Hosting & Performance
Both platforms take a very different approach when it comes to advertising their hosting.
Big Cartel gives almost no information away on their website about their hosting, the only thing they say is that all packages include a free SSL certificate.
Shopify on the flip side are very upfront about its hosting set up and you get the following:
PCI Compliant Servers
Global CDN
99.98% Uptime
Unlimited Bandwidth
Unlimited Storage
This didn't stop us from putting both to the test and for this we took five live customers example sites from both platforms and ran them through Uptrends performance tool, which measures load time and Google Pagespeed scores for both desktop and mobile devices and for this testing we used the New York Server.

Desktop Load Time: 2.07 Seconds
Desktop Google Score: 89/100
Mobile Load Time: 2.00 Seconds
Mobile Google Score: 58/100

Desktop Load Time: 2.71 Seconds
Desktop Google Score: 80/100
Mobile Load Time: 2.48 Seconds
Mobile Google Score: 37/100
There really isn't much to choose between these two platforms when it comes to performance but Big Cartel does just edge Shopify in every test.
Overall though, there is no real cause for concern with either platform but it would be nice to see Shopify's mobile store above 50 but Shopify performed strongly and considering the extra amount of features that are available with Shopify over Big Cartel, it does show just how good their hosting set up is.
To see how both platforms compare to the rest of the ecommerce platforms in terms of performance, check out our Fastest Ecommerce Platforms post.
Big Cartel vs Shopify Video
Ease of Use
Facts and figures are one thing but what are these platforms like to use and how do they compare to each other? Well, that is what we are going to be looking at in this section.
Getting Started
Big Cartel
Getting started with the Big Cartel platform is really simple to do, all you need to do is go to the Big Cartel website and click the sign-up icon in the top right-hand corner, this takes you to the pricing page so that you can choose the package that you want.
Once selected, you are taken through to the sign-up page and all you need is an email address, create a password, create a shop name and a shop URL and you are good to go. If you have selected a paid plan, then you will need to set up your billing information as well.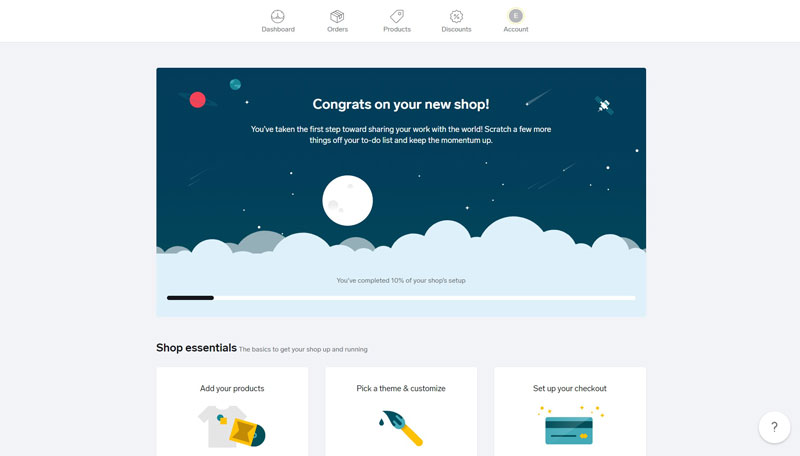 Once you have signed up, you are taken through to the Big Cartel dashboard and are greeted by a setup guide and unlike other platforms, you do need to work through the steps in this guide in order to access the dashboard section of the admin area.
Fortunately, the setup guide is pretty good and takes you through most of what you need to do to get your website up and running.
The Big Cartel admin dashboard is very simplistic as there are only 5 sections, so it doesn't take long to know where things are and even within the sections, there aren't many options. While this is good in one way, it does show how light on features the Big Cartel platform is.
But some things do take a bit of digging to find and the most notable one was the ability to create pages on your website for say Terms and Conditions or Privacy Policy. This is done through the theme customization section and there are very limited formatting options, which makes creating aesthetically pleasing about or promotional pages a bit of a challenge.
Shopify
Getting started with Shopify is easy but involves a couple more steps but these are there to help the platform know how to best help you so that it is easier to get up and running.
But all you need to get started is an email address and to create a password, then follow the instructions on the next two pages and a store will be set up for you.
Once you have gone through the signup process, you will be taken through to the admin dashboard and be greeted by a very simple setup guide. This is a little light on steps and does miss out on some important ones but Shopify has remedied that by creating a video course that takes you through setting up a store properly.
Outside of the setup guide, the Shopify dashboard is very well laid out and is easy to learn. It doesn't take long to learn where everything is as the section headings are clearly labeled and easy to navigate around.
Adding and Managing Stock
Being able to manage your stock efficiently and effectively is a hugely important part of running an online store and for me, there are three main areas to this and they are:
Adding products
Organizing your Products
Managing your inventory
Big Cartel
Big Cartel has one of the simplest product creation pages out there, which makes it very easy to add a new product but you are limited to purely physical products. This is surprising as it is aimed at creative types who may have digital versions of their creations.
Something that is missing from the product creation page is any kind of SEO settings and you can only change the URL of a product by creating it and then going back in and editing it. While having a light and easy-to-use product creation page is good, it does feel like there are some things missing.
Organizing your products is a little strange as categories are created either within the product creation page or by clicking the three dots on the inventory overview page and they are created by just giving them a title. There are no description or SEO tools associated with them.
It also doesn't allow you to create sub-categories or choose how you display the categories on the front end of your site. Categories are simply added to the main navigation menu product drop-down list when a product is added to the category.
Bulk inventory management is only available on the paid plans but having it as an option is still good. On the free plan, all editing has to be done on a product-by-product basis.
Shopify
Shopify has also opted for a single page layout for their add new product page and even though the number of options on the page are pretty similar, the Shopify layout just feels more complete. Plus there are SEO options directly on the page such as being able to set a custom page title, meta description and URL.
If you sell downloadable products, then you will need to install an app in order to add this functionality but it can be done easily. The standard product page can be used for physical or virtual products.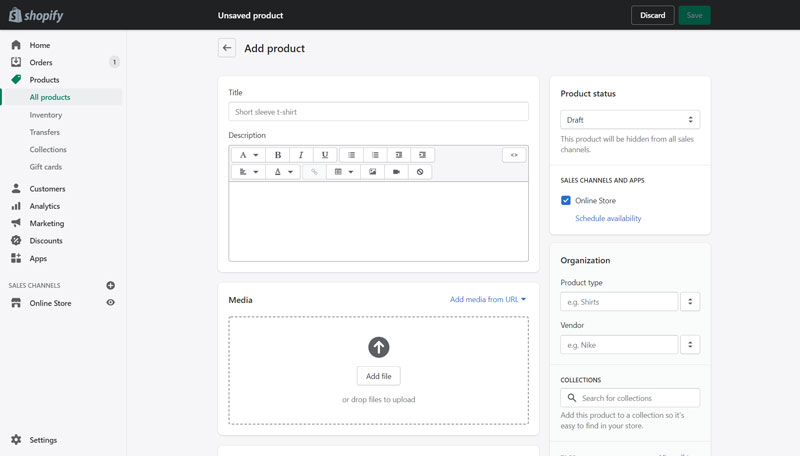 Organizing your inventory on Shopify is a little different as they have developed their own collections system and it operates in one of two ways:
Manual Collections – these work in a similar way to traditional categories as products are manually added to the collection.
Automated Collections – these are collections where the products are added based upon rules that you set for the collections and can be based on things such as tags, vendors or prices. A bit more complicated to learn but can be used to good effect.
One other quirk with collections is that to create a sub-collection, they have to set up using the main navigation menu, rather than in the create/edit collection page.
Managing your inventory in Shopify is very easy to do as they have provided multiple options, if you just need to update stock quantity then the inventory section allows this to be done quickly and effectively. For any other changes, the bulk editor is a great tool and allows you to update pretty much any field that can be filled in on the product creation page.
Managing Orders
Big Cartel – Unfortunately, we cannot say how good or bad the Big Cartel order management is as there is no option to manually create orders.
Shopify – The order management system on Shopify isn't the best as standard and to really get the most out of it, you do need to install an app, especially if you want to print order invoices directly from the admin dashboard.
But it does offer some decent bulk features, including bulk update of order statuses and exporting of order information, which is very useful if you use third-party shipping management and need to import order information in order to be able to print shipping labels etc.
Summary
Big Cartel Summary
Theme Selection & Customization
Big Cartel Pros

• Hosting performance
• Cheap plans
• Easy to learn
• Attractive themes

Big Cartel Cons

• Limited features
• No real SEO tools
• Only email support
• Not really scalable
• General lack of information
Shopify Summary
Theme Selection & Customization
Shopify Pros

• Easy to use admin area
• Theme selection
• Theme customizer
• Stock Image Library
• The App Store

Shopify Cons

• Transaction fees
• Collections system could be easier to use
• No option to print order invoices in bulk
Conclusion
Big Cartel vs Shopify – Which one is Best?
Shopify is the clear winner on this one as it offers a much better all-around solution than Big Cartel and this is why Shopify is one of the best ecommerce platforms in the world.
This is because Shopify performs well in all areas, from features to ease of use and especially in terms of design and customization and when combined with 24/7 support and a huge number of apps that add different kinds of features and functionality, it becomes a great option for businesses of all sizes as it is scalable.
Big Cartel isn't a bad platform but it feels a bit incomplete and while it is an option for a small, boutique-style business. You may find that if the website takes off that you quickly outgrow it.
So that is our conclusion of these two ecommerce platforms. If you want to try one or both of these out for yourself, then you can by clicking on the buttons below.
Try Big Cartel for Yourself!
Start a free Website!
Try Shopify for Free!
14-Day Free Trial, No Credit Card Needed.
Other Comparisons
Hi, I'm Paul, the Owner and Founder of EcommerceGold.
I ran my own Ecommerce Business for over 7 years and now help others start their own online retail empires!