Both Big Cartel and Square are incredibly popular as they both offer free ecommerce packages to help small businesses start selling online, but which one is the better ecommerce platform?
Big Cartel vs Square Online: What is the Difference?
Big Cartel is a hosted ecommerce platform designed for simplicity with creative businesses such as artists and fashion designers being the main target audience for the platform. Square Online is a fully hosted ecommerce platform powered by the Square online payment gateway, it can be used for stand-alone ecommerce stores or to add an online sales channel to businesses already using Square's POS system.
Big Cartel vs Square Online
Disclosure: Our site is reader supported, meaning we may earn a commission from purchases made through our links, to learn more, please see our Affiliate Disclosure.
Pricing


Big Cartel probably has the simplest pricing structure of any ecommerce platform, with one free package and two paid options.
Square offer a larger choice of packages, with one free option and three paid options and the prices in the table above are if the packages are paid for monthly, if you pay for them annually, you do get a discount.
Neither Big Cartel or Square charge transaction fees or have annual turnover limits but Big Cartel does have a limit on the number of products you can list on each package.
Features
Big Cartel
Features are definitely an area Big Cartel does not shout about as they don't have a dedicated features page on their website and only a few features are listed on their pricing page.
As features are a selling point of an ecommerce platform, you would have thought they would provide more information on this but we did some digging around and found that they offer:
Google Analytics
Real-Time Stats
Inventory Tracking*
Discount Codes
Shipment Tracking
Bulk Editing*
*Not available on the free package
While this may be ok for users who are just getting started and are unsure of what they require but if you know exactly the types of features you need, you will probably be left with more questions than answers from Big Cartel.
One thing that Big Cartel is limited on is the number of payment gateways that they offer, which is only:
PayPal
Stripe
Venmo (requires PayPal Business Account)
ApplePay (requires Stripe)
And while these will cover most payment methods, it still may prove to be restrictive for some businesses.
Also, somewhat surprisingly, Big Cartel doesn't offer the option of digital products or downloads as standard (which would be very useful for many creative types) and if you want to add this functionality, you will need to install an app that starts from $6/m.
Big Cartel Apps
To add their existing features, Big Cartel does have a small number of apps that can be used to integrate the platform with third-party software or bring that functionality into a Big Cartel site. While this is really good, only a few of the apps are free to use, with most requiring a paid plan to get full access, which can make Big Cartel quite a bit more pricey.
Square
For a platform primarily marketed at small businesses, you might think that Square might be limited in terms of features, but that isn't true and even the free plan comes with a good selection but if you want to see a more in-depth breakdown of the features available, check out our full Square Review.
Below is a summary of the features that are available with Square (any features marked with an * are only available on the Performance and Premium plans):
Ecommerce Tools
Unlimited Items
Multiple Items Types
Age Confirmation
Password Protected Pages
Item Quick View
Item Badges
Product Reviews*
Abandoned Cart Recovery*
Marketing & SEO
Sell on Facebook & Instagram
SEO Tools
Facebook & Google Ads
Facebook Messenger
Blog
Vouchers
Similar to Big Cartel, Square is also very limited when it comes to the number of payment gateways that are available, with the following:
Square
Apply Pay
Google Pay
PayPal*
Square also has a selection of reporting and ecommerce analytics but these are only available on the paid package.
So Square comes with a good range of features but they also offer a little bit more with their App Marketplace and this includes a selection of apps across a range of categories that allow you to link your Square store to third-party companies.
Some of these apps are not available for Square ecommerce (just the Square POS) and some are paid options.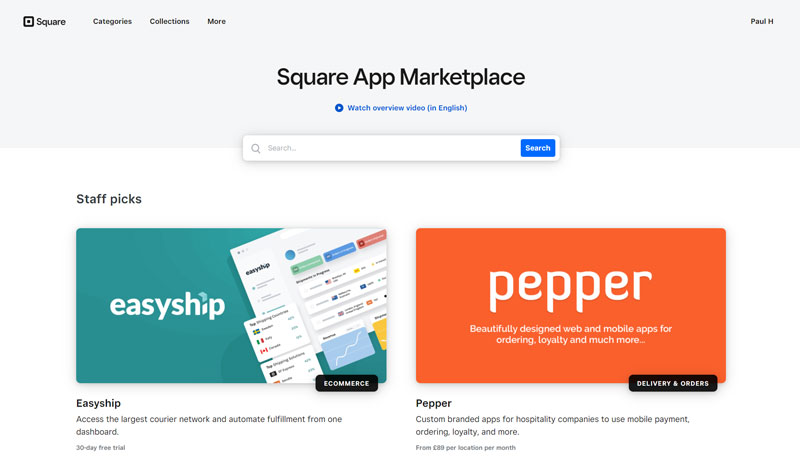 Theme Selection & Customization
Big Cartel
While Big Cartel does have a relatively small selection of 18 themes, they are varied and well-designed themes that very much fit the indie feel that the platform has. The best thing is that all of these are free to use on any platform, so even a free Big Cartel website can look very attractive.
There are a few different options when it comes to theme customization but it is not the most intuitive setup as most changes to the layout are down from checkboxes and dropdown menus. It is easy to change the colors and font options that go on the front end of your site.
It is very limited when it comes to what you can do with your pages as there are no options to add or remove sections, this makes it quite difficult to make a site look and feel different to any others that are using the same template that you have chosen. This is very evident when taking a look at the example sites after checking out the theme selection.
The live preview is a nice tool but it is not that responsive and changes aren't instantly updated.
Square
When it comes to theme selection, you don't get much with Square as they 1 base theme, which you can then customize to fit your business and brand.
Now this might not seem great but theme customization with Square is very good and there are plenty of options to help you build a good-looking site, this is because the drag-and-drop customizer allows you to add, remove and rearrange sections within your page and there is a good selection of sections to choose from.
Each section also comes with its own set of customization options as well, which gives a lot of flexibility. You can also customize different pages on your site, not just the homepage and also use many of these sections to build blog pages, which is a nice touch.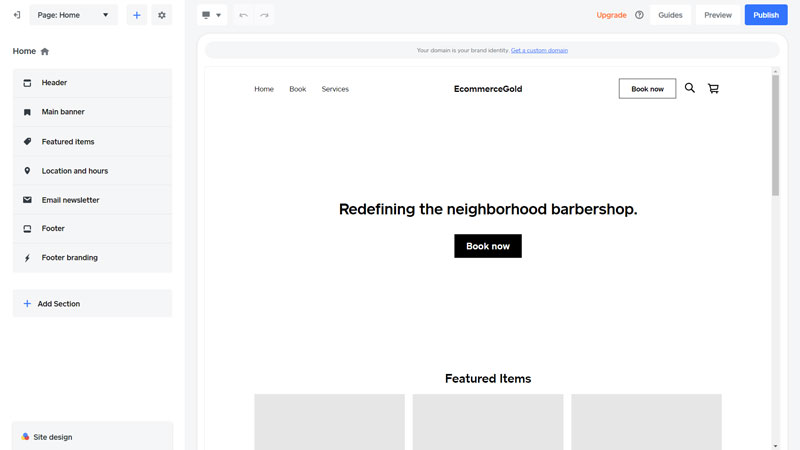 Support
Running an ecommerce website can be challenging at times and you require some help, so what support do you get from these platforms?
Big Cartels support options are quite limited with the Big Cartel platform as the only options are to contact them via email and that goes for all of the packages. There are no extra support options on the larger packages, which is a little surprising.
Square offers a range of support options, including:
Email Support – which aims to get back to you within 48 hours
Phone Support – available 9 am – 5 pm Monday to Friday
Community Support Forum
These are available to all users, Square also has some very good help documentation, which covers many of the more common issues that users experience when using Square.
Hosting
Big Cartel is very limited in the information they provide about their hosting environment and the only information we could find is that they include a free SSL certificate and while this might not be important to some users, information about PCI compliance, uptime and a CDN would be helpful.
Even though Big Cartel provides basically no information, they did perform very well in our annual ecommerce performance testing coming top overall.
Square offers much more information about its hosting environment and includes the following:
PCI Compliant Hosting
Unlimited Bandwidth
Unlimited Storage
Free SSL Certificate
The only thing we couldn't find information on was whether or not they offer a CDN with the platform and unfortunately, we couldn't test the performance due to a lack of customer sites showcased by Square.
Ease of Use
Facts and figures are one thing but what are these platforms like to use and how do they compare to each other? Well, that is what we are going to be looking at in this section.
Getting Started
Big Cartel
Getting started with the Big Cartel platform is really simple to do, all you need to do is go to the Big Cartel website and click the signup icon in the top right-hand corner, this takes you to the pricing page so that you can choose the package that you want.
Once selected, you are taken through to the signup page and all you need is an email address, create a password, create a shop name and a shop URL and you are good to go. If you have selected a paid plan, then you will need to set up your billing information as well.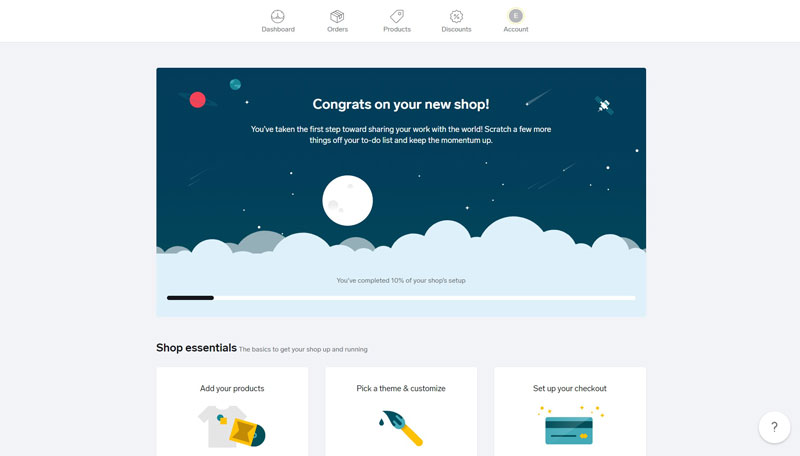 Once you have signed up, you are taken through to the Big Cartel dashboard and are greeted by a setup guide and unlike other platforms, you do need to work through the steps in this guide in order to access the dashboard section of the admin area.
Fortunately, the setup guide is pretty good and takes you through most of what you need to do to get your website up and running.
The Big Cartel admin dashboard is very simplistic as there are only 5 sections, so it doesn't take long to know where things are and even within the sections, there aren't many options. While this is good in one way, it does show how light on features the Big Cartel platform is.
But some things do take a bit of digging to find and the most notable one was the ability to create pages on your website for say Terms and Conditions or Privacy Policy. This is done through the theme customization section and there are very limited formatting options, which makes creating aesthetically pleasing about or promotional pages a bit of a challenge.
Square
Getting started with Square isn't the most straightforward process because when you sign up, you are not just signing up to the ecommerce platform but also the payment gateway and this means there are many more steps in the signup process, which isn't ideal if you just want to try it out.
Once you have gone through the signup process, you will go through to the main Square dashboard and to access the website builder, you will need to click on the Online Store option, you will then be taken through to the Ecommerce dashboard.
On your first sign-in, you will be greeted by a short setup guide that takes you through the basics of setting up your store including designing your site, creating a product listing and setting up your domain. Overall, a good intro to the platform but a prompt to set up the Terms & Conditions and Privacy Policy would be a good addition.
The dashboard itself is very easy to use as it has a nice, clean interface and the clearly labeled sidebar navigation menu makes it very easy to learn where everything is.
Adding and Managing Stock
Being able to manage your stock efficiently and effectively is a hugely important part of running an online store and there are three main areas to this, which are:
Adding products
Organizing your Products
Managing your inventory
Big Cartel
Big Cartel has one of the simplest product creation pages out there, which makes it very easy to add a new product but you are limited to purely physical products. This is surprising as it is aimed at creative types who may have digital versions of their creations.
Something that is missing from the product creation page is any kind of SEO settings and you can only change the URL of a product by creating it and then going back in and editing it. While having a light and easy-to-use product creation page is good, it does feel like there are some things missing.
Organizing your products is a little strange as categories are created either within the product creation page or by clicking the three dots on the inventory overview page and they are created by just giving them a title. There is no description or SEO tools associated with them.
It is also doesn't allow you to create sub-categories or choose how you display the categories on the front end of your site. Categories are simply added to the main navigation menu product drop-down list, when a product is added to the category.
Bulk inventory management is only available on the paid plans but having it as an option is still good. On the free plan, all editing has to be done on a product-by-product basis.
Square
Creating a new product is very simple and easy to do with Square as they have opted for a well laid-out, single-page layout.
With Square offering many different product types, including Physical, Digital and Membership products, the sections available on the page does depend on the type of product you are creating.
Organizing your inventory is very simple as Square has opted for the traditional category system and you can create main and sub-categories, making it very easy to create a nice, easy-to-use hierarchy for your customers. You can also create multiple sub-categories, which makes this even better.
Managing your inventory isn't great in Square as they don't offer any real bulk editors and most changes including stock quantity and price need to be done on a product-by-product basis, which isn't ideal for large inventories.
Managing Orders
Big Cartel – Unfortunately, we cannot say how good or bad the Big Cartel order management is as there is no option to manually create orders.
Square – Unfortunately, we were unable to test the order management system as we only set up a test environment and didn't complete the signup process for the Square payment gateway, which meant we couldn't create a test order.
Summary
Big Cartel Summary
Theme Selection & Customization
Big Cartel Pros

• Hosting Performance
• Cheap Plans
• Easy to learn
• Attractive themes

Big Cartel Cons

• Limited features
• No real SEO tools
• Only email support
• Not really scalable
• General lack of information
Square Summary
Theme Selection & Customization
Square Pros

• Easy to use admin area
• Good theme customizer
• Low Cost
• App integrations

Square Cons

• Limited payment gateways
• No pre-built themes
• Limited bulk editors
Conclusion
So is Big Cartel or Square the best option for building an online store?
Having compared the two, Square gets our vote as just feels like a more complete ecommerce platform and one that can be used by a variety of different businesses as it comes with better features, theme customization and feels like a more scalable option.
Plus it can be integrated with Square POS, which makes it a great option for small businesses that may have a physical storefront or plan on selling face-to-face.
While Big Cartel is very easy to use and performs well, it just feels very limited in terms of features and what you could potentially achieve with the platform.
But you don't need to take our word for it, you can test both of these platforms out for yourself by clicking the buttons below and starting a free online store.
Try Big Cartel for Yourself!
No Credit Card Needed!
Try Square for Free!
Start a free Website!
Other Comparisons
Hi, I'm Paul, the Owner and Founder of EcommerceGold.
I ran my own Ecommerce Business for over 7 years and now help others start their own online retail empires!