While WooCommerce is incredibly popular, with over 5 million active installs, but it is not without its downsides and there can be many reasons why you may want to move away from WooCommerce and in this post, I am going to list what I think are the 5 best alternatives to WooCommerce.
I am going to list a selection of options that include other ecommerce options for WordPress alongside completely different ecommerce platforms.
Best WooCommerce Alternatives
Disclosure: Our site is reader supported, meaning we may earn a commission from purchases made through our links, to learn more, please see our Affiliate Disclosure.
The first option on this list is a relatively unknown ecommerce plugin for WordPress called WP EasyCart and is very much a David (6,000+ installs) against the Goliath that is WooCommerce (5 million+ installs) but it certainly does pack a punch!
This is because WP EasyCart comes with a whole heap of features built in offers much more as standard than the standard WooCommerce plugin does.
If you want additional features, you can upgrade to one of their two paid options and these include options such as:
Digital Downloads
Subscriptions
Memberships
B2B Tools
Their paid options are also much cheaper than the equivalent offerings from WooCommerce and include support for the plugin. You also don't need to use a dedicated theme as WP EasyCart works with pretty much every WordPress theme.
WP EasyCart Pricing
WP EasyCart Plugin: Free
WP EasyCart Pro: $69/yr
WP EasyCart Premium: $99/yr
WP EasyCart offers their basic plugin for free BUT the free one does come with transaction fees of 2%.
These are removed on the paid options and as mentioned above, you get access to additional features and support. The Premium package also includes integrations with third party platforms such as MailChimp, ShipStation and AffiliateWP.
WP EasyCart Pros and Cons
Who is WP EasyCart best for?
WP EasyCart is ideal for anyone who wants to continue using WordPress for their site but wants to just use a single plugin with all the features built in and remove the headaches that can be updates on WooCommerce.
2: Ecwid (WordPress Plugin)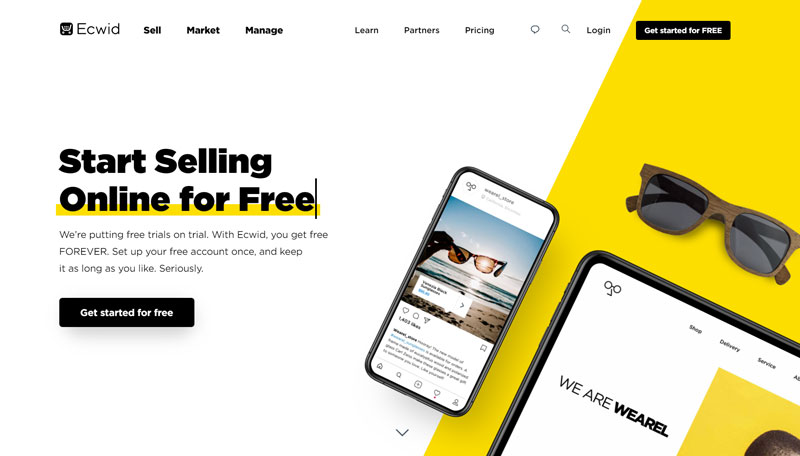 The second choice on this list is also a WordPress plugin but it offers a completely different alternative option that WP EasyCart, this is because Ecwid is a fully hosted ecommerce platform that can be integrated with WordPress, so that you can have a secure, PCI compliant checkout on your site.
Ecwid also offers the ability to sell via Facebook and Instagram, so you can create multiple sales channels that can be managed from one dashboard.
You can also try Ecwid out for free! As they offer a free package, which allows you to sell up to 10 products but if you want access to all of the features of the platform, then you are going to have to use one of their paid packages, which range from $15 – $99 a month.
Included with the paid packages are varying levels of support to help you manage the ecommerce side of your business.
Ecwid Pricing
Ecwid offers a total of 4 packages:
Ecwid Free: Free
Ecwid Venture: $15/m
Ecwid Business: $35/m
Ecwid Unlimited: $99/m
The main difference between the three paid packages are the amount of products you can list (100, 2,500 and Unlimited) and the features and support options you get access too.
Ecwid Pros and Cons
Who is Ecwid best for?
Ecwid is great option for users who want to still have a WordPress site but want the benefits and security of a fully hosted ecommerce platform as well. Website owners who also want less hassle when it comes to maintenance should also consider Ecwid as you only need 1 plugin and it also works with every WordPress theme.
3: Shopify Lite (Buy Button)
The third option is the last one for anyone wanting to stick with WordPress and it comes from one of the biggest names in the world of ecommerce, Shopify.
Specifically for this one, I am talking about Shopify Lite, which allows users to copy and paste code from their Shopify dashboard and insert it onto a page or post, this is the only option that doesn't require a plugin.
This is a great option for people who have a small inventory and want an easy to use system that also includes a secure checkout. Due to the code being copied and pasted onto your pages, this means it works with every WordPress theme and Shopify also offer different layout options, from a full page to a simple buy button.
From a security perspective, this is also a very good option as no order or customer information is stored on your WordPress site, instead it is all in your Shopify dashboard, so no worries about information being leaked if your WordPress site gets hacked! However, this does mean that all orders need to be managed from Shopify and not WordPress.
Shopify Lite Pricing
Unlike every other option on this list, Shopify Lite has 1 price, which is $9/m.
You will also need to pay a transaction fee of 2% for any payment received outside of Shopify's own payment gateway.
Shopify Lite Pros and Cons
Who is Shopify Lite Best For?
Shopify Lite is a great option for sites with a small inventory who want a hassle free way of adding ecommerce to their WordPress site. It is also a good option for security conscious people as no personal information about customers or orders is stored on your WordPress site.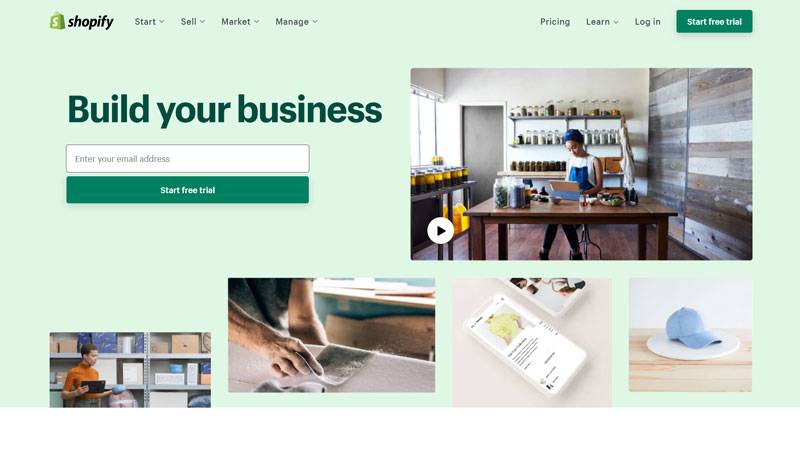 Wait, Shopify again?
Yes, but this time it is if you are wanting to move away from WordPress completely and go to a purpose built ecommerce platform.
And when it comes to ecommerce platforms, there is a reason why Shopify is one of the most popular as it is very good at what it does, from offering a fully hosted ecommerce platform that includes PCI compliant hosting, complete website builder and 24/7 support to the largest app store of any hosted ecommerce platform.
If you are frustrated with the constant WordPress/WooCommerce updates that can potentially break your site or just cause a lot of headaches, then Shopify could be a option to consider as it offers an easy to use all in one package, whether your site is big or small, Shopify has a package to suit.
Pricing
Shopify offers three standard packages:
Shopify Basic: $39/m
Shopify Standard: $105/m
Shopify Advanced: $399/m
If you are a large ecommerce business, then you may want to consider Shopify Plus, which starts from $1500/m and is designed for enterprise level businesses.
With Shopify, the standard packages do also include transaction fees for all payment received using payment gateways other the Shopify Payments, these transaction fees are 2%, 1% and 0.5% for the respective packages.
Pros and Cons
Who is Shopify Good For?
Shopify is a great options for businesses who want to focus on the sales and marketing aspects of their business, while knowing that all of the technical aspects are being taken care of for them. The app store also means that most things that you can do with WooCommerce can be done with Shopify.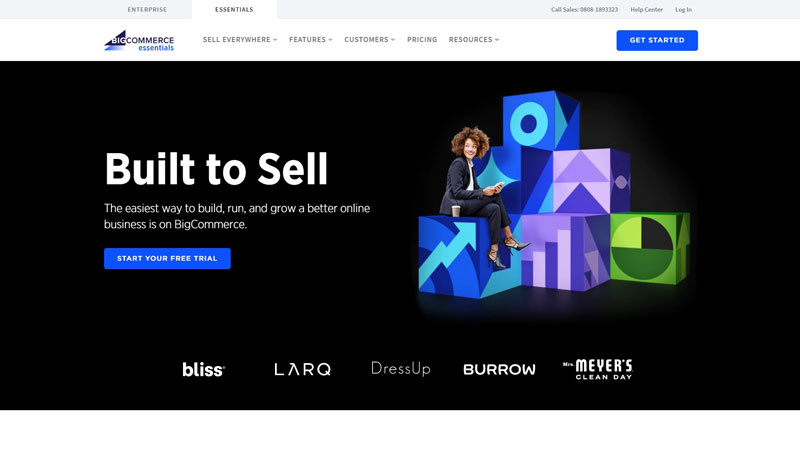 The final option for this list is another big name in the world of ecommerce (no pun intended!), Bigcommerce and as the name might suggest, it is built for big business.
But whether your store is just getting started, growing or has grown, Bigcommerce will have something to offer as with Bigcommerce Essentials, you get a feature rich from both its core offering which includes things such as single page checkout, Ebay and Amazon integration and social selling via Facebook, Instagram and Pinterest and also from their app marketplace that is packed with over 700 apps from third-party developers.
With all of the Bigcommerce packages, you get access to their 24/7 support network, which can be contacted via live chat, phone and email. There is also a community support forum that is frequented by many experts on the Bigcommerce platform.
Bigcommerce Pricing
Bigcommerce offers a selection of three fixed price plans:
Bigcommerce Standard: $29.95/m
Bigcommerce Plus: $79.95/m
Bigcommerce Pro: $299.95/m
All three packages come with annual turnover limits of $50k, $180k and $400k, which when converted from USD to GBP does mean that these limits are quite low for UK based businesses.
For larger businesses, Bigcommerce offers an Enterprise package, which is custom built for you and your businesses.
Bigcommerce Pros and Cons
Who is Bigcommerce Best For?
Like with Shopify, Bigcommerce is a great option for users who don't want the hassle of the technical part of running a website but want a platform that is built for ecommerce. The Bigcommerce dashboard is also quite similar to WordPress, so that transition shouldn't be too bad and as your business grows, Bigcommerce will grow with it.
Conclusion
Whatever your reasons for wanting to move away from WooCommerce, you can take some comfort in knowing that there are plenty of options out there both inside and outside of WordPress and the options listed above are what I think are the 5 best options for anyone looking to leave Woo.
Hi, I'm Paul, the Owner and Founder of EcommerceGold.
I ran my own Ecommerce Business for over 7 years and now help others start their own online retail empires!