If you are looking to add an online store to your WordPress site, then SureCart and WooCommerce are two of the most popular options but which one is the best WordPress ecommerce plugin?
To answer this very important question, we have done an in-depth comparison looking at all the important aspects when it comes to choosing an ecommerce plugin for WordPress.
EcommerceGold is reader supported and we may earn a commission from products or services purchased through links on our site at no additional cost to you, to learn more please see our affiliate disclosure.
SureCart vs WooCommerce: Quick Summary
SureCart vs WooCommerce – which one is the best? Even though it is a little limited for physical products, we think that SureCart is the better option for a number of reasons:
It only requires one plugin
All the product and checkout pages are run on secure servers
All plans include support
It is easy to set up and use and will work with pretty much any theme
There are some areas where WooCommerce is better but as an overall package, we feel that SureCart is the better of the two.

Pricing
As you can see, there are some differences when it comes to pricing between SureCart and WooCommerce but they both allow you to sell through your WordPress site for free.
The launch plan from SureCart includes:
Unlimited products
1GB file storage for digital downloads
Email support
1.9% transaction fee (this doesn't apply to paid plans)
All the paid plans include larger storage allocations for digital products, along with additional resources and features.
While the WooCommerce plugin itself is free, many of the additional plugins that you may require, either directly through WooCommerce or 3rd-party developers may be paid options and would require paid options to bring it to the same feature level as SureCart.
Features
Both platforms allow you to add an online store to WordPress but what do they offer in terms of features?
SureCart
One of the areas where SureCart differs from WooCommerce is that they include a lot of features with the plugin, with a good selection being available on the free plan and many more included with the paid ones.
Ecommerce Tools
Sell Physical, Digital & Service Products
Sell Subscriptions
Offer Installment Plans
Auto-calculated Tax & VAT
Easy Refunds + Customer Survey
Marketing & SEO
Product Bundles
Discounts Codes & Coupons
Auto Payment Recovery (for subscriptions)
Abandoned Cart Emails
Built-in Affiliate Program (Coming Soon)
Reporting
Revenue
Number of Orders
Average Order Value
Day, Week, Monthly and Yearly Reports
Payment Gateways
PayPal
Stripe
Apple Pay & Google Pay (for mobile payments)
Mollie
SureCart Integrations
SureCart integrates with many other WordPress plugins through Suretriggers, which allows different apps and plugins to work with each other.
If this can't be done through Suretriggers, then SureCart works with Zapier to help you streamline your workflow.
WooCommerce
The WooCommerce plugin is very basic in its standard form and gives you the basic tools you need in order to set up an online store. In its basic form, you get the following features:
Ecommerce Tools
Sell Physical & Digital Products
Discount Coupons
Reporting
Sales by Date
Sales by Product
Sales by Category
Registered vs Guest Customers
Payment Gateways
PayPal
Stripe (plugin)
Klarna (plugin)
Amazon Pay (plugin)
WordPress Plugin Library
This doesn't look great for WooCommerce BUT this is where the WordPress plugin comes in, searching WooCommerce returns a result of over 7,000 plugins that can be used and these offer all different kinds of functionality from Marketing & SEO to payment gateways and ecommerce tools.
There are also many many other things you can do including creating an online marketplace, booking websites and membership websites. Pretty much everything you could think of you can do with WooCommerce.
Outside of the free WordPress library, there are also thousands of paid plugins for WooCommerce that offer many more premium features. This also includes paid versions of the free plugins.
WordPress Integration
When it comes to getting an online store set up with WordPress, one of the key features to look for is how well the plugins integrate with the WordPress CMS, so how do these two plugins perform?
SureCart
SureCart has really good integration, which you would expect as one of the guys behind the plugin is YouTuber WP Crafter, who creates WordPress tutorials.
Theme Integrations
One of the real plus points of SureCart is that it works with any theme, this gives you almost unlimited options when it comes to building your store but where this really comes into its own is if you already have a WordPress site up and running.
This is because you can just install the SureCart plugin and add your online store to your existing site, without having to make any major changes or possibly having to change theme.
Page Builder Integrations
As with the theme integration, SureCart works with all of the major WordPress page builders, including:
Gutenberg
Elementor
Divi
Oxygen
Beaver
And they offer a good range of blocks, which allows you to not only create custom pages for your store but also add ecommerce elements to existing pages and blog posts, which can lead to increased sales as it reduces the number of clicks your customers need to make.
WooCommerce
As the leading ecommerce plugin for WordPress and being owned by the company that also owns WordPress, WooCommerce understandably integrates very well but is it as good as SureCart?
Theme Integration
Unlike SureCart, WooCommerce doesn't work with every theme and while many theme developers now include WooCommerce integration, it does mean you need to check that the theme that you want to use offers this integration.
And while this isn't much of an issue if you are looking to build a site from scratch, it can cause problems if you have an existing site with a theme that doens't have WooCommerce integration as it means that you need to choose a new theme in order to use Woo.
Page Builder Integration
Pretty much all page builders make sure that they integrate with WooCommerce but some Woo features may be limited to paid versions of the page builders.
For the Gutenberg Page Builder, WooCommerce offers a range of blocks that can be used to build custom pages or add ecommerce elements to existing pages or blog posts, even though some are better suited as widgets than blocks to be used on pages.
Support
Running an ecommerce website can be challenging at times and you require some help, so what support do you get from these plugins?
SureCart
SureCart offers support in the form of email support tickets and from our experience of contacting them, the replies have been prompt (usually replied to within 24 hours) and very helpful.
They also have a well-written knowledgebase and a YouTube channel that shows how to use the SureCart plugin along with videos covering new updates, there is also a relatively large Facebook community group, which is a great place to ask questions.
WooCommerce
Due to being open source and free, the level of support for WooCommerce isn't anywhere near as Shopify. But as a registered customer of WooCommerce, you can contact their support team via support tickets and they will help as soon as they can. They also have very good documentation on the WooCommerce website.
There is also a support forum on WordPress where you can ask questions about the plugin and generally, you will get a helpful reply either from one of the WooCommerce team or someone else on the forum. The same extends to plugins as long as you ask in the right place.
The one good thing about WordPress & WooCommerce being so popular is the amount of information and guides out there to help you set up plugins or do things within the platform. A quick Google search will give you the answer to most of your problems.
Hosting
One of the biggest differences with SureCart and WooCommerce is how the two plugins are hosted.
SureCart
SureCart uses what is known as a headless ecommerce setup and without getting to techy, this basically means that:
You manage your store through your dashboard
Your customers place orders through your storefront and can also manage their account
But all the processes take place on SureCart's servers
This means that SureCart's pages and checkout aren't actually hosted on your website, they are hosted on SureCart's secure servers and served up to your site, which has a number of advantages:
As already mentioned, it allows for very good integration
It reduces the load on your site, which can improve the load times of your site
All transactions are carried out on SureCart's secure servers, rather than your own web host (more secure for you and your customers)
But this does mean that your store is reliant on SureCart but the team behind the plugin and the infrastructure they have in place are very good and the advantages of this setup far outweigh the negatives.
You do still need to ensure that your WordPress site is secure though.
WooCommerce
WooCommerce works in a different way as everything is hosted directly on your website and while this does give you more control over your site as you aren't reliant on a 3rd party in order for your store to be up and running, it does have some drawbacks:
You need to optimize all of the ecommerce aspects of your store to make sure that they load quickly
You need to make sure that your site and hosting are secure as the checkout is hosted on your server
If anything breaks, it is down to you to figure it
And as you need quite a few additional plugins with WooCommerce to bring it up to the level of SureCart in terms of features, the chances of things not working or breaking are increased.
This is very much the traditional way that ecommerce plugins work with WordPress and while it is a time tested method, it does put more responsibility on you as the store owner.
Ease of Use
Facts and figures are one thing but what are these platforms like to use and how do they compare to each other? Well, that is what we are going to be looking at in this section by comparing:
What they are like to get started with
The inventory management
The order management
Getting Started
Getting started with these two platforms is different due to the way that they both operate and this is explained in more detail below.
SureCart
Getting started with SureCart is very simple as you just need to install the plugin and follow the setup procedure, this will include creating an account with SureCart, which is required due to the headless setup of SureCart.
But overall, the process to get started with SureCart is very simple and only takes a few minutes to do and as part of the process, SureCart will create a small number of pages for your site that include Shop, Checkout and Dashboard.
Talking of dashboards, once you have completed the setup process, you will be able to access the SureCart dashboard and this is very well-designed and includes some prompts to get you started with getting your store ready to go live.
Outside of the setup prompts, the SureCart dashboard includes a summary of your store, which is great for when you are up and running and the plugin adds a heading to the main WordPress sidebar, which combined with the subheadings makes it very easy to navigate your way around SureCart.
Overall, very easy to get started with the SureCart dashboard as it has a very clean look and an easy-to-use interface.
WooCommerce
Getting started with WooCommerce is also very simple as you simply need to install the plugin and follow the setup guide, which takes you through the basic steps of setting up a WooCommerce store.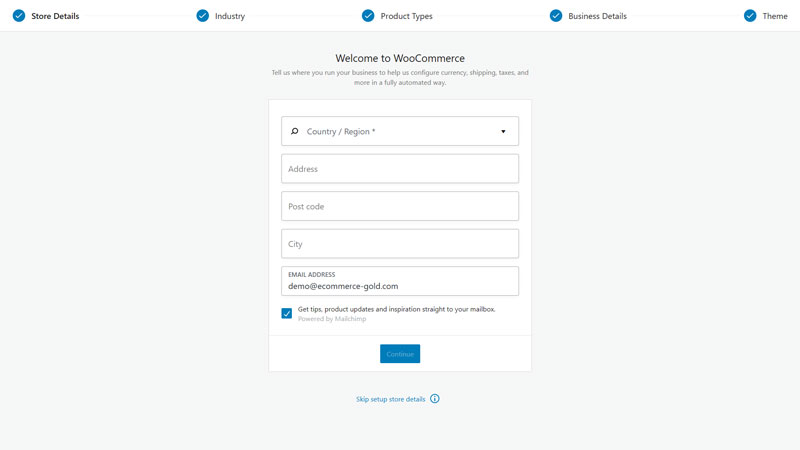 Once you have completed the setup guide, you will be able to access the WooCommerce dashboard but one thing we found was that it isn't the quickest to load, especially when compared to SureCart.
From our testing, there doesn't seem to be any prompts to guide you through creating a product or getting your settings configured and it does feel like you are left to figure it out for yourself.
The WooCommerce plugin adds a few different heading options to the WordPress admin sidebar and when combined with other plugins can make it quite full but it is easy to navigate.
Inventory Management
Being able to manage your stock efficiently and effectively is a hugely important part of running an online store and there are three main areas to this, which are:
Adding products
Organizing your Products
Managing your inventory
SureCart
The add new product page in SureCart is very well-designed and also easy to use.
A recent update to SureCart also made it a much more viable option for stores looking to sell physical products as it now includes inventory levels.
There are plenty of options built into the page, including the ability to create a custom template for that product, which is a very nice feature.
One recent addition to SureCart, which has made organizing your inventory a lot better is the introduction of collections as this allows you to group products together, which makes life a lot easier for your customers but currently doesn't allow for subcollections.
With the recent update, SureCart now includes inventory management for physical products, which is great but they currently don't have any bulk editors, meaning this has to be done on a product-by-product basis, which is time-consuming if you have a large inventory.
WooCommerce
The add new product page in WooCommerce is also very easy to use and is based on the classic post/page creator in WordPress. There are options to add full and short descriptions as well as a main featured image and additional images.
To add product information, there is a tabbed section below the main description that allows you to add pricing, inventory and delivery information along with any product attributes that you have created.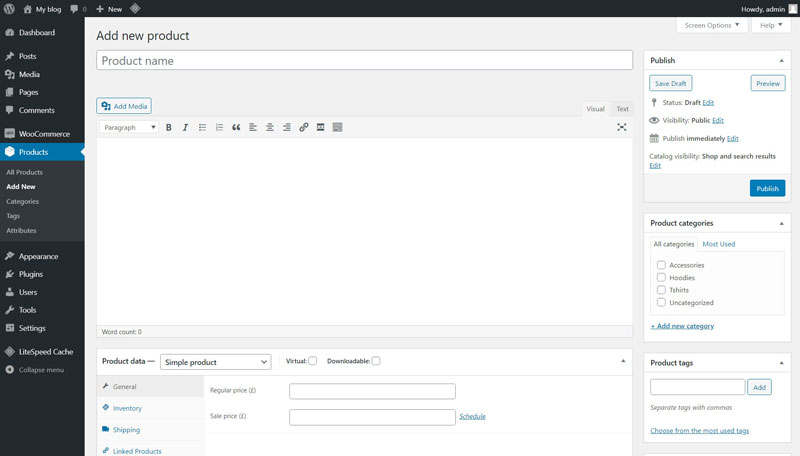 Organizing your products is also very easy and uses a category system that allows you to make both parent and sub-categories which makes create a very good hierarchy for your products. The add product page is very simple, all you need to do is name that category and if you want to, you can add a description and images to the categories.
You can manage a lot of your inventory directly from the product overview page using the quick edit option including price, quantity, category, SKU number, sale price and product title and URL. This makes updating your inventory very quick and simple to do.
Managing Orders
SureCart – Order management isn't bad in SureCart as they allow you to manage orders and print invoices/receipts but once again, it lacks any form of bulk editor and this does make managing a large number of orders a bit tedious as they have to be updated on an order by order basis.
WooCommerce – In the core WooCommerce plugin, the order management process is pretty poor as you can only update order statuses. If you want to add the ability to print off invoices or export your orders via CSV file, then you will need to install additional plugins to allow you to do this.
Summary
SureCart Summary
SureCart Pros

• Free plan
• Can be used with any theme
• Only requires 1 plugin
• Good support
• Loads quickly

SureCart Cons

• No bulk editors to manage inventory or orders
• Limited payment gateways
Woo Summary
Woo Pros

• Free to install and use
• Flexibility
• Theme Selection
• Plugin Selection
• Easy to use admin dashboard

Woo Cons

• Needs addition plugins for full functionality
• No real technical support
• Premium plugins can be expensive
Conclusion
SureCart vs WooCommerce – Which one is the Best WordPress Ecommerce Plugin?
Even though it is the new kid on the block, SureCart comes out on top for a number of reasons:
It only requires one plugin
It comes with more features as standard
Headless ecommerce means a more secure checkout
Includes support
It can be used with all themes and page builders
Add to this the recent SureCart update that added inventory management for physical products and it now competes and beats WooCommerce in pretty much every area and is definitely worth considering whether you are looking to sell physical, digital or subscription-based products.
Now WooCommerce will still get the job done and is arguably the better option for stores looking to sell physical products (although you will need some additional plugins) but it can be a bit of a headache and also expensive depending on the plugins you need.
Overall, we just feel that SureCart is the better package and they are constantly looking to improve the plugin, which is why it has improved so much even though it has only been around a relatively short time.

Other Comparisons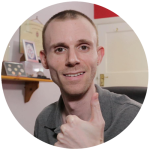 Hi, I'm Paul, the Owner and Founder of EcommerceGold.
I ran my own Ecommerce Business for over 7 years and now help others start their own online retail empires!