There is no arguing with the fact that Shopify is the world's biggest and most well known hosted ecommerce platform but there can be many reasons why you either don't want to use Shopify or are looking to move away from them.
And that is why I created this list of what I think are the Top 5 alternatives to Shopify for UK businesses and these are all platforms I have personally tested out and think provide a good option, whether you are a small start up or an enterprise level ecommerce business, I have included options that could work for them all.
Best Shopify Alternatives UK
Disclosure: Our site is reader supported, meaning we may earn a commission from purchases made through our links, to learn more, please see our Affiliate Disclosure.
EKM, formerly EKMPowershop is the UK's largest hosted ecommerce platforms and have helped over 80,000 businesses start selling online since they were established in 2002. With a team of over 80 people, they have a wide breadth of knowledge from technical support to marketing to help you get your business up and running.
One of the big stand out factors for EKM is the support that they give their customers. The UK based support team is excellent and on anything other than the basic package, you get your own dedicated account manager who is on hand to help guide you through building your ecommerce business.
Even with the basic package you still get a 30 minute welcome call to help you get your site up and running and ask any questions about the platform.
It doesn't matter whether you are small independent retailer or a large multinational seller, the EKM platform has something for everyone.
EKM Pricing
EKM offers a total of four plans that users can choose from:
EKM Basic: £32.49/m
EKM Standard: £64.99/m
EKM Advanced: £194.99/m
EKM Pro: £549.99/m
While the Basic and Standard packages do work out slightly more expensive than the equivalent Shopify ones, the Advanced and Pro do work out considerably cheaper.
All of the EKM plans, except for the Pro plan come with annual turnover limits, which are £50k, £150k and £1m respectively.
EKM Pros and Cons
Who is EKM best for?
EKM is a very good option for businesses focused on the UK market as this where not only the platform but also the EKM team, including their specialised Evolution team are specialised and it doesn't matter whether you are a start up or an established ecommerce business, EKM will be able to provide the tools required to help your business grow.
The second choice on my list is the youngest out of all the platforms, having been launched in 2013. In the time since launching they have helped over 8500 business start selling online and also have big names such as Wowcher and EDF Energy as part of their ever growing user base.
For me ShopWired is geared more towards businesses where ecommerce is their main focus, rather than having a business that sells online (if that makes sense!?). This just comes from the way that the platform is set up and the features that you get.
Like all of the UK based platforms, the support that you get from ShopWired is top notch. They always get back to you as a soon as they can and are more than happy to help you resolve your problems.
ShopWired Pricing
ShopWired offers three fixed price plans and one custom plan for larger ecommerce businesses:
ShopWired Pro: £29.95/m
ShopWired Advanced: £59.95/m
ShopWired Premium: £119.95/m
ShopWired Enterprise: From £149.95/m
All three of the fixed price plans come with annual turnover limits of £75k, £200k and £500k respectively.
ShopWired Pros and Cons
Who is ShopWired best for?
ShopWired is great option for users who want to quickly and easily get their online store set up but also have a good selection of features and support to back them up. If your business is primarily focused on the UK market, then ShopWired offers a great platform on which to grow your business.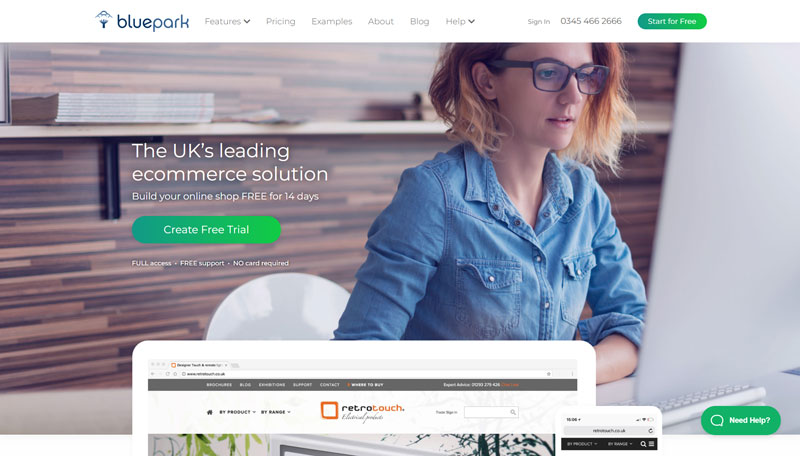 The third and final UK based offering on my list is Bluepark. While the smallest of the platforms here as they power just over 2000 online stores, they do have a wealth of experience when it comes to ecommerce. This is because they have been powering ecommerce sites since 2004.
The Bluepark platform is a very popular choice with users of UK business forums and they have a very loyal following. Rightly so as well as they offer a feature rich platform and back that up with excellent support.
Out of the sites mentioned in this list, Bluepark is the most technical as they give you the most options when it comes to making changes and tweaks to your site. This makes it a great option for businesses that are used to managing websites and selling online.
Bluepark Pricing
Bluepark offers a total of 3 packages for users to choose from:
Bluepark Retail: £24.99/m
Bluepark Professional: £39.99/m
Bluepark Business: £59.99/m
Now unlike many of the platforms on this list, Bluepark don't have annual turnover limits on their packages, instead you are limited to the number of products you can list and the amount of storage space you get on their servers.
Also, Bluepark doesn't offer any packages for larger ecommerce businesses, instead you can pay for things like additional storage on top of the business package.
Bluepark Pros and Cons
Who is Bluepark Best For?
While Bluepark is a very good ecommerce platform, it might be a little bit daunting for anyone new to ecommerce as it offers more technical options than the other platforms mentioned on this list and that is why Bluepark is best for people who a more technical knowledge of building an ecommerce website.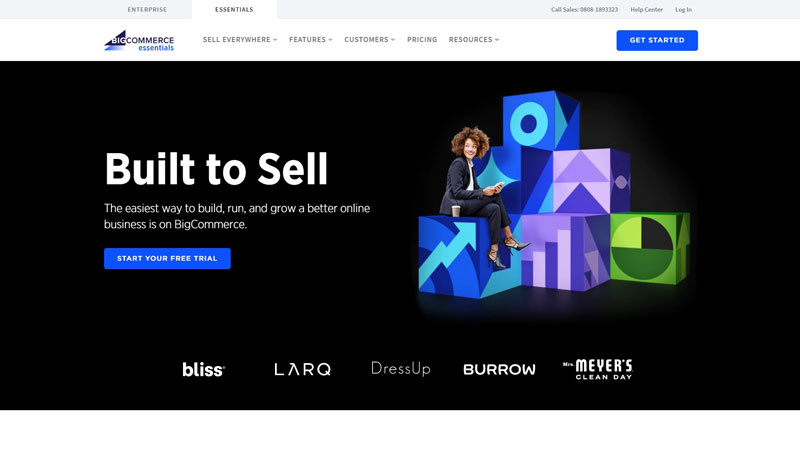 Bigcommerce have done things a little bit differently to the majority of ecommerce platforms as the main Bigcommerce platform is focused on big businesses (as you will see below). But for smaller businesses and start ups, they introduced what they have called Bigcommerce Essentials which is an evolution of the original platform that launched back in 2009.
With Bigcommerce Essentials, you get a feature rich from both its core offering which includes things such as single page checkout, Ebay and Amazon integration and social selling via Facebook, Instagram and Pinterest and also from their app marketplace that is packed with over 700 apps from third-party developers.
With all of the Bigcommerce packages, you get access to their 24/7 support network, which can be contacted via live chat, phone and email. There is also a community support forum that is frequented by many experts on the Bigcommerce platform.
Bigcommerce Pricing
Bigcommerce offers a selection of three fixed price plans:
Bigcommerce Standard: $29.95/m
Bigcommerce Plus: $79.95/m
Bigcommerce Pro: $299.95/m
All three packages come with annual turnover limits of $50k, $180k and $400k, which when converted from USD to GBP does mean that these limits are quite low for UK based businesses.
For larger businesses, Bigcommerce offers an Enterprise package, which is custom built for you and your businesses.
Bigcommerce Pros and Cons
Who is Bigcommerce Best For?
While the three platforms mentioned above a very much UK focused, where as Bigcommerce is a more international focused platform and if selling internationally is a part of your business strategy, then Bigcommerce could be a very good option.
5: WordPresss and Ecwid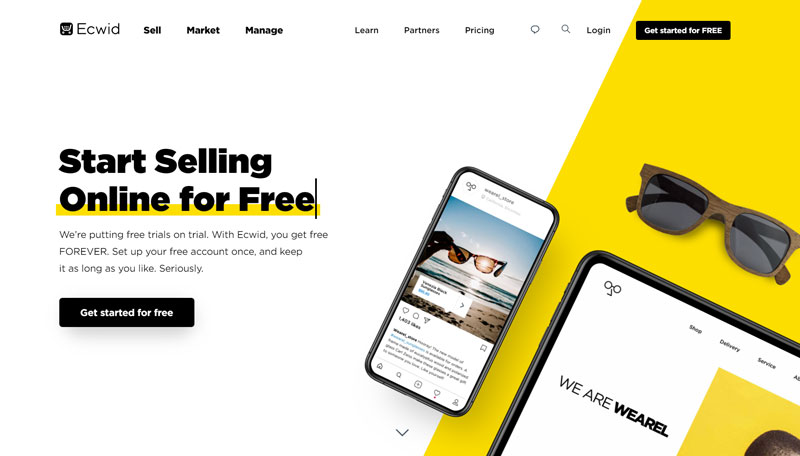 It is hard to create a list of Shopify alternatives and not include WordPress and for this option, I am talking about the self-hosted WordPress.org option.
Now there are a few options when it comes to ecommerce plugins on WordPress and most would talk about WooCommerce but I think Ecwid is a better option for the majority of WordPress ecommerce websites as it combines all the content creation features of WordPress along with the benefits of having a fully hosted, PCI compliant shopping cart.
Ecwid also offers a lot of features that work for UK based businesses, such as Royal Mail integration and VAT rules, which make using Ecwid a good option.
Unlike every other option on this list, Eciwd is the only platform that offers a completely free plan, this is limited to 10 products and the amount of features you get but it still allows you to check the platform out before committing to a paid package.
Pricing
For this combination, there are going to be two separate fees that you are going paying every month and they are:
WordPress hosting, which can be had from around £5/m
Ecwid subscription and they offer three fixed prices packages alongside the free one:

Ecwid Venture: £15/m
Ecwid Business: £35/m
Ecwid Unlimited: £99/m
None of the Ecwid packages include any turnover limits, instead it is the number of products you can list and the features you get access to the separate the packages.
Pros and Cons
Who is WordPress and Ecwid Good For?
The WordPress + Ecwid combination is great for users who have a very content driven approach for their website, such as a strong emphasis on blogging and SEO but also want to have the security and reliability of a fully hosted ecommerce platform, the integration between the two platforms is also very good and works pretty seamlessly.
Conclusion
Whatever your reasons for looking for an alternative to Shopify is, it is good to know that there are plenty of good options out there and in this list I have listed what I think are the best alternatives.
The good (or bad thing possibly!) is that all 5 of the options offer something a little different to Shopify, whether it is being UK focused like the first 3 options, being aimed primarily at big businesses like Bigcommerce or something for businesses who want to use WordPress as a base for their website and as every website and business is different, hopefully I have included something that could work for you!
Hi, I'm Paul, the Owner and Founder of EcommerceGold.
I ran my own Ecommerce Business for over 7 years and now help others start their own online retail empires!