WordPress is the most popular website builder in the world, with over 20% of the world's websites running on the platform.
It is also an incredibly versatile platform, with plugins that allow you to do pretty much anything but one of the most popular questions is how to add an ecommerce store?
Well there are a variety of plugins that you can choose from to do this but which ones are the best?
To answer that question, I created this post to list the best plugins to help you start selling from your WordPress website.
EcommerceGold is reader supported, meaning that we may earn a commission (at no additional cost to you) from products or services purchased through links on our site. Learn More.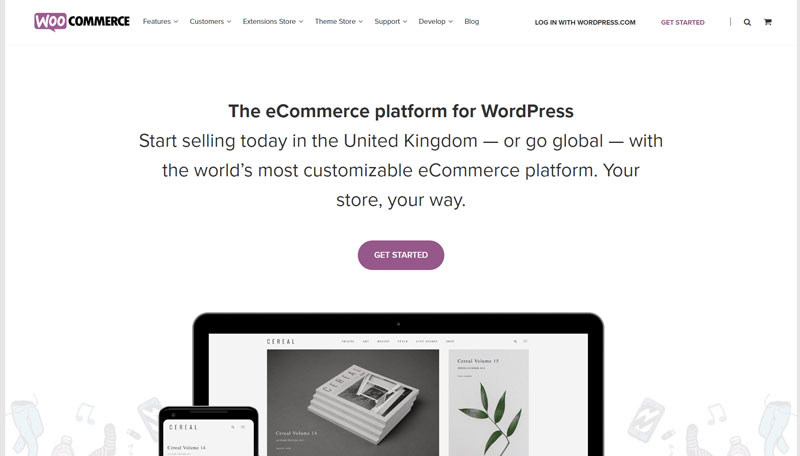 It was pretty much impossible to not have WooCommerce as the first option on this list as it is without doubt the most popular of all the WordPress ecommerce plugins, with over 5 million active installs.
It was also one of the first true WordPress ecommerce plugins and although it was originally developed independently, the plugin was so successful that Automatic, the company behind the WordPress platform acquired the plugin.
WooCommerce Pricing
The core WooCommerce plugin is completely free to use.
WooCommerce Features
The WooCommerce plugin is very basic when it comes to features as it adds basic functionality to a WordPress site. But if there are some features you want to add, then there is probably at least one plugin out there that can do it for you.
A summary of the features available with the WooCommerce plugin are:
Reports
Discount Coupons
PayPal Payments Standard
Auto Generated Emails
Custom Delivery Methods
Sell Digital Products
WooCommerce Support
Due to being Open Source and free to use, it is understandable that the support options available for WooCommerce are not that great. The main support option is their support forum, where you can get answers from WooCommerce team members, developers or other members of the community.
Fortunately, due to the large amount of user and developers, there is a huge amount of resource online as well as lots of small WooCommerce communities that can be a great place to ask questions.
WooCommerce Pros & Cons
• Free to Use
• Large Selection of Additional Plugins
• Large Theme Selection
• Free Online Resources
• Easy to Learn and Use
• Requires additional plugins to really work properly
• Updates can cause problems
• Can be unreliable
• Limited support options
WooCommerce Summary – 3.8 / 5
WooCommerce is a very solid option for selling on WordPress, especially as the core plugin is completely free to use but it is not the most stress free option to use due to the reliability issues that you can face, to minimise this, you want to keep the number of plugins on your site to a minimum and use a theme with good WooCommerce integration.
I have written a more detailed WooCommerce Review, if you want to learn more about this plugin or you can check out WooCommerce for yourself by clicking the button below.
Take a Look at WooCommerce
The free WordPress Ecommerce Plugin
Option #2: Ecwid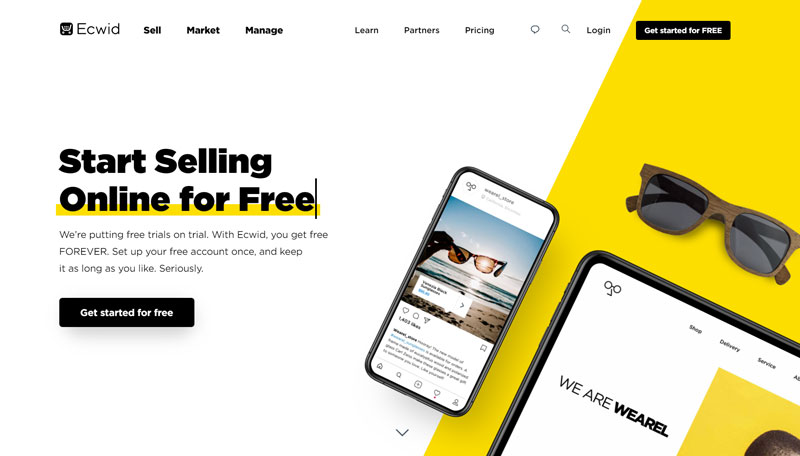 The second option on this list is in my opinion, one of the most innovative options out there when it comes to WordPress and ecommerce, this is because Ecwid does things a bit differently! They are also a very popular option with currently over 30,000 active installs.
This is because Ecwid were the first to bring a fully hosted, PCI secure shopping cart to the WordPress platform. Unlike WooCommerce that uses existing WordPress code to create product and checkout pages, Ecwid integrates their purpose built ecommerce platform directly into WordPress and all of your product and checkout pages are hosted on Ecwid's server, not yours.
This is what enables them to offer a fully secure checkout on a WordPress site and you only need one plugin to do this.
Ecwid Pricing
Ecwid offer 4 plans for their users and they are:
Free – Up to 10 products & limited features
Venture $15/m – Up to 100 products
Business $35/m – Up to 2,500 products
Unlimited $99/m – Unlimited products
As you move up through the plans, you do also get access to more features.
Ecwid Features
For this, I am going to look at the features that are on the Ecwid Venture plan, which is their entry level paid plan and you get the following:
Secure PCI compliant checkout
Sell Physical & Digital products
Discount Coupons
Gift Cards
Facebook Messenger live chat
Social Selling (Facebook and Instagram)
Large Selection of Payment Gateways
Ecwid also has their own App Marketplace, which can be accessed on all of the paid packages and includes a selection of Apps that either add features or integrate with third-party software or services.
Ecwid Support
As Ecwid is a fully hosted ecommerce platform, you do get access to support on all of their paid packages. With the Venture package, you get live chat support but on the Business & Unlimited packages, you do get phone support as well.
Just to be clear, this support is just for the Ecwid platform, not for WordPress in general.
Ecwid Pros & Cons
• Secure PCI compliant checkout
• Only requires one plugin
• Lots of ecommerce features included
• Support options
• Free package
• Multi channel selling
• Limited to B2C websites
• To get all features requires being on the top package
• Not all Apps are free to use
• No bulk product editor
Ecwid Summary – 4.2 / 5
Ecwid takes a lot of the stress out of running an ecommerce website on WordPress due to the fact that you only need one plugin and there is a team of technicians working to make sure that the platform is working. It is a great option for a normal B2C ecommerce store, whether you are selling physical or digital products.
Try Ecwid for Free!
No Credit Card Needed
The third option on this list of from on of the biggest names in the world of ecommerce (no pun intended!), Bigcommerce. This might be a surprising option for some but the team at Bigcommerce recognised the popularity of WordPress and felt that their platform could work very well on a WordPress website.
This is because they feel that commerce + content is going to be the way of the future when it comes to ecommerce and they aren't wrong, so combining their fully hosted ecommerce platform with arguably the best content creation platform on the market does seem to make sense.
When it comes to integration, the Bigcommerce platform doesn't integrate fully, the same way that Ecwid does. Instead it imports all of products and categories and displays them within your WordPress site, the checkout also works using iframe, so that you have a secure checkout seemingly on your WordPress site, even though it is actually on the Bigcommerce servers.
But you actually manage your product listings, categories and order from the Bigcommerce dashboard, not the WordPress dashboard. Which means that less sensitive data is stored on your site/server.
Bigcommerce Pricing
Bigcommerce offer three Essential Plans:
Standard $29.95/m – Up to $50k annual turnover
Plus $79.95/m – Up to $180k annual turnover
Pro $299.95/m – Up to $400k annual turnover
Bigcommerce Features
So I have been doing some research into the Bigcommerce WordPress plugin and it seems as though not all of the features available on Bigcommerce are working properly when it is integrated with WordPress.
Now as the plugin is still relatively new (it was only released in 2018), the team are constantly looking to improve the way the plugin works. This means that I can't guarantee that the summary features mentioned below will be working currently.
Product Ratings & Reviews
Promotions & Special Offers
Multi Channel Selling (inc Facebook & Instagram)
Discount Codes & Coupons
Social Sharing
PCI Compliant Servers
Large Selection of Payment Gateways
Bigcommerce also has its own App Marketplace that has over 700 different apps to choose from, meaning that if you are missing some functionality, there is probably an app for it.
Bigcommerce Support
Bigcommerce are definitely good when it comes to support as all users get access to their 24/7 customer support, which is offered in a variety of ways including live chat, over the phone and via email ticket. This means that there is always someone to help if things go wrong.
As with Ecwid, this support is based around the Bigcommerce platform and plugin, not for general WordPress problems.
Bigcommerce Pros & Cons
• Lots of features
• 24/7 Customer support
• Secure checkout
• No data stored on your site/server
• Bigcommerce dashboard is very good
• Plans are expensive
• Some integration/feature issues
• Turnover limits on plans
• Not all payment gateways work on iframe checkout
Bigcommerce Summary – 4.1 / 5
There is a lot of potential with the Bigcommerce/WordPress combination and if they can get their plugin dialled in, then it will be a very good option for WordPress.
The only real downside for me is the pricing of the Bigcommerce plans, this is because if you are using Bigcommerce with WordPress, then you aren't using their website builder but are still paying for it but you do get to use the Bigcommerce dashboard, which is very good for managing your inventory and orders.
I have written a more detailed Bigcommerce Review, if you want to learn more about this plugin or you can check out Bigcommerce for yourself by clicking the button below.
Try Bigcommerce for Free
15 Day Free Trial, No Credit Card Required
Option #4 Shopify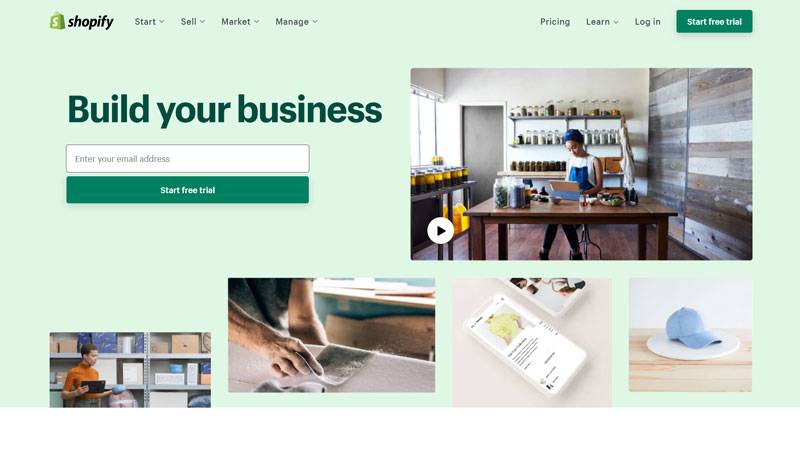 Ok, so option number 4 isn't actually a WordPress plugin but it is still a way that you can sell products through WordPress and that is using Shopify, well more specifically Shopify Lite (you can also use other Shopify plans).
The way Shopify works does require a bit more work on your part but it works really well. This is because you create a product and/or collection with in Shopify, then create a Buy Button for it and then simply copy and paste the code on to your chosen WordPress page (if you want to know more about this, then check out my How to Use Shopify with WordPress Tutorial).
With the Shopify Buy Button, your customers can also check out without leaving your site as the Shopify checkout appears as a pop up. You then manage your orders from the Shopify dashboard, meaning that none of your customers data is stored on your site or server.
Shopify Pricing
To use Shopify with WordPress, you only need to use the Shopify Lite package, which is $9/m but also has a 2% transaction fee for any payment taken not using Shopify Payments.
Shopify Features
With the Shopify Lite package, you don't get access to the Shopify store builder or any other features relating to building a website but this is fine as you are going to be integrating it with an existing website but you do get the following features:
PCI complaint checkout
Social Selling via Facebook
Discount codes
Sell physical or digital products
Multiple payment gateways
Customise button to fit your business/brand
24/7 customer support
You also get access to the Shopify App Store, which has over 3,000 apps to choose from but you do want to keep an eye on the pricing as not all of these are free to use.
Shopify Support
As mentioned above, all users get access to Shopify's 24/7 customer support, which can be accessed via live chat, over the phone or via email support ticket. They also have a community support forum, which is a great place to ask non-urgent questions.
Shopify Pros & Cons
• Good selection of features
• 24/7 Customer support
• Secure checkout
• No data stored on your site/server
• Easy to set up and use
• Transactions fees
• Limited integration
• Takes more time to list your products on WordPress

Shopify Conclusion
The Shopify buy button is a very good option for adding ecommerce to an existing WordPress website but does require a little more work as you will have to create pages within WordPress and then paste the Shopify code in for it work, which can be time consuming if you have a large number of products.
But for $9 a month, the Shopify Lite plan is a great option and from a security perspective is very good as all of your products, orders and customer information are managed completely separately from your WordPress website.
Try Shopify for Free
14 Day Free Trial, No Credit Card Required
Conclusion
So there it is, my list of the best ecommerce plugins for WordPress (yes, I know that one isn't!).
All of them are very good options and it very much comes down to you and your business as to which is the one that you should go for but in terms of a balance between price, features and general ease of use it does come down to Ecwid and Shopify for me but fortunately, you can try them all out for free so that you can test them out for yourself.