WordPress is the most popular website builder in the world and powers of 43% of all websites!
And due to the popularity of the platform, there are quite a few options when it comes to building an online store with WordPress but which ones are the best?
Well, that is what we are going to be looking at in this post as we have been through and tried all of the most popular options to see which ones we think are the best based on:
Price
The features they offer
How easy they are to use
How well they integrate with WordPress
Ecwid topped our list due to:
• Only requiring one plugin
• Having a good set of features
• Having a fully-hosted, secure checkout

WP EasyCart offered the best free option due to:
• A good selection of features
• Only requiring one plugin
• Good integration
If you are looking for a flexible plugin to customize or create different ecommerce stores then WooCommerce is the best plugin for the job.
•
Disclosure: Our site is reader supported, meaning we may earn a commission from purchases made through our links, to learn more, please see our Affiliate Disclosure.
Best Overall WordPress Ecommerce Plugin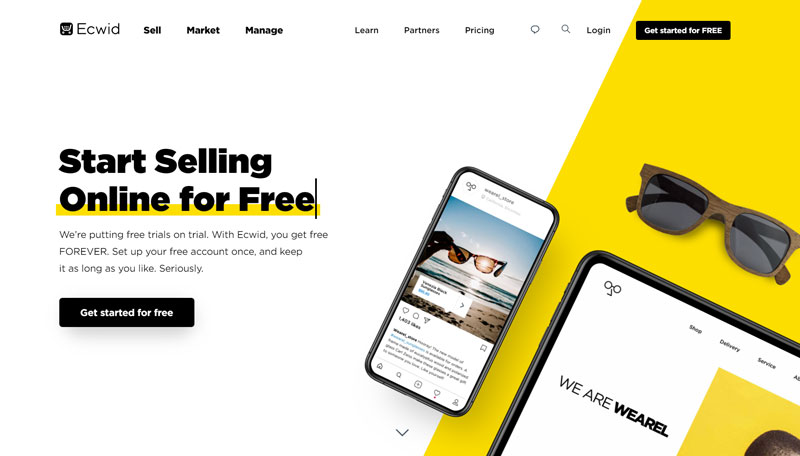 One of the biggest problems with using WordPress for an ecommerce website is checkout security as most sites are using shared hosting (which isn't great for security!) or managed hosting (which is better but still the best for ecommerce sites) and that is where Ecwid comes in as it offers a fully hosted, secure checkout for your site.
And best of all, Ecwid fully integrates with WordPress meaning that you can manage everything from one dashboard and you can also use it with ANY WordPress theme, so no need for a full site redesign if you are already up and running.
There is also a very good selection of ecommerce features that come included with Ecwid including:
Secure PCI-compliant checkout
Sell Physical & Digital products
Discount Coupons
Gift Cards
Facebook Messenger live chat
Social Selling (Facebook and Instagram)
Large Selection of Payment Gateways
You can also try Ecwid completely for free with their free package, which allows 10 products and has limited features. If you want access to more products or features, then you will need to go for a paid package and they offer three:
Venture Package $19/m – Up to 100 products
Business Package $39/m – Up to 2,500 products
Unlimited Package $99/m – Unlimited products
Another feature that you get with Ecwid is access to support. This is limited on the free package but on the paid packages it does include live chat and email support, with phone support also included on the Business and Unlimited packages.
Just to be clear, this support is just for the Ecwid platform, not for WordPress in general.
Ecwid Pros & Cons
Who Is Ecwid Best For?
Ecwid is best for site owners who want a single, feature-rich plugin that offers great integration and a fully hosted, secure checkout.
It also offers the flexibility of multi-channel selling, which can all be managed through 1 dashboard.
If you want to learn more about Ecwid, then check out our Full Review.
Best Free Plugin
A relatively unknown name in the world of WordPress ecommerce is WP EasyCart but if you are planning on building an ecommerce website on WordPress, then this plugin is something you do want to consider.
Unlike its counterparts WooCommerce and Easy Digital Downloads, WP EasyCart comes loaded with a range of features as standard and they are all built into the plugin, so no need to install lots of additional plugins but the learning curve for the plugin is a little steeper due to the number of options that the plugin offers.
WP EasyCart also works with most WordPress themes, which gives you a lot of choices when it comes to the design of your site.
WP EasyCart offers a free to use plugin but if you opt for this, you will pay a 2% transaction fee on top of your payment gateway fees but this is waived on the paid options, which also include additional features such as digital downloads and subscriptions.
WP EasyCart Pros and Cons

Who Is WP EasyCart Best For?
WP EasyCart is best for WordPress sites that want a free but feature-rich plugin as no other free option comes close.
The paid plans are also reasonably priced and offer a cost-effective, self-hosted plugin option.
If you want to learn more about WP EasyCart, then check out our Full Review.
Best for Flexibility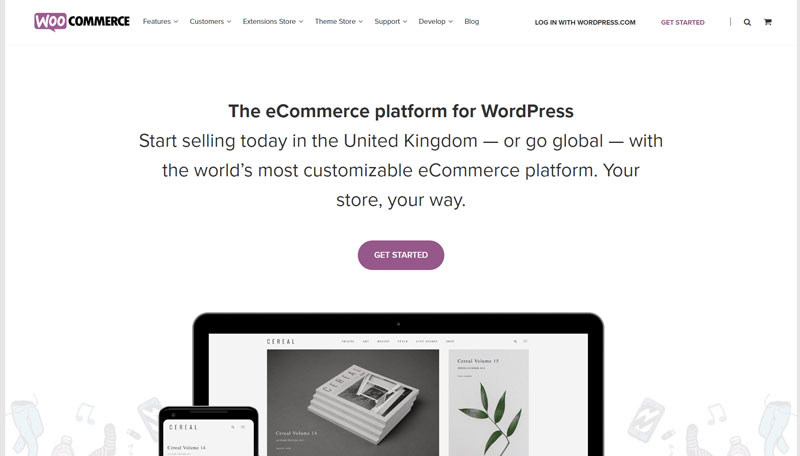 The most popular ecommerce plugin for WordPress is WooCommerce, which has effectively become the official ecommerce plugin since it was acquired by Automatic who are the owners of the WordPress platform.
In its standard form, the plugin is pretty limited in terms of functionality the plugin is designed to be used as a base that can then be built from. Due to the popularity of the plugin, the development community has created a huge selection of plugins (over 1,000 free ones alone!) and this means that a variety of different ecommerce websites can be built, such as:
B2C Ecommerce Websites
B2B and Trade Only Websites
Membership Websites
Subscription Websites
Multi-vendor Marketplaces
WooCommerce Pros & Cons
Who Is WooCommerce Best For?
WooCommerce is best for sites that want a flexible plugin that can be customized and also used for a variety of different types of ecommerce store.
While it lacks features as standard, the amount of additional Woo plugins soon makes up for it.
If you want to learn more about WooCommerce, then check out our Full Review.
Best Buy Button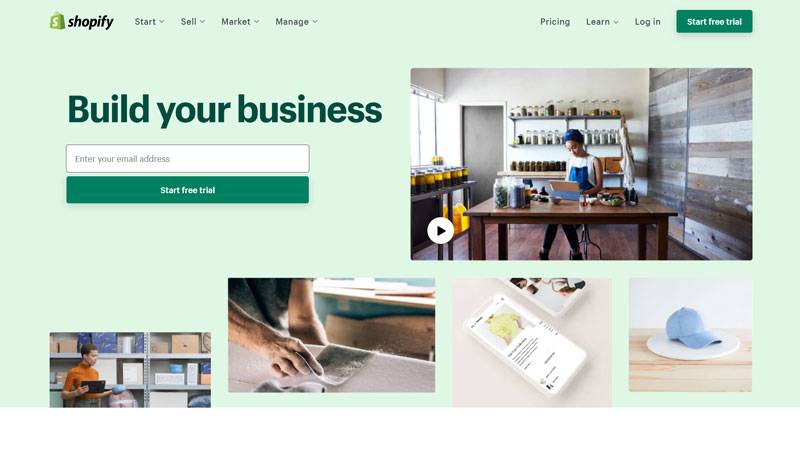 Ok, so this isn't a plugin BUT you can sell on WordPress using Shopify and in my opinion, it is a very good way to sell on WordPress, especially if you only have a small number of products that you want to sell.
The way Shopify works does require a bit more work on your part but it works really well. This is because you create a product and/or collection within Shopify, then create a Buy Button for it and then simply copy and paste the HTML code onto your chosen WordPress page (if you want to know more about this, then check out my How to Use Shopify with WordPress post).
With the Shopify Buy Button, your customers can also check out without leaving your site as the Shopify checkout appears as a pop-up. You then manage your orders from the Shopify dashboard, meaning that none of your customer's data is stored on your site or server.
To use Shopify with WordPress, you only need to use the Shopify Lite package, which is $9/m but also has a 2% transaction fee for any payment taken not using Shopify Payments. Even though it is called the Lite package, you do get a good selection of features, including:
PCI compliant checkout
Social Selling via Facebook
Discount codes
Sell physical or digital products
Multiple payment gateways
Customize button to fit your business/brand
24/7 customer support
Shopify Pros & Cons

Who Is Shopify Best For?
Shopify is best for WordPress sites that just want to add a simple buy button and don't have a large number of items that they want to sell.
It is also good for security-conscious owners as no data is stored on your WordPress site.
If you want to learn more about Shopify, then check out our Full Review.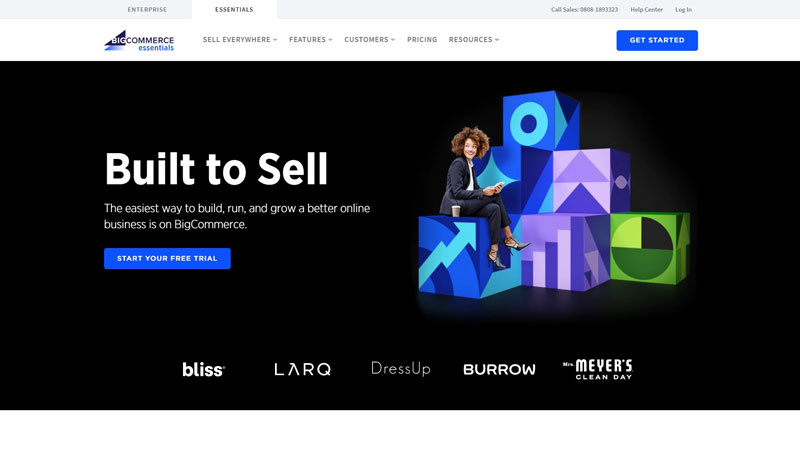 The next option on this list of from one of the biggest names in the world of ecommerce (no pun intended!), Bigcommerce. This might be a surprising option for some but the team at Bigcommerce recognized the popularity of WordPress and felt that their platform could work very well on a WordPress website.
Integration between Bigcommerce and WordPress falls somewhere between what Ecwid and Shopify offer, this is because they do have a plugin that imports all of products and categories and displays them within your WordPress site, the checkout also works using iframe, so that you have a secure checkout seemingly on your WordPress site, even though it is actually on the Bigcommerce servers.
But you actually manage your product listings, categories and order from the Bigcommerce dashboard, not the WordPress dashboard. This means that less sensitive data is stored on your site/server.
Unfortunately, Bigcommerce is the most expensive option on this list as they haven't created any WordPress specific plans, the plans they offer are:
Standard $29.95/m – Up to $50k annual turnover
Plus $79.95/m – Up to $180k annual turnover
Pro $299.95/m – Up to $400k annual turnover
As these plans aren't WordPress specific, you may find that you are paying for features that you aren't going to use, such as the website builder. But you do get a good range of features with Bigcommerce, including
Product Ratings & Reviews
Promotions & Special Offers
Multi-Channel Selling (inc Facebook & Instagram)
Discount Codes & Coupons
Social Sharing
PCI Compliant Servers
Large Selection of Payment Gateways
24/7 Support
Bigcommerce Pros & Cons

Who Is Bigcommerce Best For?
Bigcommerce is best for WordPress sites that want to use a full headless ecommerce setup, without missing out on features.
While it is the most expensive option, the headless offering from Bigcommerce offers something that none of their competition currently does.
If you want to learn more about Bigcommerce, then check out our Full Review.
Conclusion
So there they are, our pick of the best WordPress ecommerce plugin, which all have their own unique take on adding an online store to a WordPress site and while we can make our recommendations, ultimately, you need to decide which one is right for your site.
The best thing about all of the options we have listed is that they either have a free plan or a free trial, meaning that you can test them out for yourself to find the right one.
Editors Pick – Ecwid
Out of all the plugins we tried, Ecwid came out on top for use due to it offering:
A single, Easy-to-Use Plugin
Great Integration
A Good set of Features
A Fully-Hosted, Secure Checkout
Hi, I'm Paul, the Owner and Founder of EcommerceGold.
I ran my own Ecommerce Business for over 7 years and now help others start their own online retail empires!