So, you have got your first order or orders from your Shopify store, but how do you print them off so that you can package them up and ship them to your customers?
Unfortunately, this is something that for some reason Shopify doesn't really include with the core platform but in this short Shopify guide, I will show you how you can do it.
Disclosure: Our site is reader supported, meaning we may earn a commission from purchases made through our links, to learn more, please see our Affiliate Disclosure.
Print Shopify Packing Slip
The first thing we are going to look at is how to print packing slips and this is something that Shopify added to its core platform in late 2020, so I am going to quickly show you how you can print these off.
Firstly, go to the Orders section of your Shopify dashboard and check the box next to the orders that you want to print. Doing this will show a new bar with some options for that order.
Clicking on the More Actions tab, will bring up a drop down menu and the top option is to Print Packing Slips and clicking on this will generate a preview of the packing slips for your chosen orders in your browser.
These can be printed off directly from your browser or you can choose to save them as a PDF file, so that you can print them at a later date.
How to Print Shopify Order Invoices
While being able to print packing slips is ok, most ecommerce businesses will require more than this and fortunately, there are a couple of options out there for this.
The first is the official Shopify Order Printer app, which is completely free to use and will do the job but is pretty basic in terms of features and functionality, plus some people have encountered problems with the app, which has resulted in a 3 out of 5 score from over 700 reviews.
A better option in my opinion is the Order Printer Pro app by Forsberg, which offers much more in terms of features and functionality.
As you can see from the image above, they do offer a Free plan, which allows up to 50 orders a month and the there is only one paid plan which is $10 a month.
Printing invoices follows the same process as the packing slips mentioned above, just go to Orders and check the orders that you would like to print and click on the More Actions tab to open the drop down menu.
With the Order Printer Pro app installed, you will see two additional options added to the menu.
You can either print the orders directly from your browser or export them via PDF, I will cover how to export the PDF later in this post.
If you choose the print option, you will be taken through to a print preview section within the app and what makes this app one of the best options out there is that you can choose to print additional templates including:
Packing Slip
Returns Form
Refund/Credit Note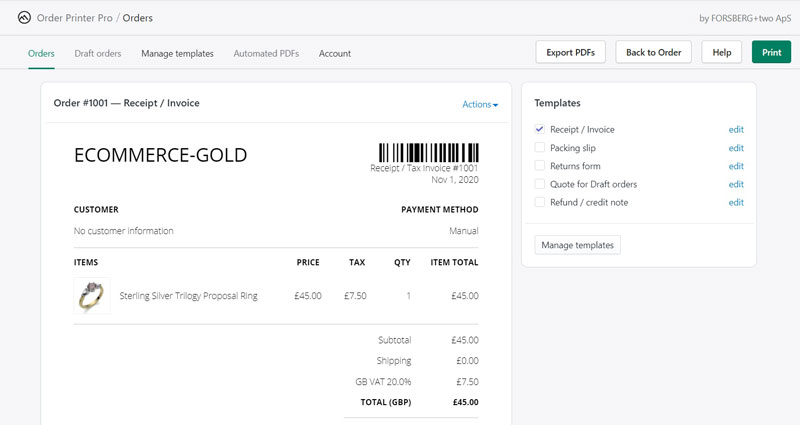 By checking the additional templates you want to include with the invoice, they will be automatically added to the preview and once you are ready to print, just click the print button in the top right hand corner and confirm the printer options within your browser and your orders will start printing.
How to Print Individual Orders
You can use the above method for printing orders individually or in bulk but there is also an option for printing your orders when viewing an individual order.
To do this, click on the chosen order and then click on the More Actions option in the top right hand side of the page, this will produce a dropdown menu and the Export PDF and Print options will be available.
Select the print option and you will be taken to the same print preview page that is shown above.
Exporting Shopify Orders via PDF
As I mentioned above, this app also allows orders to be exported in a PDF format and this can be useful if you need to print them off at a later date and the way the app does it, is by creating PDF files of your selected templates and they are then emailed to your chosen address in the form of a Zip file.
This file is then downloaded to your device and then extracted in order to be able to print of the orders.
To export your orders in PDF format, go to your order overview page, select the orders you want to export by clicking the checkbox, go to the More Actions tab and select Export PDFs.
Enter the email address you would like them to be sent to, as default, this is the email address associated with your account but this can be changed and they can be sent to a maximum of three email addresses.
Once the email address has been entered, select the templates that you want to export and then click export PDF, a Zip file will then be generated and emailed to your chosen address.
Conclusion
Even though this isn't a standard feature in Shopify, the Order Printer Pro app makes it very easy to do and the different templates available are very useful and can make your ecommerce business look very professional.
The $10 fee is very reasonable for the functionality offered and you only need this if you are having more than 50 orders a month.
Hi, I'm Paul, the Owner and Founder of EcommerceGold.
I ran my own Ecommerce Business for over 7 years and now help others start their own online retail empires!