Many ecommerce website owners seem to think that SEO is some kind of dark art or black magic and that it is not worth the effort but that simply isn't true because when SEO is done right, it can be hugely beneficial to your business and in some cases reap better rewards than other digital marketing methods.
When it comes to learning about SEO, it is all about being willing to put in the time and effort to learn about the different elements of SEO, just like you would when learning any other skill and also finding good resources, such as this one (blowing my own trumpet a bit there!), that break things down into easy to understand sections.
Is SEO Worth It For Ecommerce Websites?
Simple answer…. Yes, it can definitely be worth it because traffic from organic search results can be very profitable, don't believe me? Then check out some of these Ecommerce SEO related stats:
So as you can see, SEO can be a very important aspect to an ecommerce businesses marketing strategy and when done right, can be very profitable.
Ecommerce Keyword Research
Keyword research is one of the fundamentals of ecommerce SEO as you want to know what words or phrases that people are searching for and once you know what these are, you can then begin crafting your content around these words, which will increase the chance of your pages ranking for these.
When it comes to doing keyword research, you need to tailor the process towards the type of content you are creating and we have covered the main two below:
Keyword Research for Product Pages
For product pages, you want to find keywords that are going to get your pages appearing in product searches as these have very high buyer intent.
This means you are going to looking for keywords that are very product specific, for example, you wouldn't be aiming to rank for Styles of Diamond Engagement Rings as this is an informative search.
Instead you would be wanting to rank for Handmade 18ct Gold Diamond Solitaire Engagement Ring as it is a much more buyer focused search term.
Keyword Research for Blog Posts
The keyword research for your blog posts is going to be different as you are going to want them to appear in informational search results.
These are search queries performed by people who are in the research/information gathering stage of the buying process and are more like to be question orientated such as Different Styles of Engagement Rings.
There are many variations to these types of informational search queries, with popular ones being:
When doing keyword research for blog posts, you also want to create a list of secondary and related keywords which you can include in your post.
How To Do Keyword Research On Google
I bet you thought, Great! But how do I find these search terms?
Well you could use tools such as Ahrefs, Semrush or Unbersuggest, which are all fantastic tools but are also quite expensive but fortunately Google offers some tools that we can use and best of all, they are FREE!!!
Google Keyword Planner
Google's Keyword Planner was designed to be a research tool for businesses wanting to run Google Ads but it can be used as a research tool for SEO, now you will need a Google account to be able to access the Google Ads dashboard and once in there, the keyword planner can be found under the tools heading of the navigation menu.
When you go into the keyword planner, you will be greeted by two options:
Discover new keywords
Get search volume and forecasts
When you are doing your initial keyword research, you only need to use the Discover New Keywords option as this also gives you search volume history over a chosen time period. When you click on Discover New Keywords, it asks you whether you want to start with keywords or a website.
The start with a website option isn't great and it is best to stick with keywords are you can focus your search more by using this tool.
To get started, simply type in a keyword that you are thinking about using and click search and for this post, we are going to be sticking with the Diamond Ring keyword that we used above, below is the results from the keyword planner:
Now there are more columns that appear to the right but these are focused more towards using these keywords for ads and how much it would cost to target them but as we are using this for SEO purposes, we just want to look at the first 5 columns, which are:
So you can get some decent information from the Keyword Planner but it is quite limited and somewhat vague as the search volumes have pretty big gaps 10k – 100k for example and the competition doesn't really help for SEO.
But using the results above, you could pick out some of the long tail keywords such as engagement rings for women and then run another search with this as the main keyword and look for opportunities around this and keep doing this process until you produce a list of keywords that have good levels of search volume but lower competition.
This can be quite a time consuming process but if you are only using free tools, then you will have to invest more time to find keywords that you can target.
Google Autosuggest
The next way to do free Keyword Research is by using Google's Autosuggest, which I'm sure you have seen when you start typing anything into Google and it presents you with a list of relevant search results?
Well you can use this for research as all of these suggested searches are searches that people have recently made, so you know that people are actively searching for these keywords.
Just for Reference – A lot of the examples etc for this post are jewellery related as my ecommerce business was in the jewellery industry. I also live in the UK, which is why all of the suggested terms above include UK.
As you can see in the image above, it starts presenting different search queries that people have placed in the past but this can give you ideas for keywords that you want to use on your site. Some of these may be for your product listings but others may be for other content you could add to your site such as blog posts.
A modification of this method is called Alphabet Soup, which involves entering your basic keyword which is this case would be Diamond Engagement Ring and then type the letter A to see what they suggest, you then begin working through the alphabet until you have a good list of keywords.
Google Related Searches
Another source of potential keywords can be found at the bottom of any search page, under the Related Searches section. All of these are searches that have been done recently and may include some keywords that you may not have thought of.
When you have developed your list of keywords using the free Google methods mentioned above, you want to take one additional step and perform a search for these keywords using an Incognito or Private window on your browser (if you search from a normal tab, your results will be customized based on your search history) as you want to check out the competition for these keywords and ask yourself:
This is how you determine whether these keywords are worth going after as you want to ideally rank in the top 3 positions and be on the 1st page as a minimum but if you are trying to go up against established sites who are also trying to rank for that keyword, you may struggle.
For blog posts specifically, it can be much easier to rank if you are going up against posts with outdated information or forums etc as a new, well research, well written post stands a good chance of ranking.
And this is where some of the paid for tools can be helpful as they can provide much more detailed information, with things such as estimated search volume, keyword difficulty and the competition you will be facing for the top rankings, which can make the research process much easier.
Product Page SEO
Now that you have done the research into the keywords that you want to use for your product listings, it is time to start implementing them and when it comes to your Product Page, there are six main SEO options available to most people (some of these depend on the platform you are using) and tow bonus options, which can be useful.
1: Product Title
One of the most important parts of product page SEO is the product title as this will be the pages H1 tag, meaning it is the most important heading on the page.
When crafting your product title, some best practices are:
Include the main keywords that you want the product to rank for
Make the title read organically, as if you were telling someone what the product is
Keep it to a maximum of 60 characters as search engines will cut off longer titles
It takes a bit of practice to create a good product title but looking at what your competition who are ranking high in organic search can give you an idea of how to write one.
2: Product Description
The product description is the largest chunk of content that is on a product page and it is very important from an SEO perspective.
When creating a product description, you always want to write a unique description for each product page, which can be challenging but just copying and pasting one you made earlier will result it there being duplicate content on your site.
Length and readability also play an important role in maximising the effectiveness of the product description.
Length – aim for between 300 and 500 words, this should be enough to give a detailed description but not overload the page
Readability – avoid using blocks of text, instead use short punchy sentences (max 4 lines) and bullet points for important information
When writing your product description, think about the person reading it, is it easy to read? can the information be found quickly? Yes you want include keywords but include them organically, just as if you was describing it to the person face to face.
3: Product Images
One of the biggest mistakes a lot of people make is that they don't make the most of their images. Yes, you may have high quality, beautiful images but are you getting the most from them? Two things you should do with every image are:
Name them properly, ring1.jpg is of no use to anyone. handmade-1ct-solitaire-diamond-engagement-ring.jpg is much better and will have a positive impact on your SEO
Use the alt tag. This is where you describe what the image is and it helps search engines to know what the image is about.
I always try and name my images and write the alt tag similar to the product title. This way you are ranking the image for the same query as the web page. You can get lots of visitors from places like google images.
4. Page Titles
For many product listing, the Product Title and Page Title will be the same but there may be a time when you want to a different title to appear in the SERP (Search Engine Results Page) and if this is the case, then you would use the Meta Title option to show this.
Now when it comes to the Meta Data that you can enter for your product page, it does come down to the platform you are using as to what you can enter, with some platforms such as Shopify you get to edit all of the Meta Data (image below is the SEO section from the Shopify add new product page) but others either offer limited or no options for Meta Data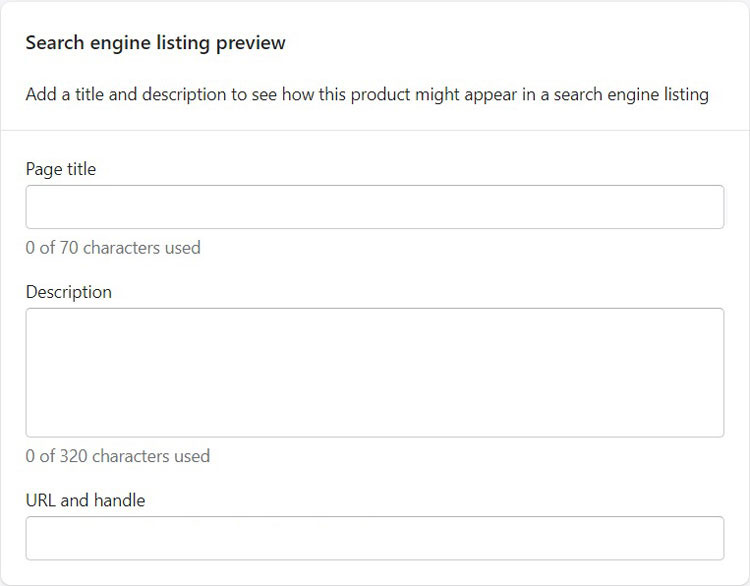 5. Write a Custom Meta Description
While Meta Descriptions are becoming less relevant in the world of SEO, they can still be beneficial to your site because if you don't create on, search engines will in many cases just take the first 160 characters of your product description and display in the SERP (Search Engine Results Page).
When creating your Meta Description, think of it as a mini sales pitch as you have 160 characters to convince someone to click through on to your site and this can be a great place to add:
Primary and Secondary Keywords
Call to Actions
Any Promotions for that Product
This can improve your CTR (Click through rate), which is another signal that search engines use as it shows them that your page matched the search query if you get the click.
6. Create a Unique URL
As all URL's on your website need to be different anyway, you might as well make the most of this and use it to your advantage and add some keywords to it to help your pages SEO.
Whenever you are creating a URL for a page, it is always good practice to try and make it match the title of the page as closely as possible and using the diamond ring example above, something along the lines of:
demowebsite.com/18ct-white-gold-half-carat-diamond-eternity-ring
Would work pretty well as a URL, this is because it contains the keywords that I want the page to rank for and also matches up with the rest of the content on the page and would work much better than something like:
demowebsite.com/diamond-eternity-ring
I have also seen websites add numbers to the end of URL's to make them unique, such as:
demowebsite.com/diamond-eternity-ring-1
demowebsite.com/diamond-eternity-ring1
These types of URL have no benefit to SEO and should be avoided, instead, spend a little bit of time to craft a URL that actually benefits your website.
7. Enable Customer Product Reviews (Bonus)
Many people think that having customers leave product reviews is just a way to help increase conversion rates via social proofing but these reviews can also give you a helping hand when it comes to SEO.
This is because when product reviews are schema enabled, there is a chance that these ratings will appear in search results, just like in the SERP below:
These product reviews also let search engines know whether the product is good or not and a product with lots of positive reviews is more likely to appear higher in search results than one with lots of negative reviews.
But PLEASE don't use fake reviews to artificially increase the rating of a product, only use genuine reviews!
8. Make Sure Structured Data is Correct (Bonus)
As I mentioned Schema above, it is also worth talking about Structured Data for products as it plays a big part in SEO, this is because this structured data helps search engines know what your page is about, which in turn helps them know when best to show your product in search results.
As you can see in the snippet above, the listing contains a lot more information than a standard search result and this is because this page has been schema optimized and includes:
Schema type (product)
Name
URL
Image
SKU
MPN
Description
Brand type and name
Reviews
Condition
Currency
Price
All this information allows the search engines to know exactly what the page is about and in turn, when to make it appear in search results.
Now it does depends on the ecommerce platform that you are using as to which mark up data you can include but most are pretty good an include most of the fields required.
Google Search Console is a very useful tool when it comes to checking whether you are missing an product schema mark up and will let you know what information is missing and will rate your page as either:
Having Errors (red)
Valid with Warnings (yellow)
Valid (green)
And below is an example of a page with warnings:
For some types of products, you won't be able to include all of the information required to take it into the valid section as not all products include a global identifier but it is always best practice to include as much schema information as possible.
This is because many ecommerce website owners don't understand schema and how important it can be and any edge you can get over your competition is something you should go for!
For more information on product schema, check out Google's Product Schema Page as it contains lots of useful information.
Blogging for Ecommerce (Content Marketing)
If SEO is going to be a serious part of your ecommerce marketing strategy, then you have to have a blog on your ecommerce site!
But why should you add a blog to your site?
You may have noticed that the letter E, A and T are capitalised and in bold, this is because EAT or Expertise, Authority and Trustworthiness were part of a Google update in 2021 to help them identify what is good, high quality content and what is rubbish.
This is why blogs are very important to ecommerce SEO as when done right, they can improve your sites EAT, which should lead to higher rankings and hopefully more traffic but unfortunately, there isn't anywhere where you can check your EAT score.
How To Find Ideas For Your Ecommerce Blog
One of the biggest challenges many ecommerce websites face with their blog is what type of posts to create and publish?
Fortunately, there are some easily accessible and free resources, alongside the Google methods mentioned above that can make this research simpler.
Reddit
The first one of these is Reddit, which can be a great source of information as people regularly post questions which can be a base for a blog post.
To find these questions, you need to find sub-reddits related to your niche and then see what the top posts are and if you see a similar question popping up, you know that people are looking for this information and when checking out these posts, you may also see some keywords that you could use.
Quora
A very similar type of website is Quora and the process is very similar to that with Reddit, simply find Spaces (as they are called on Quora) related to your niche and see what questions are being asked.
One good thing about Quora is that it will show similar questions that have been asked, which can also provide keyword ideas.
Deciding Which Blog Posts To Write
If your site is small, you need to be selective in which posts you write as creating a blog post is a time intensive process and you want to spend your time creating posts that you are more likely to rank for.
So when you have found some topics that you feel you can create a good quality post about and the keywords you would like that post to rank for, you want to research the competition, which can be done by:
Opening a private or incognito window – this was search results are influenced by your previous searches
Do a search for your chosen keyword
Look at which sites appear on page one

Is it other blogs that have covered the subject or sites like Reddit or Quora?
If they are blogs, have the covered that subject exactly or is it loosely related?
What is the domain rating of the blog (use Ahrefs domain checker to see)
If the first page is dominated by high DA sites with blog posts covering that exact subject, then you probably won't rank for it but if the search results aren't exact matches and sites like Reddit or Quora appear, then there may be an opportunity for you.
One final thing you can do is get an estimated search volume for this keyword, most paid options like Ahrefs or Semrush will include this but if you aren't paying for one of these, you get 3 free searches a day using Neil Patel's Ubersuggest.
By doing this research, you will come up with a list of blog post ideas that you also have a chance of ranking for.
Technical SEO for Ecommerce
Everything we have looked at up until this point has been based around keywords but there are also technical aspects to SEO, which can affect your search rankings and below are some of the big ones.
Page Speed
Page speed has a direct correlation to user experience as the longer someone has to wait, the worse their experience is.
And Google have been very focused on user experience in the last couple of years, as evidenced by the introduction of the Core Web Vitals in May 2020, which are a set of performance metrics that help guide website owners to improve the performance of their site.
Google provide two tools to help you monitor your Core Web Vitals:
PageSpeed Insights – which offers a snapshot of your sites performance
Search Console – monitors your site performance over time and notifies you which pages require improvement or are failing
In the PageSpeed Insights report, it will also tell you what is causing any issues and the reason why, although these can be quite vague.
When checking your sites page speed, it is worth using a third-party performance tool that will not only give you a load time but also shows you what is loading and when (known as a waterfall).
A great tool for this is Uptrends as it allows you to check both the desktop and mobile performance of your site using different devices and also different locations, which is why it is the tool we use for all of our performance testing
But What Impact Can Load Time Have On Your Site?
A lot is the simple answer as visitors don't like waiting for sites to load and I'm sure you have experienced this yourself when browsing online but when it comes to ecommerce, not only is page speed a ranking factor but research by Deloitte found that..
So as you can see, a 0.1 second decrease in load time can have a big impact on your ecommerce site, so just imagine the impact a 1 second decrease would have!
It is also a good time to talk about bounce rates as these have a strong correlation to page speed and are also one of the 200 ranking factors, alongside page speed that Google uses to decide which sites to show in search and a study by Google found that an increase in load time from 1-3 seconds increased bounce rates by 32% and this increases to 90% if the load time is 5 seconds.
So speed is definitely important when it comes to not only SEO but also users experience and conversion rates but what are some of the things you can do to improve your site performance?
Well it does depend a lot of the platform that you are chose for your ecommerce site as most hosted platform (such as Shopify and Bigcommerce) are quite limited in terms of what you can do to performance, where as self-hosted platforms (such as WooCommerce) offer a lot more control but there are some general things you can do:
It may also be worth checking to see if you ecommerce platform offers any documentation around how to improve performance on their platform as there may be some helpful hints and tips in there.
Mobile
An SEO factor that is becoming more and more important is how well sites work on mobile devices and it is understandable as traffic from mobile devices averaged 55% in 2021 and this is a trend that is likely to grow over the next few years.
So you want to make sure that your site not only works on mobile devices but also works well because as we already talked about this is the page speed section, mobile performance can have a big impact on not only your sites ranking but also how visitors engage with your site.
Now once again, Google has provided us with some tools to help us check how well our sites perform on mobile devices, including their Mobile Friendly Tester and also all the mobile related data that is available in the Google Search Console.
So what are some things you can do to improve your Mobile Sites SEO?
Not focusing on your mobile site is a big mistake I see a lot of ecommerce website owners make and it is quite easy to do most of us build our sites on desktop devices and most customizers use got to the desktop layout by default but as it is such as huge market, having a mobile first design philosophy can have a very beneficial impact on your store.
Site Audits
Many of the premium SEO tools offer a site audit but Ahrefs include on with their free plan and it is very useful in seeing if there are any technical SEO issues on your site, with common ones being:
Broken links – it will show you which page it is on and what it is linking too
Missing Meta Descriptions – which pages on your site are missing a meta description
Missing Alt Tags – which images are missing alt tags
Any Broken Pages – if any of your pages are displaying a 404 not found page for example
This information allows you to see any issues on your site and then you can go around fixing them by doing things like 301 redirects on broken pages, fixing broken links and filling in missing information, which will improve your sites SEO.
Ecommerce Link Building
Linking is a hugely important part of SEO and backlinks some would argue is the most important part of SEO!
When it comes to link building there are options for both on-site and off-site and we are going to cover both of these.
Internal Linking
The first one is internal linking and it is the easier of the two to do as you control the links on your own site but there are three reasons why internal linking is an important part of on-site SEO:
It helps search engines crawl your site, every search engine sends out crawlers or spiders to go around your site and by creating internal links, these crawlers begin to understand the layout of your site and also which pages are the most important
Link Juice, every page on your site has a certain amount of 'link juice' and when you link that page to another, it tells search engines that the linked to page is important
It helps humans navigate your site, this can be done with navigation menus etc but by placing links on a page, it makes it easier for the human visitors to your site to move from one page to the next
Having a blog on your site is great for internal linking as you have a lot of content to work with that is relevant to the products you are selling. You can do internal linking on ecommerce websites without a blog but it is more difficult.
If you do have a blog, you want to link to your product pages and also other relevant blog posts that you have. You can do this with images but it is more effective with text and you want the text you use to link to be relevant to the page you are linking to, this not only makes it easier for search engines to understand what the link is but it is also easier for your readers as well.
Backlinks
Backlinks are links that you get from other websites to yours and these can be homepage links, which is just a link to your domain name or you can get links to specific pages on your site, such as product or blog pages.
There are two different types of backlinks:
Dofollow – these are the links you want as do follow links pass 'link juice' from another website to yours
Nofollow – these don't offer much SEO benefit as the nofollow tag tells crawlers not to track that link and as such, you don't get any 'link juice' from these
When you are getting backlinks, you want to get them from high authority sites (preferably with a DA rating of above 50) because this signals to search engines that this established, high authority site thinks that your content is good enough to link to and because of this, your sites EAT starts to increase.
And the more of these link you get, the more your own Domain Authority starts to grow and because your site is seen as being more trustworthy, the more chance there is that search engines will show your content higher in search results.
How To Get Good Quality Backlinks
Not all backlinks are the same, some are good and very beneficial to your site, where as others can be bad and actually damage your site. So when looking to get backlinks, you only want to go for good, high quality backlinks but how do you get these?
One way is to wait for links to come in organically but this can take a long time and isn't always guaranteed to work, that is why it is better to be proactive when it comes to getting backlinks.
1. Building Linkable Content
Blog posts are great for generating backlinks, especially if you create an awesome post that is a great resource but what makes content linkable?
When you create content like this, you don't just want to publish it and hope that is gets links, instead, you want to share this with influential people and sites in your niche.
This can be done with outreach emails or contacting them via Linkdein or Twitter and striking up a conversation and seeing if your content is something that would consider linking to either in a previous or future post of theirs.
2. Guest Blogging
A great way to get backlinks is to post a guest blog on another website but you might be thinking, why would I create a blog for another website? Well there are a couple of reasons:
Grow Your Sites Authority – most sites allow guest bloggers to include a link or two back to their own site, maybe to your homepage or potentially a blog post if you have one that is relevant
Reach an New Audience – by contributing a blog post, you are putting your name and expertise out there to an audience that is probably bigger than your own, which increase exposure and also builds your authority
So contributing guest posts to another website can be very beneficial to your ecommerce site. You can also forge relationships with other businesses by being a guest blogger and this can provide other opportunities at a later date.
3. Become A Source
Do you ever read articles and wonder where all these journalists and writers find these industry experts and specialists?
Sometimes it is because they genuinely know them but more often it is the case that they use sites like HARO to post a question and then get responses from industry experts or specialists.
They then use these responses in their posts and in many cases (not all the time!) will include a link back to the contributors website.
But while this is great for getting backlinks, most will usually be to your homepage, rather than specific pages on your site like you can get with guest blogging but for the 5-10 minutes spent writing a pitch, it can still be worthwhile.
4. Get Your Products Featured On Lists
Many backlinking strategies are focused on either getting links to your homepage or blog posts but there is a way you can generate links to your product pages and that is to get featured on product lists, such as best of lists.
Now this is going to depend on the type of product that you sell but if you offer unique or custom products that are a bit different to what else is in the marketplace, this can be a great backlink opportunity.
This will once again require outreach on your part, find list posts that you would like to get your product featured on and reach out to the author and see if you can strike up a conversation about getting your products featured.
Conclusion
Well that was a long one wasn't it!
But I really hope that this has been helpful and has given you more of an understanding about all the different elements of Ecommerce SEO and also some ideas of what you can do on your own site to improve its SEO.
Now when it comes to formulating an SEO strategy, you need to think of the bigger picture of how are all these elements going to work together in order to help your site ranking, for example:
Creating a series of blog posts to help customers educate themselves on the products you sell
Guest blogging to get links back to these post to increase their 'link juice'
Linking these posts product pages
Which in turn should help these product pages appear higher in organic search results
So, you have to have a goal in mind when it comes to SEO as to what you want to achieve and then figure out what steps you need to take in order to achieve these.