So you have set up your Shopify store and now you want to optimize it for SEO purposes but not sure where to start?
Well don't worry as we have created a full checklist to help you get your Shopify stores SEO set up correctly, which should help you improve your search engine rankings and get you that sweet organic traffic!
1. Make Your Shopify Store Load Fast
Page speed is becoming more important in SEO, especially since Google introduced their Core Web Vitals in 2020, which are a set of performance based metrics which Google uses to see how well sites perform on mobile and desktop devices.
But page speed can also affect bounce rate, which isn't a ranking factor but can still impact on your site's performance as the longer a page takes to load, the higher the chance that people will click off your site.
As Shopify is a hosted ecommerce platform, you are limited to what you can do in terms of improving your stores performance but a couple of things you can do are:
Optimize your Images – for most sites, their images are going to be the largest element on the page, so make sure you are using images that are the correct size and in a web optimized format
Limit the number of Apps you are using – apps are great for adding features and functionality to your store but having too many, especially ones which load elements on the front end of your site could be slowing it down
Use a lightweight, fast theme – not all themes are created equal and this means that some load faster than others, so it may be worth investing in a theme that is proven to perform well
Shopify does have a performance monitor in the Online Store section of the dashboard but it can also be worth using third-party tools such as Google's PageSpeed Insights and Uptrends Speed Tool.
These can also provide you with information about what is causing performance issues with your site.
2. Design for Mobile First
Mobile ecommerce or mcommerce is growing year over year, with over 50% of website traffic now coming from mobile devices and it is for this reason why you want to adopt a mobile first design philosophy.
Mobile responsiveness is also a ranking factor and while all new Shopify themes include this as standard, you still want to design for mobile first.
Shopify include a tool to help you do this in the customizer as you can preview your site on desktop, mobile and tablet and you want to check all of these before publishing any changes on your site.
It is also good to check your site on actual mobile devices as it may show you something that isn't shown in the editor.
You can also check with Google's Mobile Friendly Test to see if your site is mobile friendly and PageSpeed Insights will show you well it performs on mobile and long with suggestions for potential improvements.
3. Create a Site Structure
One of the areas where Shopify isn't great for SEO is their site structure as they don't allow you to create sub-collections, which makes creating a hierarchy structure for your collections a bit more difficult.
Firstly though, you need to plan out your site structure and as an example lets say you have a men's clothing store, you would want to go with something like:
Homepage
Men's Tops

T-shirts
Formal Shirts
Casual Shirts
Men's Trousers

Jeans
Formal Trousers
Joggers
Once you have decided on your site structure, you want to implement this on your site and there are two ways that you can do this:
Navigation Menu – you can create multiple levels within the navigation menu that makes it appear like some collections are sub-collections
Pages of Collections – you can create pages of collections that allow both search engines and users to navigate through pages on your site to find the collection that they are looking for
These are work arounds for Shopify's lack of sub-collections but they are better than nothing and will help search engines understand the layout of your site.
4. Keyword Research
Doing effective keyword research is one of the fundamentals of an effective ecommerce SEO strategy.
When you are doing your keyword research, you want to tailor it to the page you are doing the keyword research for and for most Shopify stores there are going to be three types of pages that you want to focus on:
Product Page – this keyword research is going to be very product focused as you want to put this page in front of people looking for this exact product and this type of research could include brands, models, colors, sizes and materials that people are going to be looking for
Collection Page – these are going to be broader product searches as people searching this are looking to see what products are available, examples of this could be 'boy's mountain bikes' or 'chefs knife set'
Blog Post – these are more informative based keywords such as 'best x for y' or 'how to do x' as people searching this are in the information/research gathering stage of the buying process
There are plenty of tools out there to help you with keyword research ranging from free options like Google Keyword Planner to paid options like Ahrefs and SemRush.
But when doing your keyword research, the main things you want to find out are A) What are people searching for? B) How much search volume is there? (these are always estimates) and C) What is the competition like?
Once you know what you want your pages to rank for, you can then begin optimizing them for these keywords.
5. Optimize Your Product Title
Your product title is your pages H1 tag, meaning that it is the most important heading on the page and a great opportunity for SEO.
Now for most Shopify stores, the product title and the page title (found in the SEO settings) are going to be the same and when you are optimizing the title, you want to right for both humans and search engines.
In order to do this, you want the title to include your products primary keyword/s (and possibly a secondary one) but you want it to read organically, like it would sound if you was telling someone the product name face to face.
By writing for both humans and search engines, you can increase the chances of search engines showing your product is SERPs along with people actually clicking through to your site.
6. Write Original Product Descriptions
On your product pages, the largest block of content is your product description and you want to use this to its full effect and one of the best ways to do this is by writing an original, keyword focused product description.
There are a couple of mistakes many Shopify owners make when it comes to their description as their either:
Use manufacturer or supplier description
Write a short product description of less than 100 words
Neither of these will do you any good as search engines will see it as either duplicate or thin content, which is why original, keyword driven product descriptions can help your page rank.
When writing your product description, try to avoid big blocks of text, instead write short punchy sentences and use bullet points for important information such as product specifications. This doesn't have a big impact on SEO but can improve conversion rates.
Also, try and aim for 300-600 words for your description as this should be enough depth to help search engines understand what the page is about.
7. Optimize Your Images
For this, I'm not talking about optimizing your images for performance but for SEO purposes and it is something store owners often overlook but your images add two additional ways to add keywords to your page:
Image Title – create a keyword focused title for your image, ideally something similar to the page title as it adds continuity to the page, avoid generic titles like image1 etc
Alt Tag – this is what describes the image both to visually impared visitors but also to search engines, so makes sure that you use a short, keyword focused alt tag
You want to do this to all of your images, so your product images, collection images and any images you use on your blog and site pages.
This has two SEO benefits, the first is that you are adding more keywords to your page and when the title, content and images are all targeted at your chosen keywords, it helps search engines understand what the page is about and what kind of searches it should add your page to.
The second is that your images can appear in Google Image Search, which alone is one of the world's most popular search engines and the more times your site appears in searches of any kind the better!
8. Optimize Meta Data
On every Shopify page, they allow you set custom meta data and you want to take advantage of this, otherwise search engines will just pull information from your page and while this info should be very good, it might not be ideal for meta data.
For each page, you can set a custom page title, description and URL but what are each of these?
Page Title – this is what you edit if you want the title of your page to appear different to your product title in SERPs (Search Engine Results Pages)
Meta Description – this is a short description of the page, which you can use to try and get people to click on your page and should really be a maximum of 160 characters long
URL – this is the address of your page and by default Shopify will use your product title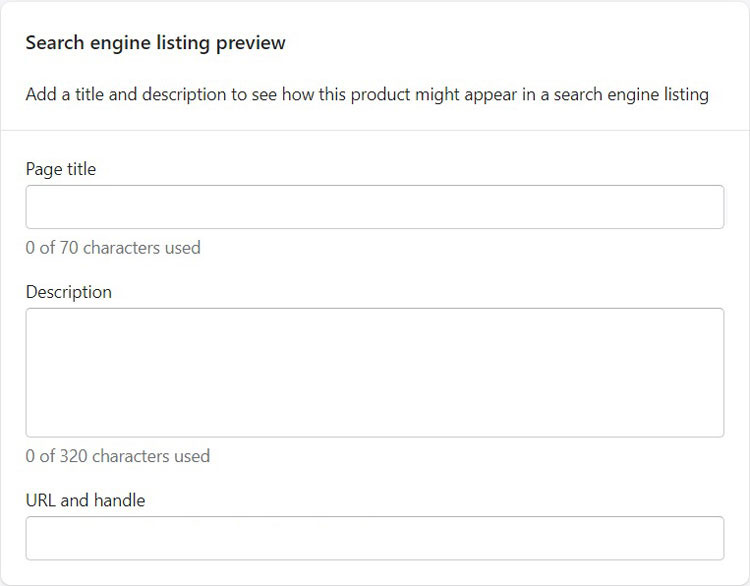 If have created a good product title, then this should be perfect for the page title and in most cases won't need to be edited.
But you do want to create a custom meta description as this allows you to add additional keywords and also a call to action to encourage people to click on your SERP result.
The URL in most cases won't need editing but if there is a chance that you may need to edit the product title in the future for things like dates, colors etc, then you can edit the URL to help future proof it but try and retain the main keyword for the page if possible.
9. Add Product Reviews
Product reviews can be great for SEO but also good for improving conversion rates, so a win-win as long as you have a good product.
The reason why they can be great for SEO is that when you have schema enabled product reviews on your product pages, search engines can show these reviews in search results if they feel they are relevant to the search, like in the image below:
This can give you an edge over stores that don't have reviews as it tells search engines that your product is good as people have left positive reviews (make sure they are genuine reviews though!).
Plus, reviews are user generated content (UGC), which search engines do like as it shows engagement with the page and the page is also updated whenever a review is left and they like to show up to date content!
Just be aware though that just because you have schema enabled product reviews on your product page doesn't guarantee that they will show up in SERPs as it all comes down to the algorithm as to what they feel is relevant to show.
10. Add a Description to Your Collection Pages
SEO should be a sitewide strategy and your collection pages definitely fall into this and as I mentioned above, you can optimize your collection pages for broader search terms.
And the best way to do this is by adding a keyword focused description to each of your collection pages, which should help them rank for broader keyword searches and could result in more traffic and sales.
A bonus tip for this if you are using a Shopify OS 2.0 theme is to drag the collection banner in the Shopify customizer below your products, this way your product description is positioned below your products and shouldn't impact the user experience.
11. Use Your Blog!
A common saying when it comes to SEO, is that content is king and it is very true, that is why making the most of Shopify's built in blog can be hugely beneficial to your stores SEO.
This is because you can do many things with your blog:
1. You Can Create Long Form Content
While you can add content to your product and collection pages, you don't want to overload these pages with content because adding 2,000 words to a product description is a bit excessive!
You don't have this issue with blog posts though as good quality posts are usually 1,000 words plus in order to be able to cover the topic in depth.
2. You Can Reach a Wider Audience
Your product and collection pages are very product focused and aimed towards people who are getting very close to the buying stage but as blog posts are generally aimed at providing more information based content, you can reach an audience that you may not have been able to otherwise.
This is because you can create posts that are more helpful to people in the information gathering stage of the buying process, there is a chance that they could stick with your site from this stage all the way to becoming a paying customer.
There are also many different types of blog posts you can produce to reach these wider audiences from how-to guides and tutorials to best of lists.
I would definitely recommend taking some time to learn how to blog for your ecommerce store, from finding subjects to write about to how to write an engaging blog post to internal linking, so that you can get the most from your blogging efforts.
12. Link Internally
To get the most benefit out of internal linking, you do really need to have a blog and a few blog posts on your Shopify store.
But internal linking has many SEO benefits including helping search engines crawl and index your site, understanding what your site is about and also passing 'link juice' from one page to another (basically letting search engines know which pages are important).
When it comes to internal linking, you do want to do this in a logical way, so create some posts around the same topic and link these together along with placing links within the content to relevant products or collections on your site.
13. Build Backlinks
While technical, on-page and content driven SEO will get you so far, in most cases it is backlinks that will have the biggest impact on your stores SEO!
It is also the most challenging aspect of SEO because you are trying to get links from third-party sites, meaning that it is out of your control as to whether you can get that link or not but there are many different ways to build links to your site, including:
Guest Posting – this is where you post a high quality piece of content on another sites blog, which then links back to your site
Becoming a Source – using sites like HARO to connect with journalists and publishers who are looking for sources for their articles
Digital PR – this is being featured on niche relevant blogs and publications that link back to your site in the article
There is way too much to cover when it comes to link building, which is why we created a guide on the different ways you can build backlinks for ecommerce stores.
14. Carry Out Site Audits
SEO is an on-going marketing strategy and when you are making changes to your site, it is very easy to overlook certain things and this is why you want to carry out regular site audits to check for things like:
Broken Links – both internal and external
Broken Images
Missing Meta Data
Missing Alt Tags
There are many tools that allow you to do this but our favourite and the one we use if Ahrefs webmaster tool as this carries out site audits on a weekly basis and notifies you by email.
This means that you can quickly address these issues and keep your SEO in as good a health as possible.
FAQ
Shopify is pretty good when it comes to SEO as it offers range of tools including auto-generated sitemap, custom SEO tools for meta data, alt tags for images and a built in blog as standard features. It can be improved further with the addition of SEO focused apps.
If you want to rank in organic search results, then you will need to SEO your Shopify Store. The build in features will do some of this for you, such as auto-generated page titles and URLs but manual input is required in order to get the best results.
Yes, Shopify offers a range of features and tools including a built in blog and on-page SEO tools which allow you to do your own SEO.
Conclusion
SEO can be great for traffic and more importantly sales and profit when done properly but it isn't a magic silver bullet for your Shopify store.
Because as I've already mentioned, it can take time and a lot of effort to see any results from an SEO strategy and some things don't always work but as long as you are willing to keep learning and trying new things along with analyzing your existing SEO strategy, then it could be very beneficial for your store.
It is also worth learning about specific areas of SEO, such as how to do product-focused keyword research, how to SEO a product page, how to blog for ecommerce etc as these will cover things in much more detail and should include some actionable tips for you to try.
Hi, I'm Paul, the Owner and Founder of EcommerceGold.
I ran my own Ecommerce Business for over 7 years and now help others start their own online retail empires!