WooCommerce vs Opencart vs Prestashop, which one is the best self-hosted ecommerce platform for building an Ecommerce Website?
When it comes to the world of self-hosted ecommerce platforms, these three names are always near the top of the list, especially for new ecommerce websites. And in this post, I will be comparing the three to see which one is the better option.
For this comparison. I am going to be looking at their feature theme selection and performance and also how easy they are to use for building an ecommerce website.
WooCommerce vs Opencart vs Prestashop
Disclosure: Our site is reader supported, meaning we may earn a commission from purchases made through our links, to learn more, please see our Affiliate Disclosure.
Pricing
All of these free platforms are free to install and use. You will need to purchase some hosting before you can use any of them though.
I always recommended that you use high quality ecommerce hosting as it provides a good foundation for building your online store.
Features
WooCommerce
With the basic WooCommerce plugin, you get a shopping cart that allows you to sell physical or digital products and create coupons or discount codes. It is very basic but this is counteracted by the huge amount of plugins available for WooCommerce, as you can see from the image below, there are over 7000 free plugins in the WordPress plugin directory alone.
This is expanded even more when you factor in paid plugins and enables you to create a variety of different ecommerce sites such as:
B2B Sites
Booking Sites
Subscription Sites
Marketplaces
You just have to be careful not to install too many plugins on your site as even though they can add a great deal of functionality, they can also slow your site down.
Opencart
Opencart probably has the most features in its standard form and this has always been one of the reasons why it is so popular. Out of the box, you can:
Gift cards, discount vouchers and loyalty points
Build and manage an affiliate network
Sell in multiple currencies
Translate your website into over 40 languages
Set up recurring payments for subscriptions
Sell digital products
As you can see, that is a lot of features and many of these are paid options on other platforms. If you want to do more than what is offered as standard, then you can check out the Opencart marketplace that offers a good selection of both free and paid extensions.
There are also developers and marketplaces outside of the Opencart marketplace that also offer extensions, so it is always doing a bit of searching to see what is on offer.
PrestaShop
PrestaShop kind of falls in the middle of the other two, the standard set up is better than the basic WooCommerce but doesn't offer anywhere near as much as Opencart does.
Outside of being a very capable shopping cart, it doesn't really offer you much more as standard. Fortunately their addon marketplace is packed full of modules that can add all kinds of functionality.
With over 4000 modules available, there is lots you can do, from creating specialist sites such as marketplaces and booking websites to being able to improve your onsite SEO and digital marketing.
The only negative for me is that the majority of these modules are paid and prices range from a few £ up to a few hundred £. There is a small selection of free ones but it is only a small selection. Searching outside of the PrestaShop marketplace may provide a few alternatives.
Theme Selection
One of the WooCommerce trump cards is the amount of both free and paid themes you have to choose from. The free themes in the WordPress library alone total over 1000 and there are many other free ones out there. If you want a premium theme, then you are definitely spoilt for choice as you can use marketplaces such as themeforest.net or go directly to developers and the choice is huge.
Opencart is a bit more limited when it comes to theme selection as the official Opencart marketplace only has 17 themes available. Outside of the official marketplace, there is a greater selection of both free and paid themes, with over 800 paid themes available on themeforest.
PrestaShop has a lot of themes available in their official marketplace, with over 3000 on offer in total, unfortunately none of these are free but prices aren't extortionate, starting from £54.99. There are also plenty available outside of the PrestaShop ecosystem, with over 1000 being available on themeforest alone.
Payment Gateways
WooCommerce supports pretty much every payment gateway that you can think of and to use them you need to use a plugin, some of these are official and some are made by third-party developers. Many of the popular gateways such as PayPal, Stripe, Klarna and Amazon Pay are free to use but some others such as Worldpay and SagePay are paid for and prices start from $79.
Opencart has the largest selection of free gateways available, with over 30 installed with Opencart and there are more available in the marketplace. All the major players such as PayPal, Stripe (paid extension), Klarna, Amazon Pay, Worldpay and SagePay are all available.
PrestaShop is very similar to WooCommerce in that the likes of PayPal, Stripe and Klarna are all free to use modules but the likes of Worldpay and SagePay require paid for ones and they cost £64.99.
Support
Due to being open-source, free to use platforms, none of them offer support in the same way that the majority of hosted platforms do and this is completely understandable. But they all do offer some support to their users.
WooCommerce use a ticket system, if you want to contact them directly and the reply times are not too bad. They also have a community forum, where you can not only ask questions but also search to see if someone else has already asked it.
The beauty of WordPress and WooCommerce being so popular, is that there is a huge amount of resources online and often a quick search will provide you an answer.
The main source of support for Opencart is their community forum and it is always worth searching before posting a new question as there is a good chance that someone else has already asked. If you need to post a question of your own, you probably will get an answer but you will also get a few developers trying to sell you something.
PrestaShop definitely offer far more in the way of support than their competition. While the majority of the support comes from the community forum and documentation, just like the others, you can contact PrestaShop directly and you can also take out support plans with them as well. This is very unusual in the world of self-hosted software.
Performance
With hosted ecommerce platforms, this is usually where I would compare their performance but it is quite difficult to do this with a self-hosted platform. This is because the quality of web hosting you use has a big impact on website performance and that is why I always recommend using good quality, ecommerce hosting.
But I have done my best to try and help you out, so I created three sub-domains and installed one platform on each and ran them through Pingdom's speed test tool to see how they performed.
0.95 Seconds
0.37 Seconds
0.62 Seconds
Those are some really impressive load times! Bear in mind though that this is a basic install of all of them with pretty much no content except for the demo stuff, so they should only be taken as a guide.

Ease of Use
While features are great and all, they don't mean much if the platform isn't easy to use. So how easy to use are these three self-hosted options?
Getting Started
Installing any one of these pieces of software is really easy to do, especially as nearly every hosting provider has pre-configured installation software on their hosting. But do they offer anything once you have installed the software.
As WooCommerce is a plugin for WordPress, you first need to install the WordPress CMS, then install the WooCommerce plugin. Once you have installed the plugin, you will be taken through a short set up wizard so that the plugin is configured properly. Unfortunately though, you don't get any kind of guide to how to add products etc, so you will need to figure this out yourself.
Opencart don't offer any kind of set up wizard or guide once you have installed the software, which isn't great. They do have a start up guide in the documentation but you will have to find this yourself.
PrestaShop definitely put there competition to shame on this one, on your first login, you are greeted by Preston the Penguin, who will take you through a short but in-depth guide to the platform. After this, a popup will appear with options such as watching tutorial videos, go to the documentation or visit the support forum.
Navigating your Dashboard
WooCommerce
The WordPress dashboard is one of the easiest to use in my opinion and that is extended to the WooCommerce plugin. After you install the plugin, two options will appear in the left sidebar, the first is the main WooCommerce section, where you manage orders and also access the plugins settings and the second is where you manage your products and categories.
Both of the main sections have a list of well labelled sub-sections and as the plugin is lightweight, you aren't confronted with lots of options and this makes navigating around WooCommerce really easy.
Opencart
The Opencart dashboard is pretty well laid out and has most of the important sections you need listed in the sidebar and the sections and sub-sections that are there are well labelled.
I did find that finding where some sections such as payment gateways and delivery options were quite difficult to find, which isn't great as they are pretty integral to setting up an running an ecommerce store.
PrestaShop
PrestaShop probably has the best laid out dashboard of the three and it is really easy navigate. All the sections that you need are there and clearly labelled.
I don't envision anyone who is new to the platform struggling to get to grips with finding their way around the dashboard.
Customising your Theme
WooCommerce
One of the things that WooCommerce and WordPress in general, does really well is theme customisation. The WordPress customiser is one of the easiest tools to use when it comes to change the layout and feel of your site, the amount of options in the customiser does depend upon the theme that you are using.
Some themes like WooCommerce Storefront is loaded with different options to enable you to make your ecommerce store look how you want it to. You can also take advantage of page builders and the new Gutenberg editor to create pages that have the layout you want.
In the customiser, you can also check how your website looks on desktop, tablet and mobile. This is a great tool for making sure your website works properly on all devices.
Opencart
Customising an Opencart theme isn't the easiest thing to do. Some developers of premium themes have developed their own customisers, which make life a lot easier but if you are planning to use a theme without one, then you are going to be pretty stuck when it comes to options.
The reason for this is that to make pretty much any changes to an Opencart theme, you need to change it via the code and unless you know PHP, this isn't easy to do. This is an area where Opencart definitely need to improve.
PrestaShop
PrestaShop are a little better than Opencart when it comes to customisation as there are things that you can change directly in the dashboard but you are still very limited. Many developers have included a customiser with their themes that gives you the ability to change some things.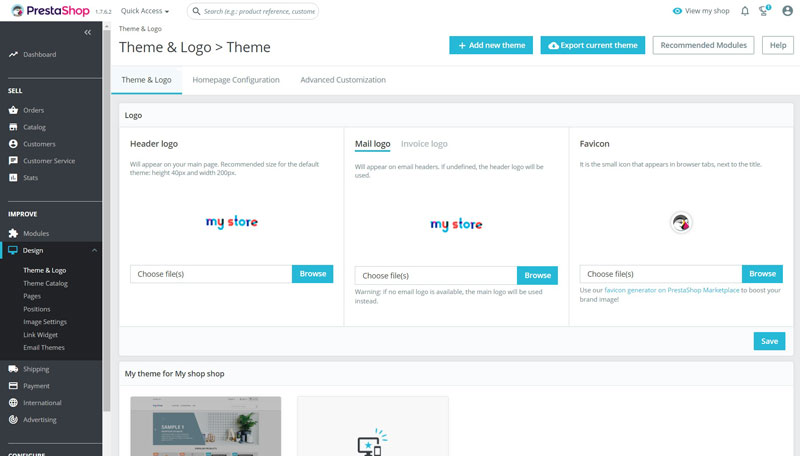 If you have a developer or are good with coding, you can export a theme, make changes to it and then upload it and run it as a child theme but this still isn't an easy option.
Adding and Managing Stock
Being able to manage your stock efficiently and effectively is a hugely important part of running an online store and for me there are three main areas to this and they are:
Adding products
Organising your Products
Managing your inventory
WooCommerce
Adding a new product in WooCommerce is simple process as they use a single page layout. One thing you do need to learn is where you descriptions will appear on your page as this catches a lot of people out to start with. The main description is what appears under your product images and information and the short description is what appears next to your image.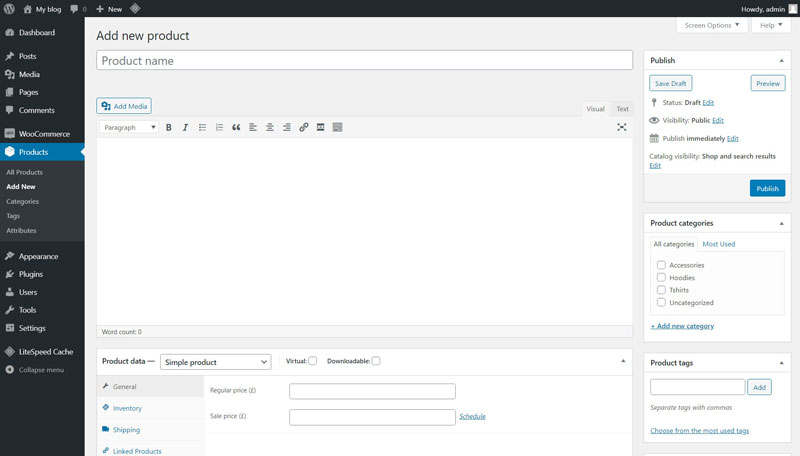 Adding new categories and sub-categories is also a simple process and allows you to organise your products effectively.
You can also manage your inventory directly from the product overview page by using the quick edit feature. This brings a drop down menu with a variety of different options including stock quantity and is great for quickly updating your stock quantities.
Opencart
Adding a new product in Opencart is a more in-depth process than it is with WooCommerce, just down to the amount of sections there are to work through, as can be seen in the image below.
While the sections do contain lots of really good options, working your way through them can take a bit of time.
It is pretty much the same story when it comes to adding a new category, although the amount of sections is far less than on products. This makes it easy to organise your products in categories and sub-categories.
Managing your inventory is a little bit long winded as you need to go in and edit quantities on a product by product basis and this can take a lot of time if you have a large inventory.
PrestaShop
PrestaShop have gone for a similar tabbed layout to Opencart but they have reduced the amount of sections and it does make it a more pleasant experience to add a new product. There are also lots of options that you can set up on the first page, such as quantity and price.
Adding a new category is done using a single page layout and is really easy to use, you can also create brand pages to give your customers and alternative way to search.
As with Opencart, you cannot manage your inventory quantities directly in the dashboard, it has to be done product by product but you can click on the quantity and it will take you straight to the section where you can update it, which is slightly better than Opencart.
Managing Orders
In its standard form WooCommerce doesn't do order management very well as you can only update your orders statuses directly in the order dashboard. But once you add in the PDF Invoice and Packing Slip plugin, things become a lot different.
This plugin allows you to print invoice and packing slips directly from your dashboard and this can be done either in bulk or by individual order. For me this plugin is a must have to WooCommerce.
Opencart is slightly better as standard than WooCommerce as you can print off orders directly from the order dashboard. The problem is that you can't update order statuses in bulk, which could be really frustrating if your ecommerce store processes large volumes of orders. Also, without installing an extension, you cannot export your orders in CSV format.
PrestaShop have gone the opposite way and given you lots of options when it comes to managing your orders. There are separate sections where you can print off packing slips, invoices and credit slips. You select which ones you want to print off by either date or order status, I would have liked to see order number range as an option as well.
One slight issue with the way PrestaShop generates its invoice and packing slips is that it downloads them to your computer, rather than generating them in your browser so you can print them off quickly. There is also no option to export via CSV, which is a small oversight. You can update your order statuses in bulk though which is good.
Conclusion
As with all my reviews, I do highly recommend trying them all out for yourself but for me on this one, it really is hard to look past WooCommerce. I just don't see anything that the other two bring to the table that would make me choose them over WooCommerce.
It isn't great in its standard form, in fact it is pretty lacking but with a few selected plugins, WooCommerce soon becomes a very competent ecommerce platform and you can create many specialised online stores. One of its big pluses is the theme selection and customisation and this is much better than what the other two platforms offer.
As WordPress and WooCommerce are so popular, there is also a huge amount of information and documentation out there to help you, should you get stuck. The learning curve also isn't that steep and you will soon be up to speed with the platform. I don't really have anything negative to say about the platform as it does everything well.
Unfortunately, it is still the same story with Opencart as it was when I used them back in 2014. It is packed full of great features but isn't the easiest to use and the theme customisation really lets it down. I really hoped they would have addressed some of the usability issues with the platform but they haven't and it is for that reason why it wouldn't be my first choice.
I would put PrestaShop ahead of Opencart as it does a lot of things well and the basic ecommerce offers all the tools you will need to get started. The theme customisation does let the platform down though as the amount of options you have is really limited. One of things that would make me think twice about using the platform is that the majority of themes and modules are paid for and building an ecommerce store on the platform could get expensive quickly.
Other Comparisons
Hi, I'm Paul, the Owner and Founder of EcommerceGold.
I ran my own Ecommerce Business for over 7 years and now help others start their own online retail empires!