Two of the biggest names when it comes to building websites are Bigcommerce and Wix, but which one is better for building an ecommerce website?
Bigcommerce vs Wix – What is the Difference?
Bigcommerce is a specialized ecommerce website, that can be used by businesses of all sizes and comes loaded with dedicated ecommerce features and 24/7 customer support. The Wix platform is primarily a website builder that can be used to build an ecommerce website by installing the Wix Stores app.
Disclosure: Our site is reader supported, meaning we may earn a commission from purchases made through our links, to learn more, please see our Affiliate Disclosure.
Pricing


As you can see, Wix is clearly cheaper for the monthly subscription but there is a little more than just what you pay every month when thinking about pricing.
Bigcommerce
The Bigcommerce pricing method is based around annual turnover limits and what this means is that when you hit certain turnover limits in a 12-month period, you are automatically moved on to a larger package and these limits are:
Bigcommerce Standard: Up to $50,000
Bigcommerce Plus: Up to $180,000
Bigcommerce Pro: Up to $400,000
When you exceed the $400,000 limit, you can opt to pay an additional $150/m for an additional $200,000 limit or upgrade to the Enterprise option, which is a custom-built plan for your business.
Wix
Wix is much more straightforward when it comes to pricing as they don't have annual turnover limits nor do they charge any additional transaction fees.
One of the main differences between the Wix plans is the amount of storage space you get:
Business Basic: 50GB
Business Unlimited: 100GB
Business VIP: Unlimited
One thing that you do need to be aware of is that the prices mentioned above and on the Wix site are if you pay for your plan annually, if you pay monthly, then the prices are slightly higher.
Free Trial
Bigcommerce and Wix operate slightly differently when it comes to letting potential customers try out the platform.
Bigcommerce offers a 15-day free trial
Wix offers a free plan that lets you install the Wix Store app and try it out but you can't take any live orders
Features
One of the main selling points of any ecommerce platform is the features that they offer for their users, so what do these two platforms offer?
Bigcommerce
It is unsurprising that one of the biggest names in the industry offers a whole host of ecommerce features for its users and below is a summary of all the features included with all plans:
Ecommerce Tools
Single Page Checkout
Product Ratings and Reviews
Side by Side Product Comparisons
Promotions and Special Offers
Discount Codes and Coupons
Google Trusted Stores
Abandoned Cart Recovery
Marketing & SEO
Social Selling
Email Marketing
Price comparison site integration
Loyalty Program
Google Shopping
Social Sharing
Custom Meta Data
SEO Friendly URLs
Blog
Reporting
Number of Orders
Total Revenue
Number of Visitors
Conversion Rate
Average Order Value
Payment Gateways
PayPal
Stripe
Worldpay
Sagepay
Klarna
Applepay
As I mentioned in the pricing section, as you move up through the packages with Bigcommerce, you do get more features included with your package.
Bigcommerce App Store
Even though Bigcommerce comes with lots of features built-in, they understood that their users might want different functionality and that is where the Bigcommerce app store comes into play. Populated with over 700 different apps that have been made by selected Bigcommerce partners and these apps cover a variety of different options including marketing, payment processors and inventory management.
Within the app store is a selection of both free and paid apps, with the paid apps, many of them have custom pricing and it takes a bit of digging to find out exactly what these are going to cost.
When it comes to pricing, some have an upfront cost, whereas others have a monthly recurring fee, which is charged on top of what you pay for your monthly Bigcommerce package.
Wix
Due to Wix being primarily a website builder, many of the features of the platform aren't specifically designed for ecommerce but once the Wix Stores app is installed, the combination offers the following features:
Ecommerce Tools
Sell Physical & Digital Products
Discount Coupons
Create Promo Video
Live Chat
Marketing & SEO
SEO Friendly URLs
Custom Meta Data
Send via Email Campaign
Share Product to Social Media
Sell via Facebook and Instagram
Blog
Reporting
Orders
Conversion Rate
Revenue
Purchase Funnel
Top Email Campaign
Payment Gateways
PayPal
Wix Payments
Stripe
Square
SumUp
App Marketplace
Wix also offers an app marketplace but only a small selection of these will work with the Wix Stores app and this means that the amount of ecommerce functionality you can add is quite limited. However, many of the apps can add some useful general features to a Wix website.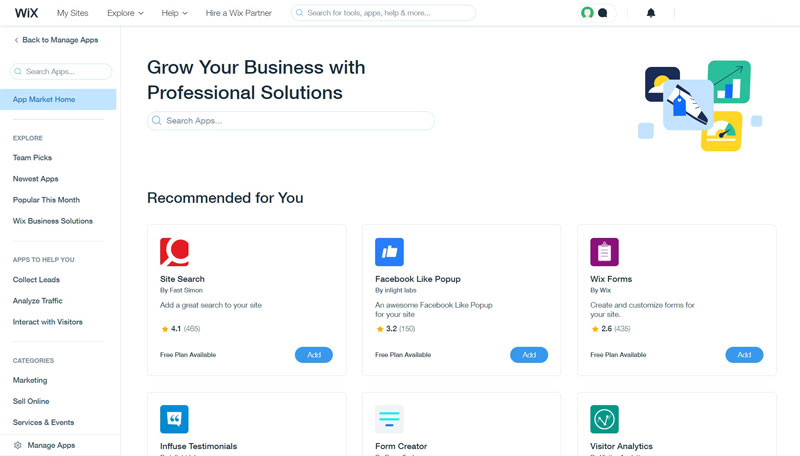 Within the App Marketplace, there is a selection of both free and paid apps. Many of the paid apps will offer free trials or a free package but if you want all of the features, then you are going to have to pay and this is usually a monthly recurring payment.
One of the things that really does let the Wix platform down is the poor selection of payment gateways on offer and there are no additional ones available in the App Market.
Theme Selection & Customisation
Bigcommerce
Bigcommerce has one of the largest selections of themes, of all the fully hosted with over 150 to choose from with the theme marketplace, there is also a small selection available on ThemeForest.
Unfortunately though, only 12 of these are free to use, with the others available directly through Bigcommerce ranging from $150 – $300.
In 2020, Bigcommerce overhauled its theme customizer and added a range of new functionality to improve its previously, quite limited offering.
The new features include a page builder, that uses widgets to allow users to add custom sections to their themes homepage and build custom pages from scratch. While this is a very welcome addition, you are limited in terms of the existing theme layout.
This is because there are very few and in some cases no options to add/remove or reorganize sections, which is a shame as it does let the new features down a little bit.
Outside of the limited layout options, there are quite a few different things that you can change on a Bigcommerce theme, including colors, fonts and visibility options.
While there is a lot that you can change within a Bigcommerce theme, the customizer is pretty easy to use, although the theme styles section does take a little time to figure out exactly what you can do.
Wix
Wix has a large selection of over 80, free to use, mobile responsive themes to choose from for building an online store with the platform but it is not clear if all of the themes they offer support the Wix Stores app?
There are also a few third-party developers who have built some premium Wix themes and the pricing very much depends on the developer.
Where Wix really shines though is when it comes to customization as they offer two different tools!
The first and easiest to use is their ADI (Artificial Design Intelligence) tool, which has been designed so that users can quickly and easily make changes to the look and feel of their site.
This tool gives you lots of control when it comes to customization and is arguably one of the best tools in the industry. What makes it stand out from the rest is that it can be used on every page of your site, meaning that you can create a truly custom-looking website.
The second tool is their original editor and while it is a good tool, there is too much you can do in terms of customization as it is possible to make very minor changes, which can lead to lots of time spent tweaking things and the results aren't really worth the effort.
To install apps on a Wix site, this has to be done via the original editor but they are looking to add this feature to the ADI tool.
Support
One of the reasons why people choose a hosted platform such as Bigcommerce or Wix is that they get help and support to run their website. But how good is either platforms offering?
Bigcommerce
When it comes to support, Bigcommerce is one of the most generous as they offer all users full 24/7 support, which can be accessed through a variety of different mediums including over the phone, via live chat and email support tickets.
All of these can be accessed directly from the Bigcommerce admin dashboard under the help section.
Bigcommerce also has a community support forum, which can be a great place to ask non-urgent questions. Not only do support team members frequent the support forum but so do app and theme developers who may provide an alternative way of doing things.
Wix
Wix also offers 24/7 support to all English-speaking users (support times vary for other languages) and VIP customers also get access to priority support.
But unlike Bigcommerce, contacting the support teams isn't the most straightforward process as you need to navigate the help center, which isn't the easiest thing to do and the contact/support options do appear as though they have been buried in there.
Hosting & Performance
Bigcommerce and Wix take a very different approach when it comes to promoting their hosting information. Bigcommerce is very forward about promoting its hosting setup and offers the following:
Unlimited Bandwidth
Unlimited Storage
PCI Compliant Servers
Free SSL Certificate
99.99% Uptime
Hosted on Google Cloud
Wix on the other hand only says that they include a free SSL certificate, have 99.9% uptime and 50gb storage.
This doesn't stop us from putting both platforms to the test! And to do this, we took 5 of their customer example sites and ran them through Uptrends speed tool using their New York server to check their load time and Google PageSpeed scores.
We did this once a day for three days testing on both desktop and mobile devices.

Mobile:
Desktop:

Mobile:
Desktop:
While Wix is the clear winner in terms of our testing, it is a somewhat hollow victory as both Bigcommerce and Wix are quite a way behind the best-performing ecommerce platforms.
There isn't much to say other than both platforms need to improve their hosting and/or performance in order to compete with their rivals.
Ease of Use
Whenever we review an ecommerce platform, we always look at how easy the platform is to use as this can go a long way in helping your online store to become a success and there are three main areas we look at:
Getting Started
Inventory Management
Order Management
Getting Started
Bigcommerce
Getting started with Bigcommerce is very easy to do and they offer a free 15-day trial to help you test the platform out. And all you need is an email address and to create a password.
Once this is done, they will ask a few questions such as what stage your business is currently at and also what niche you are in, so that they can tailor the dashboard more towards you.
Once you have gone through the signup process, you will be taken through to the admin dashboard, which is very well designed.
You also get a quick setup guide, which is a little on the light side as it only has 4 sections but it is better than nothing to help get you on your way with building your new ecommerce website.
The admin dashboard is very easy to use and the main sidebar navigation menu is well labeled, meaning that it doesn't take very long to get used to where everything is within the dashboard.
Wix
To get started with Wix, you need to create a free account and install the Wix stores app, this only requires an email address and a password, you will then be asked some basic questions to help Wix tailor the dashboard to your needs.
You may be asked if you want to go through the ADI setup and this can be worth doing as it does configure some things for you, rather than having to do it all yourself.
Once you have gone through the setup process, you will be taken into your admin dashboard and will be greeted by a pretty comprehensive setup guide, that has different sections for your main website and then the Wix stores plugin.
The Wix dashboard is easy to use and they have gone for a sidebar navigation menu and all of the sections are clearly labeled. The Wix stores app integrates really well into the dashboard and creates new headings that allow you to manage your store from the main menu.
Adding and Managing Stock
Being able to manage your stock efficiently and effectively is a hugely important part of running an online store and there are three main areas to this , which are:
Adding products
Organising your Products
Managing your inventory
Bigcommerce
Creating a new product in Bigcommerce is a very simple process as they have opted for a single page layout but the amount of options is very comprehensive and the secondary navigation menu makes it very easy to quickly and easily jump between sections.
There are quite a few sections on the add new product page and it is worth taking a little time to work through your products so that you know you have added as much information as you need to.
To help you organize your inventory, Bigcommerce has gone with the traditional category system that allows you to create parent and child categories. This allows you to create a good product and category hierarchy.
Bigcommerce really shines when it comes to managing your inventory as they have one of the best bulk editors on the market. The spreadsheet format allows you to quickly and easily update things such as the product title, SKU code, price, stock levels and whether the product is visible or not.
You can also manage your products individually by clicking on them and it takes you back to the add new product page.
Wix
Wix has also opted for a single page layout for their add new product page but before going through to the page, you first need to select whether it is a digital or physical product as the two pages are slightly different but both are equally as easy to use.
The add new product page is a much simpler affair on Wix and while it does make it easier to add a new product, it does lack a lot of the options compared to Bigcommerce.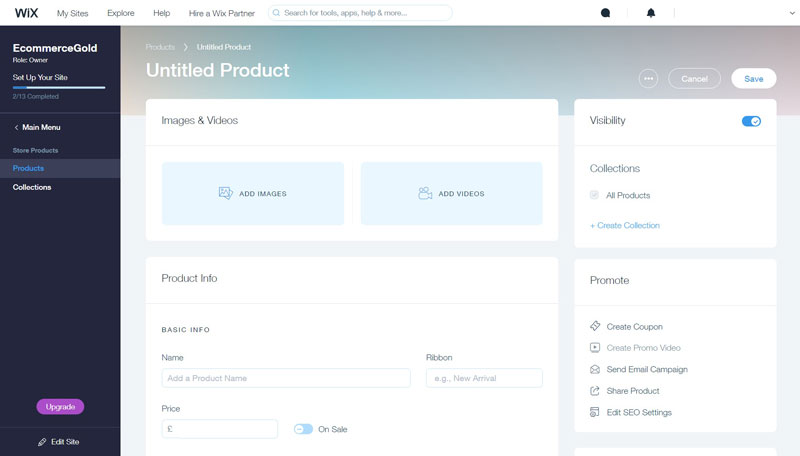 With Wix, organizing your products does feel quite limited as it only allows you to create parent categories. You can work around this with the navigation menu but it doesn't work in the same way that a proper parent/child category system does.
Managing your inventory within Wix isn't great as there are no bulk editing tools, it all has to be done on a product-by-product basis. This could be very problematic if you have a large inventory.
Managing Orders
Bigcommerce – The order management system within Bigcommerce is one of the best out there as there is so much you can do from the main overview menu. You can print invoices/packing slips off and update order statuses, this can be done in bulk or for individual orders.
The only time you would need to go into an individual order would be if you needed to edit it.
Wix – Unfortunately, I was unable to test the Wix order management system out as it wouldn't allow me to create a test order. If I do get to try this out, obviously I will come back and update this post.
Summary
Bigcommerce
Theme Selection & Customisation
Bigcommerce Pros

• Easy to navigate dashboard
• 24/7 support
• Ability to sell on social media
• Bulk product editor
• Order management system is very good
• App store

Bigcommerce Cons

• Poor Performance
• Small annual turnover limits
Wix
Theme Selection & Customisation
Wix Pros

• ADI set up
• ADI theme customization
• Dashboard set-up guides
• Wix App Market
• Add/edit product page

Wix Cons

• Hidden support contact details
• Poor Performance
• Lack of sub-categories
Conclusion
Bigcommerce vs Wix – Which is the Best Ecommerce Platform?
While on paper, it seems very close between the two platforms, with Wix beating Bigcommerce in a few areas (pricing and performance), when you use these two platforms side-by-side, Bigcommerce is a much more complete ecommerce package.
It isn't perfect but it is a good ecommerce platform and when you use it, you can tell it has been designed and built for serious ecommerce businesses, from the features to the layout and general ease of use.
Wix isn't a bad platform and could be an option for a small ecommerce website but if you plan on growing your business, you would probably soon find yourself outgrowing the platform.
The ADI editor is a very good tool and one of the best in the market but the poor performance and limited ecommerce features, really do let Wix down.
Other Comparisons
Hi, I'm Paul, the Owner and Founder of EcommerceGold.
I ran my own Ecommerce Business for over 7 years and now help others start their own online retail empires!