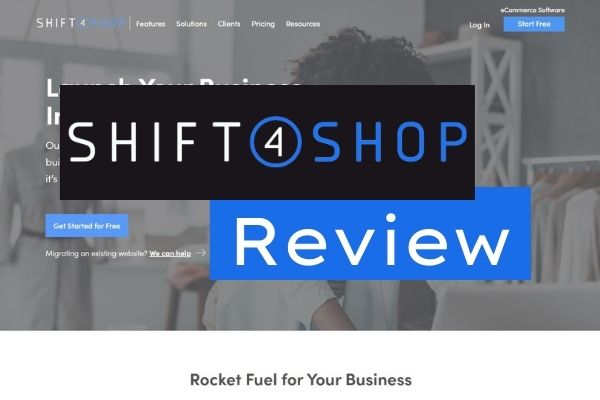 What is Shift4Shop?
Shift4Shop is a fully hosted shopping cart that was once known as 3DCart but following the acquisition by Shift4 Payments in 2020, was rebranded as Shift4Shop.
Shift4Shop offers a wide range of features and a large selection of themes backed up by 24/7 support but is it any good? Check out the rest of the review to find out!
EcommerceGold is reader supported and we may earn a commission from products or services purchased through links on our site at no additional cost to you, to learn more please see our affiliate disclosure.
Shift4Shop Review: Quick Summary
Is Shift4Shop any good? It's ok, the two things that Shift4Shop has going for it are the pricing as it is very reasonably priced and the number of built-in features but there are a number of things that put Shift4Shop someway behind their competition, including:
The website builder – there is a good selection of themes but the customization just isn't user-friendly
Workflow – it just isn't efficient to use, this is very notable with theme customization and inventory management
It feels dated – the dashboard doesn't feel modern
But as an overall package, it needs a major overhaul in order to compete with the big names in the space to make it a more user-friendly platform that is suitable for modern ecommerce websites.
Shift4Shop Review Table of Contents
Shift4Shop Pricing
When it comes to pricing, Shift4Shop advertises that its end-to-end plan is free and it is if:
You are processing at least $500 a month in sales
You don't use PayPal for your payments
If you aren't doing a minimum of $500 a month or using PayPal for your payments, then it will cost you $29 a month, which is still a reasonable monthly fee.
You do get 60 days from the day you sign up to Shift4Shop to reach the $500/m threshold, so you need to get a move on with building and marketing your store if you don't want to get charged.
Currently, Shift4Shop is only available to US merchants and there is no clear information as to whether they plan to expand internationally in the future.
Customer Reviews
Before we get full-on into the review, let's take a look at what some of their existing customers thought of the platform. For this, we looked at Trustpilot, Capterra and Google.
2.1 out of 5

3.8 out of 5

4.2 out of 5
Shift4Shop Features
When it comes to features, Shift4Shop is very well equipped and offers a large selection of features to all users and below is just a summary of the features, a complete list is available on the Shift4Shop website.
Ecommerce Tools
Single Page Checkout – allows customers to checkout on a single page, streamlining the checkout process
Saved Carts – let customers save their carts so that they can come back and complete their order at a later date
Digital Downloads
Unlimited Product Variations

– create as many variations as you want for your product listings

Advanced Product Options – offer variations like size and color with inventory tracking, unique SKU codes and more.
Returns Module – streamline the returns process with the built-in RMA returns module
2 Factor Authentication – secure your admin login with 2-factor authentication
Product Comparison – let customers compare products side by side so they can see which is the best option
Product Q & A – let customers ask questions about your products in a similar way to Amazon's Q & A feature
Recurring Orders – set up a subscription service for frequently purchased products
Pre Orders – let your customers pre-order products
Marketing & SEO
Built-in SEO Tools – including customizable Title's, URLs, metadata, 301 redirects, XML sitemaps and more
Blog – add content to your site with a fully featured blog
Product Reviews – let customers leave reviews on your products
Google Customer Reviews – let your customers leave reviews about your business on Google
Up-Sell and Cross-Sell – increase order value by upselling and cross-selling on product pages
Social Wish Lists – let customers create a product wish list and share in on social media
Discounts & Coupons – create discount codes and sales for your products
Mailchimp Integration – manage email marketing by integrating your Shift4Shop store with Mailchimp
Affiliate Program – get bloggers and influencers to promote your products by having your own affiliate program
Promotion Scheduler – schedule sales or promotions, so you can market them beforehand
Loyalty Reward Program – encourage repeat customers by having your own loyalty program
Back in Stock Alerts – allow customers to get notifications when their favorite products come back into stock
Reporting & Analytics
Business Reports (profits etc)
Customer Reports
Site Stats (visitors, referrers etc)
Marketing Reports
Products & Inventory Reports
Payment Methods Reports
Payment Gateways
Shift4 Payments
PayPal Express Checkout
Amazon Pay
Apple Pay (via Shift4 Payments)
Google Pay (via Shift4 Payments)
Bitpay (crypto payments)
Most of these features come in the form of modules, which means that you can pick and choose which features you want active on your store and they can easily be installed/uninstalled from the modules section of the dashboard.
Some of these modules work as integrations with third-party tools such as MailChimp and will require an account with the third party in order to be able to use them within your Shift4Shop store.
Shift4Shop Website Builder
Shift4Shop includes a full website builder with every one of its plans and on the surface it looks very appealing as they have one of the largest selection of free themes, with over 100 mobile responsive themes to choose from.
But things start to go downhill from here as Shift4Shop's website builder is frustrating to use as it is very disjointed and also limited in terms of what you can do.
This is most notable when it comes to doing any type of theme customization as they have:
Theme Editor – this lets you change the colors and typography on your store (shown in the screenshot below)
Template editor – where you can change the HTML and CSS
Homepage Editor – this is where you can change your homepage by adding sections (but you can't edit or remove some existing sections) and the preview bar for the sections is so small that they aren't easy to see
Then there are different areas of the dashboard to change your logo and customizing the header and footer is done with a text editor.
When it comes to creating/editing your pages on your site as you need to know where to click in order to find that section of the dashboard (we had to Google it!) and adding content to your site is done with a basic text editor that feels very dated.
The only area where Shift4Shop isn't bad is when it comes to the blog, the main content will be added by the same text editor that they use throughout their site but you can launch the page editor and add custom sections to your post, which lets you create more visually appealing posts.
But overall, building your storefront with Shift4Shop is an annoying and time-consuming process and it needs an overhaul to make it more user-friendly and modern, especially if they want to compete with the competition!
Shift4Shop Support
All of the Shift4Shop packages include 24/7 support over all their contact options including live chat, email ticketing and phone support.
Outside of actually contacting their support team, they do have a comprehensive knowledge base that is full of really good documentation. They also have a community forum, which is always a great place to get answers or just seek knowledge from other users.
Shift4Shop Web Hosting and Performance
As Shift4Shop is a fully-fledged ecommerce platform, you do expect them to offer some very robust hosting. While not immediately obvious, they do have a page on their site listing what they offer from their hosting and here are the best takeaways:
PCI Compliant Hosting
99.9% Uptime
24/7 Server Monitoring
Cloudflare CDN
Free SSL Certificate
Unlimited Disk Space
This all looks great on paper but we like to check how their sites perform in the real world and to do this we put them to the test by:
Taking 5 live customer example sites
Running them through Uptrends Speed Tool (New York Server) to test load time and Google PageSpeed scores
Once a day for three days
This allows us to run a full test and get some nice results, which you can see below:
Mobile Load Time: 3.07 Seconds
Desktop Load Time: 2.15 Seconds

Mobile Score: 36/100
Desktop Score: 77/100
Not a great showing from Shift4Shop, especially on mobile with a load time of just over 3 seconds and a score of 36/100, showing that there is definite room for improvement when it comes to their hosting environment.
To see how Shift4Shop performed against its rivals in terms of speed and performance, check out our Fastest Ecommerce Platforms post.
How Easy is Shift4Shop to Use?
Offering a good selection of features will only get you so far with me as it means nothing if the platform isn't easy to use. That is why, when we test a platform, we look at how easy it is to use in 3 main areas:
Getting Started
Managing Your Inventory
Managing Orders
Getting Started
Getting started with Shift4Shop is not the most straightforward as you only have the option to sign up for their free end-to-end package and there is no free trial for any of the paid packages.
But the signup process is pretty straightforward as you only need basic business info to get started and then you set everything else up once you have completed this process.
Once you have gone through the signup process, you will be greeted by a nice welcome screen, which includes a short intro video and a quick start guide to help you get set up.
Overall though, the Shift4Shop dashboard is well laid out and pretty easy to use as the sidebar navigation menu is clearly labeled, the only strange thing is that the design options are under settings rather than having their own heading.
At the bottom of the menu are links to the help section or to open a ticket, an option to add the page you are on to a shortcut menu (which could be useful for quick navigation) and a link to the billing area.
Managing Your Inventory
Adding a new product on Shift4Shop isn't the most straightforward as you initially add all of the basic information for the product and it looks like it is a single page layout like in the image below but and this is a big but…
If you want to see all of the options for setting up a product, you need to fill out the basic information, save the product and then go back in and edit it and this will reveal a number of additional tabs that include numerous other options for your product listing.
This makes creating inventory more difficult than it needs to be as there are multiple steps to being able to fully set up a new product.
Setting up your product categories is much easier to do as it is a simple pop-up on the categories page to add a new one and you can then easily organize them into parent and child categories by dragging them around on the categories page.
Once have added a new category, you can then edit it on the category management page and this brings up all options such as SEO, any page content you want to add and how to display your products.
The final thing under inventory management is how easily can you edit your products once they are created and Shift4Shop offers a few bulk editors that allow you to quickly update things such as stock levels, the pricing editor which uses formulas to bulk update pricing (takes a little bit of getting used to) and the batch editor which allows you to do all of this.
While all these editors are good, the workflow would be much better if they just had a single bulk editor that allows you to do everything, rather than lots of individual editors.
Managing Orders
Order management with Shift4Shop is pretty straightforward and you can do all of the important stuff directly in the dashboard.
You can print invoices and packing slips using the drop-down menu at the bottom of the page and also update order statuses in bulk.
You can also do this individually if you wish and also add comments to orders if there are any special requirements. If you use any third-party software, you can export your information via CSV format and one thing we did really like is that you can import tracking numbers in bulk, which can save you a lot of time.
Shift4Shop FAQ
Yes, 3dcart was rebranded as Shift4Shop in January 2021 following the acquisition of 3dcart by Shift4 Payments.
Yes, Shift4Shop is free but you are limited to Shift4 Payments, PayPal and Amazon Pay in terms of payment options and it is currently only available to US merchants.
Conclusion
Shift4Shop
Is Shift4Shop a Good Ecommerce Platform?
It's ok, Shift4Shop will get the job done in terms of giving you the tools to build an ecommerce website but it is some way off the best ecommerce platforms in quite a few areas.
This is because not a whole lot has changed since the change from 3dcart to Shift4Shop and while it is a competent platform, it does fall behind the competition in a couple of areas such as Theme Customization and general ease of use, it is also started to feel quite dated and the dashboard does need an overhaul.
If they simplified some of the options such as only having one bulk editor, having all settings appear on the product page etc it would make the workflow a lot easier.
One area where Shift4Shop is very strong is the features, there are lots of good and very useful features available and some are premium or paid-for options on other platforms.
It will definitely get the job done but some streamlining would definitely take it to the next level.
Shift4Shop Pros:
Shift4Shop Cons:
Shift4Shop Alternatives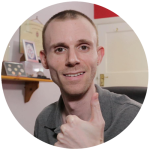 Hi, I'm Paul, the Owner and Founder of EcommerceGold.
I ran my own Ecommerce Business for over 7 years and now help others start their own online retail empires!