In this post, I am going to be comparing Shift4Shop vs Bigcommerce, two of the most popular ecommerce platforms and also Shopify alternatives in the world of ecommerce, to see which one is better?
Shift4Shop vs Bigcommerce: What's the Difference?
Shift4Shop is the new name of 3dcart, since they were acquired by Shift4 Payments in 2020. Carrying on the lineage of 3dcart, Shift4Shop offers a feature rich, fully hosted ecommerce platform for businesses of all sizes. Bigcommerce is one of the biggest names in ecommerce (no pun intended) and offer a fully hosted ecommerce platform with a strong emphasis on large ecommerce businesses.
Shift4Shop vs Bigcommerce
Disclosure: Our site is reader supported, meaning we may earn a commission from purchases made through our links, to learn more, please see our Affiliate Disclosure.
Pricing
Basic: $29/m
Plus: $79/m
Pro: $229/m

Standard: $29.95/m
Plus: $79.95/m
Pro: $299.95/m
The only real difference between the packages that both platforms offer is the $70 difference between the Pro plans.
But there is a difference when you look at the annual turnover allowance that both platforms offer and Shift4Shop is much more generous..
Shift4Shop Basic – Up to $100k
Shift4Shop Plus – Up to $250k
Shift4Shop Pro – Up to $1 million
Bigcommerce Standard – Up to $50k
Bigcommerce Plus – Up to $180k
Bigcommerce Pro – Up to $400k
With both platforms, they also offer custom packages for larger businesses but the $1 million turnover limit on the cheaper Shift4Shop pro plan means that you would be considerably better off by choosing Shift4Shop over Bigcommerce.
Shift4Shop also offers a completely free plan, that comes with all the features of the Pro plan BUT there is one big caveat and that is that you can ONLY use the Shift4 Payment gateway and this is also on available for merchants in the US.
Free Trial
It seems as though Shift4Shop have scrapped the free trial that they used to offer and now instead give you your first month free but you will need to provide payment details before you can get started and if you want to cancel, you will need to do so in your admin dashboard.
Bigcommerce have kept things nice and simple and offer a 15 Day Free Trial and you don't need to input any payment information.
Features
As two of the biggest names in the industry, it is expected that they all offer a good range of features for their users and below is a summary of the features that both platforms offer.
Shift4Shop
As standard features go, Shift4Shop has one of the best offerings out there and there are so many features that I can only list a few below but if you want to see a more in-depth breakdown of the features available, check out my full Shift4Shop Review.
With Shift4Shop, some features are only available on higher plans and any features not available on the basic plan will be marked with an *.
Ecommerce Tools
Single page checkout
Saved carts
Digital Downloads
Product Reviews
2 Factor Authentication
Google Reviews
Unlimited Product Variations
Product Comparison*
Pre Orders*
Marketing & SEO
SEO Tools
Blog
Product Reviews
Social Wish Lists
Google Reviews
Gift Certificates
Discounts & Coupons
Mailchimp Integration
Loyalty Rewards*
Reporting & Analytics
Business Reports (profits etc)
Customer Reports
Site Stats (visitors, referrers etc)
Marketing Reports
Products & Inventory Reports
Payment Methods Reports
Payment Gateways
PayPal (inc Pro & Express Checkout)
Stripe
Klarna
Square
Sagepay
Worldpay
Authorize.net
With Shift4Shop, you can pick and choose some of the features that are active on your store by using their Module system, which allows them to be quickly and easily turned on/off. Now the amount of modules available does depend on the package that you are on.
The modules that are available are a combination of features and functionality along with integrations with third-party platforms.
Bigcommerce
As with Shift4Shop, Bigcommerce comes loaded with a whole host of great features for ecommerce platforms and below is a summary of the ones that are available.
If you would like to see a more detailed breakdown of the features available, then check out my full Bigcommerce Review.
Ecommerce Tools
Single Page Checkout
Product Ratings & Reviews
Side by Side Product Comparison
Create Promotions & Special Offers
Sell Physical & Digital Products
Discount Codes & Coupons
Google Trusted Stores
Marketing & SEO
Social Selling (Facebook, Instagram & Pinterest)
Email Marketing
Price Comparison Site Integration
Abandoned Cart Recovery
Loyalty Program
Social Sharing
Blog
Custom Meta Data
SEO Friendly URL's
Reporting
Number of Orders
Total Revenue
Number of Visitors
Conversion Rate
Average Order Value
Payment Gateways
PayPal
Stripe
Worldpay
Sagepay
Klarna
Amazon Pay
Apple Pay
Bigcommerce App Marketplace
Even though you get a lot of great features with Bigcommerce, they also offer you the chance to add even more functionality with their own app marketplace, which offers over 750 apps to choose from.
Unfortunately though, not all these are free to use as many have been developed by third-party companies and while most offer a free trial or sometimes a free plan, if you want all of the features then you are going to have to pay and they are usually billed monthly.
Theme Selection & Customisation
Shift4Shop
When it comes to theme selection, Shift4Shop is hard to beat as they made all of their themes free to use as part of the rebrand and this means that there are over 100 themes for you to choose from.
But theme customisation is a different story as this isn't something that Shift4Shop is particularly strong in and this comes down to a combination of limited options and a disjointed workflow.
The main Shift4Shop theme editor, which is the one in the image above is basically just changing the colors and font options. But there are two other editors that you can use, the first allows you to edit the themes HTML and CSS if you have knowledge of that.
And the second has some layout options but this is just basically adding content sections to your site, not being able to edit or rearrange the existing layout.
While the options aren't that great, it makes it worse that you need to go into different editors in order to be able to make the theme fit your business. It would be a much better workflow to have them all in one editor.
Bigcommerce
Bigcommerce has one of the largest selection of themes available within their ecosystem, with 151 themes that you can choose from. Only 12 of these are free to use and the paid themes range from $150 – $300. On Themeforest there are an additional 92 themes that you can choose.
Theme customisation on Bigcommerce received a pretty big update in 2020 as they introduced a new page builder, that gives users much more control over the look and feel of their website. This new page builder can not only be used on the homepage but also other pages such as about.
The only real downside to the new editor is that you can edit, remove or reorganise existing sections, which means that you still need to find a theme that fits with your brand.
Hopefully, future updates will gives users complete control over the look and feel of their website but the new page builder is definitely a welcomed edition.
Support
Running an ecommerce website can be challenging at times and you require some help, so what support do you get from these platforms?
Shift4Shop
All of the Shift4Shop plans include 24/7 customer support and they can be contacted over the phone, via live chat or by submitting an email support ticket.
Contacting the support team is very easy, with the live chat icon available directly from the admin dashboard and other support options displayed in the help centre. Shift4Shop also have their own community support forum, which can be a great source of information.
Bigcommerce
It is very much the same store with Bigcommerce as all plans include 24/7 support via the phone, live chat and support tickets. They also have contact options available directly from the admin dashboard, which makes it very easy to contact them.
There is also a help centre that is full of useful documentation as well as a community forum, where you can ask others users of the platform a question.
Hosting & Performance
Both platforms are very open a honest about the hosting environment that they use for their websites and they both offer the following:
PCI Compliant Hosting
Unlimited Bandwidth
Unlimited Storage
99.9% + Uptime
Global CDN
Free SSL Certificate
This all looks great right, but how well does this actually work? Well to test out the platforms, I took five customer example sites from both platforms and ran them through Pingdom's Speed Test tool (Washington D.C & San Francisco Servers) and Google's Page Speed Insights, once a day for five days to get some good data.
Pingdom (D.C):
1.21 Seconds
Pingdom (SF):
1.95 Seconds
Google Mobile:
31/100
Google Desktop:
69/100

Pingdom (D.C):
2.84 Seconds
Pingdom (SF):
3.43 Seconds
Google Mobile:
12/100
Google Desktop:
48/100
Shift4Shop performed very well in all of the tests, with both load times coming in under 2 seconds, which is ideal for an ecommerce site. The Google scores were also ok and put them towards the top of charts when it comes to load times.
Bigcommerce were a bit off the pace across all of the tests and this is a little concerning. Load times average the wrong side of 2 seconds and the Google scores weren't great, which is a little surprising as Bigcommerce use the Google Cloud Platform.
Ease of Use
Facts and figures are one thing but what are these platforms like to use and how do they compare to each other? Well that is what I am going to be looking at in this section.
Getting Started
Shift4Shop
The recent changes have made getting started with Shift4Shop a little bit more difficult as you now need to provide your business and payment information before you can go through to the admin dashboard.
On your first sign in, you will be greeted by a short introduction video and a very short set up guide but hidden under the marketing section of the dashboard is an onboarding checklist, which is a very good guide to help you get started with Shift4Shop.
Navigating your way around the Shift4Shop dashboard is simple enough as they have gone for sidebar navigation menu, with clearly labelled headings and sub-headings.
The only real downside to the navigation menu is that some sections that you would expect to have their own heading, such as design are nestled under another heading, in this case settings. This means that it does take a little bit of time to figure out exactly where everything is.
Bigcommerce
Getting started with Bigcommerce is really quite easy, once you have signed up to the platform (for the free trail, you only need to an email address and to create a password), you will go straight into the main admin dashboard.
Bigcommerce have a really good system in place to get you up and running, with a very well structured set up guide to help you get your store ready to start accepting orders as well as some info boxes that encourage you to learn more about the platform and what it can do.
Navigating your way around the Bigcommerce dashboard is very easy to do as the sidebar navigation menu is clearly labelled and all of the sections are laid out in a logical fashion. It really doesn't take long to get up and running the Bigcommerce.
Adding and Managing Stock
Being able to manage your stock efficiently and effectively is a hugely important part of running an online store and for me there are three main areas to this and they are:
Adding products
Organising your Products
Managing your inventory
Shift4Shop
Shift4Shop have opted for a single page layout for their add new product page and it is very easy to use but the only thing is, you don't get access to all of the options that are available, to do that you need to create a product and then go back in and edit it.
This will show some additional tabs with all the options that are available. It would be better if all of these options were available to start with, rather than having to go back in and edit a product to complete it fully.
Organising your products is very easy to do within Shift4Shop as they use the tried and tested category method and creating one is very simple. Simply click the add new button and a pop up appears asking for a name for the category and whether you would like it to be a parent or child category, click save and it has been created.
Similar to the product page, more options become available if you go back in and edit the category.
When it comes to managing your inventory, Shift4Shop offers a selection of bulk editors that can do lots of individual tasks such as manage inventory levels or adjust prices. They do have an overall bulk editor that makes the process a lot easier and it would improve workflow if all these were combined into one very good bulk editor.
Bigcommerce
When it comes to adding a new product, the Bigcommerce set up is one of the better ones I have used. The single page layout has a good number of options you can easily navigate between the sections on the page using the pop up sidebar. This sidebar makes it really easy to go in and edit your existing products.
To organise your inventory, Bigcommerce has gone for the tried and tested category method and it allows you to easily create parent and sub-categories which makes it really easy to create a good product hierarchy. Setting up a new category is easy as they use a simplified version of the add product page.
To manage your inventory, Bigcommerce use a really good system that allow you to quickly make changes to your products and this can be done individually or in bulk. The bulk editor allows you to make a number of changes including title, category, price and inventory on one page, making it a great tool to use if you have a very large product range.
Managing Orders
Shift4Shop – Order management in Shift4Shop is pretty good as you can quickly and easily manage your orders, such as printing invoices and/or packing slips, updating order statuses and exporting orders in bulk or individually, directly from the order overview page.
Bigcommerce – The Bigcommerce order management system is arguably one of the best out there as you can manage your orders individually but if you are going to be having lots of sales then you want to take advantage of their bulk features. The bulk feature allows you to print off invoice and packing slips, resend invoices, update order statuses and export orders directly in the order management area.
Shift4Shop Summary
Theme Selection & Customisation
Shift4Shop Pros

• Large selection of features
• 24/7 support
• Theme selection
• Payment gateway selection

Shift4Shop Cons

• Theme customisation
• Workflow isn't optimal
• Having to give payment details before trial
Bigcommerce Summary
Theme Selection & Customisation
Bigcommerce Pros

• Easy to use dashboard
• 24/7 support
• Sell via social media
• Bulk product editor
• Order management system

Bigcommerce Cons

• Poor Performance
• Theme customisation isn't great
Conclusion
Shift4Shop vs Bigcommerce – Which one is the Best Ecommerce Platform?
Bigcommerce offers a much more complete solution as it comes with a good range of features as standard, a large selection of apps, an easy to use admin dashboard and tools to help you manage your business on a day to day basis, which not only makes it a good ecommerce platform but also a better option than Shift4Shop.
Bigcommerce have also been working hard to improve their design options but offering a large number of mobile responsive themes and a page builder to improve customization. The only real cause for concern is the performance of the platform but hopefully this will be improved in the future.
Unfortunately, the rebrand to Shift4Shop from 3dcart hasn't really brought any improvements to the platform and while it comes with a really good set of features, it isn't the easiest to use, theme customization is very poor and the platform is starting to feel dated.
So there it is, my complete comparison between these two ecommerce platforms and as with all business decisions, it comes down to what YOU and YOUR business require.
Try Shift4Shop for Yourself!
1 Month Free, Credit Card Required
Try Bigcommerce for Free!
15 Day Free Trial, No Credit Card Required
Other Comparisons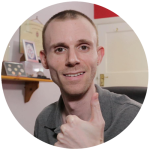 Hi, I'm Paul, the Owner and Founder of EcommerceGold.
I ran my own Ecommerce Business for over 7 years and now help others start their own online retail empires!