In this post I look at two of the world's most popular website builders that all offer ecommerce functionality, but are they any good for building an Ecommerce Website?
Wix vs Squarespace: What is the Difference?
Both Wix and Squarespace are primarily website builders that allow users to add a ecommerce store to their website.
The second platform I am looking at is Wix's big rival Squarespace who according to builtwith.com power over 1.9 million website.
Disclosure: Our site is reader supported, meaning we may earn a commission from purchases made through our links, to learn more, please see our Affiliate Disclosure.
Pricing

Business Basic
Unlimited Products
Unlimited Bandwidth
No Turnover Limit
No Transaction Fees
20gb Data Storage
Free SSL Certificate
Standard Support

Basic Commerce
Unlimited Products
Unlimited Bandwidth
No Turnover Limit
No Transaction Fees
Unlimited Data Storage
Free SSL Certificate
Standard Support
For this comparison, I opted for the two basic ecommerce packages, which are very similar in terms of pricing and features.
Squarespace do offer a Business package which is $18 a month but this comes with a 3% transaction fee and also lacks some other ecommerce features, which is why I didn't include it in this comparison.
Free Trial
Both platforms offer you a free 14 day trial, so that you can really test out the platform before committing to a paid plan. If you want to start a free trial with either platform, simply click the buttons above.
With Wix, you do get a free plan for life and while you can test out the Wix Stores App, you can't use it on your live website.
Features
For all of these platforms, ecommerce is a feature in itself as they are all primarily website builders that allow you to sell products online. So what features does each platform offer?
Wix
When it comes to features, the Wix platform is very rich and it allows you to build a site that is much more than just an ecommerce site.
Wix use an app based system for all of their features, this means that the core Wix simply allows you to create a website with fixed pages. The app selection is very good and allows you to build an online store, add a blog, events, bookings and even a forum.
When it comes to specific ecommerce features, there aren't a massive amount to choose from and many of them are focused around promoting your products, such as:
Creating discount codes
Sharing via social media
Email sharing
Creating a promo video
You can also sell your products via a Facebook shop and Instagram. Wix does have an app market, where they offer a range of apps that integrate with the likes of printful, google and quickbooks. When it comes to the amount of features available, Wix does offer a lot.
Squarespace
Squarespace definitely isn't as feature rich as Wix, whether it is ecommerce features of just general features for the platform. Some of the features that stood out to me were:
Blog
Abandoned Cart Recovery
Gift Cards
Subscriptions
G Suite free for 1 year
Unlike Wix, you cannot pick and choose what features you have on your site as they all come pre-installed. While the selection isn't bad, there just isn't anything on there that really makes Squarespace stand out from the rest.
Theme Selection & Customisation
Wix
Wix offers 86 templates available for their online stores in the template library but there is no indication that any of their other themes will work with the Wix Stores app.
Wix have two different options when it comes to customising your theme. The easy way, which uses their ADI system that I mentioned above. I really like this and it makes is really easy to make changes to not only the layout of your site but also to change any content on your pages.
There are also different layout options, not only for the site as whole but also for individual sections. This means that there are numerous different ways in which you can customise the look of your website.
The second option is the harder option in the form of their advanced editor. This allows you to make numerous changes on your site from content and overall layout, to slightly adjusting the position of a button. While the amount of things you can do is pretty impressive, it is not overly intuitive to use and you can easily make your site look pretty rubbish!
Squarespace
Squarespace have a large selection of themes but finding them all can be quite frustrating! This is because they only show 10 themes for every search result, this makes it really easy to miss the perfect theme.
I was quite disappointed by the theme customisation in Squarespace, mainly because it feels quite disjointed. The theme customisation options are split between two sections and it really doesn't make for a good workflow.
To edit the layout of your pages, you need to do this in the pages section but to change fonts or colours, you need to go to the design section, It would just be easier if it was all rolled up into one!
Payment Gateways
I was quite disappointed when it came to the selection of payment gateways offered by Wix, as their website does lead you to believe that there is a large selection but in reality there is Wix payments for debit and credit cards and PayPal.
Things don't get much better with Squarespace as you have the choice of Stripe and PayPal, yes a grand total of two payment gateways.
Support
All three platforms are aimed at people with little to no experience, so how good is the support that they offer?
I was really disappointed with support offering from Wix as it felt like they were trying to hide how I could actually contact a member of their support team. To start with, like many of the larger platforms, they send to their help documentation but if this doesn't help, you can raise a support ticket or request a call back.
Squarespace's support easier to contact and they offer live chat between 4am and 8pm eastern, which is good as get quick responses. Outside of this, you can send them an email, that they aim to respond to as quickly as they can.
Hosting & Performance
Neither platform has put much information about their servers or hosting on their websites, which is a bit different to the majority of ecommerce platforms.
However, this does not stop me from testing them out and I put them through my standard testing method. This involves taking three of their customer example websites and running them through Pingdom's speed test tool using their Washington D.C and San Francisco servers along with Google's Page Speed Insights once a day for three days. This gives me a good range of data.

Pingdom (D.C): 6.52 Seconds
Pingdom (SF): 6.72 Seconds
Google Mobile: 12/100
Google Desktop: 28/100

Pingdom (D.C): 1.20 Seconds
Pingdom (SF): 1.47 Seconds
Google Mobile: 30/100
Google Desktop: 66/100
It is pretty clear which platforms came out on top in the performance tests, Squarespace is one of the best performing platforms out of all the fully hosted ecommerce platforms that I have tested.
There seems to be some issues with the Wix hosting set up and for some reason, Wix sites running the Wix Stores App performed worse than normal Wix sites. Out of all the platforms tested, Wix came out bottom in every test.
Ease of Use
So I have looked at the facts and figures and while they are all good, they don't tell you what they are like to use. That is why I have given a quick overview of each platform to see how easy they are to use.
Getting Started
All three platforms make it really easy to get started and they all offer a 14 day free trail that allows you to test the platform out before signing up to a paid plan. You can also have a free Wix site after the trial if you want to. But what about once you have signed up?
Wix
I was pleasantly surprised by the Wix set up process. The first thing you can do and I would recommend it, is to go through their ADI (artificial design intelligence). By answering a few simple questions, the ADI will configure you a basic site that should allow you to easily build your site from.
When you navigate to your main sites dashboard, there is a nice set up guide that takes you through many of the different areas of your site. The amount of options here does depend on how many apps you decide to install in the set up. The whole set up, is pretty well thought out.
Squarespace
Unfortunately, I cannot lavish the same praise on Squarespace as there is no set up guide or process. The only way you can find a getting started guide is by going to the help documentation.
As a platform that is targeted towards people who have never built a website before, this is a massive oversight by Squarespace and honestly, I was really disappointed by this.
Navigating your Dashboard
Wix
The main issue I have with navigating Wix is that their design and main website dashboards are two completely different areas, with different layouts.
Neither of the dashboards are overly complicated to use but it still means that you need spend time learning how to use both of them. One thing that did get me was that it isn't overly clear how to move from one dashboard to the other.
This just makes it feel a little disjointed to me. It would definitely be an improvement if they were both bought into one dashboard.
Squarespace
Squarespace have kept it simple on this one and their dashboard is clearly laid out and well designed. This means that the learning curve is really small and it doesn't take long to learn where everything is.
Adding and Managing Stock
Being able to manage your stock efficiently and effectively is a hugely important part of running an online store and for me there are three main areas to this and they are:
Adding products
Organising your Products
Managing your inventory
Wix
Adding a new product to Wix is super easy, firstly you will be asked if you want to add a digital or physical product. Once you have chosen which, you go to a nice a simple product creation page that lists all of the important sections you need to add.
The sidebar on the right will give you lots of options for promoting your product once you have created it.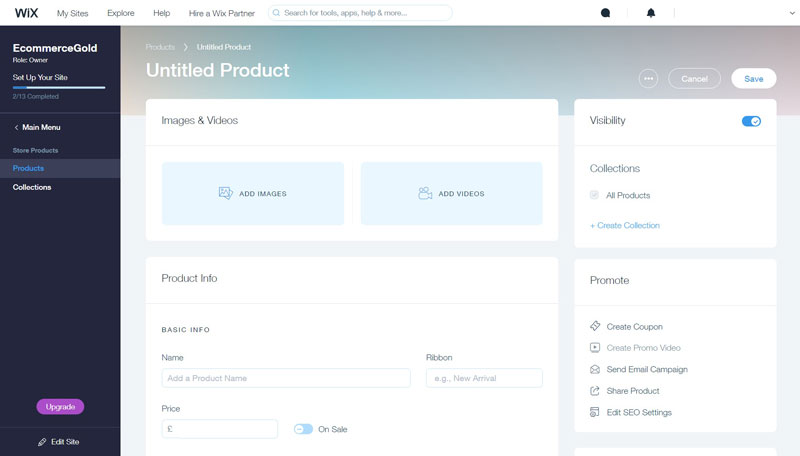 Organising your inventory is equally as simple. They have opted for collections rather than categories but they operate in the same way. The only real downside is that you can't have sub-collections, which is a bit limiting.
Managing your inventory isn't the easiest as you need to do it on a product by product basis, this could be frustrating if you have a large inventory. One thing that did bug me was was that every time I would click off a product it would ask me if I wanted to save changes, even if I hadn't made any. Only a small thing but makes for lots of unnecessary mouse clicks.
Squarespace
Adding a new product in Squarespace is not complicated. They have opted for a tabbed pop up rather than a new screen. It is easy to work your way through all of the relevant sections.
Organising your inventory with Squarespace isn't the easiest thing to do. As you can see in the image above, it says you have categories but it doesn't work in the way that they should. Instead to organise your stock, you need to add it to a page and moving your products around your website involves cutting from one page and pasting into another.
It really doesn't work that well and I found it very frustrating. It also isn't easy to figure out how to do it, I had to spend time in the help documentation to understand how to do it.
Managing your inventory is very similar to Wix in that it has to be done on a product by product basis. Which isn't great if you have a large inventory.
Managing Orders
I ran into a brick wall with Wix and Squarespace as I could create test orders to test out how easy the order management was. This can only be accessed when you are on a paid plan, I don't get why companies do this as you should be able to test everything before you commit to a paid plan!
Summary
Wix
Theme Selection & Customisation
Wix Pros

• ADI set up
• ADI theme customisation
• Dashboard set up guides
• Wix App Market
• Add/edit product page

Wix Cons

• Hidden support contact details
• Performance
• Lack of sub-categories
Squarespace
Theme Selection & Customisation
Squarespace Pros

•
•
•
•
•

Squarespace Cons

•
•
•
Conclusion
NEEDS WRITING!!
Wix is undoubtedly the most feature rich of the two platforms and some of these features are really good. The ADI is also a nice tool to use and makes customising your site really easily. For me though, these don't make up for the shocking performance of their sites and that their dashboard just feels disjointed.
I felt quite let down by Squarespace as I expected it to be better than it is. For me, it does some things ok but nothing great. I really didn't think it was the easiest to use and this was evidenced by the fact that on more than one occasion I had to refer to the help documentation for what were pretty straightforward things to do on other platforms.
So there it is, my complete comparison between these three website builders. I hope this has given you some information and insight into the platforms. If you want to know more about any of them, I will leave links below to their full reviews and the platforms website.
Try Wix for Yourself
14 day Free Trial!
Try Squarespace for Yourself
No Credit Card Needed!
Other Comparisons
Hi, I'm Paul, the Owner and Founder of EcommerceGold.
I ran my own Ecommerce Business for over 7 years and now help others start their own online retail empires!