EKM, ShopWired and Bluepark are three of the most popular UK-based ecommerce platforms and they all have a good range of features, a full website builder backed up by UK-based support teams but which one is the best of the three?
That is what we are going to answer in our in-depth comparison, where we look at some of the important aspects to think about when considering an ecommerce platform to see which one comes out on top!
EcommerceGold is reader supported and we may earn a commission from products or services purchased through links on our site at no additional cost to you, to learn more please see our affiliate disclosure.
EKM vs ShopWired vs Bluepark – Quick Summary
Even though all three platforms are very capable, ShopWired did come out on top due the combination of:
Reasonable pricing
A good set of features
Nice themes and good customisation
Highly-rated UK based support
Being easy to use
And in our opinion, it is the best all-round platform out of the three and an ideal option for everything from start-ups to established online stores.

EKM vs ShopWired vs Bluepark Content
Pricing

As you can see from the table above, all three platforms are pretty close when it comes to their pricing but the monthly subscription fee isn't the only thing you need to think about as all three platforms have additional things you need to think about.
EKM has both annual turnover limits and an additional transaction fee (if you are using any online payment gateway other than EKMPay and PayPal), which we have listed below:
| | Annual Turnover Limit | Transaction Fee |
| --- | --- | --- |
| EKM Lite | £15,000 | 2% |
| EKM Basic | £50,000 | 2% |
| EKM Standard | £150,000 | 1% |
| EKM Advanced | £1 Million | 0.5% |
But all plans allow you to list unlimited products and for businesses with turnovers in excess of £1 Million a year, they have the EKM Pro plan which starts from £599.99/m.
ShopWired's pricing is more straightforward as they just have annual turnover limits, which are more generous than EKM's at:
ShopWired Pro: £75k/yr
ShopWired Advanced: £200k/yr
ShopWired Premium: £500k/yr
With the ShopWired Pro plan, you are limited to 750 product listings but this should be more than enough for most small stores. For stores turning over more than £500k, ShopWired have enterprise plans that start from £249.95/m.
Bluepark has the simplest pricing out of the three as they don't have annual turnover limits or any additional transaction fees but there are limits on the number of products you can list and the storage space you are allocated:
Bluepark Retail: 500 products & 500mb storage
Bluepark Business: 2000 products & 1gb storage
Bluepark Enterprise: Unlimited products & 2gb storage
You can buy additional storage from Bluepark should you exceed the 2gb limit but you also need to pay for an additional SSL certificate, which costs £69.99 a year and they don't have any plans bigger than the Enterprise one.
Free Trial
All three platforms offer a free trial so that you can try them out for yourself before committing to a paid plan.
Features
All three platforms come with a host of great ecommerce features, even on their basic packages but they don't all offer them in exactly the same way.
EKM
EKM comes with a good selection of features, some of these are standard features that are built into the platform along with a range of features that you can choose to install.
The installable features operate in a very similar way to an app as they are one click install/uninstall and this makes it very easy to customise the features that are on your ecommerce website.
The majority of the features available are free on all plans but there is a small selection of paid features and ones that are limited to certain higher-tier plans and below is a summary of the features available:
Ecommerce Tools
Free 03 Business Phone Number
Facebook Messenger for Live Chat
Customer Reviews
Related Products
Promo Stickers
Product Attributes
Recently Viewed Products
Dropshipping & Print on Demand
Marketing & SEO
ChannelGrabber (Cross platform selling)
Google Tools (inc Analytics & Shopping)
Loyalty Points
Discount Manager
Social Share
Blog
Custom Meta Data
SEO Friendly URL's
Email Marketing (paid)
Reporting
Order Breakdown
Best and Worst Selling Products
Search Statistics
Web Statistics (Premium)
Payment Gateways
EKMPay
PayPal
Stripe
Klarna
LayBuy
Nochex
EKM features (apps) include a range of additional design and functionality related features along with a range of integrations with third-party companies.
EKM Evolution Mode
One of the main features of EKM is their evolution mode. Which is run by the evolution team, that is made up of ecommerce specialists including designers and marketing specialists who review your store on an annual basis (monthly on the Advanced package) and make suggestions for how your site can be improved.
The best thing about the Evolution Mode is that if you approve some or all of these improvements, the team will implement them on your website free of charge but this isn't available on the Lite plan.
ShopWired
ShopWired also comes with a host of both built-in features and additional features in the form of apps.
Many of these apps are free to use but there are a selection of paid options but as you move on to the larger plans, more are included with the monthly subscription and all apps are included with the Premium plan and below is a summary of the features that are included with ShopWired:
Ecommerce Tools
Multi-buy Offers
Product Extras
Multi-Currency
Product Reviews
Ebay Integration
Digital Downloads
Gift Vouchers
Reward Points
Marketing & SEO
Google Feed
MailChimp Integration
Discount Codes
Abandoned Cart Recovery
Create Sales
Social Share
Blog
Custom Meta Data
SEO Friendly URL's
Reporting
Gross Profit Report
Sales by Product
Sales by Category
Payment Methods
Sales by Month
Failed Searches
Visitors
Payment Gateways
PayPal Express Checkout
Stripe
Amazon Pay
Klarna
Worldpay
Sagepay
Barclaycard EPDQ
Nochex
There is also a downside with some of the apps as they require being coded into your store and while some of these like Google ReCaptcha are very simple to do, others are more difficult as they require custom CSS and unless you know what you are doing with CSS, you will have to pay a one-off fee the ShopWired for them to do it for you.
Bluepark
Bluepark take a completely different approach to offering features to their customers.
Instead of having to install apps or code in extensions, all of their features come pre-installed and ready to use. On the basic Bluepark package, you get a lot of things as standard including:
Ecommerce Tools
Embed YouTube Videos in Listings
Onsite Product Comparison
Shareable Wish Lists
Product Labels
Auto Language and Currency
Related Products
Customers Also Bought
Digital Products
Marketing & SEO
Build an Affiliate Network
Built in Email Newsletter
Social Sharing
Coupon Discounts
Abandoned Cart Recovery
Google Shopping
Blog
Custom Meta Data
SEO Friendly URL's
Reporting
Top Sellers
Referral Conversion Rates
Top Notification Requests
Top Wish List Additions
Google Analytics
Payment Gateways
PayPal
Stripe
Worldpay
Sagepay
Barclaycard EPDQ
Amazon Pay (Coming Soon)
On the larger packages, Bluepark do include more features such as Ebay integration and advanced B2B options. Bluepark also have a small number of third-party applications that you can integrate with.
Theme Selection & Customisation
EKM
In 2021, EKM released a new update to the way themes are customised on the platform and it is most definitely a move in the right direction as the new set up gives you much more control over the look and feel of your site.
As of writing this post, there is only 1 theme that supports the new set up but hopefully there will be more rolled out in the future.
The main change with the new theme set up is that not only have all the design options been put under the design section, but there is also much more you can do when it comes to design as you can:
Add, remove and reorganise the sections of your homepage
Edit content including images and text within these sections
Quickly and easily change theme fonts and colours
This is a big improvement over the previous set up, which can still be accessed by using one of the older themes but there are still some small improvements that would make it a lot better, such as:
Being able to set a custom navigation menu
Fully customisable sidebars
ShopWired
In 2022, ShopWired rolled out their Version 5 Framework update, which included a full site theme customiser and a selection of 20 free-to-use, mobile responsive themes.
The full site customiser has added a lot of user control to the designing of your shopfront as the section builder, which includes 19 different sections can be used on every site page from the homepage to product and checkout pages.
These sections range include product related ones such as featured category or customers also bought to content sections such as image and text and individual text sections.
It also offers customisation options to the header and footer sections of the site along with general theme settings that includes fonts and colours.
If you want, you can have a bespoke theme made for you by the ShopWired design team and this pricing for this is dependent on your requirements.
Bluepark
Bluepark offers a great selection of around 40 free, mobile responsive themes.
If you want a custom theme, then you can contact one of their design partners who will build one for you and prices start from around £700.
One of the things that is really good about the Bluepark platform is the ability to customise your theme. They offer many different options due to the block system that they use, this allows you to control the layout of your site but also a variety of sections you can add and remove.
This allows you to take one of the already well designed Bluepark themes and really change so they fit your business and your brand. Not only can you control the layout but you can also change colours, font type and font size. When it comes to customising your theme, there really is not much that you cannot do.
The only thing that I am not fond of when it comes to customising your theme and that is editing your footer. It is not the easiest thing to do as you use a text based editor, I would like to see the block system extended to the footer.
Support
Support is one of the things that all three platforms do really well not only in terms of being able to contact them but also the quality of the support as well.
EKM
EKM do go the extra mile when you are getting started with the platform as you get an introductory phone call to help you get started with (not include with Lite plan) and also ask any questions. On the larger packages, you also get your own dedicated account manager to help you grow your business.
When it comes to support options, EKM offers:
Live Chat
Phone
Support Tickets
EKM support is available 7 days a week between 8am-6pm Monday to Friday and 9am-5.30pm Saturday and Sunday.
ShopWired
ShopWired doesn't offer as much when it comes to support as they offer:
Live Chat – available 9am-10pm Monday to Friday
Email Support – which they aim to respond to within 24 hours
You do get a welcome email when you sign up, which you can respond to should you have any questions and the team will get back to you as soon as possible.
Bluepark
Bluepark, just like the other two platforms are very good when it comes to support and when you sign up, they do offer you the option of an introductory phone call to help get you startedm with the email also gives you a point of contact within the Bluepark team.
Bluepark is the only platform to not offer live chat support but they do offer:
Phone support: 9am – 5.30pm Monday to Friday
Email support: 9am – 5.30pm Monday to Friday + emergency evening & weekend support
Bluepark also have a community support forum, which can be great source of information and a place to ask non-urgent questions.
Hosting & Performance
On paper, there is little to choose between the three platforms when it comes to their hosting as both offer:
Unlimited Bandwidth
PCI Compliant Servers
99.9% Uptime
Most Importantly Fast Servers
But how well do they perform in the real world?
Well, we put them to the test by taking five live, customer example sites and ran them through Uptrends Speed Test Tool (London Server) and Google's Page Speed Insights, once a day for five days and you can see the average results below:
Uptrends Mobile: 1.16 Seconds
Uptrends Desktop:
1.28 Seconds
Google Mobile: 55/100
Google Desktop: 86/100
Uptrends Mobile: 1.65 Seconds
Uptrends Desktop: 1.69 Seconds
Google Mobile: 44/100
Google Desktop: 84/100

Uptrends Mobile: 1.43 Seconds
Uptrends Desktop: 1.69 Seconds
Google Mobile: 47/100
Google Desktop: 78/100
There really is nothing in it when it comes to performance, with all three performing well in all of the tests and they all came towards the top in our annual performance testing.
Ease of Use
When it comes to features and performance, there really isn't much to choose between the three platforms. But how easy are they to use?
Getting Started
EKM
Signing up to the EKM platform is simple and straightforward, all you need is an email address and create a password to get started. During the signup process, you will be asked which package you think you will probably use and some questions about your business (niche, address etc) to help get your store set up.
Once you have completed the signup process, you will be taken through to the EKM admin dashboard and on your first sign-in, you will be greeted by EKM's setup guide. This is a pretty comprehensive guide that takes you through nearly all of the steps required to get an ecommerce store up and running.
The only thing that is missing is to set up your pages such as privacy policy and terms and conditions, while not part of the setup guides, EKM do have templates for both of these that can easily edited to fit your business.
As I mentioned above in the support section, you do also get an introductory phone call from one of the EKM team, who will help you go through the setup process and also answer any questions that you may have about the platform.
It is pretty obvious that EKM don't like to do things the same as everyone else and that shows in the layout of their dashboard as they have opted for a top navigation bar, rather than a side one. This isn't really a big deal as it is still easy to navigate the dashboard.
Installing one of the new themes does also make a change to one of the headings as the old Shop section in renamed Products, which does make the dashboard easier to use.
ShopWired
ShopWired make it really easy for you to get started with their platform, simply fill out their start trial page with your email address, name and business name and you are good to go.
Once you have signed up to the trial, you are taken to their dashboard homepage and on your first sign-in, you are greeted by their setup tutorial that you can follow to help get your online shop up and running.
This is one of the better setup guides I have used and covers nearly everything you need to do to make your site ready to go live but as with EKM, a prompt to set up your Privacy Policy and Terms and Conditions is missing. But they do have template documents for both of these pages that you can easily edit to help make sure that your site is legal.
I really like the ShopWired dashboard, the sidebar makes it really easy to navigate from section to section. There are also not too many options, you just have what you need. It doesn't matter what section of the dashboard you are in, you can get back to your homepage just by clicking the dashboard button.
Bluepark
Getting started with Bluepark is very easy to do as you just need an email address and a password.
Once you have signed up to Bluepark, you go into their dashboard and are welcomed by a very well laid out setup guide that is accompanied by a very helpful video. The guide takes you through nearly all of the important sections that you need to complete before making your site live.
Once again the only thing missing is to set up your Privacy Policy and Terms and Conditions pages but unlike the other two platforms, Bluepark doesn't include templates for these, so you will have to go and source your own.
Bluepark's dashboard homepage is probably the simplest out of the three as they only have a few headings in the sidebar navigation but within these headings, there are quite a few subsections.
But navigating around the Bluepark dashboard is very easy to do and it doesn't take long to figure out where all of the sections and options for your online store are.
Adding and Managing Stock
Being able to manage your stock efficiently and effectively is a hugely important part of running an online store and for me there are three main areas to this and they are:
Adding products
Organising your Products
Managing your inventory
EKM
Inventory management is one of the areas where EKM could definitely improve as the current workflow isn't the most optimal as they have only recently released an inventory manager that is modern and usable but accessing this is done via the features section not the products section and in our opinion, the current products section is a bit useless.
When it comes to adding a new product, this can be done by going to the products section or the inventory manager feature and clicking add new product and the pop-up appears as in the image below:
This pop up includes all multiple sections to allow you to create a product listing, including things like variations. If there was one thing that could be better, it would be that the pop-up fills more of the page, so that there is more room to work.
Creating product categories is very similar to creating a new product as it appears from a pop-up when you click the Add Category button but the pop up contains fewer options but one important one, is the ability to create both parent and child categories.
When it comes to managing your inventory, you will need to install the inventory manager feature (we hope this will replace the current Products section in the future) as this allows you to quickly and easily manage your inventory.
Otherwise you have to navigate around a preview of your site to find the product in order to edit it, which just isn't an efficient way of doing things.
ShopWired
ShopWired's inventory management is the easiest out of the three platforms.
First off is adding a new product and ShopWired use a single page layout for this and it is very easy to use as the workflow through the sections is very logical and all additional options such as product variations and related products are in expandable sections at the bottom of the page.
Everything is also included within this single page, which makes creating a new product very simple.
Organising your product inventory is once again very simple as the category system ShopWired uses allows for the creation of parent and multi-level child categories, which makes creating a good product hierarchy very easy to do.
ShopWired have a dedicated manage stock page, which is great for quickly and easily going in and updating stock quantities but any other product edits need to be done by going back into the product listing. It would be nice to see the Manage Stock page expanded so that it works as a full bulk editor.
Bluepark
Adding a new product in Bluepark is a little more complicated as the add new product page uses a tabbed layout and there are quite a few options but what is a little strange is that not all of tabs appear on the add new product page. Some of these can only be accessed in the product editor, you can see the difference in the number of tabs in the two images below:
This means that you may have to create a product, then go back in and edit it in order to be able to list it properly, which isn't a great workflow.
Fortunately, there are no such issues when it comes to creating categories, it is much more straightforward as they once again use a tabbed layout but the number of tabs and options is quite small. It is also very easy to set whether a category is a parent or child, which makes creating a good hierarchy for your products nice and simple.
One thing that is very good in Bluepark is their product manager, which makes managing your inventory very easy. Unlike other platforms, where the bulk editor is a separate tool, the product manager allows you to update quantity levels, set featured products and also see what your profit margin is all from the product overview page.
Managing Orders
EKM
EKM has a very good order management system and it allows users to manage orders either in bulk or individually and from the order overview menu, you can update order statuses and print invoices. There are 4 different templates that can be printed and these all line up with packing slips that can bought directly from EKM.
If you want to export your order information, you will need to install the Import/Export System feature.
ShopWired
ShopWired also has a very good order management system and the interface is very clean and easy to use. From the main order overview menu, you can print off order invoices, update statuses and export your orders. This can be done in bulk or on an order by order basis.
Bluepark
Blueparks order management set up is very similar to that of ShopWired in terms of what you can do, as you can print off orders, update statuses and export order information in bulk or individually but the overall interface isn't as clean as ShopWired's and does take a little more getting used to.
Conclusion
All three platforms are very capable but in our opinion, ShopWired does come out on top as it offers the best all-round ecommerce package, due to a combination of:
Reasonable pricing
Good selection of features
Nice selection of themes and a good customizer
Highly-rated support
Being easy to use
But just like EKM and Bluepark, ShopWired isn't perfect as we would prefer it if some of the apps didn't require coding and that the bulk product editor had more features but overall it is one of the best ecommerce platforms for UK Businesses.
Other Comparisons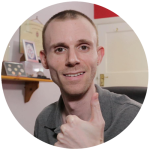 Hi, I'm Paul, the Owner and Founder of EcommerceGold.
I ran my own Ecommerce Business for over 7 years and now help others start their own online retail empires!