If you are planning on starting an ecommerce website, then EKM and Wix will probably have come to your attention. But which one is the better option?
EKM vs Wix – What is the Difference?
EKM is a purpose built ecommerce platform with a range of plans to accommodate business of all sizes backed up by highly rated customer support. Wix is primarily a website builder, but the Wix Stores App allows users to add ecommerce functionality and is focused on small online businesses.
Disclosure: Our site is reader supported, meaning we may earn a commission from purchases made through our links, to learn more, please see our Affiliate Disclosure.
Pricing
Both EKM and Wix offer a selection of packages for their users and you can see a summary of these below:

As you can see, Wix is quite clearly cheaper thank EKM but it should be noted that the Wix prices quoted above are if you pay for your plan annually, if you pay monthly, the plans are £3 more expensive a month.
Wix pricing structure is also very simple as the only restrictions that they apply are the amount of storage, which ranges from 20gb on the basic to 50gb on the VIP package. There are no restrictions on the amount of products you can sell or any kind of turnover limit.
EKM's pricing structure isn't quite so simple with all plans barring the Pro package having some form of turnover limits:
EKM Basic – £50k per annum
EKM Standard – £150k per annum
EKM Advanced – £1m per annum
EKM Pro – £1m+ per annum
This means that when you hit these annual turnover limits, you are automatically moved on to a larger plan.
Free Trial
EKM offer a standard 14 day free trial but if you go through any of the links in this post, you will get an 28 day free trial instead.
Wix do offer a free plan for life and while you can install the Wix Stores app, you can't use it on a live site. If you want to test the Wix Stores app properly, they do offer a 14 day free trial.
Features
One of the main selling points of any ecommerce platform is the features that they offer for their users, so what do these two platforms offer?
EKM
As EKM was designed as an ecommerce platform from scratch, all of the features of the platform are designed to help you build and grow your business so that you start generating sales. Some of these features are built in to the platform, while others can be installed in a very similar way to how you would install an app.
Ecommerce Tools
Free 03 Business Phone Number
Facebook Messenger for Live Chat
Customer Reviews
Related Products
Promo Stickers
Product Attributes
Recently Viewed Products
Marketing & SEO
Email Marketing built in
ChannelGrabber (Cross platform selling)
Google Tools (inc Analytics & Shopping)
Loyalty Points
Discount Manager
Social Share
WordPress Blog
Custom Meta Data
SEO Friendly URL's
Reporting
Order Breakdown
Best and Worst Selling Products
Search Statistics
Web Statistics (Premium)
Payment Gateways
PayPal
Stripe
LayBuy
Worldpay
Sagepay
Nochex
Barclaycard EPDQ
All of the features of the EKM platform are made in house by the EKM team and this means that they integrate and work perfectly. There is also a selection of features that allow you to integrate with third-party software such as Royal Mail Click and Drop and Linnworks.
EKM Evolution Mode
One of the best features of the EKM platform is their Evolution Mode. With this, you get a review of your site by EKM's specialist Evolution team, who will give you advice on how you can improve your site from design to functionality. The best thing about evolution mode is that if you agree to the changes, the team will implement the for free on your behalf.
Wix
Wix was originally a website builder and the ability to sell on the platform was added at a later date. To add the ecommerce functionality to your Wix website, you will need to install the Wix stores app, once you do this, you will get the following features.
Ecommerce Tools
Sell Physical & Digital Products
Discount Coupons
Create Promo Video
Live Chat
Marketing & SEO
SEO Friendly URL's
Custom Meta Data
Send via Email Campaign
Share Product to Social Media
Sell via Facebook and Instagram
Blog
Reporting
Orders
Conversion Rate
Revenue
Purchase Funnel
Top Email Campaign
Payment Gateways
PayPal
Wix Payments
Stripe
Square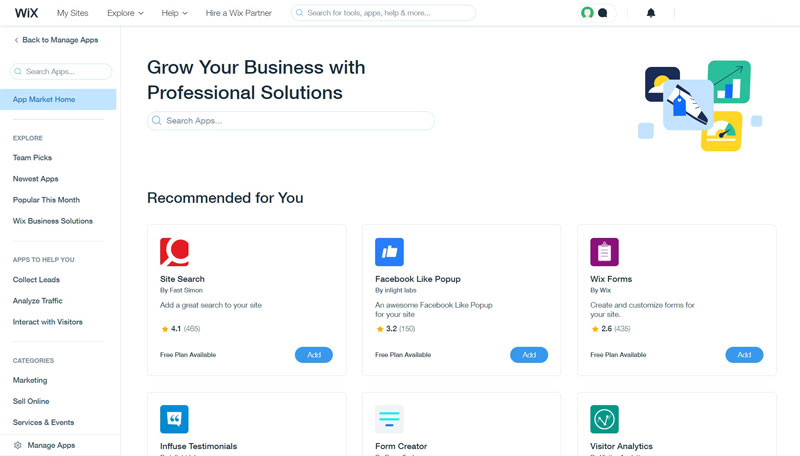 Outside of the core features of the Wix platform and Wix stores app, there are quite a few different additions you can make with other Wix apps such as subscription, membership and booking sites. There are also plenty of other ecommerce related apps within the Wix App Market.
While the majority of these apps will have some form of free plan, to get all of the features of the third-party developed apps, you will have to upgrade to a paid plan on top of your existing hosting.
Theme Selection & Customisation
EKM
In 2021, EKM add a new theme and theme customizer to the platform, which gives users much more control over the look and feel of their site. Currently there is only 1 theme to choose but hopefully more will be added in the future.
If you would like EKM to build a custom theme for you, then you can buy this service for £1999.99+vat.
With the new theme customizer, you can:
Add, remove and reorganise the sections on your homepage
Edit the content of these sections within the editor
Change font type and theme colours
Preview the changes on Desktop, Tablet and Mobile before publishing
This gives users much more control and the new set up is a much better offering than the old disjointed and limited options. The only missing from the new customizer is the ability to set up your own custom navigation menu.
Wix
Wix has a selection of over 80 themes to choose from for building an online store with the platform but it is not clear if any of their other themes support the Wix Stores app?
There are also a few third-party developers who have build some premium Wix themes and the pricing very much depends on the developer.
While changing your theme on Wix isn't straightforward, as you pick your template from the main Wix.com site and then start editing it but there is no way to do this from within the editor! Wix certainly doesn't fall short when it comes to customisation!
This is because has not 1 but 2 theme editing tools. The original one is called simply the editor and offers a lot of customisation but there is almost too much you can do and can be a little intimidating when you first start using it.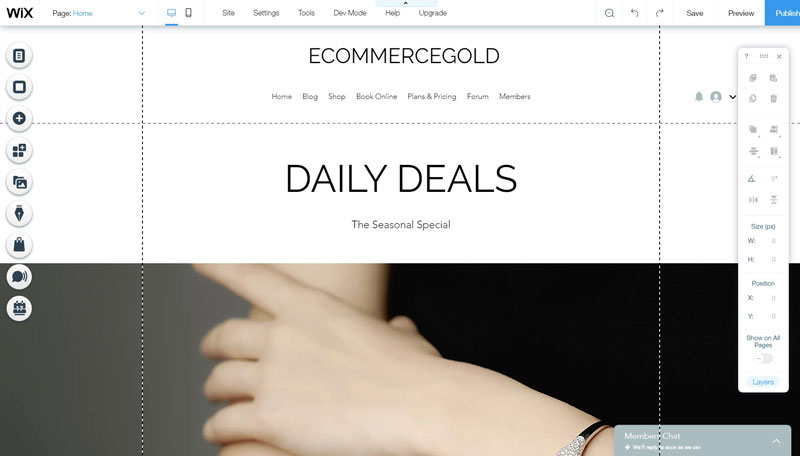 In this editor, you can make very minor tweaks to the look of your site, such as moving where things sit on the page to adding and organising elements. For beginners, I wouldn't recommend using this tool until you start getting accustomed to the Wix system as it is quite easy to ruin the look of your site. Instead, you want to take a look at their new ADI tool.
The ADI is the next step of what helped set your store up and it a much more user friendly system to use. It allows you to change the look of your site but organising where your sections go and also add new sections.
It is also very easy to edit these sections, by hovering over them you will see two main options, edit and design.
By clicking edit, you can edit the content of the section such as the image and text. If you click the design button, you will see different design options for that section. The number of section and layout configurations means that Wix offers possibly the most customisation options of any platform.
Support
One of the reasons why people choose a hosted platform such as EKM or Wix is that they get help and support to run their website. But how good is either platforms offering?
EKM
The quality of the support is one of the things that really makes EKM stand out from the crowd. Unlike many platforms, EKM gives all new users an introductory phone call to not only welcome them to the platform but also take users through the set up process and answer questions they may have about the platform.
Once you are using the platform, it is very easy to contact the EKM team as they have a live chat icon in the admin dashboard. If you would like to speak to EKM over the phone, then they very helpfully leave their contact phone number and support pin on the dashboard homepage.
Wix
Wix now offers 24/7 support to all users, with VIP customers also getting access to priority support and while this sounds great, contacting Wix support isn't the easiest thing to do as their help centre will more than likely refer you to a help article, rather than providing you with Wix's contact info. This can make it a little frustrating to start with, especially if you need to sort something out ASAP!
Hosting & Performance
EKM and Wix take a very different approach when it comes advertising their hosting information. EKM are very upfront and provide the following information:
Unlimited Bandwidth
Unlimited Storage
PCI Compliant Servers
Free SSL Certificate
99.9% Uptime
24/7 Server Monitoring
Fast Servers
Wix on the other hand only say that they include a free SSL certificate, have 99.9% uptime and 50gb storage.
This doesn't stop me putting both platforms to the test! And to do this, I took three of their customer example sites and ran them through Pingdom's speed tool using their London, UK server and Googles Page Speed Insight once a day for five days to get a nice spread of data, so how did they do?
Pingdom: 1.12 Seconds
Google Mobile: 55/100
Google Desktop: 83/100

Pingdom: 3.93 Seconds
Google Mobile: 13/100
Google Desktop: 42/100
As you can see, there is a massive difference in performance, EKM performed well in every test with a very impressive average load time of 1.12 seconds.
Wix on the other hand had what can only be described as shocking performance and this is also noticeable when the example sites loaded as you would see individual page elements load in. Not only is this not great from a user experience perspective but page load time is also a ranking factor for search engines.
If you want to see how these two platforms compare to their competition, then check out my fastest ecommerce platforms post.
Ease of Use
Now I do know that ease of use is subjective to the person using the site so the following is just my opinion and should only be used as a guide.
Getting Started
EKM
Signing up to EKM is very simple and only takes a couple of minutes. It only requires some basic business info, an email address and to create a password and you are good to go.
Once you have completed the sign up process, you will be taken through to the admin dashboard and will be greeted by a short by concise set up guide, you also get a 30 minute welcome call from one of the the team to help you get started and also answer any questions you may have about the platform.
The dashboard is quite uniquely styled when compared to their competition as EKM have opted for a top navigation menu as opposed to the traditional sidebar. In the top menu are seven headings:
Dashboard
Shop, this will be renamed Products if you install the new theme
Orders
Analytics
Design
Features
Settings
It is very easy to navigate between the sections and doesn't take long to figure out where everything is within the dashboard.
Wix
There are two ways you can try out the Wix VIP plan. This first is to sign up to a free Wix account and then go into the premium subscription section of the settings and upgrade your account. Alternatively, you can go to the pricing section of Wix and select the VIP and sign up through there.
Whichever sign up process you decide to use, on the first sign in, you can go through the Wix ADI (Advanced Design Intelligence) set up and this will take some basic information from you and build out the foundations of your site.
When you have completed the ADI set up, you will be taken to your dashboard for the first time and will be greeted by one of the most comprehensive set up guides that I have come across and goes beyond what most platforms offer. The amount of steps in the set up guide will depend on which apps you chose to be installed when you went through the ADI.
I don't find the Wix dashboard the easiest to use as it feels quite cramped and there are lots of pop ups that appear when navigation around, which is a little distracting and even thought the main navigation menu is well labelled it can soon become clogged with headings, especially if you start installing apps made by Wix.
It is also the only platform where I find myself consulting the help section or googling how to do things as some options aren't easily accessible.
Adding and Managing Stock
Being able to manage your stock efficiently and effectively is a hugely important part of running an online store and for me there are three main areas to this and they are:
Adding products
Organising your Products
Managing your inventory
EKM
Adding new products and categories in EKM is really simple. On the shop or products page, you simply click the add product or category button at the top of the page and a pop up will appear (as can be seen in the image below). The tabbed sidebar in the pop up makes the flow of adding a new product really nice and it is easy to navigate between the section.
Adding a new category is very similar to adding a new product, only with less sections that you need to fill out. With EKM, you can add parent and sub-categories, which makes creating a category hierarchy to organise your products very easy. This is helpful for both user experience and SEO.
When it comes to managing your inventory, EKM isn't great as standard because the Shop or Products section (depending which theme you have installed) is a live preview of the front end of your site and to edit a product listing, you will need to navigate around your site and find the product in order to be able to edit it.
Fortunately, EKM does have a very useful installable feature called the Advanced Inventory Manager and this makes managing your inventory significantly easier it lists all your products and categories, making it much easier to find products and edit your products. It also allows you to create new products and categories within the feature.
Really, the Advanced Inventory Manager feature should be the default Products section as it would improve the workflow of EKM a lot!
Wix
Wix have opted for a single page layout for their add new product page but before you can get started adding a new product, you first need to select whether it is a digital or physical product as the two pages are slightly different but both are equally as easy to use.
The amount of options on the Wix page is less than you get with the EKM set up but it still has all the sections you need in order to properly set up your products. From the product creation page, you can start promoting the product straight away by creating a promo video from your images or sending out a marketing email.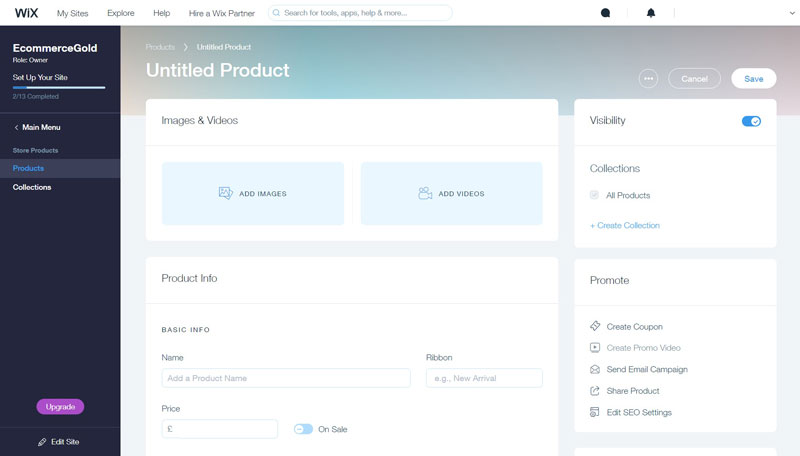 Organising your products in Wix isn't the best, they call their categories, collections but they work in the same way. The only issue is that you can only create parent collections and this could be problematic if you have a large product inventory.
Managing your inventory in Wix has to be done on a product by product basis, which once again could be problematic if you have a large inventory.
Managing Orders
EKM – EKM has a very good order management process that allows you to manage your orders directly from the order overview menu. You can update order statuses and print of invoices either in bulk or individually. If you want to export your orders, you can do by installing the Import/Export feature.
If you need to manage or update an individual order, you can do this from the overview page or by going into the order.
Wix – Unfortunately, I was unable to test the Wix order management system out as it wouldn't allow me to create a test order. If I do get to try this out, obviously I will come back and update this post.
Summary
EKM Summary
Theme Selection & Customisation
EKM Pros

• Excellent Support
• Evolution Mode
• Theme Selection
• Order Management System
• Very Good Performance

EKM Cons

• Workflow isn't the most optimal
• Needs more theme for new customizer
Wix Summary
Theme Selection & Customisation
Wix Pros

• ADI set up
• ADI theme customisation
• Dashboard set up guides
• Wix App Market
• Add/edit product page

Wix Cons

• Hidden support contact details
• Poor Performance
• Lack of sub-categories
Conclusion
EKM vs Wix, which is the best ecommerce platform for UK businesses?
When it comes to building an ecommerce website, EKM is the better option out of the two, this is because it offers the better all round package in my opinion.
While not perfect, EKM is good at what it is, which is being an ecommerce platform, it offers and good selection of features, very good support and solid performance. The dashboard could be improved in my opinion, so that workflow is easier but overall it does what it is supposed to.
Wix on the other hand does have some issues that makes it a platform that I am hesitant to recommend, with the two main ones being the performance and support, which both leave a lot to be desired. I also don't find Wix to be the easiest platform to use.
Wix isn't all bad as the ADI tool is very good and they do offer some good features, especially for the price but I just feel that the downsides outstrip the good.
Try EKM for Yourself
Exclusive 28 day Free Trial!
Try Wix for Yourself
No Credit Card Needed!
Other EKM Comparisons
Hi, I'm Paul, the Owner and Founder of EcommerceGold.
I ran my own Ecommerce Business for over 7 years and now help others start their own online retail empires!