This is a bit of a David vs Goliath comparison as they are most definitely at the opposite end of the spectrum when it comes to size, but how do these two platforms compare?
Bluepark vs Shopify: What is the Difference?
Bluepark is an all in one, fully hosted ecommerce platform that is primarily focused on the UK market, all Bluepark plans come with the features pre-installed. Shopify is also a fully hosted ecommerce platform but offers a core platform that can be customised by installing apps from the Shopify App Store.
Bluepark vs Shopify Content
Disclosure: Our site is reader supported, meaning we may earn a commission from purchases made through our links, to learn more, please see our Affiliate Disclosure.
Pricing


In terms of straight-up monthly costs, Bluepark and Shopify are quite close (except for Shopify's Advanced plan) but both platforms have additional costs that you need to factor in.
One somewhat surprising additional cost with Bluepark is that you need to buy an SSL certificate, which costs £69.99 +VAT for one year or £119.99 +VAT for two years.
You also need to be aware of the limits that are in place with all the Bluepark plans:
Retail: Up to 500 products and 500mb storage
Business: Up to 2000 products and 1gb storage
Enterprise: Unlimited products and 2gb storage
Additional storage can be purchased for £10/m for 1gb, up to a maximum of 12gb.
Shopify's pricing is much simpler as you get unlimited products, storage and an SSL certificate included with the monthly plans but there is an additional cost that you may incur with Shopify, which is transaction fees, which are as follows:
Shopify Basic: 2%
Shopify Standard: 1%
Shopify Advanced: 0.5%
This fee does make it a little more complicated to figure out which plan is going to be best for your business but you can use tools like our Shopify Fee Calculator to help you figure this out.
These fees are only applicable if you use third-party payment gateways such as PayPal or Amazon Pay, if you use Shopify's in-house payment gateway (Shopify Payments), then these charges don't apply. They also don't apply to offline payment methods.
Free Trial
Both platforms offer a 14-day free trial so that you can test before you buy and you can sign up to either of these trials using the links below:
Neither platforms require anything more than an email address, password on shop name to get started.
Features
Now that we know how much these platforms cost, what do you actually get for your money?
Below is a breakdown of the features that are offered by both platforms.
Bluepark
Bluepark is very feature rich and what makes it different from the majority of ecommerce platforms is that all of the features come pre-installed, there is no need to install and configure apps and all the features below are available on all plans:
Ecommerce Tools
Embed YouTube Videos in Listings
Onsite Product Comparison
Shareable Wish Lists
Product Labels
Auto Language and Currency
Related Products
Customers Also Bought
Digital Products
Marketing & SEO
Build an Affiliate Network
Built-in Email Newsletter
Social Sharing
Coupon Discounts
Abandoned Cart Recovery
Google Shopping
Blog
Custom Meta Data
SEO Friendly URLs
Reporting
Top Sellers
Referral Conversion Rates
Top Notification Requests
Top Wish List Additions
Google Analytics
Payment Gateways
PayPal
Stripe
Worldpay
Sagepay
Barclaycard EPDQ
Amazon Pay (Coming Soon)
And as you move up to the larger packages, you do get more features included and these range from bulk features in the email marketing to loyalty points and Ebay integration. There is also a large selection of B2B features that become available as well.
If you want to see a more detailed breakdown of the features available with Bluepark, then check out our full Bluepark Review.
Shopify
As the biggest name in the world of ecommerce, it is expected that you get a good selection of features as standard and all the features below are available with all the plans:
Ecommerce Tools
Dropshipping Integration
Flexible Shipping Rates
Multi-Language
Product Reviews
Digital Products
Gift Vouchers
Shopify Management App
Marketing & SEO
Google Adwords Credit
Sell on Facebook
Discount Codes
Abandoned Cart Recovery
Auto-Generated Sitemap
Social Share
Blog
Custom Meta Data
SEO Friendly URLs
Reporting
Product Reports
Traffic Sources
Google Analytics
Day, Week and Monthly Reports
Payment Gateways
Shopify Payments
PayPal Express Checkout
Amazon Pay
Klarna
Worldpay
Sagepay
If you want to see a more detailed breakdown of the features available with Shopify, then check out our full Shopify Review.
While the standard features are very good, it is the amount of third-party apps that are available within the Shopify App store that is really impressive. With over 3000 to choose from, covering everything from ecommerce features, marketing and SEO to order and inventory management.
Due to the vast amount of Apps on offer, it really isn't possible for me to even begin listing them here.
There is a big difference when it comes to the price of these apps, the most expensive ShopWired app is an additional £5 a month. While many Shopify apps offer free plans,
I saw some paid plans ranging from a couple of dollars a month to around the $100 a month range. Always be vigilant when installing apps as you could soon find yourself with a hefty monthly bill!
Theme Selection & Customisation
Bluepark
Bluepark have a very comprehensive selection of 42 mobile responsive themes that you can choose from and they are all free to use and customise. You can also have a custom theme created by one of Bluepark's design partners and prices start from around £700.
When it comes to customising one of the Bluepark themes, they have lots of options due to their unique customiser tools, which is based on a 3 column (2 sidebars, which can be turned on/off and a main centre column for your content) structure for all pages and a selection of blocks that can be added to these columns.
While this does give you a lot of control over the look and feel of your site, the workflow isn't optimal as you have to make these choices in the admin area and then check the front end of your site as they currently don't have a live editor.
One thing that may be a little daunting for new users is the amount of options that are available, with many of them being suited more to web developers than businesses trying to build an ecommerce website and this is very much evidenced by setting up the footer of a Bluepark site as it is all done by HTML code, which most people won't know how to do.
Shopify
Shopify has a much smaller selection of free themes with only 9 to choose from but there is a large number of paid themes available. With over 60 being sold in the Shopify theme store between $140 and $180 and over 1200 for sale on ThemeForest's marketplace.
There are also independent developers who can build you a custom theme and prices vary from developer to developer.
When it comes to customisation, Shopify is definitely the easier to use out of the two platforms as they have their own live editor, which means you can make changes to your site and preview them before publishing.
The customizer also offer a lot of customisation, especially on the homepage as you can add, remove and rearrange sections, It is more limited on other pages of your site, when compared to Bluepark as the theme customizer only has limited options outside of the homepage.
But there is not an overload of options and for people new to building websites, this makes it a lot easier to use. If you do want to get your hands dirty with code, you will need to learn Shopify's liquid code but you do get access to all of the themes code, meaning that you can make a lot of changes to your site.
All Shopify users get access to the Shopify stock image library and this is a great source of high-quality images that you can use free of charge on your site. This is a great resource for new websites.
Support
Support is a big factor in why you go for a hosted ecommerce platform, rather than trying to build your own.
Bluepark
Bluepark offer really good support via the phone, over live chat or by email. While the phone and live chat is not offered 24/7, they will get back to you as soon as they can and the quality of the response is always high quality.
They also offer a community forum of you need a response outside of their working hours, members of the Bluepark team are active in there along with many people who are very knowledgeable about the the platform. You can also get answers to questions not directly related to the Bluepark platform.
Shopify
While Shopify offers 24/7 support to all of their users, they don't make it particularly easy to contact them as they have buried the contact options in the help centre and you need to navigate this in order to find these options.
Once you have found them you can contact them over the phone, via live chat and email, they also have a community support forum that can be a great source of information and also somewhere where you can ask a question.
Hosting & Performance
On paper, both platforms offer really good resources when it comes to your websites server. They both offer the following:
Unlimited Bandwidth
PCI Compliant Servers
99.9% Uptime
But how good are they when you put them to the test? Well, I decided to find out and took five customer example sites from both platforms and ran them through Pingdom's Speed Test Tool and Google's Page Speed Insights, once a day for five days and you can see the average figures from these tests below:


Even though both sites are very close when it comes to performance, Shopify does just edge as it beats Bluepark in every test but honestly, both did very well and there is no real cause for concern with either platform.
Ease of Use
Facts and figures are great and all but how easy are they to use? Well that is what I am going to be looking at in the second part of my comparison. From getting started to processing orders!
Getting Started
Bluepark
As I mentioned in the Free Trial section above, you only need to the basic information to get started with Bluepark and the sign up process takes no time at all.
Once you have completed the sign up process, you will taken to your Bluepark dashboard and be greeted by a very good set up guide that will take you through pretty much everything you need to do, to get your ecommerce website up and running.
As you can see in the image below, Bluepark clearly displays their contact information just in case you need to contact them. You will also receive a welcome email that provides you with a point of contact within the Bluepark team.
The Bluepark dashboard had an overhaul in 2019 and the new sleeker design definitely offers a better user experience and makes the dashboard much easier to navigate.
The sidebar navigation menu is clearly labelled as are the sub-section headings. Now there are a lot of areas within the Bluepark dashboard as there are a lot of things that you can do with the platform but it won't take you too long to get accustomed to where everything is.
Shopify
As with Bluepark, getting started with Shopify is a very easy process as all you need is an email address, a password and shop name and you are ready to go.
Once you have completed the sign up process, you will go into your Shopify dashboard and be greeted by a set up guide. The set up guide is quite limited and doesn't really cover everything that you need to do in order to get your store up and running.
But they have created a very useful series of videos in their academy, that takes you through setting up your online store and there is some very useful information in there to help get you started and they are definitely worth watching.
Outside of the setup guide, the Shopify dashboard is a very nice place to be and use. The sidebar navigation is clearly labelled and there aren't too many sub sections, meaning that it really doesn't take a long time to know where everything is.
Neither platform advises you from the setup guide to get your Privacy Policy and Terms and Conditions set up. This is a bit of an oversight as they are both legal requirements for UK businesses.
Inventory Management
Being able to manage your stock efficiently and effectively is a hugely important part of running an online store and for me there are three main areas to this and they are:
Adding products
Organising your Products
Managing your inventory
Bluepark
Adding a new product isn't completely straightforward in Bluepark due to strange quirk!
When you create a new product, you will be greeted by a page similar to that in the image below, which is a tabbed page and you work through the tabs to set your product up but what is strange is that once you have created and saved the product and then go back in and edit it, you will see the following tabs also appear:
Related Products
Attributes
Options
Variations
Additions
This means that you need to create a product, save it and then go back in and edit it in order to add all the options to it, which once again isn't the most optimal workflow.
When it comes to organising your inventory, Bluepark have opted for a standard category system that allows you to create categories and sub-categories, making it very easy to create a good hierarchy for your products.
Managing your inventory is pretty simple to do as they have incorporated a bulk editor for inventory into the main product overview page, along with being able to mark the product as active, featured or discontinued.
For other changes such as changing the title etc, you will need to go in and edit the product individually.
One nice feature of the product overview page is the gross profit calculator, simply type your cost price and sale price into the relevant sections and it will automatically calculate your gross profit.
Shopify
The Add New Product page in Shopify is much simpler as they have gone for a single page layout that includes everything you need to set your product up there and then. It is also much simpler in terms of options, meaning that it is quicker to add a new product to Shopify than it is to Bluepark.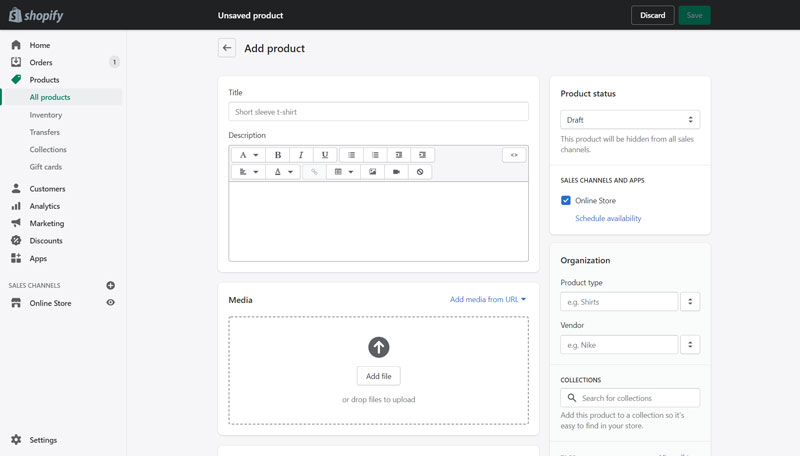 Organising your products isn't as straightforward as Shopify has created their own Collections system, which takes some getting used to as there are two options for creating collections:
Manual Collections – these are similar to normal categories as you add products manually to the collection.
Automated Collections – these are a little more complicated as they are based on rules that you create and they can be around product tags, keywords or price and any product that fits these rules will be added to the collection
When you know how to use them, the Automated Collections are very good but they don't allow for the creation of sub-collections, which is a bit of a drawback.
Shopify has gone a little overboard when it comes to managing your inventory as they have two bulk editors, one of which is available from the product overview page and one on the inventory page. They both do a similar job in that you can change lots of things on the product from the editor using the filter system.
You would only really need to go back into the individual product edit screen if you want to change the images or description.
Managing Orders
Bluepark has got a really good order management system which allows you to manage orders in bulk or individually. When managing them in bulk, you can print off invoices and update order statuses directly from the order overview page.
You can also export all of your orders in CSV format, if you use any third party software.
Shopify is more limited when it comes to order management as although they have bulk edit tools for changing status, you can only print off packing slips, not complete invoices and if you want to do that, then you are going to have to install a third-party app.
Summary
Bluepark Summary
Theme Selection & Customisation
Bluepark Pros

• Good UK-based support
• Good theme selection
• Theme customisation
• Well laid out dashboard
• Super fast page load speeds

Bluepark Cons

• Some features (blog and email newsletter) aren't the easiest to design or manage
• Steeper learning curve
• SSL certificate not included
Shopify Summary
Theme Selection & Customisation
Shopify Pros

• Theme Customisation
• 24/7 Support
• Easy to use Admin Area
• The App Store
• Very Good Performance

Shopify Cons

• Transaction Fees
• Automatic Collection system is a bit complicated
• No option to bulk print invoices
Conclusion
Bluepark vs Shopify, which is the best ecommerce platform for UK Businesses?
While both platforms are very good and I would recommend trying both of them out for yourself, I would just give Shopify the edge out of the two, especially if you are new to building ecommerce websites.
While Bluepark is a good package overall it does have a much steeper learning curve than Shopify due to the amount of technical changes you can make to your site, which may be quite daunting for new users.
Shopify is more beginner friendly in their approach and everything is very simple and easy to do but it does lack a couple of things such as a good order management system, that do let the platform down slightly.
But as I said, I would honestly recommend giving both platforms a try and see which one you feel more comfortable using, whichever one it is, is probably the one you should go for!
Try Bluepark for Yourself
Free 14-Day Trial, No Credit Card Needed!
Try Shopify for Yourself
Free 14-Day Trial, No Credit Card Needed!
Other Comparisons
Hi, I'm Paul, the Owner and Founder of EcommerceGold.
I ran my own Ecommerce Business for over 7 years and now help others start their own online retail empires!