WordPress is the most popular website builder in the world, with over 30% of the world's top 1 million websites running on the platform.
And while it is popular as a blogging platform or for building business websites, the versatility of the system means that it is also used for building ecommerce websites. But there is a lot of mixed information out there on how to to use WordPress for ecommerce, so I created this complete guide to help you out.
EcommerceGold is reader supported, meaning that we may earn a commission (at no additional cost to you) from products or services purchased through links on our site. Learn More.
WordPress Ecommerce Plugins
In order to be able to sell via your WordPress website, you are going to need to add ecommerce functionality and in most cases, this is going to come from installing an ecommerce plugin.
But not all ecommerce plugins work in the same way but they can be broken down into two categories:
Self Hosted Checkouts
Hosted Checkouts
In the sections below, I will explain what the difference between these two are and also list some of the most popular options.
Self Hosted Checkouts
With a self hosted checkout, all of the cart and checkout pages are hosted directly on your websites servers and this means that it is your job as the website owner to make sure that you are using a web hosting service that is suited to ecommerce.
Depending on your payment gateway, you may be required to use PCI compliant web hosting, which is more expensive than traditional web hosting due to the extra security measures that are required.
But most of these plugins are free to use and offer a range of different features that can be added with the use of additional plugins.
These types of plugins are the most popular option for adding ecommerce functionality to a WordPress site and below are some of the most popular plugins that use this method.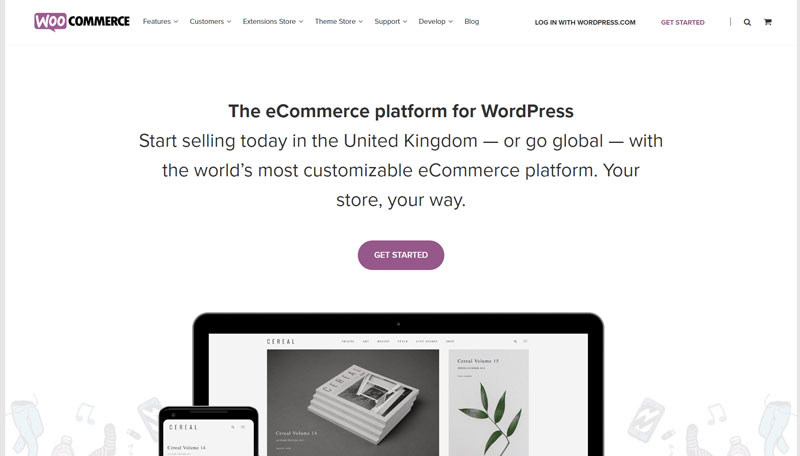 The most popular ecommerce plugin for WordPress is WooCommerce, which has effectively become the official ecommerce plugin since it was acquired by Automatic who are the owners of the WordPress platform.
In its standard form, the plugin is pretty limited in terms of functionality the plugin is designed to be used a base that can then be built from. Due to the popularity of the plugin, the development community has created a huge selection of plugins (over 1,000 free ones alone!) and this means that a variety of different ecommerce websites can be built, such as:
B2C Ecommerce Websites
B2B and Trade Only Websites
Membership Websites
Subscription Websites
Multi-vendor Marketplaces
WooCommerce Pros & Cons
WooCommerce Summary – EcommerceGold Score 3.8 / 5
WooCommerce is a very solid option for selling on WordPress, especially as the core plugin is completely free to use but it is not the most stress free option to use due to the reliability issues that you can face, to minimise this, you want to keep the number of plugins on your site to a minimum and use a theme with good WooCommerce integration.
I have written a more detailed WooCommerce Review, if you want to learn more about this plugin or you can check out WooCommerce for yourself by clicking the button below.
Take a Look at WooCommerce
The free WordPress Ecommerce Plugin
Easy Digital Downloads, sometimes known as EDD is a more specialised ecommerce plugin for WordPress that focuses on digital products (surprisingly!).
As with WooCommerce, the basic EDD plugin adds basic ecommerce functionality to a WordPress website in the form of a simple cart, checkout and product pages.
To add additional features or functionality requires the installation of additional plugins and there is is a selection of official plugins and ones made by third-party developers that are also advertised on the EDD website.
Now while the core EDD plugin is completely free to use, most of the additional plugins are paid options and this can make EDD quite an expensive option.
Easy Digital Downloads Pros and Cons
Easy Digital Downloads Summary – EcommerceGold Score 3.5 / 5
If you are looking to just sell digital products then EDD is something that you do want to consider but it is limited in terms of features and can be quite expensive and arguably doesn't do anything better than WooCommerce.
I have written a more detailed Easy Digital Downloads Review, if you want to learn more about this plugin or you can check out EDD for yourself by clicking the button below.
Try Easy Digital Downloads
The free WordPress Ecommerce Plugin
Hosted Checkouts
The second option is to use a plugin or platform that offers a fully hosted checkout, this means that all of the cart and checkout pages are hosted on another platforms servers. With all the options mentioned in the post, the servers are always secure and PCI compliant.
This takes a lot of the security onus of the website owner as the whole checkout process is dealt with outside of your website. But as with all options, there are pros and cons to using this method.
When it comes to the options that are available, as you will see below, some of the biggest names in the world of ecommerce are offering a way to use their platform to sell via WordPress.
Option #1: Ecwid (Free – $99/m)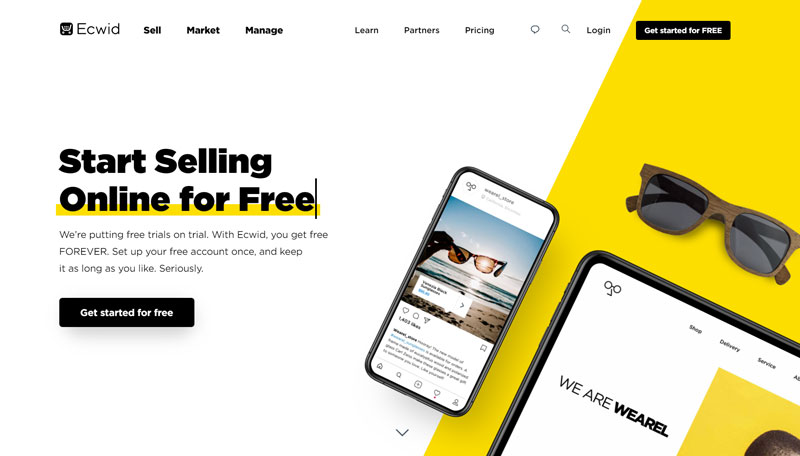 The first of the hosted checkout options is Ecwid, which is the most complete offering of all the hosted options on this list. This is because Ecwid integrates fully with WordPress, allowing you to manage all of the ecommerce aspects such as creating products or managing order directly from the WordPress dashboard.
There is also a very good selection of ecommerce features that come included with Ecwid including:
Secure PCI compliant checkout
Sell Physical & Digital products
Discount Coupons
Gift Cards
Facebook Messenger live chat
Social Selling (Facebook and Instagram)
Large Selection of Payment Gateways
You can also try Ecwid completely for free with their free package, which allows 10 products and has limited features. If you want access to more products or features, then you will need to go for a paid package and they offer three:
Venture Package $15/m – Up to 100 products
Business Package $35/m – Up to 2,500 products
Unlimited Package $99/m – Unlimited products
Another feature that you get with Ecwid is access to support. This is limited on the free package but on the paid packages it does include live chat and email support, with phone support also included on the Business and Unlimited packages.
Just to be clear, this support is just for the Ecwid platform, not for WordPress in general.
Ecwid Pros & Cons
Ecwid Summary – 4.2 / 5
Ecwid takes a lot of the stress out of running an ecommerce website on WordPress due to the fact that you only need one plugin and there is a team of technicians working to make sure that the platform is working. It is a great option for a normal B2C ecommerce store, whether you are selling physical or digital products.
If you want to know more about Ecwid, check out my Full Ecwid Review or take a look at the Ecwid platform for yourself by clicking the button below.
Try Ecwid for Free!
No Credit Card Needed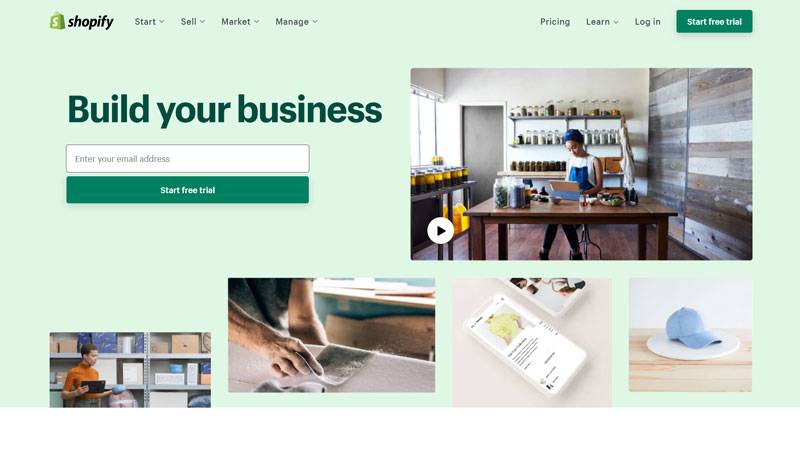 Ok, so using Shopify with WordPress doesn't come in the form of a plugin but it is still a way that you can sell products through WordPress.
The way Shopify works does require a bit more work on your part but it works really well. This is because you create a product and/or collection with in Shopify, then create a Buy Button for it and then simply copy and paste the HTML code on to your chosen WordPress page (if you want to know more about this, then check out my How to Integrate Shopify with WordPress Tutorial).
With the Shopify Buy Button, your customers can also check out without leaving your site as the Shopify checkout appears as a pop up. You then manage your orders from the Shopify dashboard, meaning that none of your customers data is stored on your site or server.
To use Shopify with WordPress, you only need to use the Shopify Lite package, which is $9/m but also has a 2% transaction fee for any payment taken not using Shopify Payments. Even though it is called the Lite package, you do get a good selection of features, including:
PCI complaint checkout
Social Selling via Facebook
Discount codes
Sell physical or digital products
Multiple payment gateways
Customise button to fit your business/brand
24/7 customer support
Shopify Pros & Cons
Shopify Conclusion
The Shopify buy button is a very good option for adding ecommerce to an existing WordPress website but does require a little more work as you will have to create pages within WordPress and then paste the Shopify code in for it work, which can be time consuming if you have a large number of products.
But for $9 a month, the Shopify Lite plan is a great option and from a security perspective is very good as all of your products, orders and customer information are managed completely separately from your WordPress website.
Try Shopify for Free
14 Day Free Trial, No Credit Card Required
Option #3: Bigcommerce (From $29.95/m)
The third option on this list of from on of the biggest names in the world of ecommerce (no pun intended!), Bigcommerce. This might be a surprising option for some but the team at Bigcommerce recognised the popularity of WordPress and felt that their platform could work very well on a WordPress website.
Integration between Bigcommerce and WordPress falls somewhere between what Ecwid and Shopify offers, this is because they do have a plugin that imports all of products and categories and displays them within your WordPress site, the checkout also works using iframe, so that you have a secure checkout seemingly on your WordPress site, even though it is actually on the Bigcommerce servers.
But you actually manage your product listings, categories and order from the Bigcommerce dashboard, not the WordPress dashboard. Which means that less sensitive data is stored on your site/server.
Unfortunately, Bigcommerce is the most expensive option on this list as they haven't created an WordPress specific plans, the plans they offer are:
Standard $29.95/m – Up to $50k annual turnover
Plus $79.95/m – Up to $180k annual turnover
Pro $299.95/m – Up to $400k annual turnover
As these plans aren't WordPress specific, you may find that you are paying for features that you aren't going to use, such as the website builder. But you do get a good range of features with Bigcommerce, including
Product Ratings & Reviews
Promotions & Special Offers
Multi Channel Selling (inc Facebook & Instagram)
Discount Codes & Coupons
Social Sharing
PCI Compliant Servers
Large Selection of Payment Gateways
24/7 Support
Bigcommerce Pros & Cons
Bigcommerce Summary – 4.1 / 5
In its current configuration/set up, Bigcommerce isn't the most viable option as it is quite expensive and some of the features don't work with the WordPress plugin. Hopefully they will continue to work on and improve this plugin in the future as the potential is definitely there.
I have written a more detailed Bigcommerce Review, if you want to learn more about this plugin or you can check out Bigcommerce for yourself by clicking the button below.
Try Bigcommerce for Free
15 Day Free Trial, No Credit Card Required
WordPress Payment Gateways
Once you have decided how you are going to sell via WordPress, you need to think about how you are going to get paid and there many, many different payment gateways out there that you can choose but for this post, I am going to list the most popular options for WordPress Ecommerce Websites.
#1 PayPal
The biggest name in the world of online payment processing, with a market share of just over 48% amongst the top 1 million websites.
There are many reasons why PayPal has gone from being Ebays payment gateway to the largest in the world:
Recognised and trusted name
Easy to use for both merchants and customers
Pay as you go
Reasonable charges (2.9% + 30¢)
While not the most favoured amongst merchants due to PayPal's tendency to side with buyers/customers in disputes. PayPal is a gateway that should seriously be considered, especially when just starting out.
#2 Stripe
The second most popular option when it comes to taking payments online is Stripe, this is because they simplified the process of taking credit/debit card payments online. Prior to Stripe, being able to take card payments directly on your site was very difficult due to the requirements of the existing payments gateways and also the costs involved.
Stripe revolutionised this by offering:
Complete credit card processing
Pay as you go pricing (2.9% + 30¢)
Good security features
Large range of integrations
Simplified sign up
Easy to use
If you are just starting out with ecommerce, then Stripe + PayPal is the ideal solution to get you going.
#3 Amazon Pay
The third option is Amazon Pay, which allows users to buy goods or services from your site using the payment methods that they have already added to their Amazon account.
Amazon Pay can also serve as a great alternative for those that don't want to pay directly with their credit card but also don't use PayPal, this is shown by the ever increasing user base of the gateway, which has seen their market share grow to just over 5%.
The fees with Amazon Pay are also reasonable at 2.7% + 30¢ and just like PayPal and Stripe, it also operates on a pay as go basis.
#4 Apple Pay & G Pay (Google Pay) – Mobile Ecommerce
I have put these two together as really you do need both of them, rather than choosing one or the other. These two are great choices if you have significant traffic from mobile devices, which is increasing every single year as it allows customers to use their devices to pay, rather than having to use a credit or debit card, which streamlines the customer experience.
The great thing about these payment gateways is that they will only appear on devices where it can be used, so no worry of Apple Pay showing up on an Android phone.
As with the other options on this list, they are both pay as you go and have industry standard fees of 3% (Apple Pay) and 2.9% (G Pay).
#5 Klarna
The final option for this post is a revolutionary payment gateway called Klarna, which allows merchants to offer a variety of different payment options for their customers, including:
Normal Credit/Debit card transactions
Pay after 30 days
Split payment into 3 (interest free)
Up to 36 monthly payments (interest applies)
This kind of flexibility was once only available for a select few ecommerce websites but now Klarna have opened it up to a large selection of merchants. Fee's are similar to those of the others mentioned in this post, which is around 2.9%.
This is definitely something that you may want to consider when your site is starting to generate a good level of sales.
Conclusion
So there it is, my list of the best ecommerce plugins for WordPress (yes, I know that one isn't!).
All of them are very good options and it very much comes down to you and your business as to which is the one that you should go for but in terms of a balance between price, features and general ease of use it does come down to Ecwid and Shopify for me but fortunately, you can try them all out for free so that you can test them out for yourself.